Welcome to the picturesque state of West Virginia, where nature's beauty and relaxation come together in perfect harmony. If you're looking for the ultimate getaway experience, look no further than the luxurious hotels with hot tubs in room scattered throughout this stunning region.
Imagine soaking in a private whirlpool bath, surrounded by the breathtaking landscapes that West Virginia is renowned for. These sumptuous accommodations offer an unparalleled level of comfort and indulgence, allowing you to unwind and recharge in style. Whether you're planning a romantic escape or simply seeking some well-deserved pampering, these hotels with jacuzzis are sure to exceed your expectations.
Indulge yourself with a stay at one of West Virginia's finest hotels featuring private hot tubs within each room. Immerse yourself in warm bubbles as you admire sweeping views of the rolling hills or majestic mountains that define this remarkable destination. From elegant suites to cozy cabins, there are accommodation options to suit every taste and budget. So why not treat yourself to a rejuvenating break? Discover the magic of West Virginia while luxuriating in your very own Jacuzzi retreat – it's an experience like no other!
Best West Virginia Hotels With Hot Tub
Holiday Inn Express & Suites Ripley: Deluxe Suite – Non-Smoking (Ripley)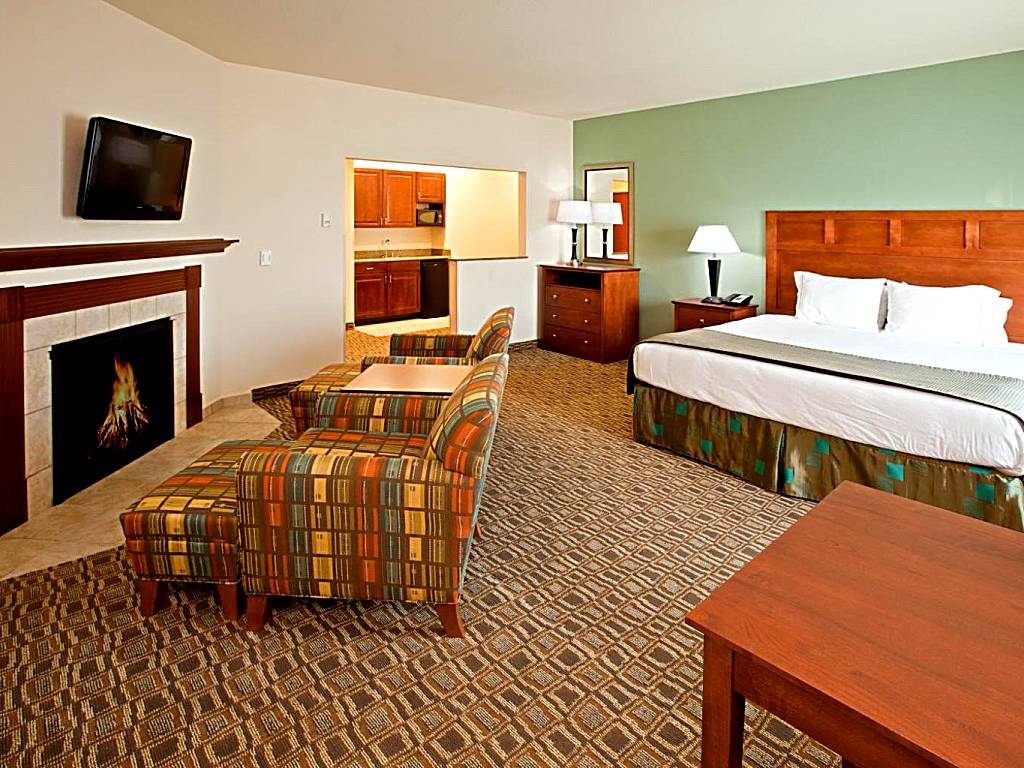 Holiday Inn Express & Suites Ripley is a wonderful hotel located in Ripley, West Virginia. It offers a Deluxe Suite – Non-Smoking that features a cozy fireplace and a luxurious spa bath for the ultimate relaxation experience. The hotel also boasts an indoor swimming pool where guests can take a refreshing dip. Free Wi-Fi access is available throughout the property, and each room comes with a flat-screen cable TV for entertainment. Some rooms are equipped with a microwave and refrigerator for added convenience. Guests can make use of the on-site fitness center to stay active during their stay. The hotel provides 24-hour front desk service, as well as dry cleaning services and laundry facilities for guests' convenience. Located just 500 meters from Route 77, Holiday Inn Express & Suites Ripley offers easy access to Cedar Lakes State Recreation Center, which is only an 11-minute drive away. For dining options, Bob Evans Restaurant serves delectable American cuisine and is just a short drive from the hotel.
– Indoor swimming pool
– Free Wi-Fi access
– Fitness center on-site
– Bob Evans Restaurant nearby
– Convenient location near Cedar Lakes State Recreation Center
Holiday Inn Martinsburg: King Room with Whirlpool – Non-Smoking (Martinsburg)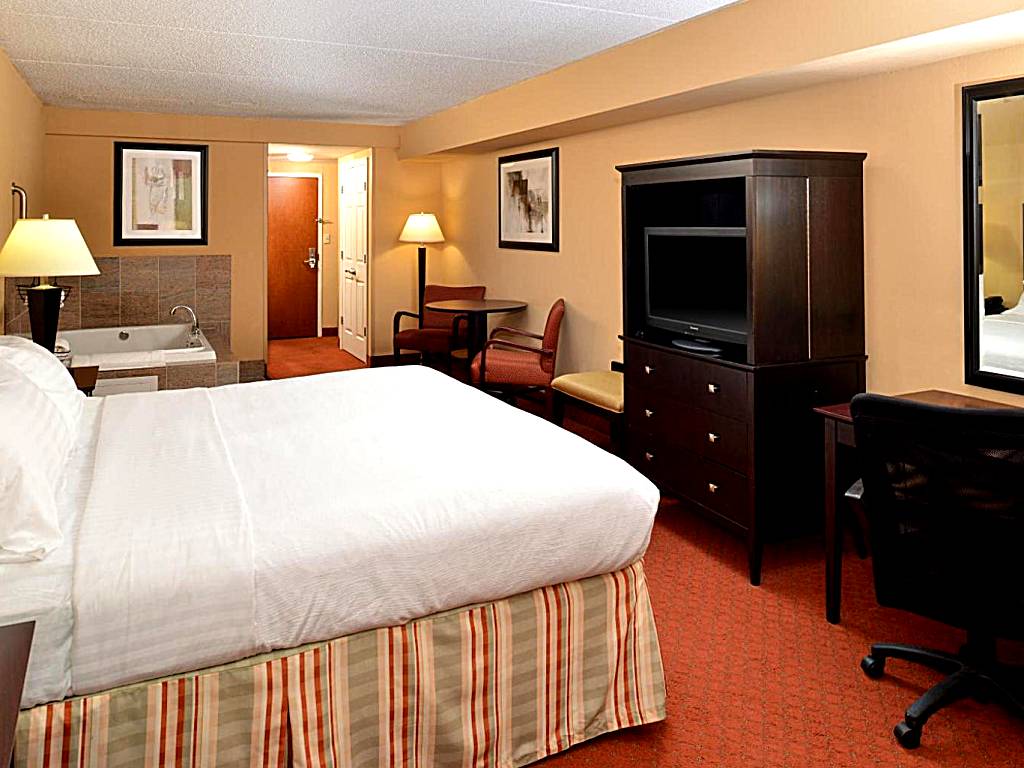 The Holiday Inn Martinsburg in West Virginia offers a luxurious King Room with Whirlpool that is perfect for a relaxing getaway. The room features a spacious seating area, allowing guests to unwind and enjoy their stay. Conveniently located just off Interstate 81 and 56 miles from the Eastern West Virginia Regional Airport, this hotel provides easy access for travelers.
The Holiday Inn Martinsburg boasts an array of amenities including an indoor pool and fitness center, ensuring guests can stay active and refreshed during their visit. The rooms are tastefully decorated in bright, modern colors and equipped with cable TV and free Wi-Fi. Guests will also appreciate the convenience of having a microwave and refrigerator in their room.
For dining options, Heatherfields Restaurant and Lounge is located on-site at the hotel, serving delicious meals for breakfast, lunch, and dinner. In addition to enjoying meals at the restaurant or lounge, guests can also take advantage of room service.
This hotel also caters to business travelers with its fully-equipped business center available for use 24 hours a day. For added convenience, there is a coin laundry facility and vending machines on-site.
Guests who wish to explore the area will find plenty of attractions nearby. The historic Antietam Battlefield is just 15 miles away, offering a glimpse into American history. Additionally, Stonebridge Golf Club is only 4 miles away for those looking to tee off.
– Spacious seating area in each King Room
– Indoor pool and fitness center
– On-site restaurant with room service available
– Fully-equipped business center
– Convenient location near major attractions
Embassy Suites Charleston: Premium King Corner Suite – Non-Smoking (Charleston)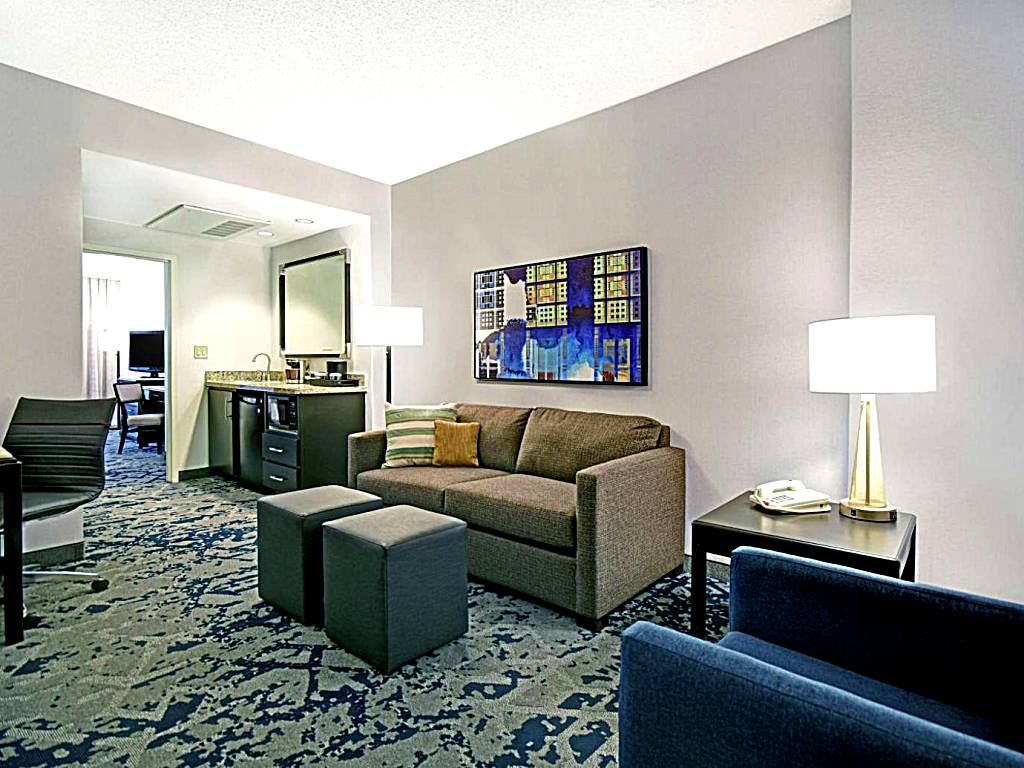 Located in the heart of Charleston, the Embassy Suites Charleston offers a Premium King Corner Suite that is perfect for those looking for a luxurious and relaxing stay. The standout feature of this suite is the spa bath, where guests can unwind and pamper themselves after a long day of exploring the city. The suite itself is air-conditioned and includes amenities such as a flat-screen TV with cable channels and a private bathroom. With 2 beds, it can accommodate small groups or families comfortably.
The hotel's prime location allows easy access to popular sites and major corporations in the city center. Guests can take advantage of the airport transfer service to Yeager Airport, ensuring a hassle-free arrival and departure. Within minutes from the hotel, visitors can explore attractions like the state Capitol building, West Virginia State Museum, and Charleston Civic Center. For business travelers, major corporate offices including Coca-Cola and Verizon Wireless are conveniently nearby.
To start their day off right, guests can enjoy a complimentary cooked-to-order breakfast at Embassy Suites Charleston. They also have access to a modern fitness center for an energizing workout before diving into their day's activities. When relaxation is on their agenda, they can take a refreshing swim in the pool located on-site or attend the free nightly reception to wind down before retiring for the evening.
Pros:
– Spa bath in-suite adds an extra touch of luxury
– Prime location in downtown Charleston
– Complimentary airport transfer service
– Free cooked-to-order breakfast
– Modern fitness center available
Luxury Hotels in West Virginia with Hot Tub
When it comes to luxury hotels in West Virginia with hot tubs, travelers can expect a truly indulgent experience. These exquisite accommodations offer the perfect blend of relaxation and opulence, providing guests with an intimate and rejuvenating escape. The addition of a private hot tub takes luxury to new heights, allowing visitors to unwind and soak away their stresses in the comfort of their own room. Whether nestled amidst picturesque mountains or overlooking serene rivers, these hotels provide a one-of-a-kind setting for couples seeking a romantic getaway or individuals longing for some much-needed pampering. Impeccable service, sophisticated design, and world-class amenities further elevate the allure of these luxurious retreats, promising an unforgettable stay that exceeds every expectation.
Days Inn & Suites by Wyndham Sutton Flatwoods: 1 King Bed, 1 Bedroom Suite, South Tower, Non-Smoking (Sutton)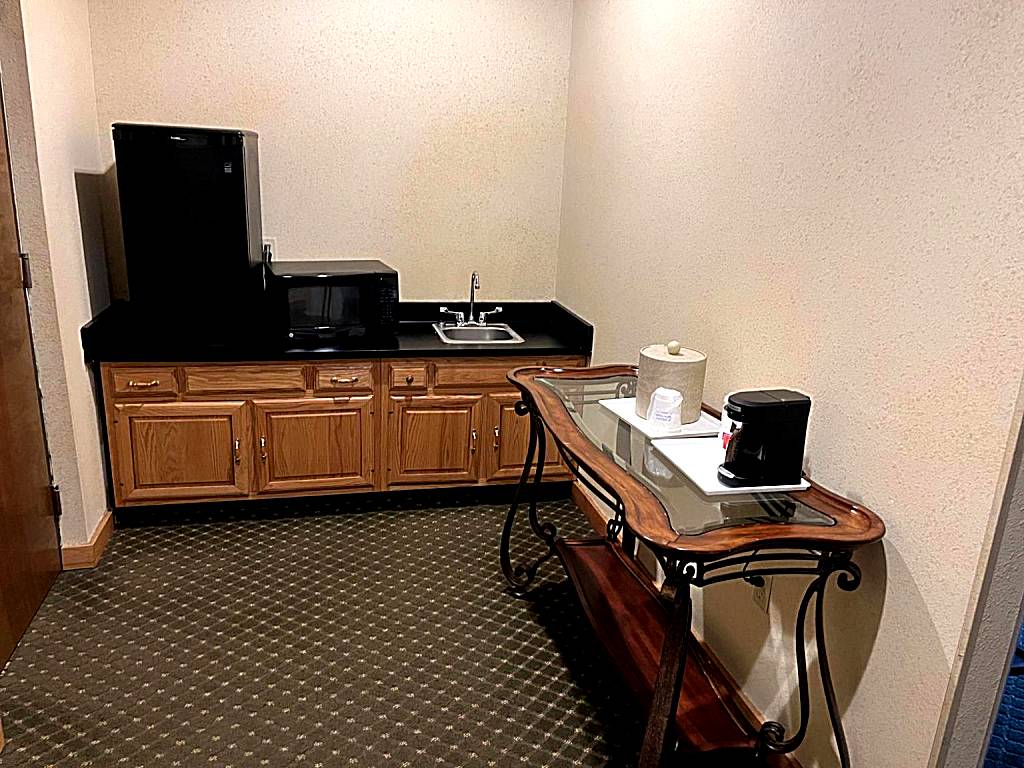 Days Inn & Suites by Wyndham Sutton Flatwoods offers a luxurious experience with its 1 King Bed, 1 Bedroom Suite in the South Tower. The suite features carpeted floors and a cozy seating area equipped with a flat-screen TV offering cable channels. The room also includes air conditioning, a tea and coffee maker, and a wardrobe for all your storage needs. This non-smoking suite provides utmost comfort and convenience for guests to enjoy their stay.
– Carpeted floors for added comfort
– Seating area with a flat-screen TV
– Air conditioning for customized temperature control
– Tea and coffee maker available in the room
– Wardrobe to keep belongings organized.
Wyndham Garden Hotel Cross Lanes Charleston: King Room with Spa Bath (Charleston)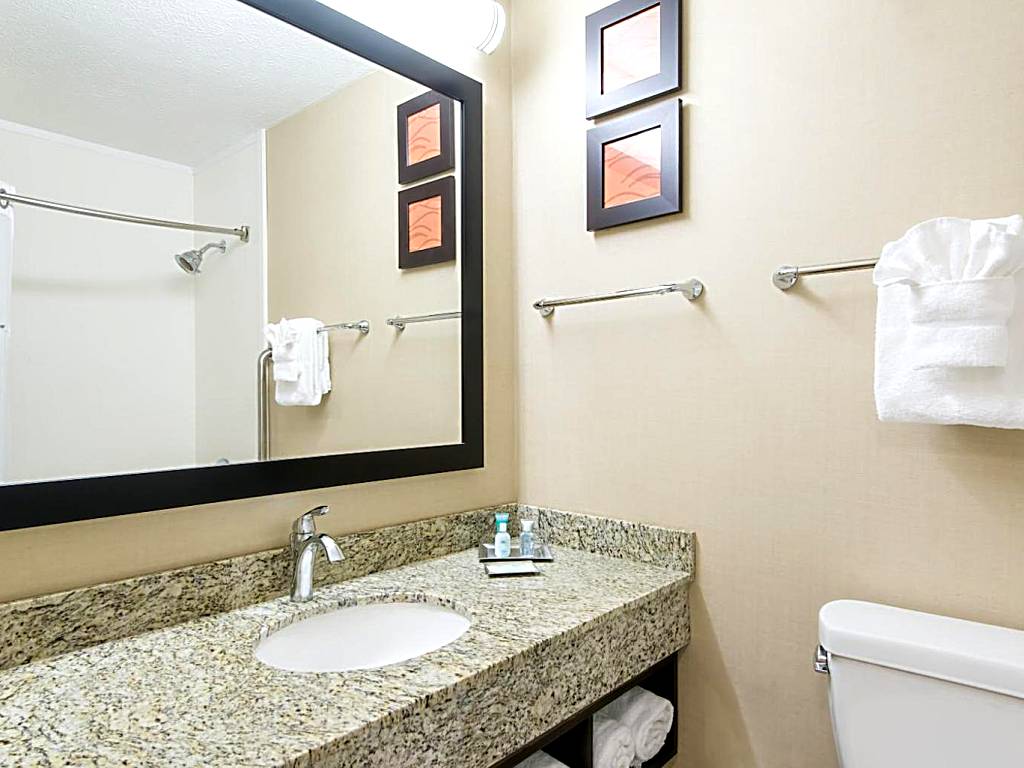 The Wyndham Garden Hotel Cross Lanes Charleston offers a luxurious King Room with Spa Bath. The room features a private bathroom with a bath, shower, and hairdryer, along with free toiletries. It is equipped with modern amenities including air conditioning, a flat-screen TV with cable channels, a tea and coffee maker, a wardrobe, and a safe deposit box. The hotel is conveniently located off Interstate 64 in Cross Lanes, West Virginia, less than one mile from the Mardi Gras Casino. Guests can enjoy the tropical indoor pool with a waterfall and hot tub. The hotel also offers an outdoor pool and fitness center. Business travelers will appreciate the meeting space, business center, fax/copy services, and complimentary wired and wireless high-speed internet access. Other amenities include free local calls and a complimentary breakfast buffet. The on-site restaurant Garden Grille serves delicious meals for guests to enjoy.
Pros:
– Convenient location near Interstate 64
– Tropical indoor pool with waterfall
– Outdoor pool and fitness center
– Complimentary breakfast buffet
– On-site restaurant serving delicious meals
Baker's Hill Inn (Bluefield)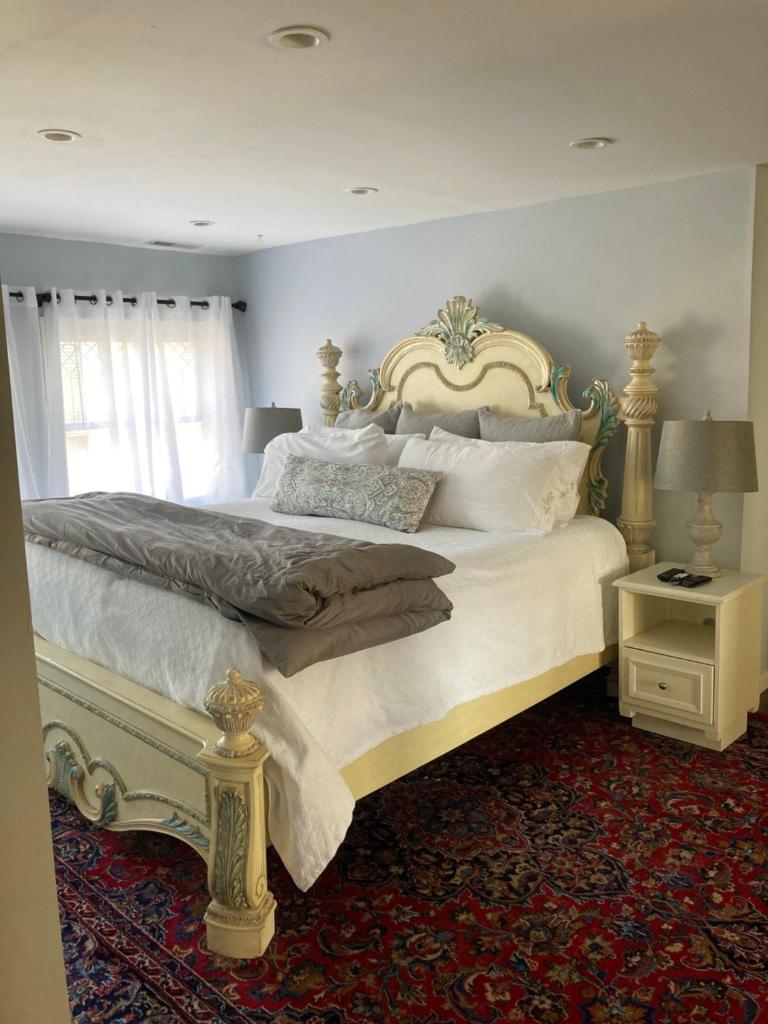 Baker's Hill Inn is a luxurious 5-star property situated in the charming Bluefield. Offering a stunning terrace for guests to relax and unwind, the hotel also provides convenient amenities such as free WiFi and private parking. Start your day with a scrumptious continental breakfast that is served daily at the hotel. For sports enthusiasts, Bowen Field is just 3.2 km away from Baker's Hill Inn. Travelers can easily access the accommodation as it is located only 83 km from Raleigh County Memorial Airport.
– Luxurious 5-star property in Bluefield
– Free WiFi and private parking available
– Beautiful terrace for relaxation
– Delicious daily continental breakfast
– Close proximity to Bowen Field and airport
Information about Hotels With Jacuzzi In Room in West Virginia
| | |
| --- | --- |
| 🏢 Number of Hotels With Jacuzzi In Room in West Virginia | 6 |
| 🥇 Average Review Score | 8.6/10 |
| 💰 High season average price | 1340 |
| 💸 Low season average price | 335 |
FAQ
Can you recommend any hotels in West Virginia with jacuzzi in room?
Yes, there are several hotels in West Virginia that offer rooms with private jacuzzis. One popular option is the XYZ Hotel located in the heart of downtown. They have a variety of room types available, including ones with spacious jacuzzis perfect for a relaxing soak after a long day of exploring the city.
Are there any budget-friendly hotels with jacuzzi in room options in West Virginia?
Yes, if you're looking for more affordable accommodations with jacuzzis in West Virginia, the ABC Inn is a great choice. They offer cozy rooms with private jacuzzis at reasonable rates, ensuring you can enjoy a luxurious experience without breaking the bank.
What are some additional amenities typically offered by hotels with jacuzzi in room?
Hotels that provide rooms with jacuzzis often offer other amenities to enhance your stay. These may include complimentary breakfast, free Wi-Fi access, fitness centers, and on-site restaurants. Some establishments even provide additional spa services or romantic packages designed to make your stay even more special.
How do I find information about hotel rates and availability for rooms with jacuzzi online?
Finding information about hotel rates and availability for rooms with Jacuzzis is easy nowadays. You can visit hotel booking websites such as Booking.com or Expedia.com where you can enter your travel dates and search specifically for hotels offering Jacuzzi rooms. These websites usually provide detailed information about each hotel's amenities and pricing options.
Do all hotels allow children to stay in their Jacuzzi suites?
While many hotels welcome families and children, policies regarding kids using the Jacuzzi may vary from one establishment to another. It's best to check directly with the hotel before making reservations if you plan on traveling with children to ensure they allow them access to their Jacuzzi suites.
Popular Hotels With Hot Tub destinations