Welcome to the beautiful state of Vermont, where relaxation and luxury meet in the comfort of your own room. If you're looking for a rejuvenating getaway, look no further than our handpicked selection of accommodations offering in-room hot tubs. Nestled amidst picturesque landscapes, these establishments provide the perfect opportunity for you to unwind and pamper yourself.
Immerse yourself in the tranquility that Vermont has to offer as you soak your worries away in a private whirlpool bath within the confines of your own room. These opulent hotels boast tastefully designed interiors and modern amenities, ensuring every moment spent here is pure bliss. Whether you're seeking a romantic escape or simply need some well-deserved self-care time, these hotels with Jacuzzi-style tubs are guaranteed to exceed your expectations.
Indulge in ultimate comfort as you sink into warm bubbly waters while admiring sweeping views of Vermont's natural wonders through large windows provided by some accommodations. From grand suites boasting spacious marble bathrooms to cozy cabins tucked away amidst lush forests, there is something for everyone's preferences and budgets here. So why wait any longer? Treat yourself to an unforgettable stay at one of Vermont's finest hotels with in-room hot tubs and let all your stresses melt away into the soothing bubbles.
Best Vermont Hotels With Hot Tub
Kimpton Taconic Hotel (Manchester)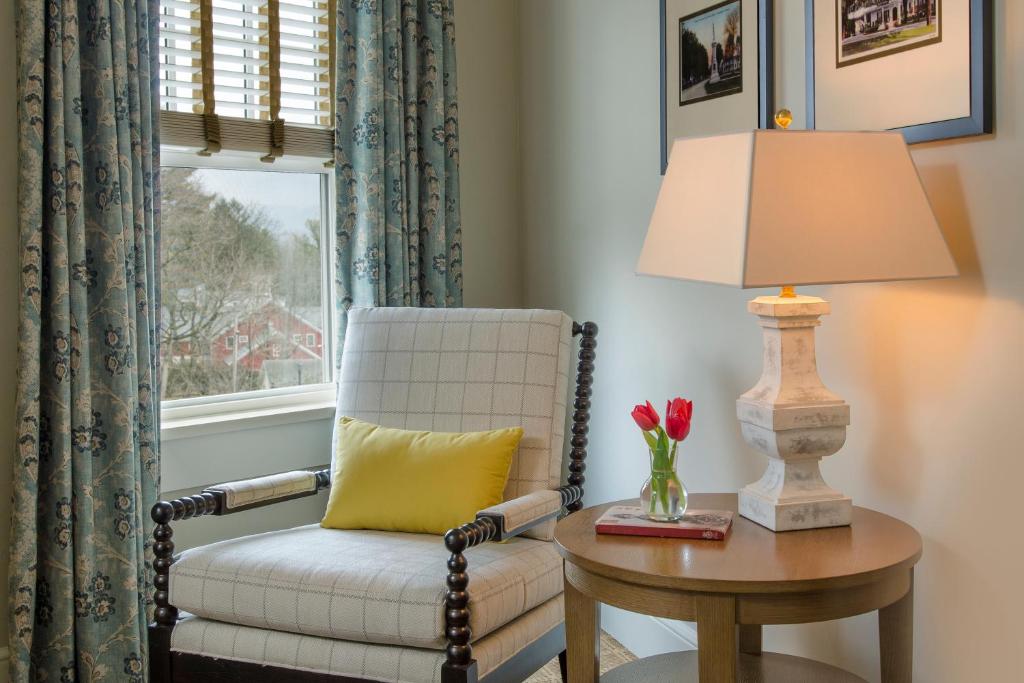 Kimpton Taconic Hotel in Manchester offers pet-friendly accommodation with a range of amenities for guests to enjoy. The hotel features a seasonal outdoor pool and stunning mountain views, allowing guests to relax and take in the beautiful surroundings. Each room is equipped with a flat-screen TV, soothing earth-tone palette, plush bedscapes, curated local artwork, and mountain vistas. The property also provides private parking and a 24-hour front desk for convenience. In the evenings, guests can participate in a social hour that includes complimentary wine and local brews. Located in historic Manchester Village, Kimpton Taconic Hotel offers access to various outdoor activities throughout the year such as leaf-peeping in fall, skiing in winter, maple sugaring in spring, and art festivals in summer. With its prime location and comfortable accommodations, this hotel is an excellent choice for travelers seeking both relaxation and adventure.
– Pet-friendly accommodation
– Seasonal outdoor pool
– Stunning mountain views
– Complimentary wine & local brews during social hour
– Convenient access to various outdoor activities all year round
Hotel Vermont Burlington (Burlington)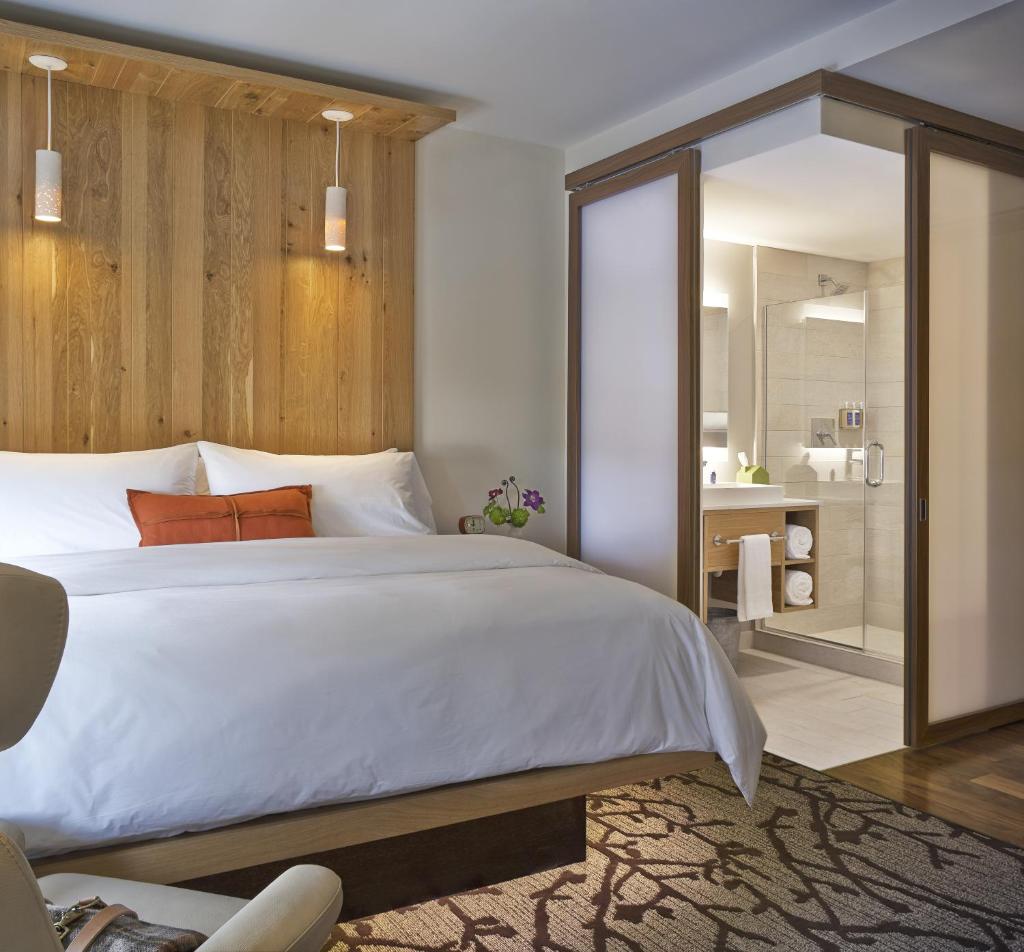 Located in central Burlington, Hotel Vermont Burlington is a modern hotel that offers a range of amenities and services. The hotel features on-site dining at Juniper, where guests can enjoy breakfast and dinner made from local ingredients, as well as a variety of craft beers and cocktails. The rooms are bright and comfortable with a flat-screen cable TV, work desk, en suite bathroom, and free toiletries. Some rooms also offer a window seat with views. Guests have access to the on-site Peloton Bike fitness center for their workout needs and can indulge in massage services for relaxation. Additionally, the hotel provides a business center and free Wi-Fi for convenience. Church Street Marketplace is just a 10-minute walk away, while the shores of Lake Champlain are within easy reach. The University of Vermont is also located just 1 mile from the hotel.
– On-site dining at Juniper serving meals made from local ingredients
– Bright rooms with flat-screen cable TV and work desk
– Access to Peloton Bike fitness center
– Massage services available for relaxation
– Convenient location near Church Street Marketplace and Lake Champlain
Manchester View: One-Bedroom Suite (Manchester)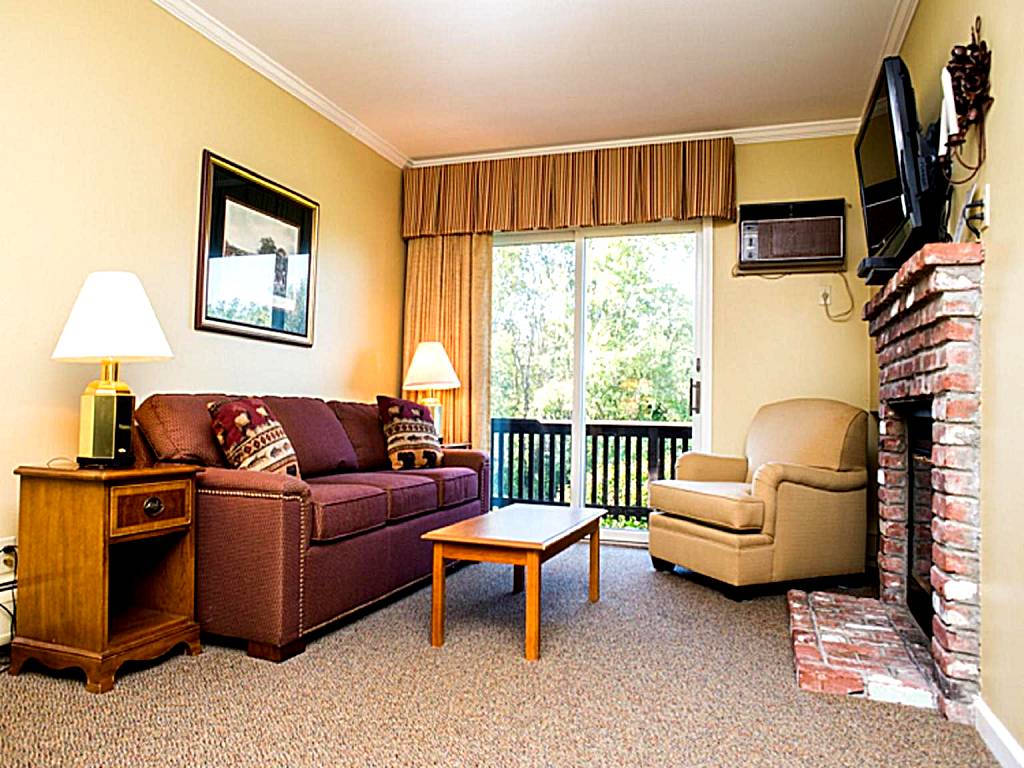 The Manchester View Inn is located in the beautiful Green Mountain National Forest and is conveniently situated minutes away from Route 7. The inn offers a cozy and inviting atmosphere, with select rooms featuring a fireplace and a hot tub for ultimate relaxation. Each room includes modern amenities such as free Wi-Fi, a refrigerator, and cable TV. Guests can also enjoy the comforts of a living area, private balcony, and two TVs in the One-Bedroom Suite. The inn's convenient location allows for easy access to nearby attractions, including Bromley Mountain Ski Resort just a 10-minute drive away and Stratton Mountain Ski Resort only 20 minutes away.
Pros:
– Spacious One-Bedroom Suite with separate living area
– Cozy fireplace for added warmth and ambiance
– Relaxing two-person Jacuzzi tub for ultimate pampering
– Private balcony to enjoy scenic views of the surrounding area
– Free Wi-Fi throughout the inn for convenience
Other places to stay in Vermont
Luxury Hotels in Vermont with Hot Tub
Vermont is renowned for its natural beauty and charming small towns, making it an ideal destination for a luxurious getaway. The state offers a variety of luxury hotels with hot tubs, allowing guests to relax and unwind in ultimate comfort. Whether nestled in the picturesque countryside or located in vibrant downtown areas, these hotels provide a tranquil retreat where visitors can immerse themselves in the serene surroundings while enjoying the soothing benefits of a private hot tub. With their top-notch service and elegant accommodations, luxury hotels in Vermont with hot tubs offer an unforgettable experience for those seeking indulgence and rejuvenation.
Best Western Plus Waterbury – Stowe: Queen Suite with Walk-In Shower – Disability Access (Waterbury)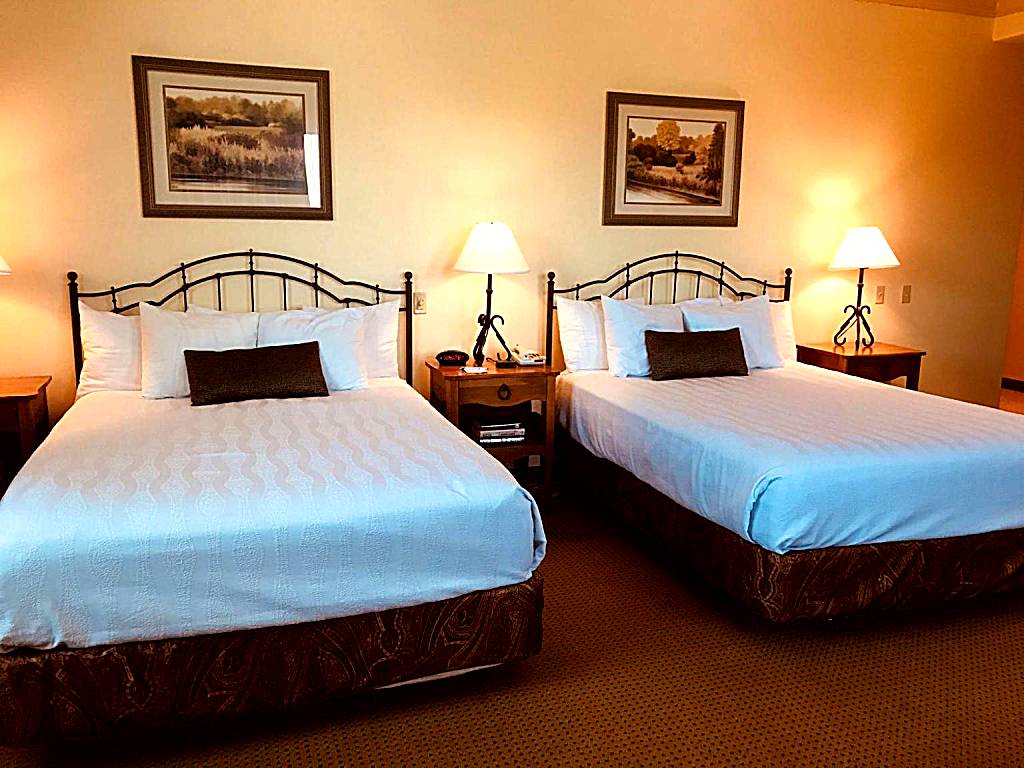 Guests at Best Western Plus Waterbury – Stowe can expect a special and unforgettable experience. The Queen Suite with Walk-In Shower – Disability Access offers a range of amenities to ensure comfort and relaxation. The suite features a pool with a stunning view, as well as a hot tub and fireplace. Inside the air-conditioned suite, guests will find 1 bedroom and 1 bathroom with a walk-in shower and bath. Other amenities include a flat-screen TV with cable channels, tea and coffee maker, seating area, wardrobe, and mountain views. With 2 beds available in the unit, it is suitable for families or groups of friends.
Situated in Waterbury amidst the scenic Green Mountains of Vermont, this hotel provides an ideal getaway for nature enthusiasts. Each room is equipped with modern comforts such as a flat-screen cable TV and air conditioning, while select rooms offer picturesque mountain views. Guests are welcome to enjoy the hotel's fitness center or relax in the shared lounge by the fireplace. A games room is also available for entertainment purposes.
The location offers numerous recreational activities both on-site and in its surroundings including skiing and hiking trails. For those looking for local attractions, Green Mountain Coffee Café & Visitor Center is just 17 km away.
– Pool with scenic view
– Hot tub
– Fireplace
– Mountain views from select rooms
– Indoor swimming pool
Starlight Inn: Superior King Suite with Spa Bath (Burlington)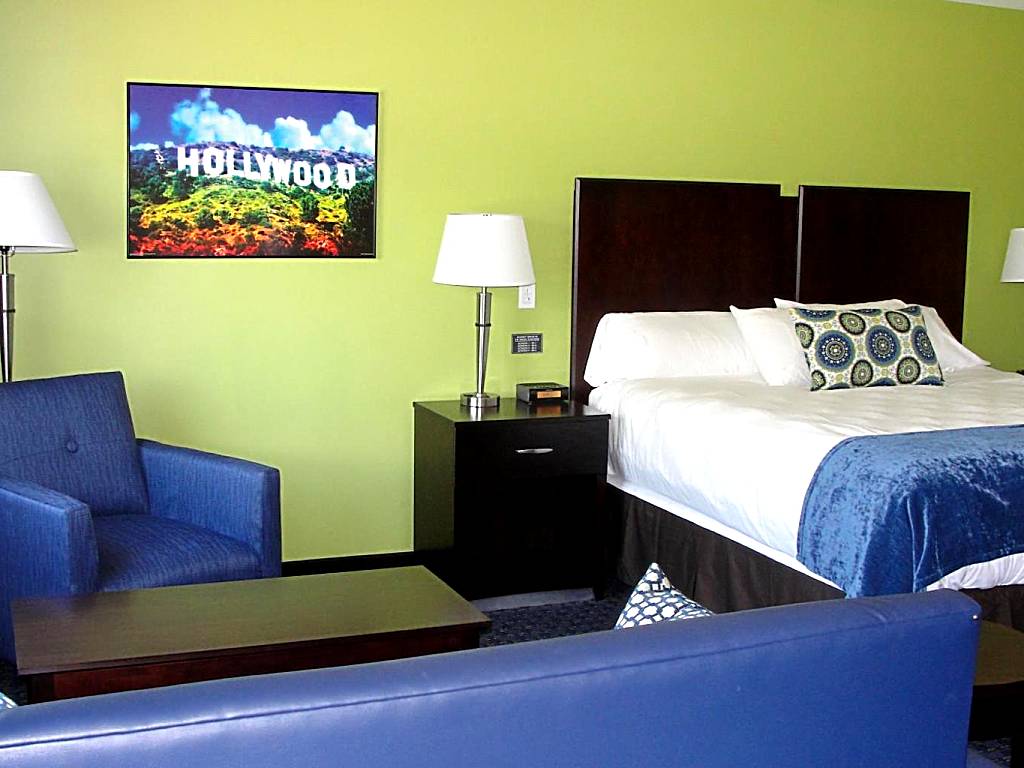 The Starlight Inn in Burlington, Vermont offers a luxurious stay in its Superior King Suite with Spa Bath. The suite features a comfortable sofa and a flat-screen TV for entertainment purposes. The hotel itself is themed like a casino resort, providing guests with a unique and exciting experience. Each room is equipped with a spa bath, allowing guests to relax and unwind after a long day of exploring the city. Complimentary WiFi access is also provided for guests' convenience. The Starlight Inn offers additional amenities such as a snack bar on-site, as well as access to a shared lounge and children's playground. Guests can also enjoy the adjacent 4-screen drive-in movie theater, where admission is included. For nature lovers, Niquette Bay State Park is just a short drive away from the hotel. Additionally, the University of Vermont can be reached in 13 minutes by car, while the vibrant Burlington city center is only an 8-minute drive away.
Pros:
– Luxurious spa bath in each room
– Unique casino resort theme
– Complimentary WiFi access
– Access to snack bar and shared lounge
– Adjacent 4-screen drive-in movie theater with included admission
Other places to stay in Vermont
Information about Hotels With Jacuzzi In Room in Vermont
| | |
| --- | --- |
| 🏢 Number of Hotels With Jacuzzi In Room in Vermont | 5 |
| 🥇 Average Review Score | 8.8/10 |
| 💰 High season average price | 1182 |
| 💸 Low season average price | 295.5 |
FAQ
Can I find hotels with jacuzzi in room in Vermont?
Yes, there are several hotels in Vermont that offer rooms with jacuzzis. These hotels provide a perfect opportunity for relaxation and indulgence, allowing guests to unwind and rejuvenate after a long day of exploring the city or enjoying outdoor activities. Whether you're visiting Burlington, Montpelier or any other city in Vermont, you can easily find a hotel that offers the luxury of a private jacuzzi right in your room.
Are the jacuzzis in hotel rooms clean and well-maintained?
Yes, hotels take great pride in ensuring that their amenities, including the jacuzzis in room, are kept clean and well-maintained. The housekeeping staff follows strict protocols to sanitize and disinfect the jacuzzis regularly. Additionally, hotels conduct routine maintenance checks to ensure that all equipment is functioning properly so that guests can enjoy a clean and hassle-free experience.
Do I need to book a specific room type to get a jacuzzi?
Yes, if you want a hotel room with a jacuzzi tub, it's important to book a specific room type such as Deluxe Suite or Jacuzzi Suite. These rooms are specially designed with spacious bathrooms featuring large whirlpool tubs for ultimate relaxation. Be sure to check the hotel's website or contact them directly for more information on which room types include the jacuzzi amenity.
Is there an additional cost for booking a hotel room with a jacuzzi?
Most hotels do charge an additional fee for booking a room with a private jacuzzi. This fee covers the added amenities and maintenance costs associated with providing this luxurious feature. It's always best to check with the hotel directly regarding their pricing policies as fees may vary depending on factors such as seasonality and availability.
What other amenities can I expect at hotels offering rooms with jacuzzis?
Hotels offering rooms with private jacuzzis often provide a range of other amenities to enhance their guests' stay. These can include features such as comfortable beds and bedding, flat-screen TVs, mini-fridges, complimentary Wi-Fi, and fitness centers. Some hotels may also offer additional services like room service or spa facilities for an even more indulgent experience during your stay.
Popular Hotel Rooms With Jacuzzi destinations