Welcome to the beautiful city of Nice, situated on the stunning French Riviera. If you're looking for a luxurious and indulgent escape, then look no further than the exquisite hotels offering private hot tubs in your very own room. These opulent accommodations provide the perfect retreat after a day of exploring the charming streets and vibrant atmosphere that Nice has to offer.
Imagine immersing yourself in a bubbling spa bath while enjoying panoramic views of the Mediterranean Sea or savoring a glass of champagne with your loved one as you soak away your worries. With these enticing hotels boasting in-room jacuzzis, you can experience ultimate relaxation and tranquility without ever having to leave the comfort of your own space. Whether you are seeking an intimate getaway for two or simply want to pamper yourself with some well-deserved self-care, these hotels offer an unforgettable experience that will leave you feeling refreshed and rejuvenated.
So why wait? Indulge in supreme luxury and treat yourself to an unforgettable stay at one of Nice's finest hotels with jacuzzi facilities right in your room. Prepare to unwind, immerse yourself in pure bliss, and create memories that will last a lifetime amidst alluring surroundings that epitomize elegance and sophistication.
Best Nice Hotels With Hot Tub
B&B Villa sensorielle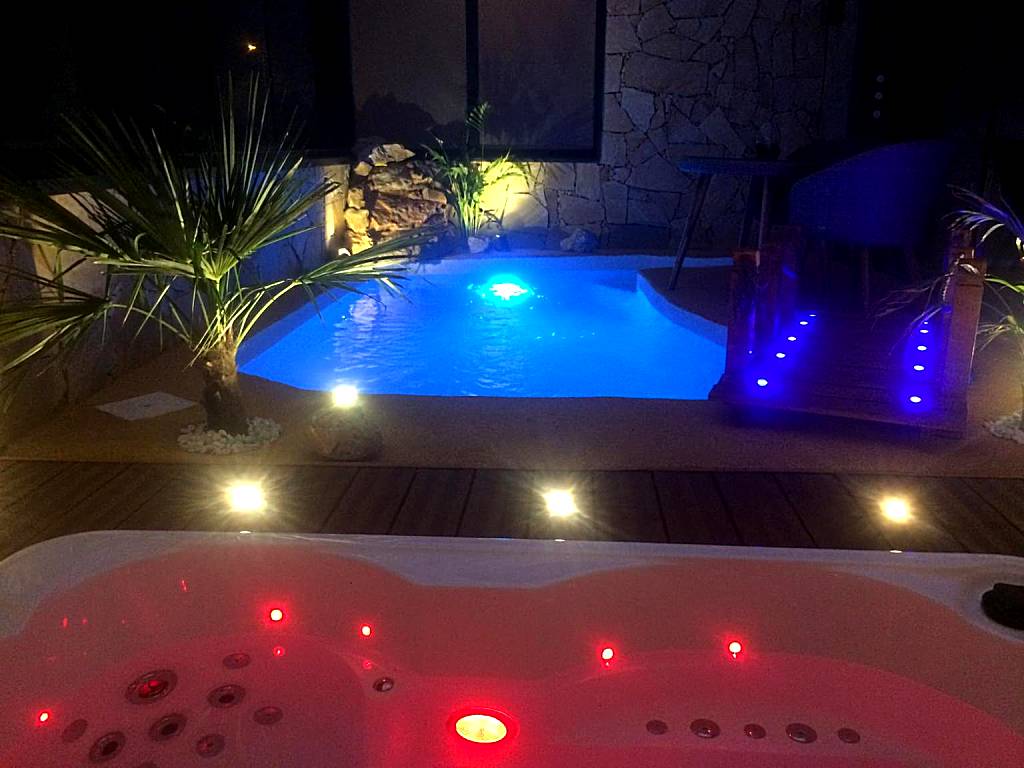 B&B Villa Sensorielle is a charming Bed and Breakfast located in Nice, just 4 km from the city center. Surrounded by beautiful surroundings, this cozy property offers comfortable rooms with private hot tubs, terraces, and ensuite bathrooms with free toiletries and wardrobe. Guests can enjoy sea views and make use of the coffee machine provided. For added luxury, one of the rooms features a private heated indoor pool and sauna. The hotel also offers massage treatments upon request and can arrange for gastronomic cuisine to be delivered to your room with advanced reservations. Nearby attractions include Massena Square, Albert 1st Gardens, and Promenade du Paillon. Côte d'Azur Airport is conveniently located just 9 km away.
– Cozy Bed and Breakfast experience
– Private hot tubs in every room
– Stunning sea views
– Option for a private heated indoor pool and sauna
– Massage treatments available on request
Spa by elle et lui nice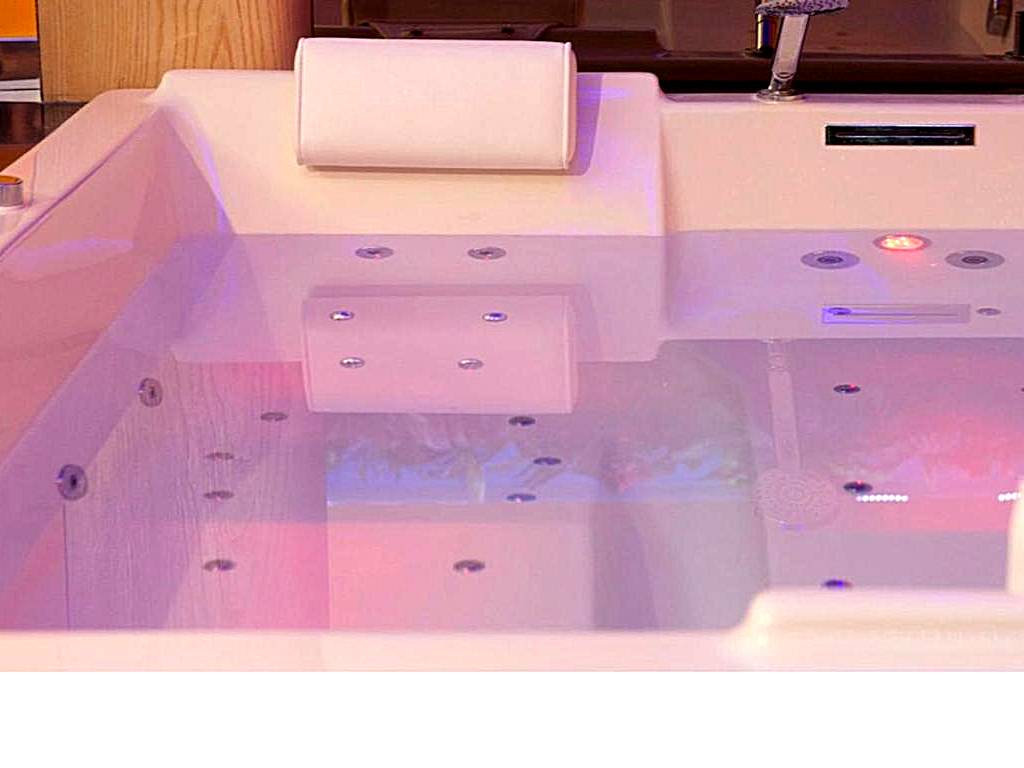 Located on the beachfront in Nice, Spa by elle et lui nice is a guest house that offers a relaxing and luxurious experience. The hotel is conveniently situated near Plage Magnan and Plage Poincare, making it an ideal choice for beach lovers. It is also close to other popular attractions such as Plage Florida, Russian Orthodox Cathedral, and Nice-Ville Train Station.
The rooms at Spa by elle et lui nice are well-equipped with modern amenities including air conditioning, flat-screen TVs with satellite channels, refrigerators, coffee machines, showers, free toiletries, and wardrobes. Some rooms even feature a private bathroom with a hot tub and a hairdryer along with stunning city views.
Guests can indulge in the wellness area of the hotel which includes a sauna and a hot tub. The staff at this guest house are friendly and bilingual (English and French), ensuring that guests feel welcomed and well taken care of during their stay. Private parking is available for an extra charge.
In summary:
– Beachfront location
– Proximity to popular attractions
– Well-equipped rooms with modern amenities
– Wellness area with sauna and hot tub
– Friendly bilingual staff
Splendid Hotel & Spa Nice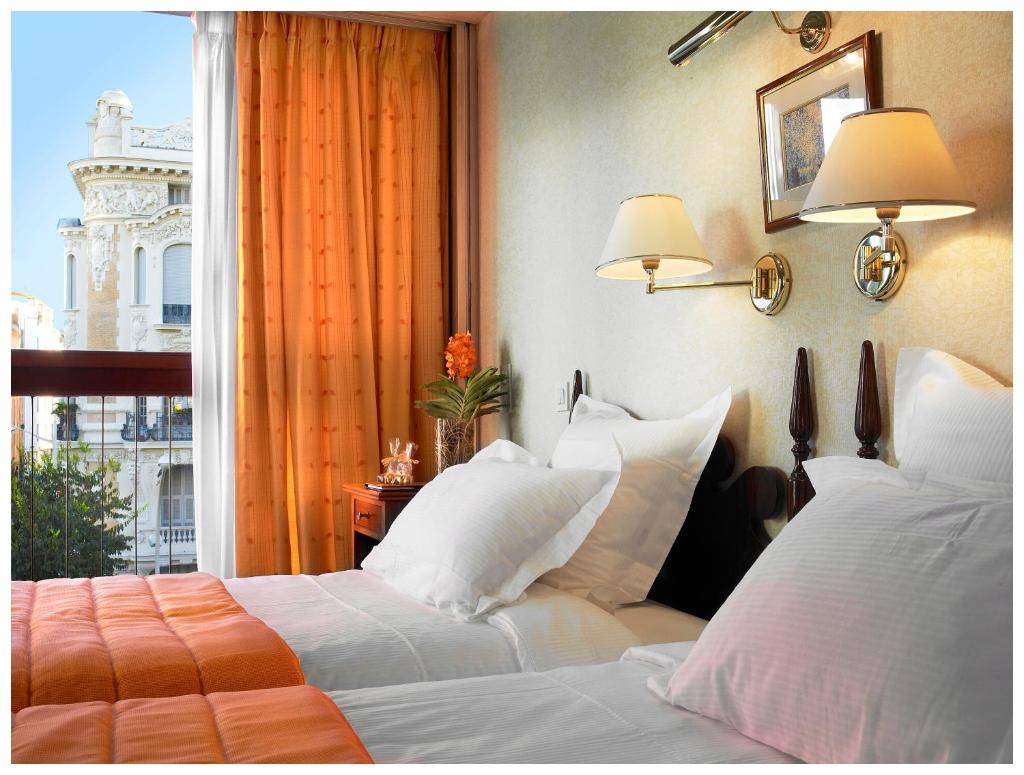 Located in Nice's City Centre, Splendid Hotel & SpaNice is a 4-star hotel situated just 600 metres from the stunning Promenade des Anglais. This hotel offers guests a range of luxurious amenities, including a seasonal rooftop swimming pool and hot tub that provides panoramic views of the surrounding mountains and cityscape. For those seeking relaxation, the spa features a hammam, while fitness enthusiasts can enjoy free access to the fitness centre and sauna. The air-conditioned guest rooms and suites are tastefully decorated and come equipped with modern amenities such as a minibar and flat-screen TV. Many rooms also feature balconies, with some offering the added luxury of a spa bath. With free WiFi access available throughout the property, guests can stay connected during their stay. The hotel also offers private parking for an additional charge. Additionally, this conveniently located hotel is just 7 km from Nice-Cote d'Azur Airport and only a short 3-minute drive away from Casino Ruhl.
– Convenient central location
– Rooftop swimming pool with panoramic views
– Luxurious spa facilities including hammam
– Comfortable air-conditioned rooms with balcony options
– Free WiFi access throughout
Other places to stay in Nice
Luxury Hotels in Nice with Hot Tub
Luxury hotels in Nice offer an unparalleled level of relaxation and indulgence with their hot tub amenities. Immerse yourself in the warm waters of your private jacuzzi, surrounded by opulent surroundings and breathtaking views. Whether you're unwinding after a day exploring the city or simply seeking a tranquil escape, these hotels promise an intimate and rejuvenating experience. Soothe your senses as the bubbles melt away your stress, creating a blissful ambiance that will leave you feeling pampered and refreshed. Discover the perfect retreat for luxury seekers who crave a touch of romance and serenity during their stay in Nice.
Hotel Suisse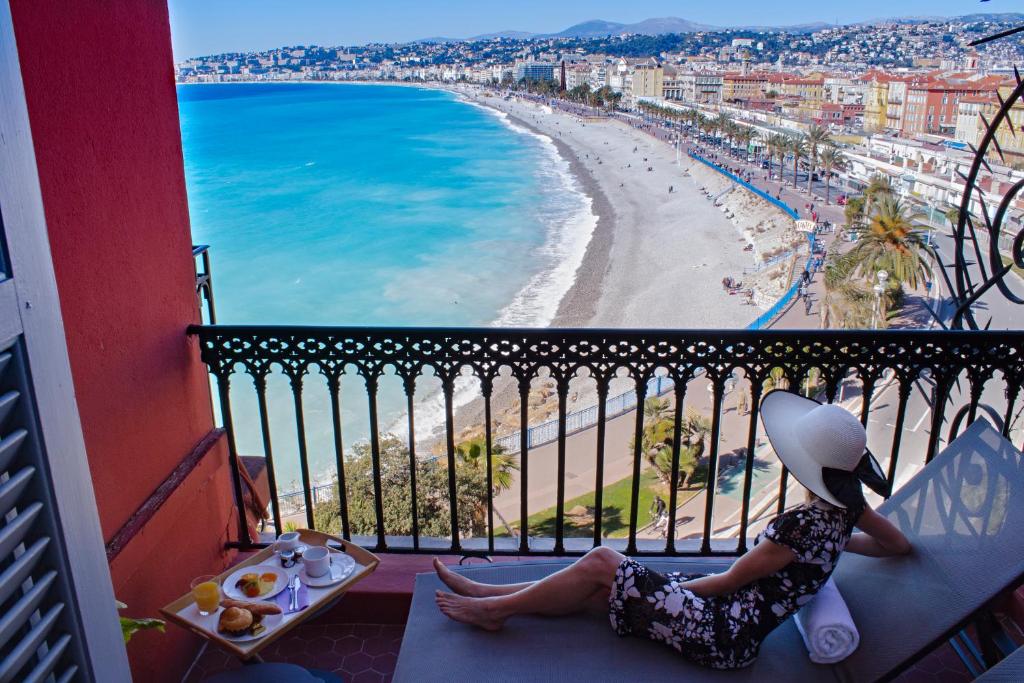 Located on the seafront in Nice's Old Town, Hotel Suisse is an Italian-style hotel that offers a partnership with a local private beach, where guests can enjoy meals and beverages for an additional charge. The hotel provides discounted access to the private beach. The air-conditioned guest rooms are equipped with a flat-screen TV, minibar, and telephone, with most rooms offering panoramic sea views. Each room features elegant décor and a private bathroom. For an extra fee, guests can enjoy a continental breakfast served every morning at Hotel Suisse. The hotel also offers a bar and lounge area where guests can relax with drinks while using the free WiFi available in public areas. Conveniently located 15 minutes' drive from Nice Côte d'Azur Airport, the hotel is within walking distance of Armente Garden. Paid public parking is available nearby.
– Stunning seafront location in Nice's Old Town
– Partnership with local private beach for discounted access
– Air-conditioned guest rooms with flat-screen TV and minibar
– Elegant décor and most rooms offer panoramic sea views
– Bar and lounge area for relaxation, along with free WiFi access
Jacuzzi: Superior Queen Room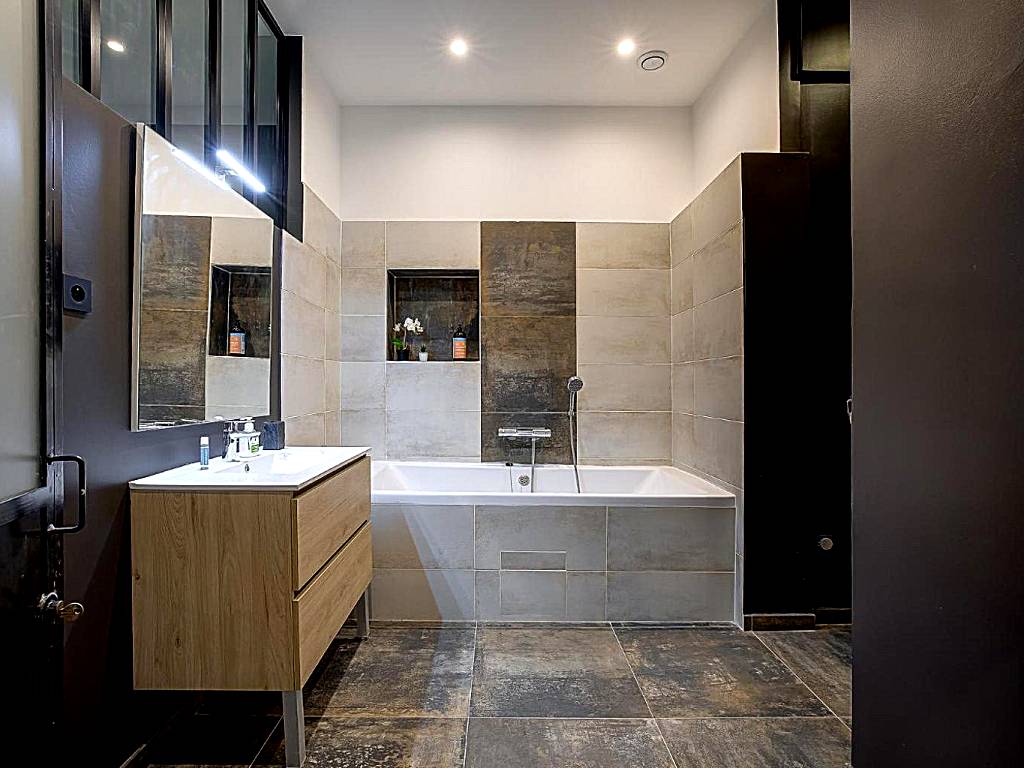 The Superior Queen Room at Jacuzzi, Mer 3 min, B&B offers a luxurious experience with its hot tub feature. The room includes a private bathroom with a bath, shower, and hairdryer. It is spacious and equipped with air conditioning, soundproof walls, a minibar, and a flat-screen TV with streaming services. The unit provides one comfortable bed for guests to relax in.
Situated in Nice, this beachfront property is conveniently located near Plage Fabron and Plage Regence. The hotel also offers a bar and air conditioning for added comfort. Guests can enjoy the wellness area which features a hot tub and spa facilities. The nearest airport is Nice Côte d'Azur Airport, just 6 km away.
Guests at Jacuzzi, Mer 3 min, B&B can take advantage of the terrace as well as free private parking and WiFi access. The bed and breakfast also provides towels and bed linen for guests' convenience. A continental breakfast is available each morning to start the day off right.
– Luxurious hot tub in the room.
– Spacious double room with air conditioning.
– Convenient location near the beach.
– Access to terrace for relaxation.
– Free private parking and WiFi access available.
(Note: Please check if there are any character or word limits for your assignment.)
Other places to stay in Nice
Information about Hotels With Jacuzzi In Room in Nice
| | |
| --- | --- |
| 🏢 Number of Hotels With Jacuzzi In Room in Nice | 5 |
| 🥇 Average Review Score | 8.7/10 |
| 💰 High season average price | 556 |
| 💸 Low season average price | 139 |
FAQ
Can I find hotels with jacuzzis in the rooms in Nice, France?
Yes, there are several hotels in Nice that offer rooms with jacuzzis. These luxurious accommodations provide a perfect opportunity for relaxation and indulgence during your stay in this beautiful city.
Are hotels with jacuzzi in room popular among tourists visiting Nice?
Yes, hotels with jacuzzi in room are quite popular among tourists visiting Nice. Travelers appreciate the added comfort and luxury that having a private jacuzzi in their hotel room provides, especially after a long day of exploring the city or lounging on the beach.
What are some of the benefits of staying at a hotel with a jacuzzi in the room?
Staying at a hotel with a jacuzzi in the room comes with many benefits. Firstly, it offers privacy as you can enjoy your own personal spa experience without any interruptions. Secondly, it provides convenience as you don't have to leave your room to relax and unwind. Lastly, it adds an extra touch of luxury and romance to your stay.
Are there any budget-friendly options available for hotels with jacuzzis in Nice?
Yes, there are budget-friendly options available for hotels with jacuzzis in Nice. While some luxurious accommodations may come at higher prices, there are also affordable options that offer rooms with private hot tubs for those traveling on a tighter budget.
Do all hotels offering rooms with jacuzzis provide additional amenities as well?
Most hotels offering rooms with Jacuzzis also provide additional amenities to enhance guests' stay. These amenities may include complimentary breakfast, free Wi-Fi access, fitness centers or spas on-site, concierge services to assist guests' needs and more.
Popular Hotel Rooms With Jacuzzi destinations