Welcome to our enchanting journey through the land of lakes and jacuzzis! Today, we embark on a exploration of the luxurious Hotels With Jacuzzi In Room in Minnesota, USA. Nestled in the heart of this captivating state lies a treasure trove of accommodations that offer an unforgettable blend of relaxation and indulgence. Join us as we delve into the world of opulent spas, rejuvenating bubbles, and tranquil settings that will leave you feeling pampered beyond your wildest dreams.
Prepare to be captivated by the charm and allure of Minnesota's hotels with private hot tubs. These exquisite establishments boast a plethora of amenities designed to cater to your every whim. Unwind after a long day exploring picturesque landscapes or revel in an intimate getaway with your loved one as you immerse yourself in the soothing waters of your very own jacuzzi. From lavish suites adorned with elegant decor to cozy cabins nestled amidst breathtaking sceneries, these hotels offer an unparalleled experience for those seeking tranquility and romance.
Whether you are planning a romantic escape or simply craving some much-needed self-care, let us guide you through the realm of Hotels With Jacuzzi In Room in Minnesota. Indulge yourself in utter luxury as we uncover hidden gems where warm bubbles beckon and stress melts away. So pack your swimsuit and anticipation for pure bliss as we take you on an incredible journey through this haven for relaxation seekers.
Best Minnesota Hotels With Hot Tub
Best Western Plus Kelly Inn (Saint Cloud)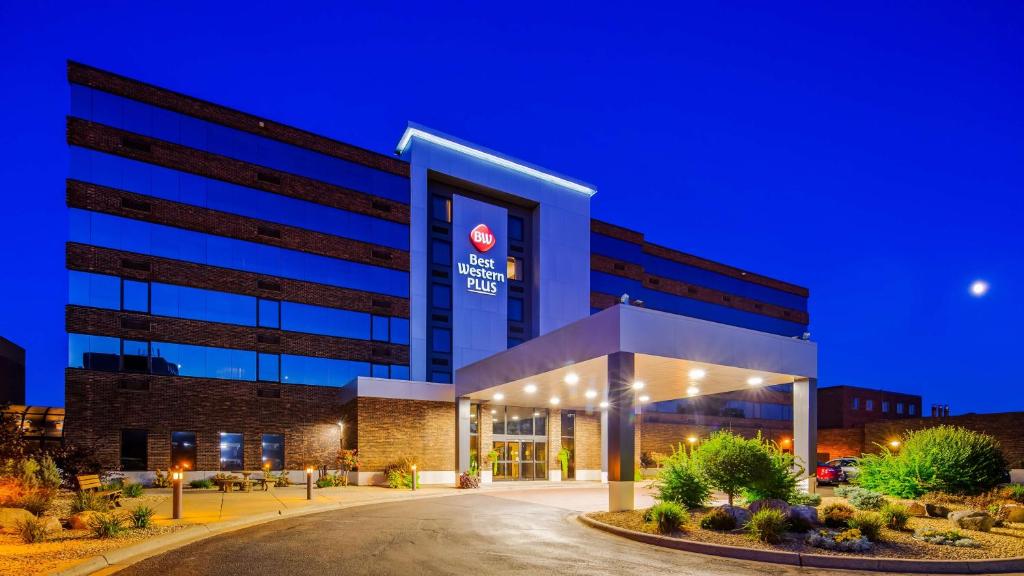 The Best Western Plus Kelly Inn in Saint Cloud, Minnesota is a conveniently located hotel adjacent to the Saint Cloud Civic Center along the Mississippi River. The hotel offers free WiFi access throughout the property and features an indoor pool and onsite restaurant. Each room includes a 37-inch flat-screen cable TV, microwave, fridge, and coffeemaker for convenience. Guests can enjoy classic American fare at the Green Mill Restaurant and Bar or relax with a drink at the bar. Additional amenities include a fitness center, hot tub, business center, and free parking. The hotel is just a short walk from Saint Cloud State University campus and a quick drive from Saint Cloud Regional Airport.
– Convenient location next to Saint Cloud Civic Center
– Indoor pool for relaxation
– Onsite restaurant serving classic American fare
– Fitness center for staying active during your stay
– Free WiFi access throughout the property
South Pier Inn (Duluth)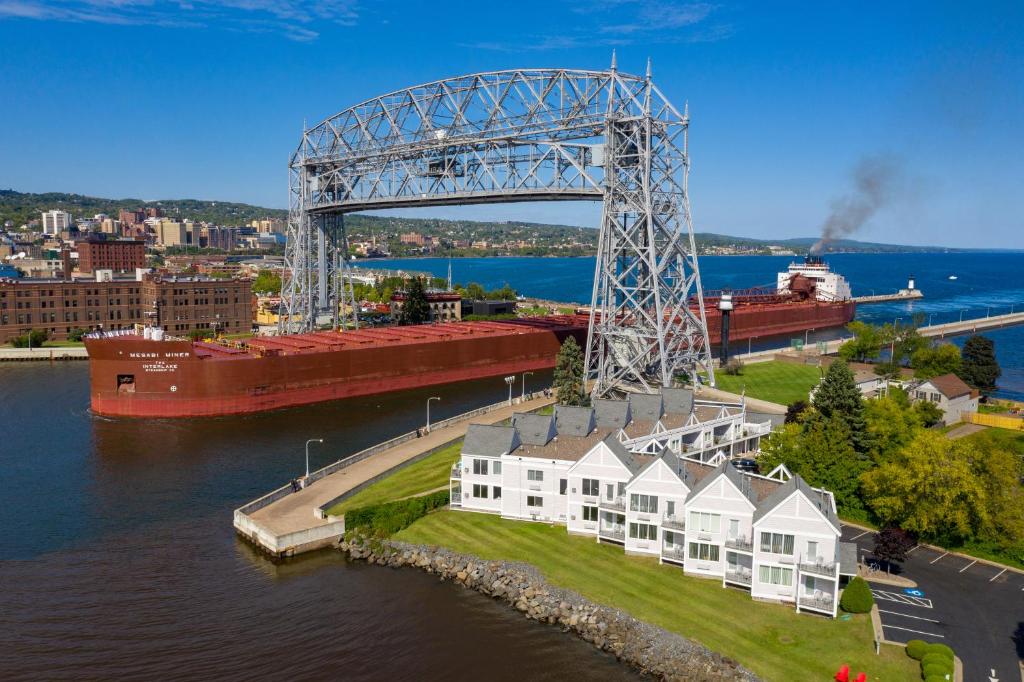 Situated between Lake Superior and Duluth Harbor Basin, the South Pier Inn in Duluth is a waterfront hotel that offers stunning views and convenient amenities. Each guest room comes equipped with free Wi-Fi, a flat-screen TV, a refrigerator, and tea/coffee making facilities. The highlight of the waterfront suites is their private balconies that allow guests to have an up-close view of international vessels passing under the famous Aerial Lift Bridge. The hotel also features a 400-foot shoreline path for guests to enjoy walks or admire beautiful sunsets. In the mornings, guests can start their day with a complimentary continental breakfast. Located less than 1 mile away from Duluth Entertainment Convention Center and within a short drive of downtown Duluth, Great Lakes Aquarium, and Bayfront Festival Park.
– Stunning waterfront location
– Private balconies with ship-viewing opportunities
– Free Wi-Fi in all rooms
– Complimentary continental breakfast
– Close proximity to popular attractions
DoubleTree by Hilton Roseville Minneapolis: Queen Room with Whirlpool (Roseville)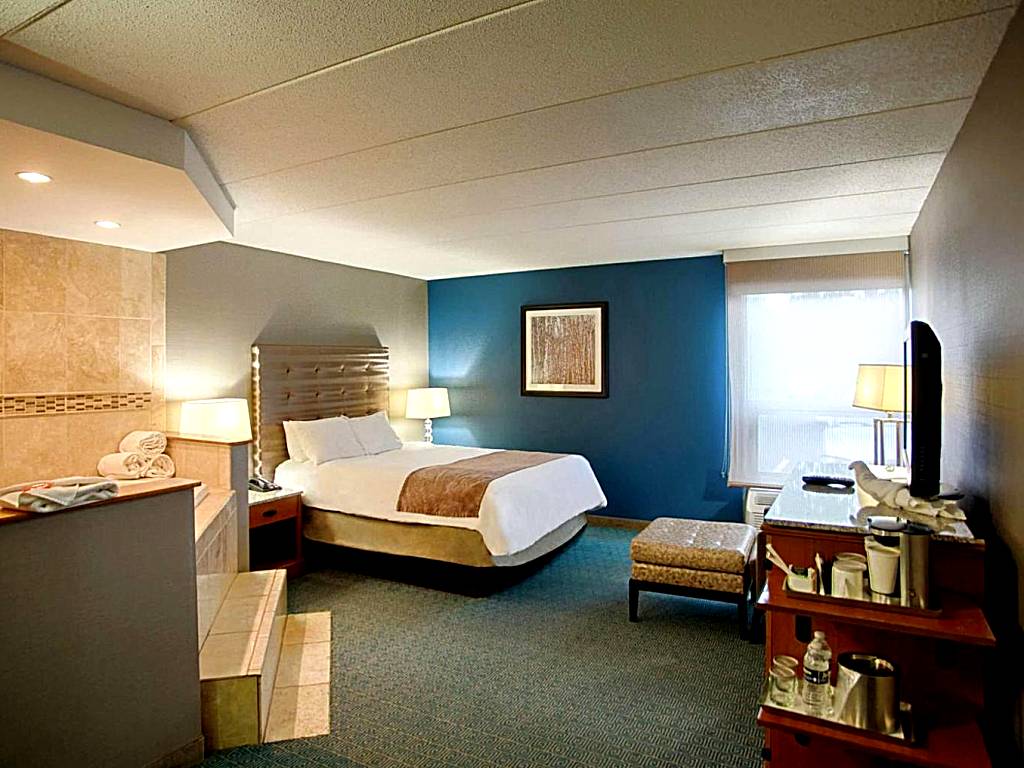 The DoubleTree by Hilton Roseville Minneapolis offers a Queen Room with Whirlpool, providing guests with the ultimate relaxation experience. This spacious air-conditioned room features a hot tub and spa bath, creating a luxurious atmosphere. The room is equipped with modern amenities including a TV, tea and coffee maker, wardrobe, and carpeted floor. Located just 7 km from the Minnesota State Fairgrounds, this hotel also boasts an indoor pool and free WiFi for guests to enjoy. On-site dining is available at Axel's Charhouse, serving delicious traditional American cuisine throughout the day. A free shuttle service is provided to locations within 7 km of the hotel for convenience. Nearby attractions include Rosedale Center Mall and Cedarholm Golf Course which are both within 3 km of the hotel, as well as the popular Minneapolis Sculpture Garden which is just a short 13-minute drive away. With its excellent amenities and convenient location near Minneapolis–St Paul International Airport (25 km), DoubleTree by Hilton Roseville Minneapolis ensures guests have an enjoyable stay.
– Spacious room with hot tub and spa bath
– Indoor pool and free WiFi available
– On-site dining at Axel's Charhouse
– Free shuttle service to nearby locations
– Convenient location near airport and popular attractions
Other places to stay in Minnesota
Luxury Hotels in Minnesota with Hot Tub
When it comes to indulging in relaxation and luxury, Minnesota offers an array of exquisite hotels with hot tubs. Whether you're seeking a romantic getaway or simply want to unwind after a day exploring the state's natural beauty, these luxurious accommodations provide the perfect setting. Imagine sinking into a bubbling hot tub, enveloped by warm water while admiring breathtaking views from your private room. With attention to detail and impeccable service, these luxury hotels in Minnesota offer an unforgettable experience for those seeking tranquility and rejuvenation.
AmericInn by Wyndham Mounds View Minneapolis: 1 King Bed, Superior one Bedroom Suite, Non -Smoking (Mounds View)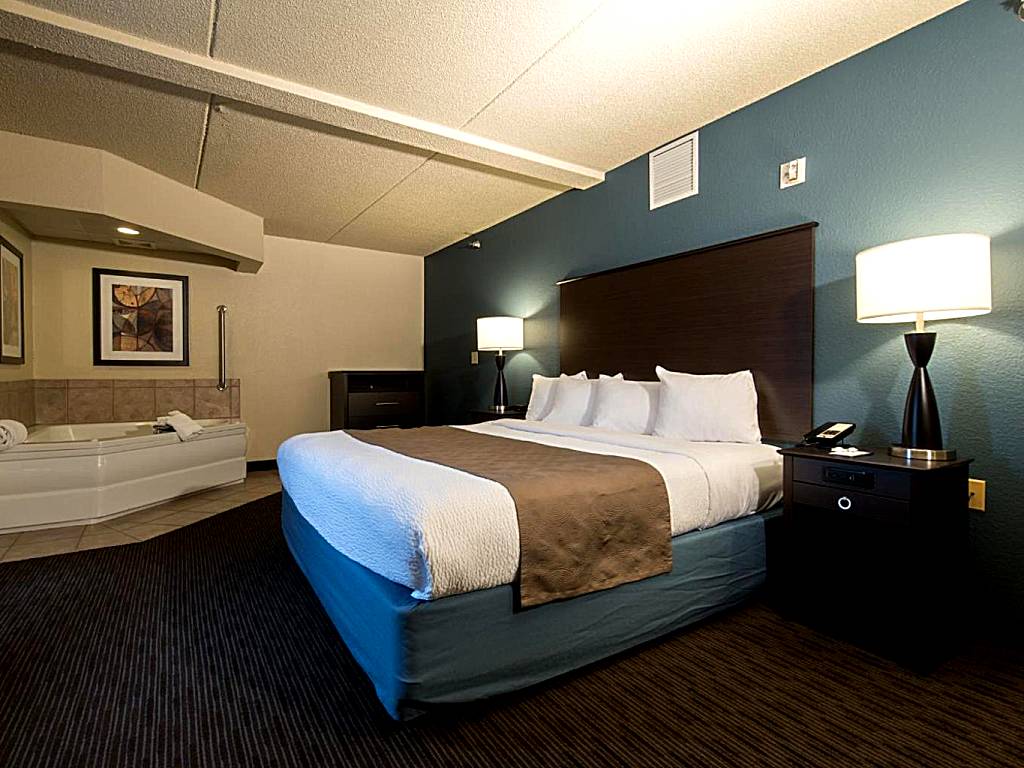 The AmericInn by Wyndham Mounds View Minneapolis offers a luxurious experience with its Superior one Bedroom Suite. This non-smoking suite features 1 King Bed and is filled with standout features such as a hot tub and fireplace, perfect for relaxation. The suite also includes a private bathroom with a bath, shower, and hairdryer. With carpeted floors and a seating area equipped with a flat-screen TV streaming services, air conditioning, tea, and coffee maker, as well as a wardrobe, guests will feel comfortable and at home during their stay. Additionally, the room offers 2 beds for added convenience.
This hotel goes beyond just the room amenities. Guests can enjoy the pool and games room located in the adjacent restaurant. Located just 25 miles away from downtown Minneapolis, there are plenty of shopping, dining, and entertainment options nearby. Each room at AmericInn Hotel comes complete with standard amenities such as a microwave and small refrigerator along with cable TV in the seating area.
For those looking to stay active or get some work done while on their trip, this hotel has you covered. Guests have access to free workout facilities at a local fitness center or can utilize the business center for any work-related needs. Dry cleaning services are also available for added convenience.
When it's time to venture out of the hotel grounds, guests can take advantage of being just 30 minutes away from the Mall of America – one of America's largest shopping centers. For travelers flying in or out of Minneapolis-Saint Paul International Airport is only 24 miles away making travel hassle-free.
Pros:
– Luxurious Superior One Bedroom Suite.
– Hot tub and fireplace feature.
– Convenient location near shopping, dining & entertainment.
– Access to fitness center & business center.
– Dry cleaning services available for guests' convenience.
Lift Bridge Lodge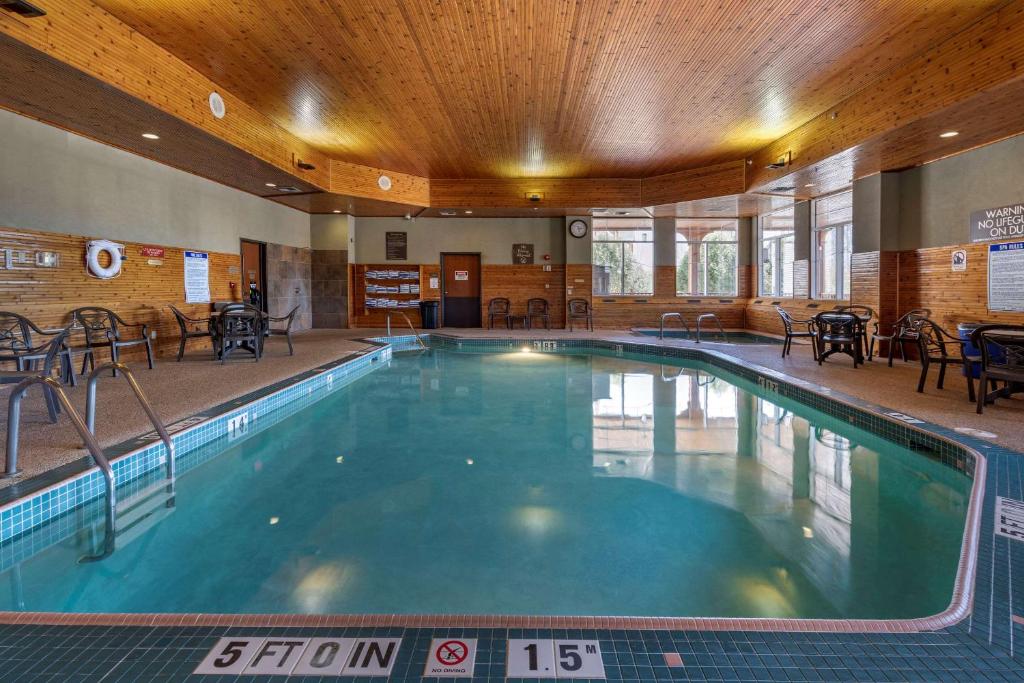 Located near Lake Superior, Canal Park, and the historic Aerial Lift Bridge, Lift Bridge Lodge is a comfortable and convenient hotel in Duluth. With its close proximity to popular attractions such as the Duluth Entertainment Convention Center and Glensheen, the Historic Congdon Estate, guests have plenty of options for entertainment. The hotel features an indoor heated pool and hot tub, perfect for relaxation after a day of exploring. Free amenities include a hot breakfast buffet, high-speed internet access, local calls, and access to fax and copy machines. Each room is equipped with essential amenities like refrigerators, microwaves, coffee makers, hair dryers, irons/ironing boards, and cable television with HBO. Guests also have access to a guest laundry facility on-site. Additionally, Spirit Mountain ski area, Duluth International Airport, and the University of Wisconsin-Superior are just a short drive away.
Pros:
– Indoor heated pool
– Hot tub for relaxation
– Convenient location near popular attractions
– Free hot breakfast buffet
– Essential amenities provided in each room
Information about Hotels With Jacuzzi In Room in Minnesota
| | |
| --- | --- |
| 🏢 Number of Hotels With Jacuzzi In Room in Minnesota | 5 |
| 🥇 Average Review Score | 8.3/10 |
| 💰 High season average price | 1374 |
| 💸 Low season average price | 343.5 |
FAQ
Can I find hotels with jacuzzi in room in Minnesota?
Yes, there are several hotels in Minnesota that offer rooms with jacuzzis. These hotels understand the luxury and relaxation that a private jacuzzi can provide for their guests, so they have dedicated rooms specifically designed to include this feature. Whether you are looking for a romantic getaway or simply want to unwind after a long day of sightseeing, you can easily find and book hotels with jacuzzis in room throughout Minnesota.
What amenities can I expect from the hotels with jacuzzi in room?
Hotels with jacuzzis in room typically come equipped with a range of amenities to enhance your stay. In addition to the private jacuzzi, these rooms often include features such as spacious bathrooms, comfortable king-sized beds, mini-fridges, flat-screen TVs, and complimentary Wi-Fi. Some hotels may even offer additional luxuries like fireplaces or stunning views from the room to make your experience extra special.
Do I need to pay an extra fee for using the jacuzzi in my hotel room?
It depends on the hotel's policy. While some hotels may include the cost of using the Jacuzzi as part of your room rate, others may charge an additional fee for its use. It is recommended to check with the hotel directly or review their online booking information to determine if there are any extra charges associated with enjoying the Jacuzzi in your hotel room.
Are there any specific safety measures taken for using the Jacuzzis at these hotels?
Hotels take guest safety seriously and have certain measures in place for using their Jacuzzis. The water temperature and cleanliness are regularly checked by staff members who also monitor usage time limits to ensure proper maintenance and hygiene standards are upheld. Additionally, most hotels provide guidelines on safe usage and encourage guests to use caution when operating hot tubs or whirlpools.
Can I book a hotel with a jacuzzi in room online?
Yes, booking a hotel with a jacuzzi in room is incredibly convenient and can be done online. Most hotels have their own websites where you can browse through available rooms, check the amenities offered, and make your reservation directly. Alternatively, there are also various travel websites that aggregate information from multiple hotels, allowing you to compare prices and amenities before making your final booking decision.
Popular Hotels With Hot Tub In Room destinations