Welcome to Miami Beach, the ultimate paradise for those seeking relaxation and luxury. In this vibrant city nestled on the southeastern coast of Florida, you'll find a plethora of opulent accommodations that offer an exquisite amenity: private hot tubs in your very own room. Imagine indulging in a rejuvenating soak while admiring breathtaking views of the Atlantic Ocean or sipping champagne with your loved one under a starlit sky. Whether you're planning a romantic getaway or simply craving some well-deserved pampering, Miami Beach's hotels with jacuzzis in room are sure to exceed your expectations.
Experience unrivaled comfort and unparalleled serenity as you unwind in these sumptuous accommodations. Immerse yourself in warm bubbles and let the soothing jets melt away all traces of stress from your body and mind. From sleek modern suites to charming boutique hotels, Miami Beach offers a diverse array of options that cater to both your personal style and budget preferences. Indulge in luxurious amenities like plush king-sized beds, elegant furnishings, and private balconies where you can bask in the glorious sunshine before retreating to your own personal oasis – the inviting jacuzzi just steps away from your comfortable bed. So why wait? Explore our handpicked selection of exceptional hotels with jacuzzis in room and make your visit to Miami Beach an unforgettable voyage into pure bliss.
Best Miami Beach Hotels With Hot Tub
Marenas Beach Resort: Two Story Oceanfront Penthouse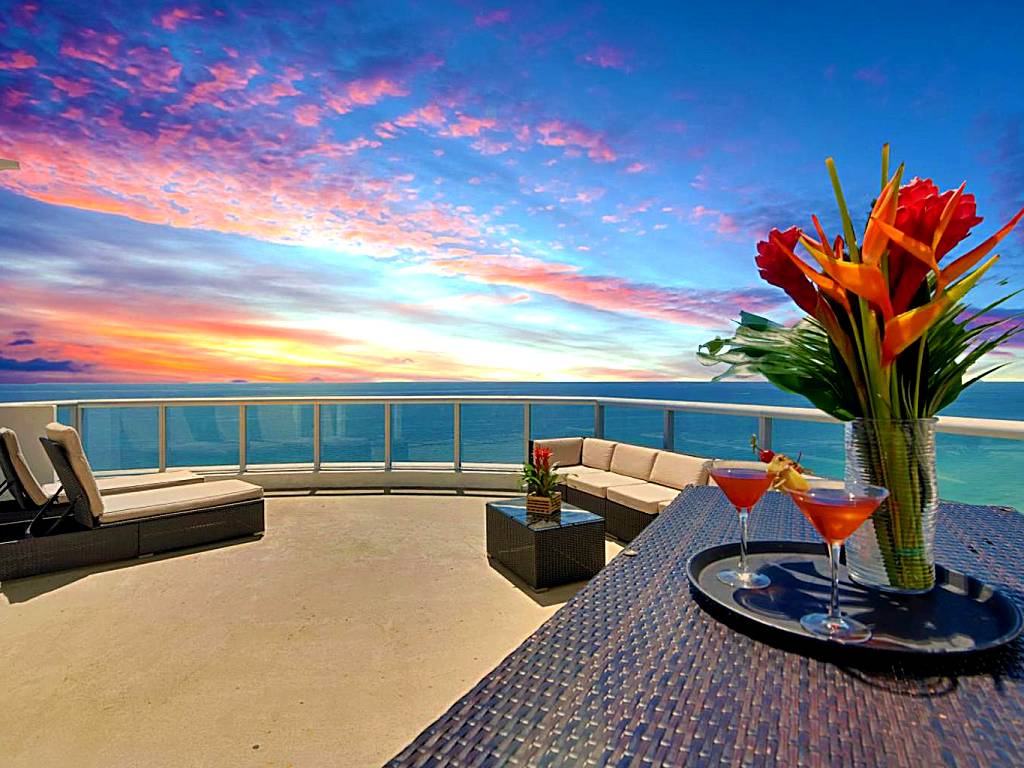 Located in Sunny Isles Beach, the Marenas Beach Resort offers guests a truly special experience with its Two Story Oceanfront Penthouse. This spacious suite features a hot tub for ultimate relaxation. The suite consists of 1 living room, 2 separate bedrooms, and 2 bathrooms with a bath and free toiletries. Guests can enjoy pool views from the air-conditioned suite which also includes a flat-screen TV with cable channels, a washing machine, and a tea and coffee maker. The well-equipped kitchen features a stovetop, refrigerator, dishwasher, and kitchenware. With its prime oceanfront location, this hotel is just 28 km from Fort Lauderdale and 20 km from South Beach.
Pros:
– Private balcony with ocean or bay view
– Fully equipped kitchen in suites
– Outdoor pool with hot tub
– On-site restaurant serving Contemporary American cuisine
– Free property-wide WiFi
Hilton Bentley Miami/South Beach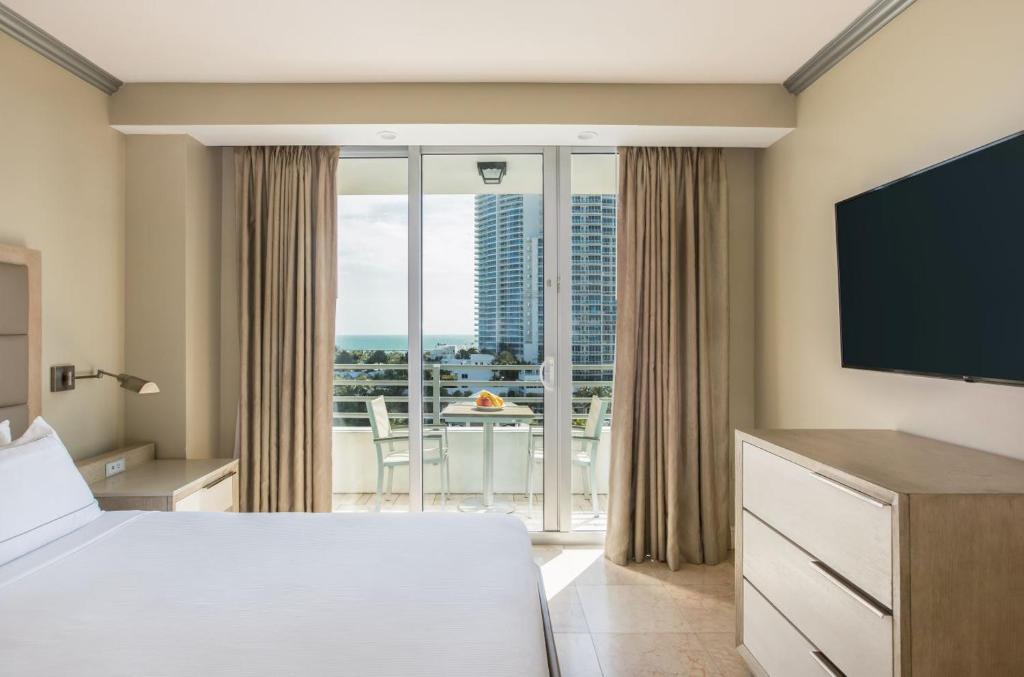 The Hilton Bentley Miami/South Beach is an elegant all-suite hotel located in the heart of South Beach. With its beachfront location and views of the Atlantic Ocean and Art Deco district, it offers a luxurious resort experience. Guests can enjoy a refreshing swim in the outdoor pool, relax on the beach with comfortable beach chairs, or indulge in Spa101's massage treatments and facials. The hotel also features an on-site hair salon for convenience. Each spacious suite is equipped with state-of-the-art furnishings, including kitchens or kitchenettes and flat-screen TVs. Private bathrooms are provided as well. Guests can dine at Santorini by Giorgios, which serves both new and traditional Greek cuisine. The Hilton Bentley Miami/South Beach is surrounded by popular attractions such as world-famous restaurants, luxury shopping destinations, and vibrant nightlife spots just steps away from the hotel. For those attending events or conventions, the Miami Convention Center is only a 13-minute drive away, while Miami International Airport can be reached within 18 km.
– Beachfront location with stunning ocean views
– All-suite accommodations with modern amenities
– On-site spa offering rejuvenating treatments
– Convenient access to popular restaurants, shops, and nightlife spots
– Close proximity to Miami Convention Center and airport
Kimpton Angler's Hotel South Beach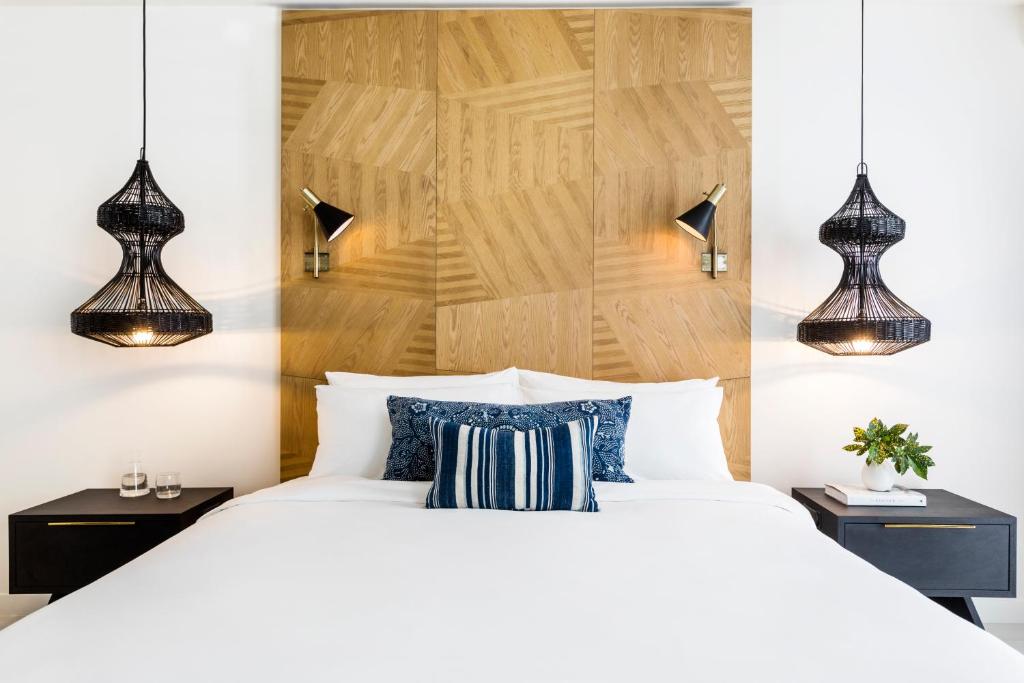 Kimpton Angler's Hotel South Beach is a charming resort located in Miami Beach, set in a historic Mediterranean Revival building. Guests can enjoy the rooftop pool with bar and lounge, offering stunning views of the city. The hotel also prides itself on its eco-friendly amenities and delectable dining options. For those looking to explore the nearby attractions, South Beach is just two blocks away. The elegant studios feature comfortable seating areas with plasma TVs and minibars, while the soft colors and wood furniture create a relaxing ambiance. Guests can take advantage of complimentary Wi-Fi and 24-hour concierge services. Additionally, the hotel provides beach bags with towels and water at the front desk, as well as complimentary bike rentals for easy transportation around town. The resort fee includes access to Orange Theory Fitness gym passes, perfect for fitness enthusiasts. With Miami Beach Marina just four blocks away, guests can also enjoy various water sports activities during their stay. Conveniently located only eight miles from Miami International Airport, Kimpton Angler's Hotel offers a wonderful blend of elegance and convenience.
– Rooftop pool with bar and lounge
– Eco-friendly amenities
– Complimentary social hour every evening
– Free Wi-Fi and 24-hour concierge services
– Convenient location near South Beach
Other places to stay in Miami Beach
Luxury Hotels in Miami Beach with Hot Tub
Miami Beach is home to an array of luxurious hotels that cater to guests looking for a truly indulgent experience. These hotels offer the added touch of private hot tubs in their rooms, allowing visitors to unwind and relax in ultimate comfort. Whether it's soaking in the warm waters after a long day exploring the city or simply enjoying a romantic evening with your partner, Miami Beach's luxury hotels with hot tubs provide guests with an exclusive retreat where they can rejuvenate and pamper themselves in style.
Faena Hotel Miami Beach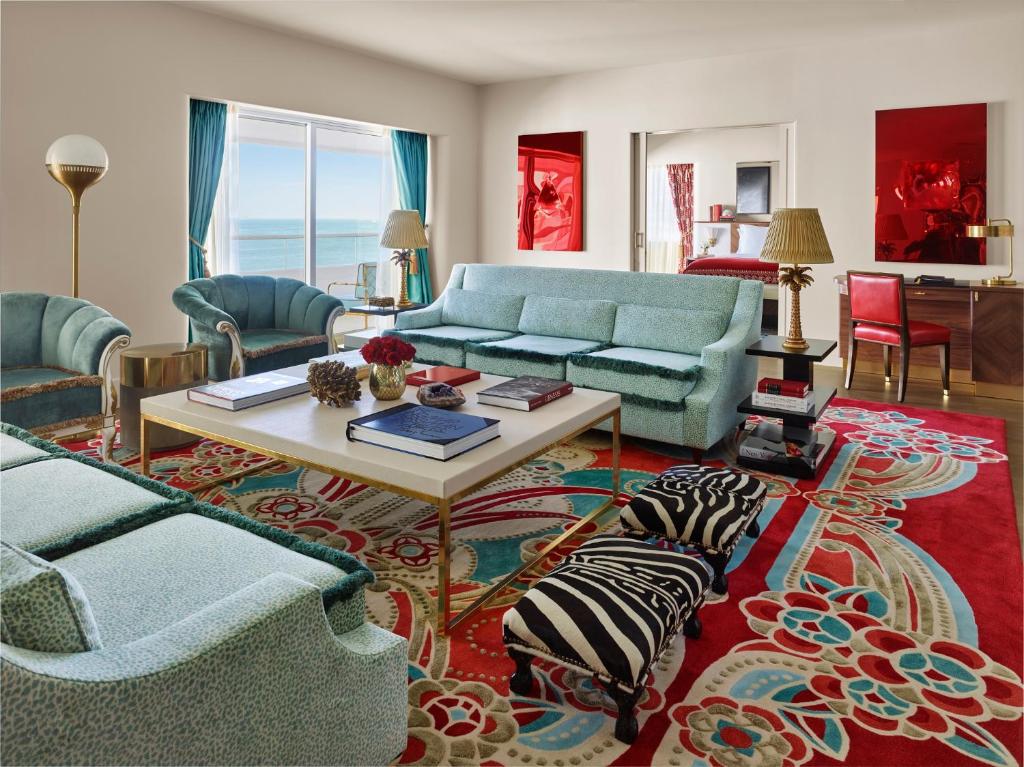 The oceanfront Faena Hotel in Miami Beach, Florida offers a luxurious and relaxing experience for guests. The hotel features an outdoor pool and a South American-inspired spa where guests can enjoy massages, nail care, and salon services. The fitness center provides daily indoor and outdoor classes with stunning ocean views. Food enthusiasts will love the open-fire kitchen at the Los Fuegos restaurant, which serves dishes made with local ingredients. For a more casual dining experience with pool and ocean views, Veranda is the perfect spot for a meal or cocktail. Pao offers Asian cuisine with international influences, including delicious rice dishes and fresh meats and fish. The rooms at Faena Hotel are elegantly decorated in late-Deco style and include amenities such as free WiFi, flat-screen TVs, and safety deposit boxes. The Carrara marble-tiled bathrooms provide bathrobes, slippers, and complimentary toiletries for ultimate comfort. Additionally, the hotel is conveniently located near popular attractions such as the Miami Beach Convention Center (2.5 km away), Bayshore Municipal Golf Course (2.9 km away), Lincoln Road Mall (8 minutes' drive), and the Art Deco District (9 minutes' drive).
Acqualina Resort and Residences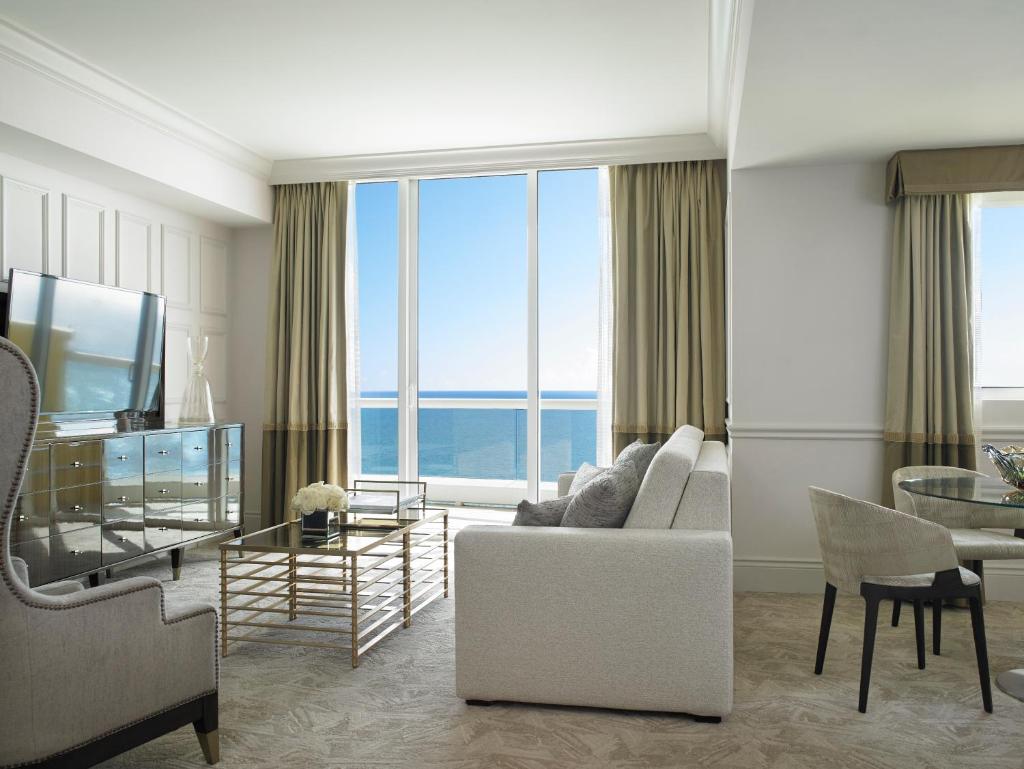 Acqualina Resort and Residences is a luxurious Mediterranean villa-inspired hotel located on 4.5 beachfront acres in Miami's Sunny Isles Beach. This family owned and operated property offers guests unparalleled accommodations and service, with 54 guest rooms and 44 suites, all featuring expansive floor plans and stunning views from private balconies. The resort boasts three oceanfront swimming pools, the Acqualina Spa, spacious meeting rooms, and AcquaMarine, an innovative marine biology-based children's program. Dining options include four restaurants, including the new Avra Miami and Il Mulino New York. Recent additions to the resort include a new Adult Pool experience and a Floridian-meets-Mediterranean menu at the beachside Costa Grill. Acqualina is proud to have received both Forbes Travel Guide Five-Star Award for both the hotel and spa as well as the AAA Five Diamond Award.
– Unprecedented accommodations and service
– World-class dining destinations
– Variety of oceanfront swimming pools
– Innovative children's program
– Conveniently located between Miami Beach and Fort Lauderdale
Other places to stay in Miami Beach
Information about Hotels With Jacuzzi In Room in Miami Beach
| | |
| --- | --- |
| 🏢 Number of Hotels With Jacuzzi In Room in Miami Beach | 5 |
| 🥇 Average Review Score | 8.4/10 |
| 💰 High season average price | 1404 |
| 💸 Low season average price | 351 |
FAQ
Can I find hotels with Jacuzzi in room in Miami Beach?
Yes, Miami Beach offers a wide range of hotels that provide luxurious rooms with Jacuzzis. Whether you are looking for a romantic getaway or simply want to unwind after a long day of exploring the city, you can find plenty of options that offer private Jacuzzis in the comfort of your own room.
Are Hotels with Jacuzzi in room popular in Miami Beach?
Absolutely! Hotels with Jacuzzi in room are quite popular among tourists visiting Miami Beach. Many travelers seek a little extra luxury and relaxation during their vacation, and having a private Jacuzzi in your hotel room is the perfect way to indulge and make your stay even more enjoyable.
What amenities can I expect from hotels with Jacuzzi in room?
Hotels offering rooms with Jacuzzis typically come equipped with a range of amenities to ensure a comfortable stay. In addition to the hot tub itself, you can expect features such as plush king-sized beds, stylish décor, flat-screen TVs, minibars, and spacious bathrooms. Some hotels may also offer additional perks like complimentary breakfast or access to fitness centers.
Do hotels charge extra for rooms with Jacuzzi?
The pricing for rooms with Jacuzzis varies depending on the hotel and its location within Miami Beach. Generally speaking, these rooms tend to be slightly more expensive than standard accommodations due to the added luxury they provide. However, it is always recommended to check directly with the hotel regarding any additional charges or special packages they may offer.
How can I book a hotel room with a private Jacuzzi?
Booking a hotel room with a private Jacuzzi is simple! You can easily search online travel platforms or visit the official websites of hotels located in Miami Beach. Most booking platforms allow you to filter your search results specifically for rooms offering this amenity. Once you find an option that suits your preferences and budget, follow the provided instructions to complete your reservation hassle-free.
Popular Hotels With Jacuzzi destinations