Welcome to the enchanting city of Lublin, Poland – a hidden gem that offers a plethora of delights for travelers seeking relaxation and luxury. In this guide, we will delve into the world of hotels with private whirlpool tubs in Lublin and uncover the finest accommodations that will elevate your stay to new heights.
Imagine indulging in a rejuvenating soak while surrounded by opulence and comfort. Whether you seek a romantic getaway or simply desire some well-deserved pampering, these lavish establishments will provide an impeccable experience tailored to your desires. With their state-of-the-art facilities and soothing ambiance, these hotels ensure your every need is met.
As you explore this vibrant city known for its rich history and cultural heritage, why not enhance your journey by choosing one of these remarkable hotels? Get ready for an extraordinary escape where you can unwind in style and immerse yourself in the charm of Lublin. So let's dive into our top picks for hotels with Jacuzzis in room – prepare to embrace pure bliss amidst this captivating Polish destination!
Best Lublin Hotels With Hot Tub
Hotel Pod Kasztanami: Apartment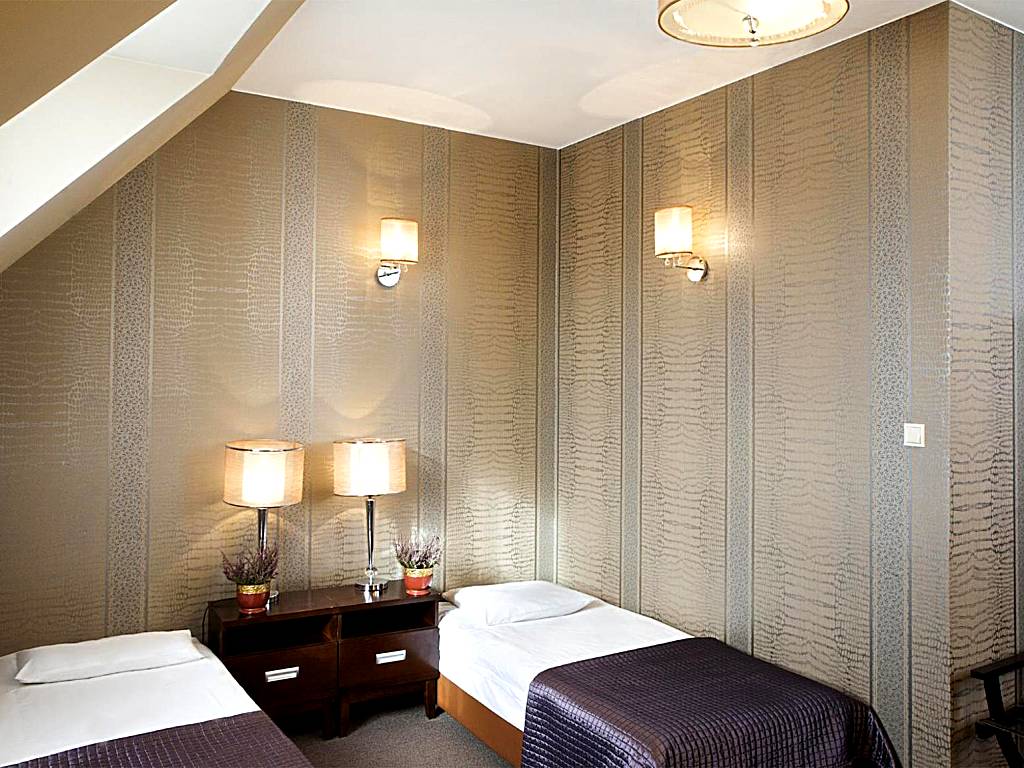 Hotel Pod Kasztanami is a traditional hotel situated by Zalew Zemborzycki, an artificial lake, 8 km from Lublin city centre amidst a natural environment. The hotel offers excellent facilities including a stylish interior, function rooms, and comfortable contemporary accommodation. Additionally, guests can indulge in sophisticated cuisine at the elegant on-site restaurant. With its strategic location and resources, the hotel is well-equipped to cater to professional events and celebrations. While conveniently close to the city, the surrounding area boasts a park, forests, and picturesque lake views that create a tranquil and satisfying stay.
Pros:
– Stylish interior and comfortable accommodation
– Function rooms for professional events
– Elegant restaurant serving sophisticated cuisine
– Convenient location near the city with peaceful surroundings
– Beautiful panoramic views of the park, forests, and lake
BH Agit Congress&Spa: Deluxe Apartment with Fireplace and Hot Tub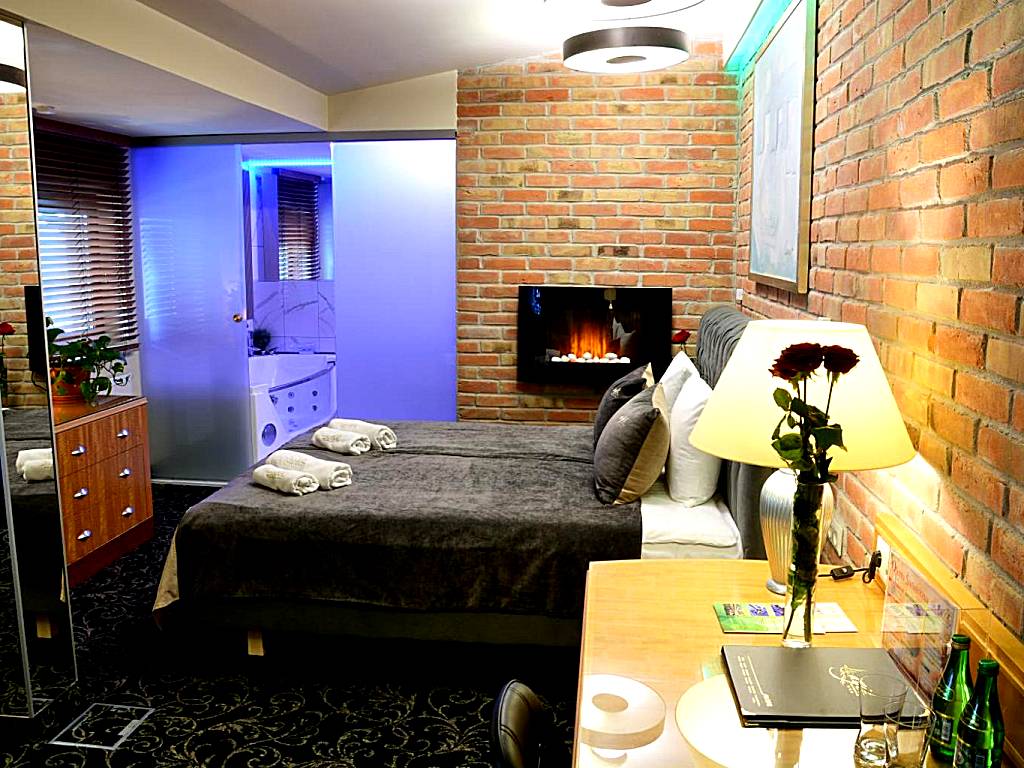 BH Agit Congress&Spa, situated in a quiet suburban district of Lublin, offers luxurious accommodation with eco-friendly features. The Deluxe Apartment with Fireplace and Hot Tub is a perfect choice for those seeking ultimate relaxation. This wheelchair accessible apartment includes a hot tub, spa bath, and fireplace. The air-conditioned unit consists of a living room, separate bedroom, and bathroom with a walk-in shower. With soundproof walls and a seating area equipped with a flat-screen TV, guests can unwind in peace. The apartment also offers two beds.
Pros:
– Eco-friendly hotel with its own wastewater treatment plant and use of solar panels
– Private parking available for guests
– On-site fitness center offering various wellness activities
– Spa facilities providing rejuvenating treatments
– Restaurant serving traditional and dietary dishes prepared from organic ingredients
Hotel Trzy Róże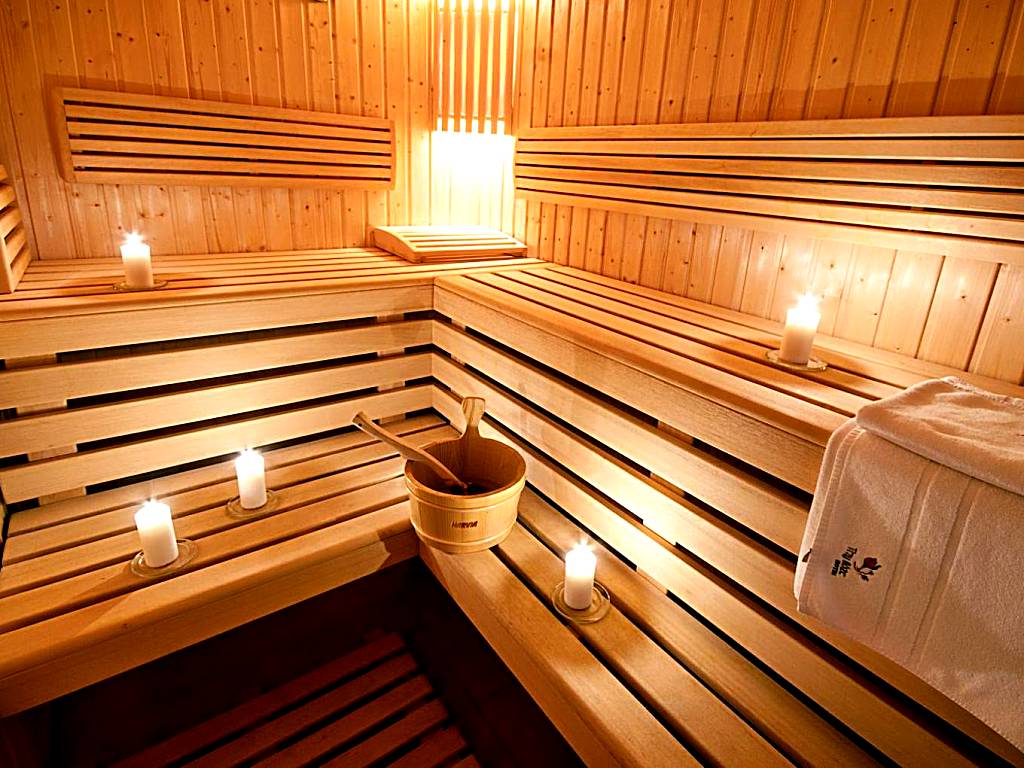 Hotel Trzy Róże is located in the peaceful surroundings of Zemborzyce Dolne, offering guests a tranquil retreat. The hotel features spacious rooms equipped with modern amenities, including an LCD TV with satellite channels and free Wi-Fi. Guests can enjoy the convenience of free private parking during their stay. The rooms are tastefully decorated in shades of beige and brown, exuding elegance and sophistication. Each room includes a desk and a private bathroom for added comfort.
The hotel's restaurant, Niebieska, serves delectable international cuisine, while the bar offers a variety of refreshing beverages. Guests can indulge in a delicious breakfast buffet to start their day off right. Additionally, Hotel Trzy Róże boasts excellent facilities including a sauna for guests to relax and unwind.
With its serene location, Hotel Trzy Róże provides the perfect escape from the hustle and bustle of daily life. Its proximity to Lublin makes it convenient for guests to explore the city which is only 10 km away – just a short 19-minute car ride.
Pros:
– Sauna facility available
– Free private parking
– Elegant rooms with modern amenities
– Delicious international cuisine served at the on-site restaurant
– Convenient location near Lublin
Luxury Hotels in Lublin with Hot Tub
Luxury Hotels in Lublin with Hot Tub offer a perfect retreat for those seeking relaxation and indulgence during their stay. These hotels provide an intimate and luxurious experience, allowing guests to unwind and rejuvenate in the privacy of their own room. The hot tubs are thoughtfully designed, offering a peaceful oasis where guests can soak away their worries while enjoying the ultimate comfort. With impeccable service and attention to detail, these luxury hotels ensure that every guest's needs are met, creating a memorable experience that embodies pure bliss and tranquility.
Hotel Atelia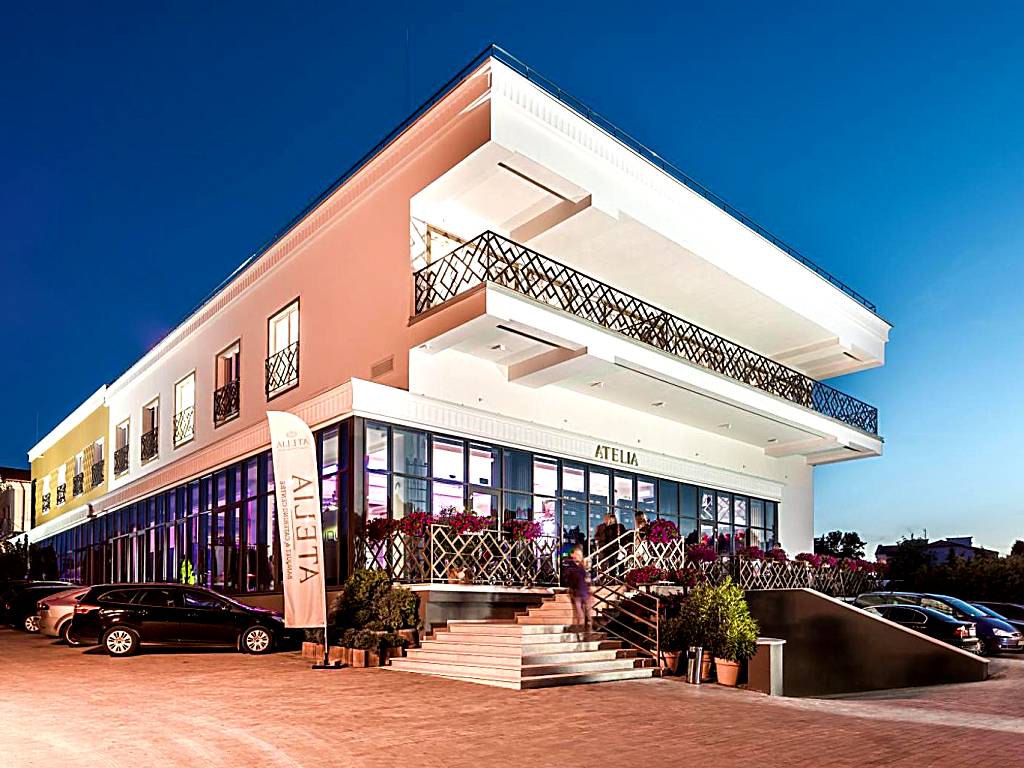 Hotel Atelia is a peaceful retreat nestled near an oak forest in Lublin, just 6 km from Krakowskie Przedmieście Street. This hotel offers modern rooms with air conditioning and free WiFi. The spacious rooms include amenities such as 42'' multimedia TVs, welcome sets, kettles, and hairdryers. Guests can enjoy the on-site restaurant that serves traditional meals with a modern twist, including a buffet breakfast with live cooking. Other facilities at the hotel include a sauna for guests to relax in. The property also provides 24-hour front desk service and free private parking monitored by security cameras. Czartoryski Palace is located 6 km away from Hotel Atelia, while Old Town is 7 km away. Lublin Airport can be reached within a 15-kilometer drive.
Pros:
– Sauna available for relaxation
– Modern and well-equipped rooms
– Free WiFi throughout the property
– On-site restaurant serving traditional meals with a modern touch
– Convenient location near major attractions
Hotel Korona Spa & Wellness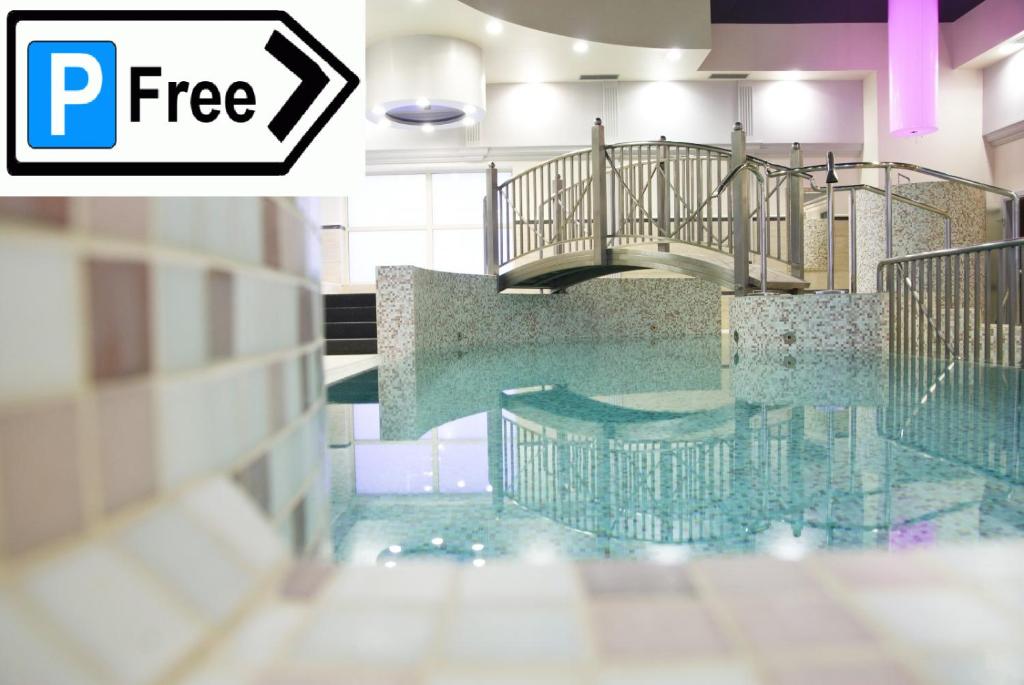 Located along the Warsaw – Lublin – Kijów route, Hotel Korona Spa & Wellness offers a range of amenities to ensure a comfortable and relaxing stay. Guests can enjoy free Wi-Fi and private parking on site. During the summer, the hotel's spacious gardens provide a serene environment for al fresco dining. The water zone is accessible to guests at no additional cost and includes a swimming pool with water jets, a dry sauna, a steam sauna with aromatherapy and colour therapy options, as well as a hot tub. The classically designed rooms feature modern amenities such as free Wi-Fi and satellite TV, all with picturesque views of the garden and nearby forest. Indulge in traditional Polish and Mediterranean cuisine at the hotel's restaurant or unwind in the cocktail lounge after exploring Lublin's vibrant city center, just 15 minutes away by car. Don't miss an opportunity to visit Zemborzycki Lagoon during your stay.
– Convenient location along major routes
– Free Wi-Fi and private parking
– Access to water zone with swimming pool, saunas, and hot tub
– Beautifully designed rooms with modern amenities
– On-site restaurant offering traditional Polish and Mediterranean cuisine
Information about Hotels With Jacuzzi In Room in Lublin
| | |
| --- | --- |
| 🏢 Number of Hotels With Jacuzzi In Room in Lublin | 5 |
| 🥇 Average Review Score | 8.9/10 |
| 💰 High season average price | 384 |
| 💸 Low season average price | 96 |
FAQ
Is there a hotel in Lublin with jacuzzi in the room?
Yes, there are several hotels in Lublin that offer rooms with jacuzzis. These hotels provide a luxurious and relaxing experience for guests who want to unwind after a long day of exploring the city. Some popular options include Hotel Victoria, Hotel Europa, and Grand Hotel Lublinianka.
Are there any affordable hotels in Lublin with jacuzzi in the room?
Yes, there are budget-friendly hotels in Lublin that offer rooms with jacuzzis. One example is Campanile Lublin, which provides comfortable accommodation at an affordable price and includes a private jacuzzi in some of its rooms. This allows travelers to enjoy a soothing soak without breaking their budget.
Which hotel with jacuzzi in the room has the best views in Lublin?
Hotel Alter is known for offering stunning views of the city while also providing rooms with private Jacuzzis. Located on top of Górka Czwartek hill, this hotel allows guests to enjoy panoramic views of historic landmarks such as Lublin Castle and Krakowskie Przedmieście Street from the comfort of their own Jacuzzi.
Are all hotels with jacuzzi located within city center?
No, not all hotels with jacuzzis are located within the city center of Lublin. While some options like Mercure Lublin Centrum or Hotel Europa can be found conveniently close to main attractions and amenities, other accommodations like Best Western Plus Hotel Korona Spa & Wellness are situated slightly outside but still easily accessible by public transportation or taxis.
Can I book a hotel room with Jacuzzi online?
Yes, most hotels offering rooms with Jacuzzis allow online bookings through their websites or various booking platforms. Websites such as Booking.com or Expedia.com provide detailed information about available amenities including whether or not each room has a Jacuzzi. This makes it convenient for travelers to compare options, check availability, and make reservations from the comfort of their own homes.
Popular Hotels With Jacuzzi destinations