Welcome to the beautiful city of Larnaca, nestled on the stunning shores of Cyprus. If you're seeking a truly indulgent getaway, look no further than our hand-picked selection of accommodations featuring private whirlpool baths in-room. These opulent hotels with Jacuzzi facilities offer the perfect blend of luxury and relaxation, ensuring an unforgettable experience for every traveler.
Imagine stepping into your own personal oasis, where warm bubbles envelop you in pure bliss after a day exploring Larnaca's cultural treasures. The Jacuzzi suites in our recommended hotels provide a haven for rejuvenation, allowing you to unwind and recharge at your own pace. Whether you're visiting as a couple on a romantic escape or treating yourself to some well-deserved pampering, these special accommodations offer an unparalleled level of comfort and intimacy.
Indulge your senses while enjoying the breathtaking views that Larnaca has to offer from the privacy of your own Jacuzzi tub. Immerse yourself in tranquility as you soak away any stresses or strains accumulated during your travels. With their stylish interiors and modern amenities, these hotels provide more than just accommodation – they offer an experience that will leave you feeling refreshed and revitalized.
So why wait? Embark on a journey of ultimate relaxation and book your stay at one of Larnaca's top-notch hotels with private Jacuzzi facilities today. Your dream vacation awaits!
Best Larnaca Hotels With Hot Tub
Frangiorgio Hotel: Suite with Spa Bath – single occupancy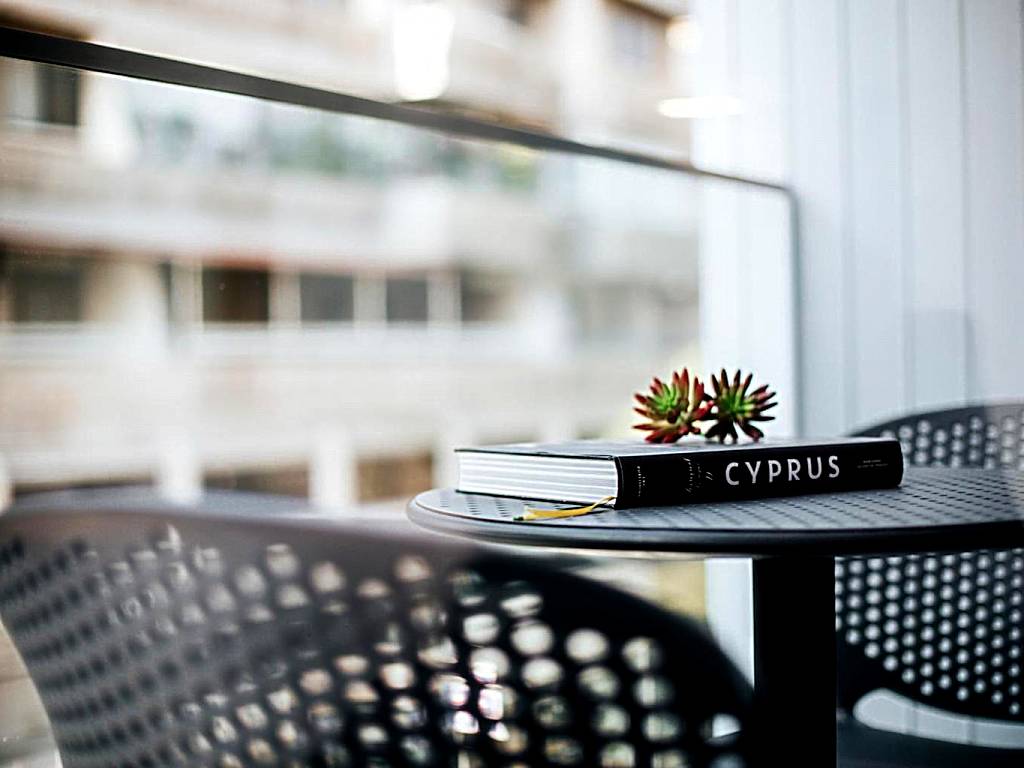 The Frangiorgio Hotel in Larnaca offers a luxurious Suite with Spa Bath for single occupancy. This suite boasts two balconies and two flat-screen TVs, making it the perfect space to relax and unwind. Additional amenities include a Nespresso coffee machine with complimentary capsules and a welcome fruit basket. The hotel itself is centrally located in the city center, just 250 meters from the popular Phinikoudes beachfront promenade and local market. The fully renovated Frangiorgio Hotel features modernly decorated rooms that are fully air-conditioned and equipped with coffee making facilities and mini bars. Guests can enjoy high-speed WiFi throughout the hotel as well as access to 32'' flat-screen TVs with satellite channels. The bathrooms feature slippers and bathrobes for added comfort. For recreation, guests can indulge in drinks and snacks by the rooftop pool or enjoy their breakfast at the restaurant on the 6th floor. With its convenient location, just a 10-minute drive from Larnaka International Airport, 400 meters from St Lazaros Church, and only 250 meters from Finikoudes Beach, Frangiorgio Hotel is an ideal choice for travelers seeking both comfort and convenience.
– Luxurious suite with spa bath
– Two balconies for relaxation
– Complimentary Nespresso coffee machine
– Welcome fruit basket upon arrival
– Convenient location near beaches, local market, and airport
The Josephine Boutique Hotel: Standard Double or Twin Room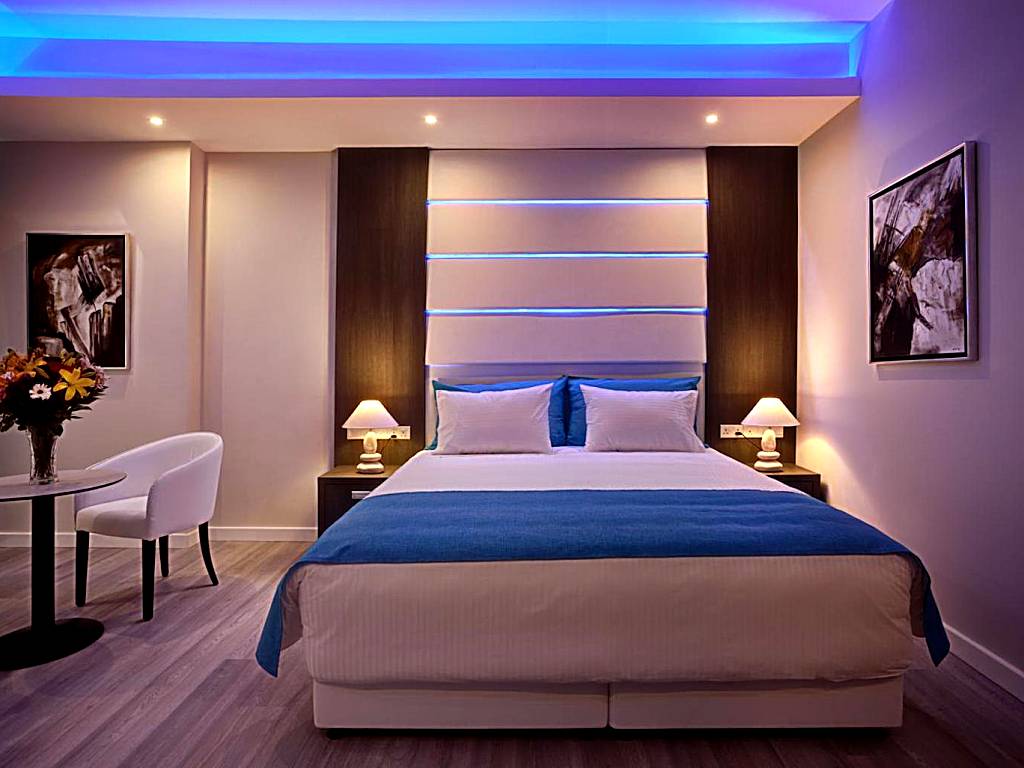 Located in Larnaca, just 300 meters from Saint Lazarus Church, The Josephine Boutique Hotel is a charming accommodation option. With free WiFi access and a seasonal outdoor pool offering stunning sea views, this hotel is perfect for both leisure and business travelers. The air-conditioned rooms and suites feature Mediterranean Sea or city views and come equipped with a flat-screen satellite TV, minibar, safe, and a bathroom with free toiletries, hairdryer, and slippers. Some rooms even offer the luxury of a spa bath. The hotel provides a 24-hour front desk service along with on-site shops for added convenience. Guests can also enjoy bike hire and car hire services to explore the surrounding areas easily. Dimarchiou Square is just 100 meters away from the hotel while Finikoudes Beach is only 300 meters away. Larnaca Airport is conveniently located just 4 km away from the property.
Pros:
– Convenient location near popular attractions
– Stunning sea views from the seasonal outdoor pool
– Availability of bike hire and car hire services for easy exploration
– Comfortable rooms equipped with modern amenities like flat-screen TVs and minibars
– Friendly staff available at the 24-hour front desk
Qbic City Hotel: Deluxe Suite with Spa Bath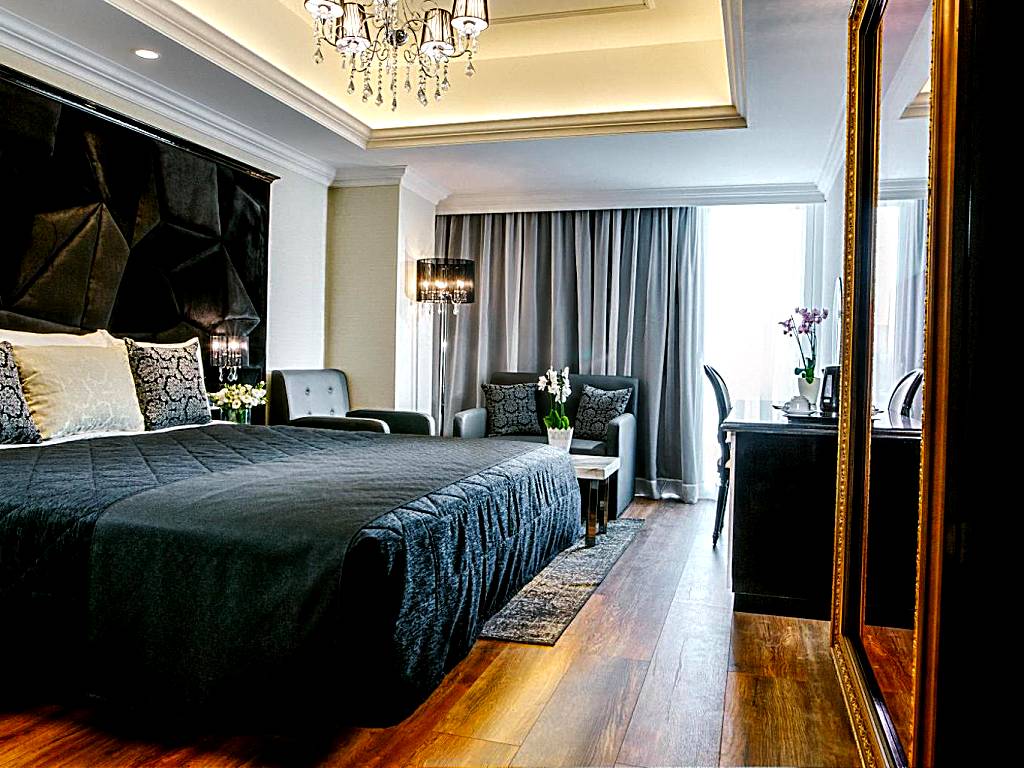 Qbic City Hotel, located in the heart of Larnaca and just 200 meters from Finikoudes Promenade, offers a delightful Deluxe Suite with a spa bath. This double room features a balcony, seating area, and soundproofing for maximum comfort and relaxation. The hotel provides free WiFi throughout the property, ensuring guests stay connected during their visit. Foinikoudes beach is conveniently accessible within a 3-minute walk from the hotel.
The well-appointed units at Qbic City Hotel offer private bathrooms with spa baths in some rooms and shower cabins in others. Slippers and free toiletries are provided for your convenience. Some rooms also feature additional seating areas to enhance your comfort. Each room includes a kettle and a flat-screen TV with Netflix for entertainment.
Guests can enjoy delicious meals at the Mingle Experience Café, which offers an inviting ambiance and serves breakfast, brunch, and dinner using locally sourced ingredients. The on-site bar is perfect for unwinding after a day of exploration. For spectacular views of the sea and old town, guests can head to the top-floor terrace with its pool equipped with hydromassage jets.
Qbic City Hotel is ideally situated near popular attractions such as Saint Lazarus Church and Agios Lazaros Byzantine Museum, both just 200 meters away. Larnaca International Airport is conveniently located around 8 km from the property.
Pros:
– Convenient central location near Finikoudes Promenade
– Free WiFi throughout the hotel
– Cozy Mingle Experience Café serving healthy meals made from local ingredients
– Top-floor terrace pool with hydromassage jets offering stunning views
– Close proximity to popular attractions like Saint Lazarus Church and Agios Lazaros Byzantine Museum
Luxury Hotels in Larnaca with Hot Tub
When it comes to luxury hotels in Larnaca, the experience is taken to another level with the addition of hot tubs in each room. These accommodations offer a private and indulgent way to relax and unwind after a long day of exploring the city or enjoying the beautiful beaches. The hot tubs provide guests with a soothing retreat, allowing them to soak in warm waters while taking in stunning views or simply enjoying some downtime. Whether you're traveling as a couple or seeking solitude, these luxury hotels with hot tubs ensure an unforgettable stay filled with comfort and rejuvenation.
Achilleos City Hotel: Deluxe Suite – single occupancy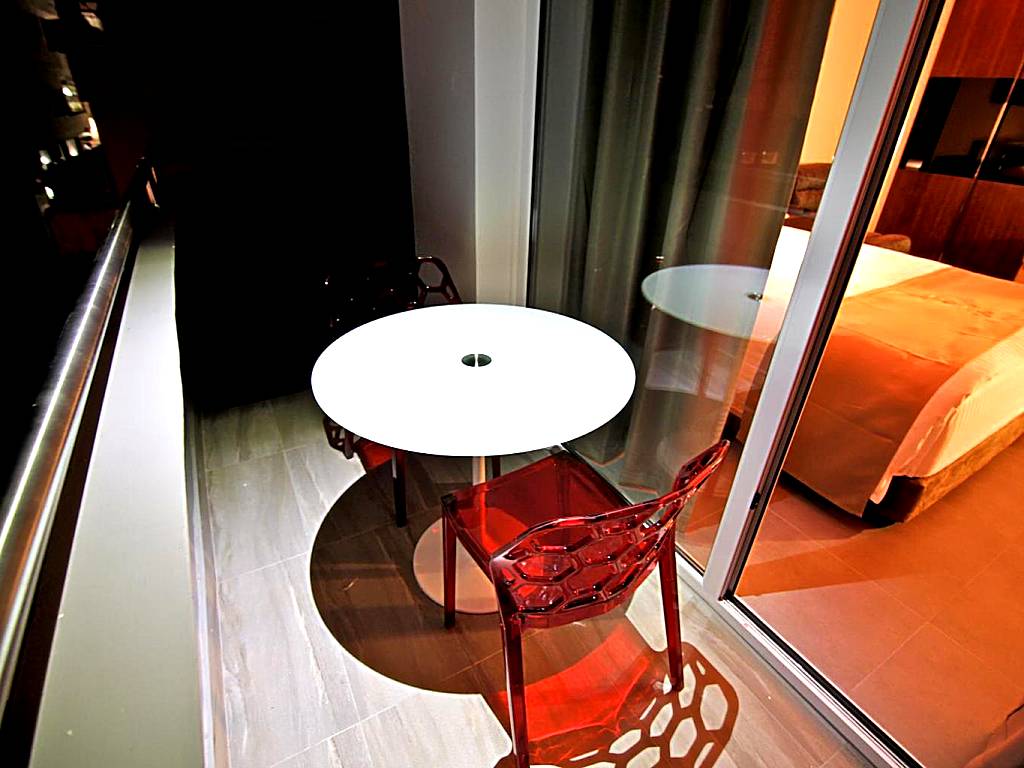 Located in the center of Larnaca city, just 50 meters away from Phinikoudes Beach, Achilleos City Hotel offers a Deluxe Suite for single occupancy. Guests can enjoy their breakfast on the rooftop terrace while taking in panoramic sea and city views. The air-conditioned suite features free Wi-Fi access and is decorated in earthy tones with elegant furnishings. It includes a TV, minibar, and coffee maker, with some rooms also offering a spa bath. The hotel is conveniently surrounded by numerous restaurants and seaside cafes, making dining options easily accessible. Larnaca International Airport is just a 10-minute drive away, while the city of Nicosia is located 45 km from the hotel. Private parking and municipal parking lots are available within walking distance at rates starting from €0.60 per hour.
Pros:
– Excellent central location near Phinikoudes Beach
– Rooftop terrace with stunning sea and city views
– Free Wi-Fi access throughout the hotel
– Elegant and well-appointed rooms with spa baths available
– Convenient proximity to Larnaca International Airport
Onisillos Hotel: Standard Triple Room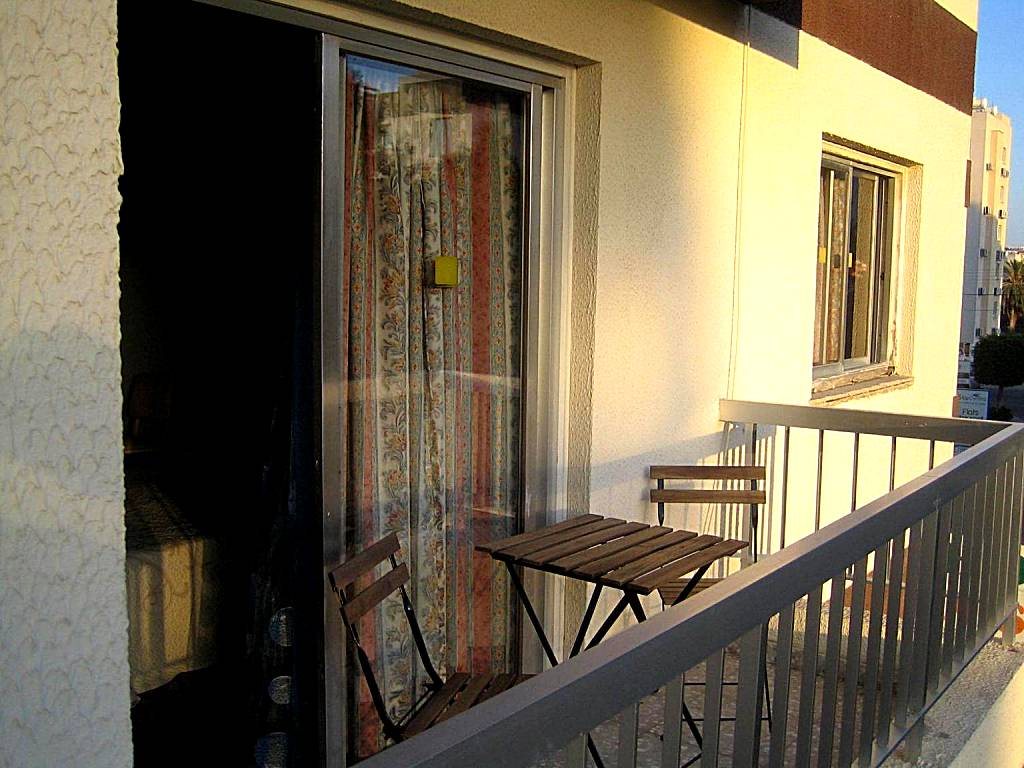 Onisillos Hotel is a 2-star, family-run hotel located just a 5-minute walk away from Larnaca's beach and town center. The hotel offers free WiFi in public areas of the hotel and free parking for guests. The popular Finikoudes Beach is also just 600 meters away. The guest rooms at Onisillos Hotel are classically furnished with carpeted floors and private balconies. Each room is equipped with air conditioning, private bathroom, TV, and telephone. For those traveling on a budget, the property also offers beds in shared rooms. Guests can take advantage of services such as luggage storage, safes, and babysitting through the reception desk. The friendly staff are also available to assist with tourist information and car rental services. Conveniently located right outside the property is a bus stop where guests can catch a bus directly to Larnaca International Airport. Additionally, the historic Agios Lazaros church dating back to the 9th century is only 400 meters away. Larnaka Airport is situated at a distance of 65 km from the hotel.
Pros:
– Close proximity to both the beach and town center
– Free WiFi in public areas
– Family-run hotel with friendly staff
– Convenience of bus stop for airport transportation
– Availability of shared rooms for budget travelers
Villa Thermopilon: Deluxe Double Room (2 Adults + 1 Child)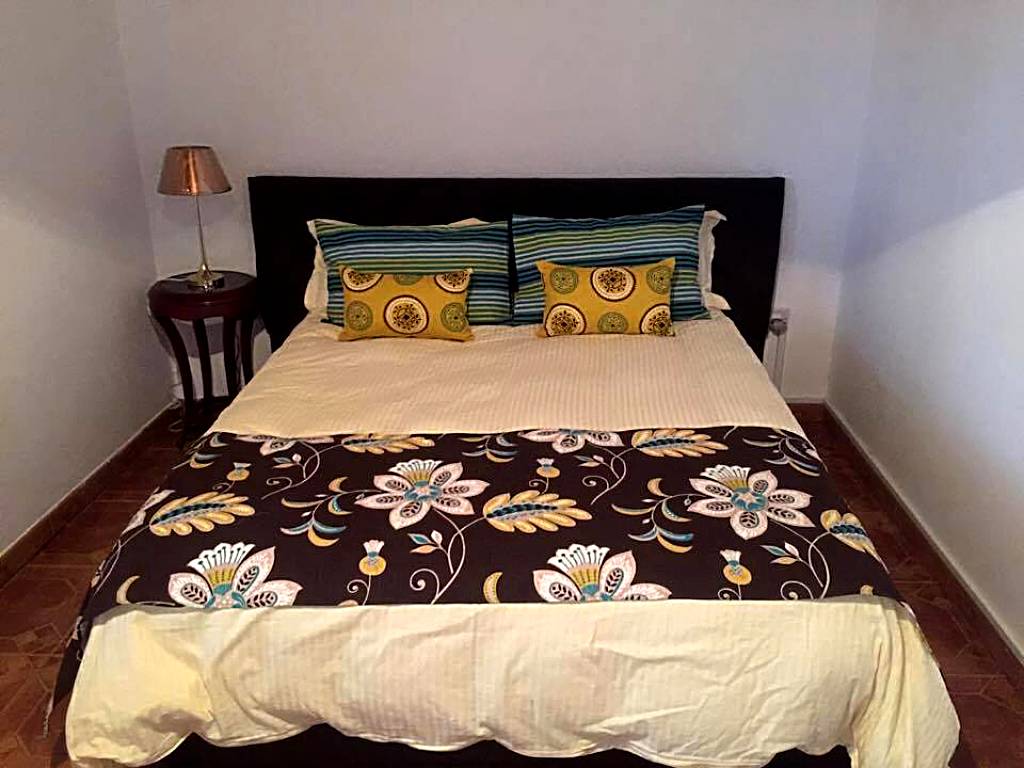 Villa Thermopilon offers guests a special and luxurious experience with its Deluxe Double Room that can accommodate 2 adults and 1 child. This spacious room features a pool with stunning views and a relaxing spa bath, perfect for unwinding after a long day of exploring. The room also includes air conditioning, a private entrance, and a terrace with beautiful garden views. Guests will have their own private bathroom equipped with a refreshing shower. The unit is furnished with one comfortable bed, ensuring a restful night's sleep. Located in Aradipou, just a 15-minute drive from Larnaka center, Villa Thermopilon provides free WiFi throughout the property. Guests will find added convenience with amenities such as an in-room kettle. Nearby attractions include Touzla Mosque (5 km) and Europe's Square (6 km). For those arriving by plane, Larnaca International Airport is the nearest airport at just 9 km away.
– Pool with picturesque views
– Relaxing spa bath in the room
– Spacious double room with air conditioning
– Private terrace offering garden views
– Convenient location near attractions and airport
Information about Hotels With Jacuzzi In Room in Larnaca
| | |
| --- | --- |
| 🏢 Number of Hotels With Jacuzzi In Room in Larnaca | 6 |
| 🥇 Average Review Score | 8.2/10 |
| 💰 High season average price | 116 |
| 💸 Low season average price | 29 |
FAQ
1
Are there any hotels in Larnaca, Cyprus that offer rooms with Jacuzzis?
Yes, there are several hotels in Larnaca, Cyprus that offer rooms with Jacuzzis. Some popular options include Hotel Opera, Princess Beach Hotel, and Golden Bay Beach Hotel. These hotels provide luxurious accommodations with private Jacuzzi tubs in the room where guests can relax and unwind after a long day of exploring the city.
2
Do these hotels charge extra for rooms with Jacuzzis?
Yes, most hotels in Larnaca do charge an additional fee for rooms with Jacuzzis. The price may vary depending on the hotel and the specific amenities offered. It is best to check with the hotel directly or visit their website to get accurate information about the cost of booking a room with a Jacuzzi.
3
Can I book a room with a Jacuzzi online?
Yes, you can easily book a room with a Jacuzzi online for your stay in Larnaca. Many travel websites and hotel booking platforms allow you to specify your preference for a room with a Jacuzzi during the reservation process. Simply search for hotels in Larnaca and filter your results based on this criteria to find available options.
4
Are there any budget-friendly options for hotels with Jacuzzis in Larnaca?
Yes, there are some budget-friendly options for hotels offering rooms with Jacuzzis in Larnaca. While these may be limited compared to higher-end establishments, you can still find affordable accommodations that provide this luxurious amenity. Some examples include Livadhiotis City Hotel and Achilleos City Hotel.
5
What other amenities can I expect from these hotels besides the Jacuzzi?
In addition to having private Jacuzzis in their rooms, many of these hotels offer various other amenities to enhance your stay. These may include swimming pools, spa facilities, fitness centers, restaurants serving delicious local cuisine, and 24-hour room service. Some hotels may also provide stunning views of the beach or cityscape, making your experience even more memorable.
Popular Hotels With Jacuzzi destinations