Welcome to our latest destination spotlight: Hotels With Jacuzzi In Room in the stunning Lake District, located in the United Kingdom. Nestled amidst breathtaking landscapes and surrounded by picturesque lakes, this region is a haven for nature lovers and tranquility seekers alike. If you're looking to elevate your holiday experience, what better way than staying at a hotel with a private hot tub in your room? Indulge yourself in ultimate relaxation as you soak away the day's adventures while admiring the magnificent views of rolling hills or glistening waters.
Imagine waking up to the gentle sound of birds chirping and stepping onto your private terrace to witness a glorious sunrise over majestic mountains as you sip on your morning coffee. That's exactly what awaits when you choose one of these luxurious accommodations. Whether it's after an exhilarating hike through enchanting forests or an exploration of charming villages dotted along the lakeshores, sinking into warm bubbles will be just what you need to rejuvenate both body and soul. Soothe those tired muscles as you bask in seclusion, enveloped by opulence and comfort that only a hotel with jacuzzi facilities can provide.
In addition to offering unmatched relaxation opportunities, these hotels also provide convenience at its finest. No need for crowded public spas or limited access hours – here, the indulgence is reserved exclusively for you. Unwind at any time that suits your mood without worrying about sharing space with others. Feel like taking a late-night dip under the starlit sky? With 24/7 access to your personal jacuzzi right inside your room, every moment is yours to cherish. Embrace serenity and treat yourself to an unforgettable stay amidst nature's wonders in one of the Lake District's finest accommodations featuring hotels with private jacuzzis in-room experience
Best Lake District Hotels With Hot Tub
Linthwaite House Hotel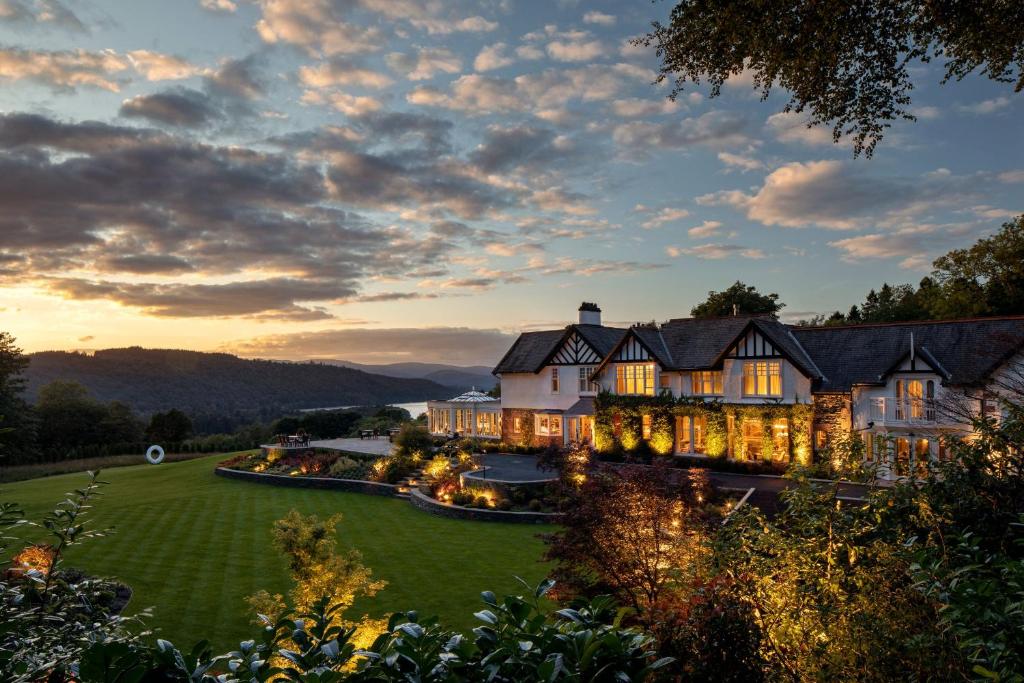 Linthwaite House Hotel is a luxurious hilltop retreat overlooking Windermere, offering guests the perfect location to explore the breathtaking surroundings. The hotel features individually designed bedrooms and bathrooms, providing stylish and comfortable accommodation for its guests. Activities such as boules and giant outdoor chessboard are available for entertainment. The on-site restaurant, Simon Rogan, serves delicious dishes made with locally sourced ingredients, many of which can be enjoyed while taking in the stunning views of the lake, manicured gardens, and surrounding hills and mountains. For a unique dining experience, Henrock offers an á la carte menu featuring small plates and sharing dishes. Additionally, two row boats are available for guests who wish to explore the beautiful lake. Inquire at Reception for more information.
– Stunning hilltop location overlooking Windermere
– Stylish individually designed bedrooms and bathrooms
– On-site restaurant using locally sourced ingredients
– Outdoor activities like boules and giant chessboard available
– Row boats provided for enjoying the lake
The Leathes Head Hotel: Deluxe King Room (Keswick)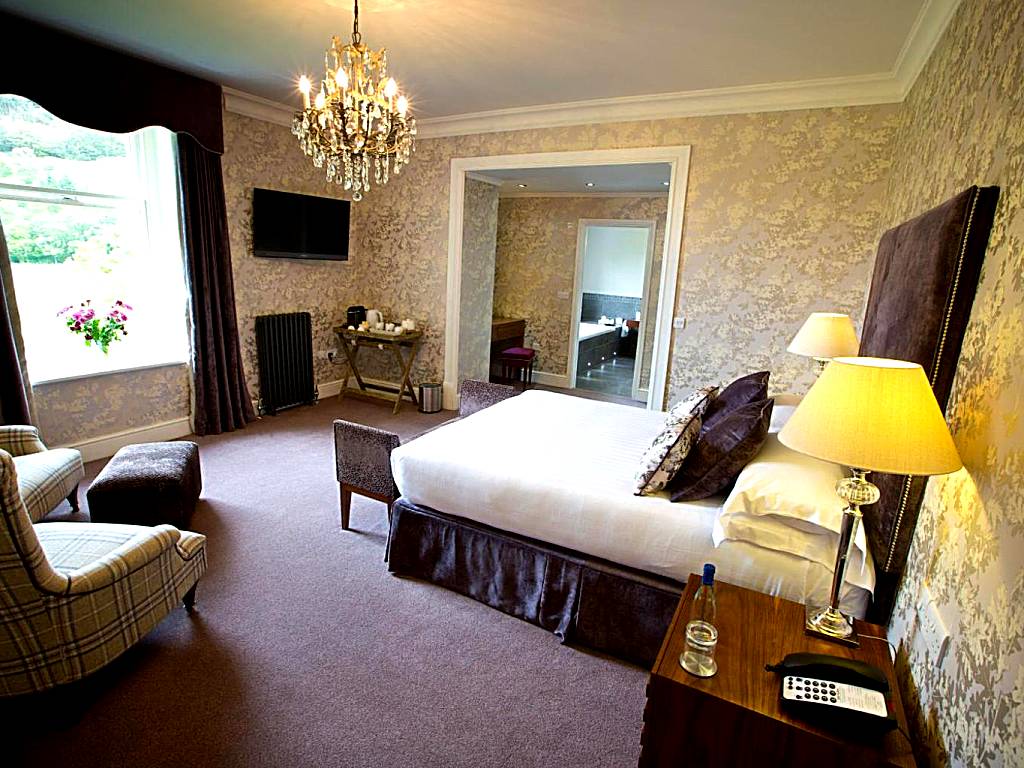 The Deluxe King Room at The Leathes Head Hotel in Keswick is a spacious and luxurious room located in the original half of the house. It boasts a beautifully designed bathroom with a double-ended whirlpool spa bath situated in front of a window offering stunning views of Derwent Water. The bathroom also features a large double walk-in shower and 'his and hers' sinks. The room itself is equipped with modern amenities including a 40-inch flat-screen TV with internet access, a Bose Bluetooth mini speaker, and an espresso machine. Guests can enjoy Gilchrist & Soames toiletries, cozy bathrobes, and complimentary bottled water.
– Beautifully designed spacious bathroom with a double-ended whirlpool spa bath
– Large double walk-in shower
– Modern amenities including flat-screen TV, Bluetooth speaker, and espresso machine
– Complimentary Gilchrist & Soames toiletries, bathrobes, and bottled water
– Free Wi-Fi throughout the hotel
Nestled in over 2 acres of mature land in Borrowdale, The Leathes Head Hotel offers more than just incredible rooms. A bar and restaurant are available for guests to savor dishes prepared by the hotel's chef using locally sourced ingredients. There is also a traditional bar where visitors can relax while enjoying their favorite drinks. A full English breakfast is served every morning to start the day off right.
In addition to its dining options, the hotel offers free parking for guests' convenience and even provides an electric car charging station. With its highly recommended status from the Michelin Guide, The Leathes Head Hotel promises an unforgettable stay surrounded by breathtaking countryside views. Plus, it's conveniently situated less than 10 minutes' drive away from the center of Keswick for easy exploration of this charming town.
Gilpin Hotel & Lake House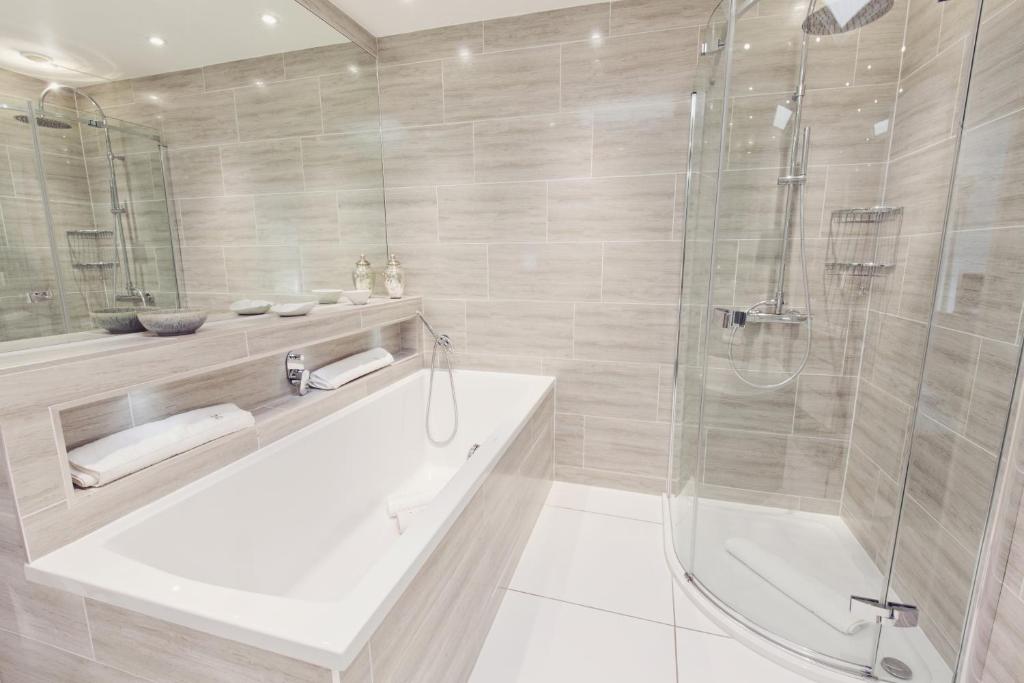 Nestled amidst the picturesque Lake District scenery, Gilpin Hotel & Lake House is a graceful retreat offering an exceptional dining experience and luxurious suites. Located just over 2 miles from the shores of Lake Windermere, this elegant hotel features sumptuously designed interiors. The suites boast their own hot tubs, while the lodges offer private spa facilities including rainfall showers and steam rooms. Guests can indulge in culinary delights at Hrishi, the Michelin-star awarded main restaurant that showcases local Lake District produce with an artistic Asian twist. For a unique dining experience, Gilpin Spice offers an open kitchen where meals inspired by the Indian sub-continent are created. With most rooms providing stunning Lakeland views and direct access to gardens, guests can fully immerse themselves in the tranquility of nature. Additionally, Gilpin Lake House provides 6 exclusive suites with private access to gardens, a lake, and a spa.
– Elegant suites with private hot tubs
– Luxurious lodges with private spa facilities
– Michelin-starred fine dining at Hrishi restaurant
– Dining option of Gilpin Spice offering Indian cuisine
– Breathtaking Lakeland views with direct garden access
Other places to stay in Lake District
Luxury Hotels in Lake District with Hot Tub
Luxury Hotels in the Lake District with hot tubs offer guests a truly indulgent and relaxing experience amidst the picturesque backdrop of this stunning region. The combination of opulent accommodations and private hot tubs allows visitors to unwind and rejuvenate after a day exploring the natural beauty that surrounds them. Whether nestled within lush gardens or perched on balconies overlooking serene lakes, these hotels provide the perfect escape for those seeking tranquility and luxury during their stay in the Lake District.
Church Suites by The Cranleigh Boutique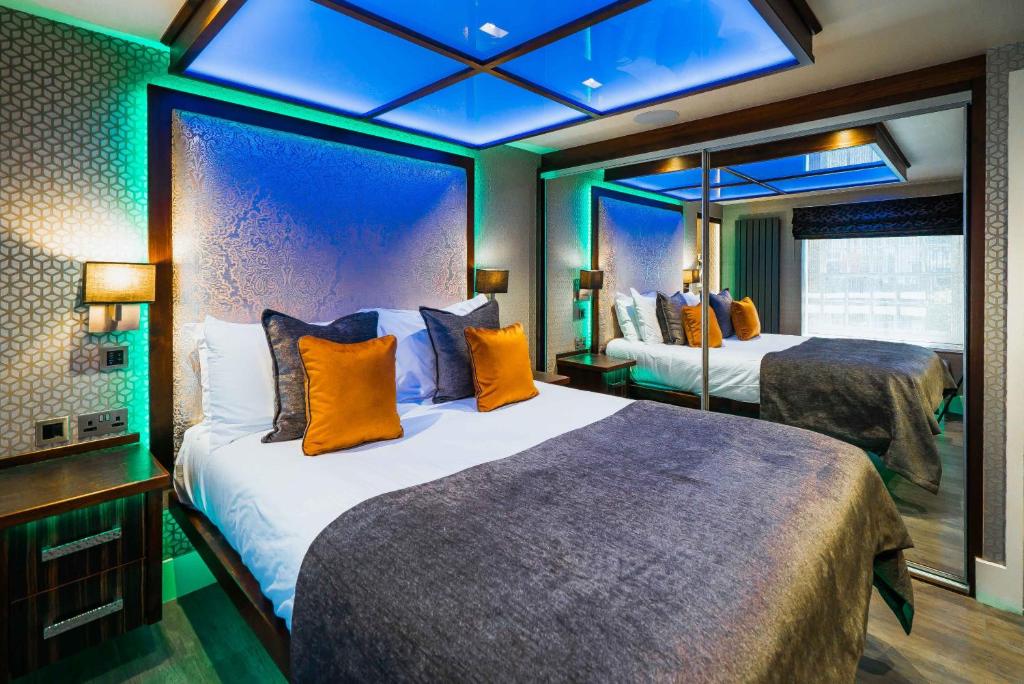 Church Suites by The Cranleigh Boutique is a boutique hotel located in the center of Bowness-on-Windermere. This adults-only property offers exclusive and individually designed suites with chic décor, luxury fabrics, plush carpets, and intelligent lighting. Each suite also features state-of-the-art technology including free WiFi, a fridge, coffee maker, and a flat-screen TV. Guests can enjoy the convenience of nearby free parking and explore the shops and restaurants within walking distance. Additionally, the lakeside is just a 2-minute walk away.
– Stylish and chic décor
– State-of-the-art technology in each suite
– Convenient location near shops and restaurants
– Close proximity to the picturesque lakeside
– Free parking available nearby
Rothay Manor Hotel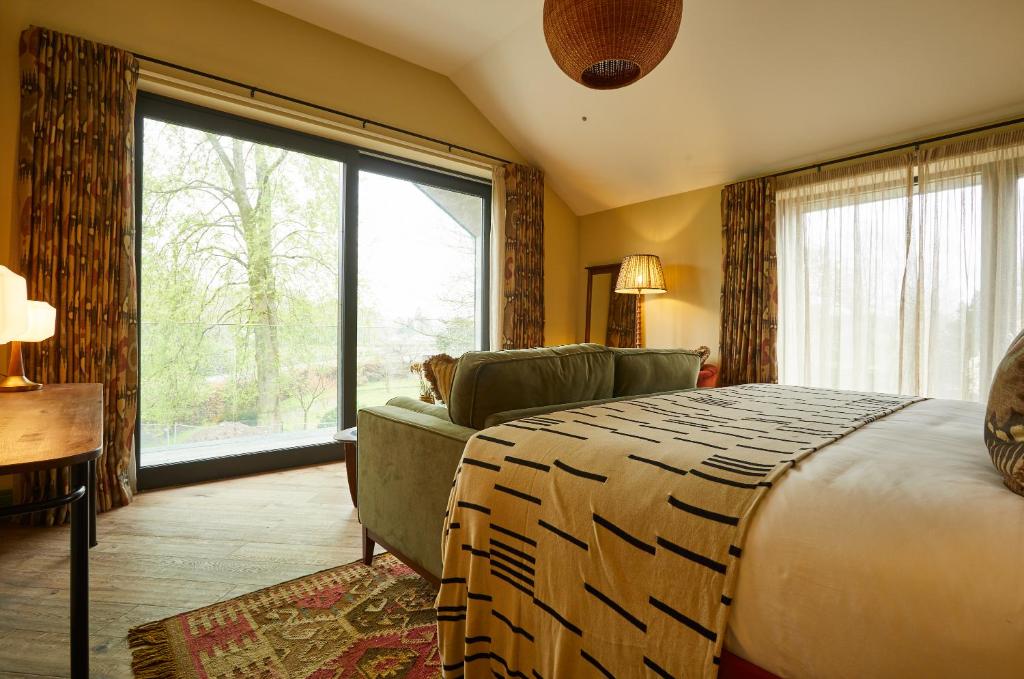 Located in the heart of the Lake District, Rothay Manor Hotel is a luxurious country house hotel that offers a truly unforgettable experience. With its 3 AA rosette restaurant, guests can indulge in exquisite dining, while enjoying the convenience of free Wi-Fi and award-winning breakfasts. The individually designed rooms feature satellite TV, radio, and tea/coffee facilities, ensuring a comfortable stay. Built in 1825, this Grade II Listed house boasts stunning landscaped gardens and retains its period charm. Lake Windermere is just 400 meters away, allowing guests to easily explore the beautiful surroundings. Additionally, Rothay Manor Hotel offers a range of activities including cycle hire, horse riding and golf arrangements to enhance your stay.
– Conveniently located near Lake Windermere
– Exquisite on-site fine dining restaurant
– Charming period features and landscaped gardens
– Free Wi-Fi for staying connected
– Range of outdoor activities available
The Ullswater View Guest House: Deluxe King Room with Whirlpool Bath & View (Watermillock)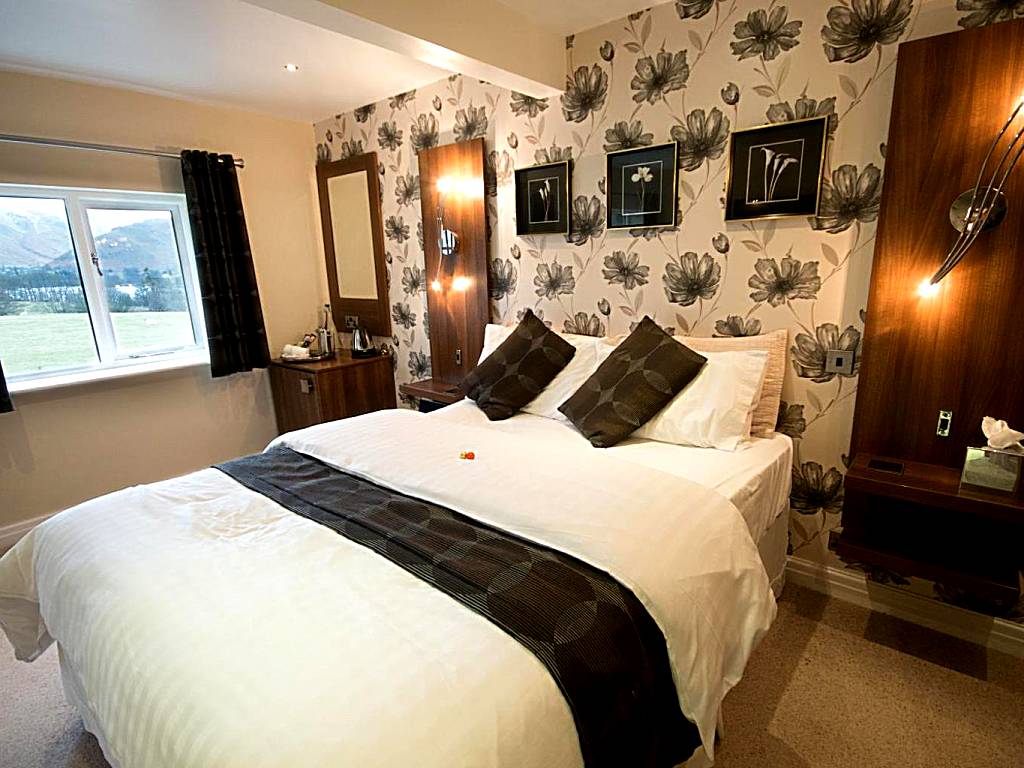 The Ullswater View Guest House in Watermillock is a stunning hotel that offers a Deluxe King Room with Whirlpool Bath & View. From the comfort of your bedroom, you can enjoy breathtaking views of Lake Ullswater and the fells. The room is equipped with free Wi-Fi and a Smart TV for your entertainment. The hotel itself is situated in the picturesque North Easterly corner of the Lake District, offering guests an idyllic setting to relax and unwind. Free private parking is available for your convenience. The contemporary designed rooms at The Ullswater View feature modern en suite bathrooms, free Wi-Fi, LCD TVs, and iPod docking stations. Most rooms also offer hillside lake views, allowing guests to immerse themselves in the beauty of their surroundings. For those looking to explore further afield, the M6 motorway and Penrith market town are just 8 miles away. Additionally, the village of Glenridding is within 5 miles and serves as an excellent base for those wishing to scale Helvellyn, England's third largest mountain.
– Breathtaking views of Lake Ullswater
– Free Wi-Fi and Smart TV in rooms
– Contemporary design with modern en suite bathrooms
– Hillside lake views from most rooms
– Convenient location near motorway access and nearby village for mountain scaling opportunities
Other places to stay in Lake District
Cheap Hotels in Lake District with Jacuzzi
For travelers seeking a budget-friendly getaway in the stunning Lake District, there are several cheap hotels that offer the added luxury of a jacuzzi in-room. These accommodations provide a relaxing and rejuvenating experience after exploring the picturesque surroundings. With affordable rates, guests can enjoy the therapeutic benefits of a jacuzzi without breaking the bank. Whether you're on a romantic retreat or simply want to unwind, these cheap hotels in the Lake District with jacuzzi facilities offer an affordable and indulgent escape for all.
Rothay Garth: Superior Double Room (Ambleside)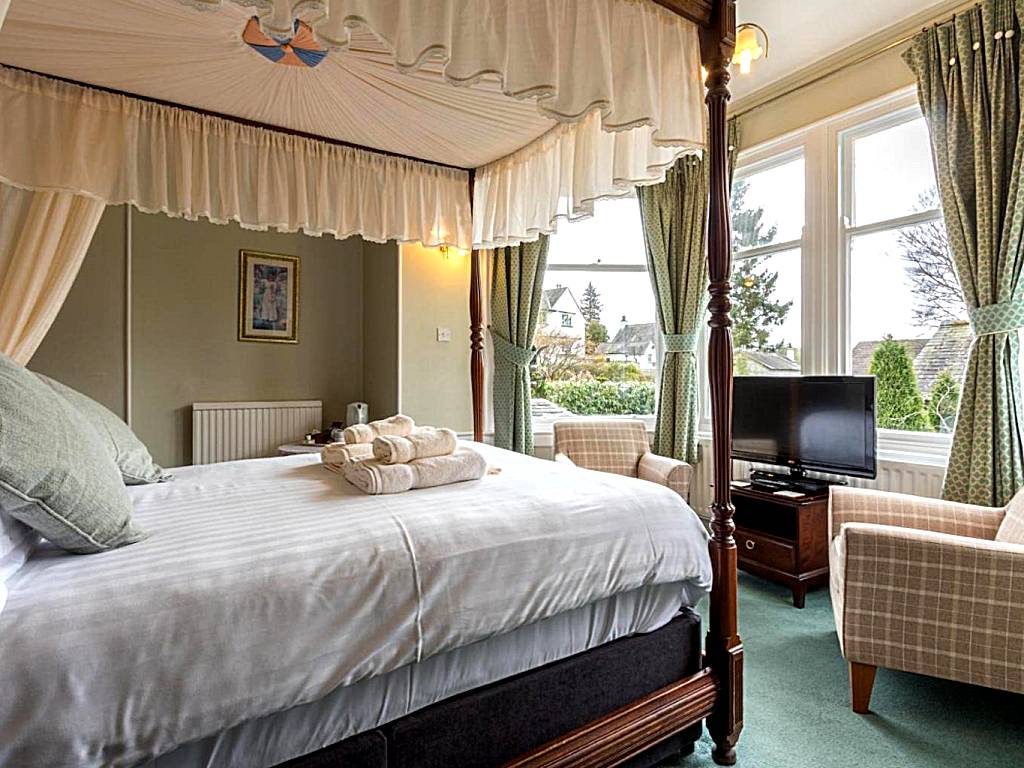 The Rothay Garth, a traditional Lakeland guest house with stunning mountain views, offers a Superior Double Room in the heart of Ambleside village. This cozy room features a private entrance, seating area, and a tea/coffee maker for your convenience. Some rooms even come with a sofa or armchairs and a spa bath, perfect for ultimate relaxation after a long day of exploring.
Guests at The Rothay Garth can enjoy en suite rooms equipped with satellite TVs and tea/coffee making facilities. Start your day off right with a hearty breakfast served in the conservatory from 8:15 to 9:30 am. If you're planning on venturing out for the day, packed lunches can be made to order.
The guest house also features a lounge area where you can unwind and relax after an adventurous day outdoors. With easy access to Ambleside and Lake Windermere just a 10-minute walk away, The Rothay Garth is perfectly situated for discovering the beautiful Lake District. Additionally, there are plenty of nearby walking trails to explore.
Pros:
– Beautiful mountain views
– Convenient location in the heart of Ambleside village
– En suite rooms with satellite TVs
– Hearty breakfasts served in the conservatory
– Easy access to Ambleside and Lake Windermere
Embleton Spa Hotel & Apartments (Embleton)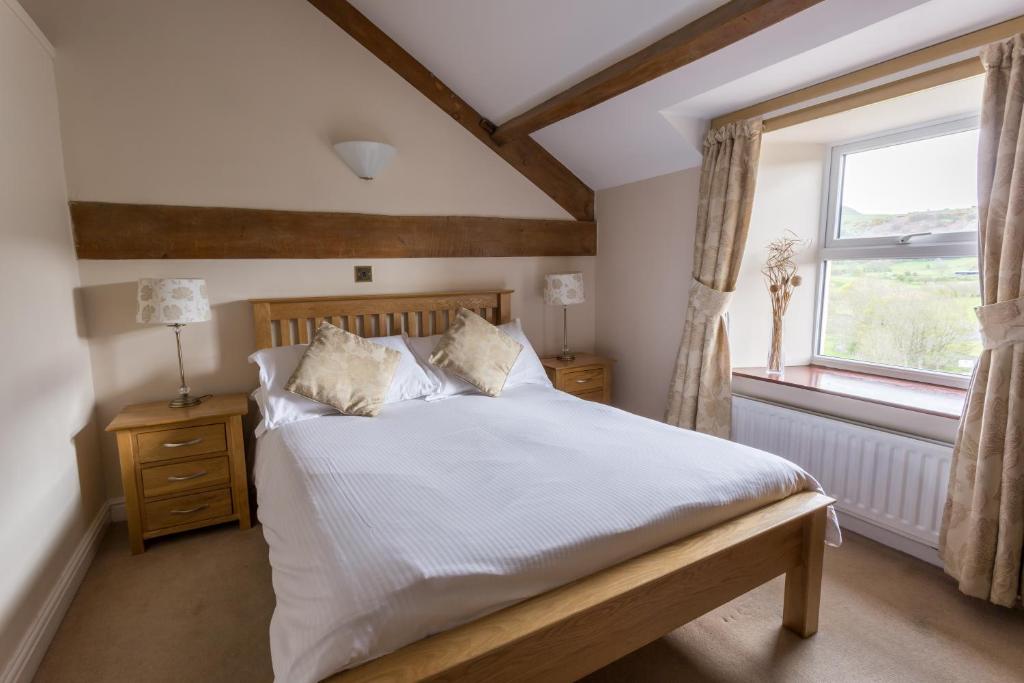 Embleton Spa Hotel & Apartments, located in Embleton, is a charming small hotel that was originally an 18th-century Lakeland farmhouse. This family-run hotel offers a range of accommodations including apartments, suites, and en-suite rooms. Guests can enjoy the leisure facilities which include a swimming pool, steam room, and gym – all included in the room rates. The contemporary rooms and apartments feature en-suite bathrooms and free Wi-Fi with most offering stunning countryside views across the Derwent valley. Each room is equipped with a TV, hairdryer, tea/coffee making facilities, ironing amenities, and 100% cotton linen. For dining options, guests can indulge in traditional Cumbrian food at the hotel's restaurant which uses ingredients sourced from local farms. Meals can be enjoyed by an open fire or on the terrace overlooking the fells. A full Cumbrian breakfast is served every morning to start your day right. Embleton Spa Hotel & Apartments provides an ideal base for exploring the beautiful Lake District with Bassenthwaite Lake just 3 miles away and Keswick and Cockermouth just a short drive of 10 minutes each. Free parking is available for guests' convenience.
– Small hotel with indoor pool
– Range of accommodations including apartments and suites
– Stunning countryside views from most rooms
– Traditional Cumbrian food served at restaurant using local ingredients
– Convenient location for exploring the Lake District
Applegarth Villa Hotel & Restaurant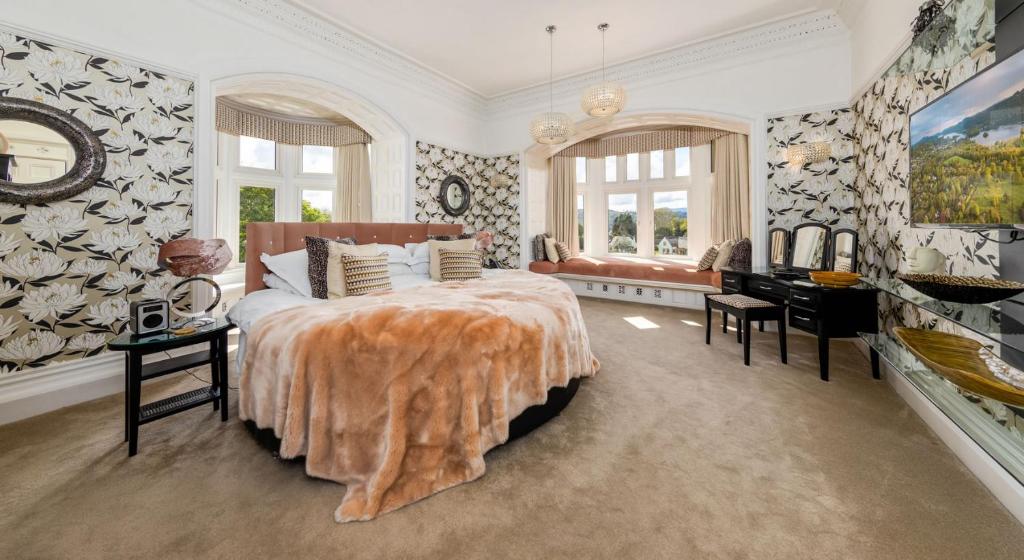 Located near Windermere village, Applegarth Villa Hotel & Restaurant is a stunning Victorian mansion house offering elegant rooms with modern amenities. The rooms feature iPod docks, flat-screen TVs, free bottled water, and digital radios. Guests can enjoy beautiful views of the surrounding Lake District fells from JR's restaurant which serves an imaginative menu using local produce. The hotel also offers free Wi-Fi, a cosy oak-panelled bar serving a selection of beverages, and luxurious bathrooms with power showers. Conveniently situated just a 3-minute walk from Windermere Rail Station and a short distance from Lake Windermere, this family-run hotel is perfect for those looking for comfort and relaxation in the heart of the Lake District.
– Striking Victorian mansion house
– Elegant rooms with modern amenities
– Imaginative menu using local produce at JR's restaurant
– Luxurious bathrooms with power showers
– Convenient location near Windermere village and Lake Windermere
Information about Hotels With Jacuzzi In Room in Lake District
| | |
| --- | --- |
| 🏢 Number of Hotels With Jacuzzi In Room in Lake District | 9 |
| 🥇 Average Review Score | 9/10 |
| 💰 High season average price | 1474 |
| 💸 Low season average price | 368.5 |
FAQ
1. Are there hotels in the Lake District with Jacuzzi in room?
Absolutely! The Lake District in the United Kingdom offers a variety of hotels that provide luxurious accommodations with Jacuzzis in the rooms. From charming bed and breakfasts to upscale resorts, you can find several options to suit your preferences and budget. Soaking in a private Jacuzzi while enjoying stunning views of the picturesque landscapes is an ideal way to unwind after exploring the wonders of the Lake District.
2. Can I book a hotel room with a private Jacuzzi?
Yes, many hotels in the Lake District offer rooms with private Jacuzzis for guests' enjoyment and relaxation. These rooms are designed to provide an intimate and exclusive experience, allowing you to indulge in a soothing soak without having to share facilities with other guests. To ensure availability, it is recommended to check with your preferred hotel or booking platform prior to making reservations.
3. Are there any budget-friendly hotels with Jacuzzi facilities?
Certainly! Not all hotels offering Jacuzzi facilities are expensive or out of reach for budget-conscious travelers visiting the Lake District. There are several affordable options available that still provide cozy accommodations and access to refreshing hot tubs or whirlpools within their premises. By researching and comparing prices from different establishments, you can find affordable hotels that meet both your comfort requirements and desired amenities.
4. Is it necessary to pre-book a hotel room with a Jacuzzi?
While it may be possible on occasion, it is highly recommended to pre-book a hotel room equipped with a jacuzzi if that's an essential feature you desire during your stay at the Lake District. These rooms tend to be limited in number due to their popularity, especially during peak travel seasons when demand is high. Pre-booking ensures that you secure your desired accommodation option and avoid disappointment upon arrival.
5. Do all hotels offering hot tub facilities have additional amenities?
Yes, most hotels in the Lake District that provide Jacuzzi or hot tub facilities also offer a range of other amenities to enhance your stay. These may include spa services, fitness centers, on-site restaurants and bars, scenic gardens or outdoor seating areas, complimentary Wi-Fi, and more. It is advisable to check with individual hotels for specific amenities they offer to find the best fit for your preferences and needs.
Popular Hotels With Hot Tub destinations