Welcome to our whirlpool wonderland in England, where we take relaxation to the next level. If you're seeking a luxurious and indulgent retreat, look no further than our carefully curated selection of accommodations with private hot tubs in-room across the beautiful United Kingdom. As your personal travel guide, I invite you to discover these hidden gems that offer an enchanting escape from the hustle and bustle of everyday life.
Imagine sinking into a bubbling Jacuzzi after a long day exploring historic castles or strolling through picturesque countryside. Our handpicked hotels provide the perfect setting for ultimate pampering and rejuvenation. Swap your worries for warm water bliss as you soak away any tension or fatigue in your very own sumptuously appointed Jacuzzi suite. Whether it's nestled within a romantic boutique hotel or overlooking breathtaking coastal vistas, each location promises an unforgettable experience for all senses.
Indulge yourself with uninterrupted moments of tranquility as you unwind amidst opulent surroundings. Feel the soothing jets massage your cares away while sipping on champagne or enjoying a delightful book by candlelight. From intimate hideaways for couples to spacious suites ideal for family gatherings, there's a range of options available to suit every traveler's needs and desires. So let us guide you on this rejuvenating journey as we explore some of England's most captivating Hotels With Jacuzzi In Room – where pure relaxation awaits at every turn!
Best England Hotels With Hot Tub
Casa Hotel (Chesterfield)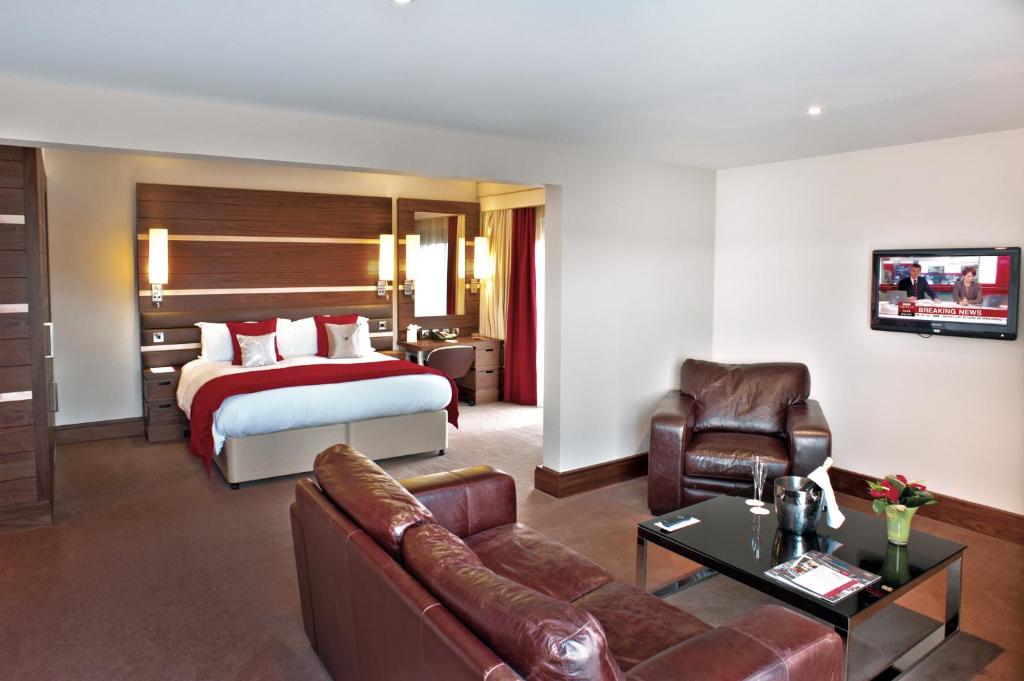 Casa Hotel is a luxurious 4-star hotel conveniently located just off the M1 in Chesterfield. With a stylish Spanish theme, it offers modern accommodation with free Wi-Fi and free parking. The rooms at Casa Hotel are extremely spacious and beautifully decorated, featuring super king-size Hypnos beds and large floor-to-ceiling windows that fill the rooms with natural light. Each room is equipped with an LCD TV offering Freeview and Sports channels for entertainment. Guests can enjoy a range of beers and wines at the contemporary bar area, or indulge in seasonal á la carte dishes at the large restaurant. The hotel also provides a 24-hour front desk for convenience. Situated just north of Chesterfield Town Centre, Casa Hotel has easy access to junctions 29 and 30 of the M1 motorway. Additionally, Chesterfield Rail Station is only 2 miles away.
– Luxurious accommodation with spacious rooms
– Super king-size Hypnos beds for ultimate comfort
– Large floor-to-ceiling windows providing ample natural light
– Contemporary bar area serving a variety of drinks
– Accessible location near major transport links
Cotswold House Hotel and Spa (Chipping Campden)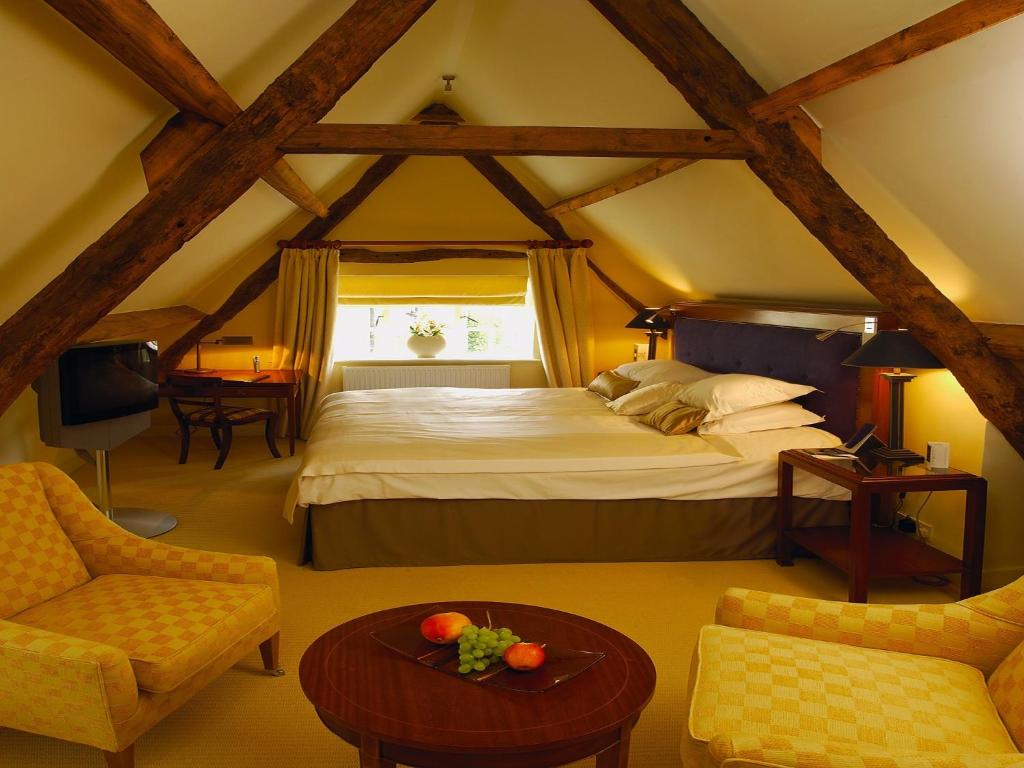 Cotswold House Hotel and Spa is a boutique hotel located in the heart of Chipping Campden. With its two acres of landscaped townhouse gardens, this hotel has been overlooking the Square for over 200 years and has become one of the most prestigious hotels in the Cotswolds. Guests can enjoy a range of luxurious amenities, including an indoor pool, hydrotherapy pool, hammam room, and six treatment rooms. The 28 bedrooms offer comfortable and indulgent accommodation options, some with private gardens and hot tubs, limestone baths, and mood lighting. Each room is equipped with modern amenities such as a flat-screen TV and facilities for making tea and coffee. Dining at Cotswold House Hotel is a delightful experience with beautifully executed dishes served in the restaurant using only the freshest ingredients. During summer months, guests can enjoy morning coffee, teas, light lunches on the terrace surrounded by colorful borders while traditional afternoon tea by the roaring log fire is a must during winter months. The hotel also features two dining spaces; The Bistro offers casual all-day dining seven days a week while Fig offers fine dining Tuesday to Saturday dinner time. For relaxation purposes, guests can unwind at the spa located in the former coach house where massages, maintenance treatments, and full-day spas are available (advanced bookings are recommended).
Pros:
– Boutique hotel with charming townhouse gardens
– Variety of luxurious amenities including indoor pool
– Comfortable rooms with private gardens and hot tubs
– Delicious cuisine made from fresh ingredients
– Relaxing spa offering massages and treatments
Boringdon Hall Hotel and Spa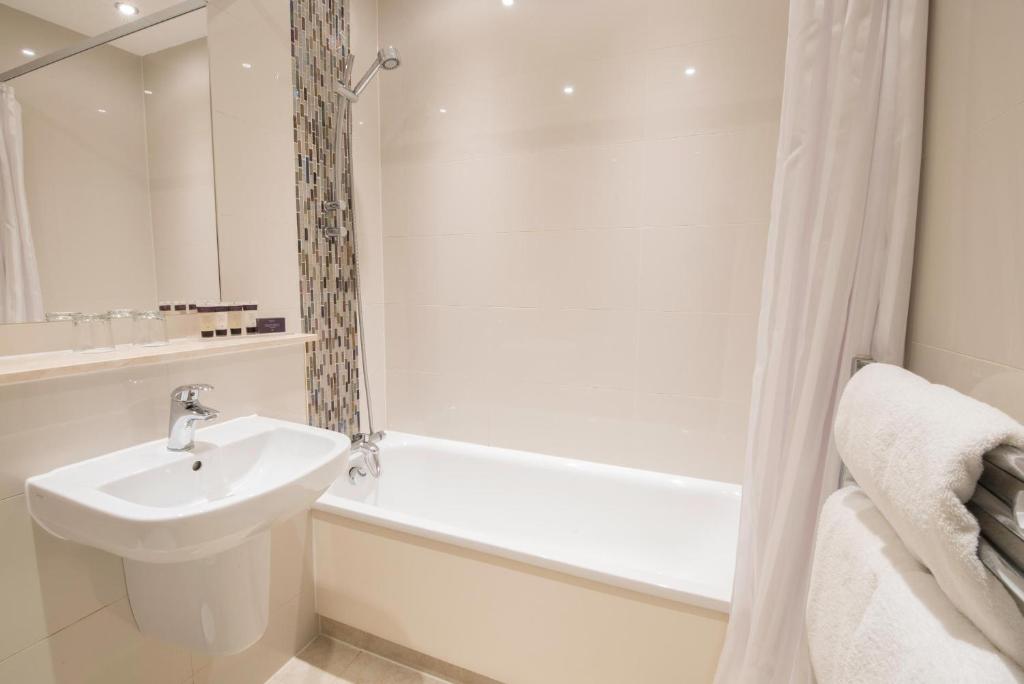 Situated on the edge of Dartmoor National Park and just five minutes from Plymouth, Boringdon Hall Hotel and Spa is a 5-star retreat that offers a blend of historic charm and modern luxury. The hotel's beautifully decorated rooms feature flat-screen LCD TVs, private bathrooms with luxury toiletries, and tea/coffee facilities. Guests can indulge in Michelin-star dining at Àclèaf, which showcases traditional British cuisine using locally sourced ingredients. The property's exclusive Gaia Spa offers access to a swimming pool, hydrotherapy pool, gym facilities including Peloton bikes, and a range of spa services. With its bright decor and classic furnishings, some rooms offer an extra touch of elegance with carved wooden beds, antique furniture, and historic features. Guests can enjoy traditional afternoon teas in the magnificent Great Hall adorned with the coat of arms of James I. The hotel also provides assistance in arranging outdoor activities such as climbing, horse-riding, or scenic walks within Dartmoor National Park. Additionally, golf enthusiasts will appreciate the nearby 18-hole course at Boringdon Park. Please note that pets are welcome in Courtyard Rooms for an additional fee but cannot be accommodated in other room types.
Pros:
– Beautiful historic interiors
– Exclusive adults-only Gaia Spa
– Michelin-star dining at Àclèaf
– Access to swimming pool and gym facilities
– Assistance with arranging outdoor activities
Other places to stay in England
Luxury Hotels in England with Hot Tub
Luxury hotels in England with hot tubs offer a sublime and indulgent experience for travelers seeking relaxation and pampering. These exclusive accommodations provide an intimate setting where guests can unwind in their own private oasis, immersing themselves in the warm bubbles of a luxurious hot tub. Whether nestled on a rooftop terrace overlooking iconic cityscapes or hidden away amidst picturesque countryside landscapes, these hotels offer the perfect retreat to rejuvenate the mind, body, and soul. Soaking in a hot tub while surrounded by opulent decor and world-class service truly elevates the luxury hotel experience, creating unforgettable memories for those seeking a lavish escape.
Linthwaite House Hotel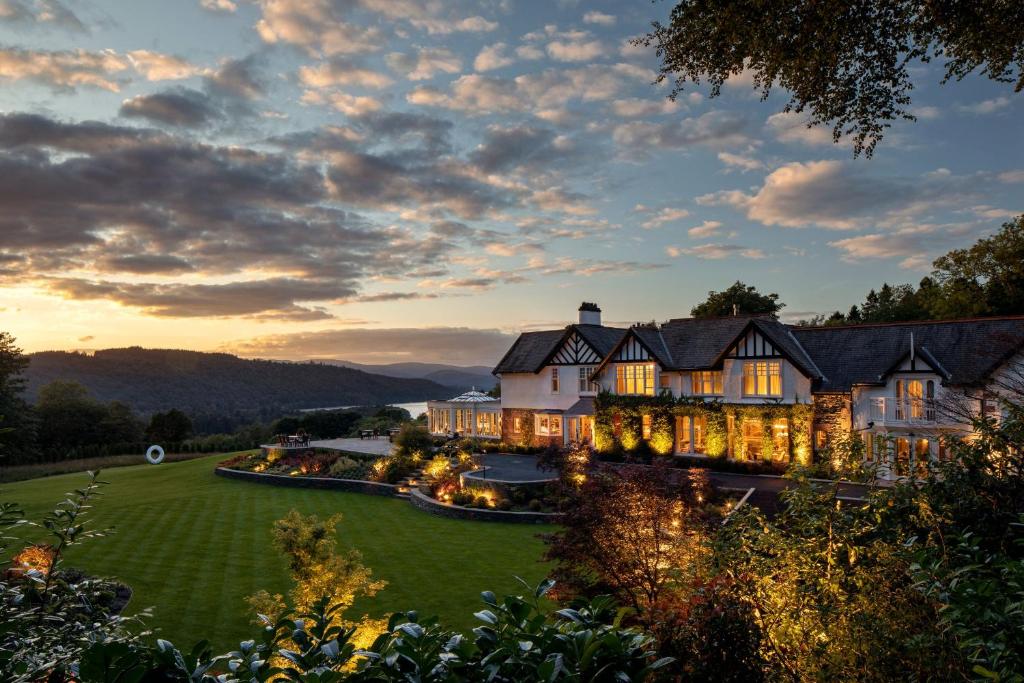 Linthwaite House Hotel is a luxurious accommodation located on a hilltop overlooking Windermere, offering breathtaking views of the surrounding hills, mountains, and the lake. The stylishly designed bedrooms and bathrooms provide guests with a comfortable and indulgent stay. The hotel features an array of activities such as boules and a giant outdoor chessboard for guests to enjoy. With its on-site restaurant Simon Rogan serving dishes made from locally sourced ingredients, food enthusiasts will be delighted. Additionally, Henrock's á la carte menu offers small plates and sharing dishes for a unique dining experience. Guests can also take advantage of the two row boats available for use by inquiring at the reception.
– Breathtaking views of Windermere and surrounding scenery
– Stylishly designed bedrooms and bathrooms
– On-site restaurant with locally sourced ingredients
– Unique dining experience with Henrock's á la carte menu
– Recreational activities including boules and giant outdoor chessboard
Windermere Suites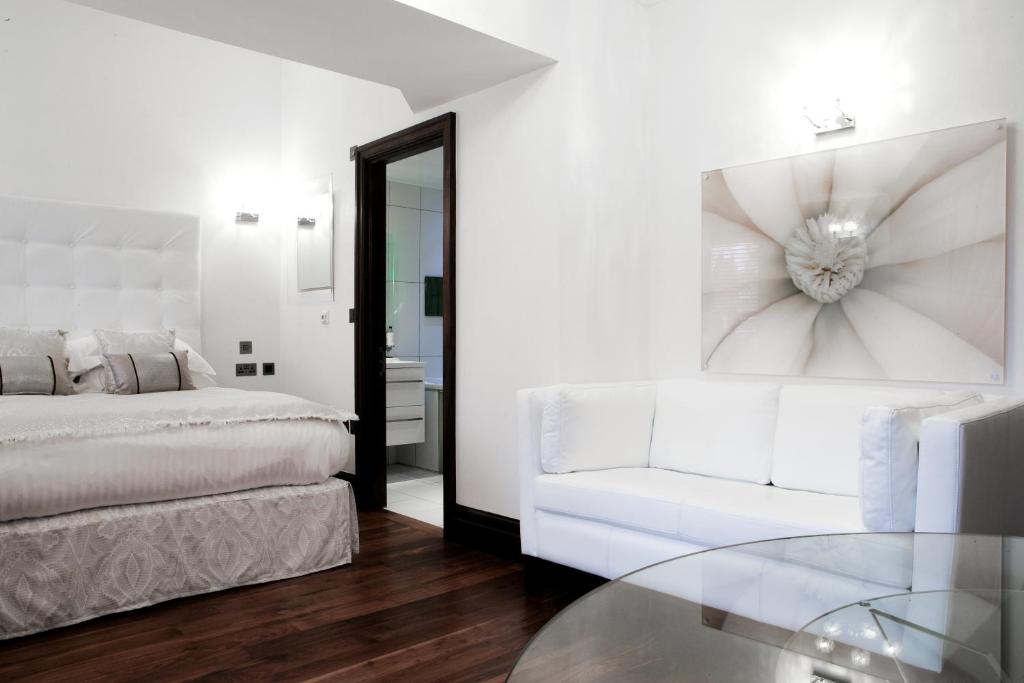 Located in the heart of Windermere, Windermere Suites offers luxurious accommodation with a 5-star Guest Accommodation rating. The suites at this hotel are thoughtfully designed and feature modern furniture from renowned designers like Philippe Starck. Each Super Luxury suite boasts a handmade, silver-leaf Frank Hudson super-king bed, as well as a seating area, soundproofing, and dining area. Guests can enjoy amenities such as 42-inch LCD TVs, crystal lights, and free Wi-Fi. A delicious breakfast is delivered to your suite each morning, featuring options like a hearty Cumbria platter or continental spread with freshly ground coffee. The highlight of these suites is the huge air baths for two with mood lights and a TV above where guests can relax after a day of exploring the beautiful surroundings. For added convenience, electric vehicle chargers are available in the car park. With its central location just a 2-minute walk from Windermere Train Station and the town centre, guests have easy access to Lake Windermere and Bowness-on-Windermere, home to attractions like the 'World Of Beatrix Potter'.
Homewood Hotel & Spa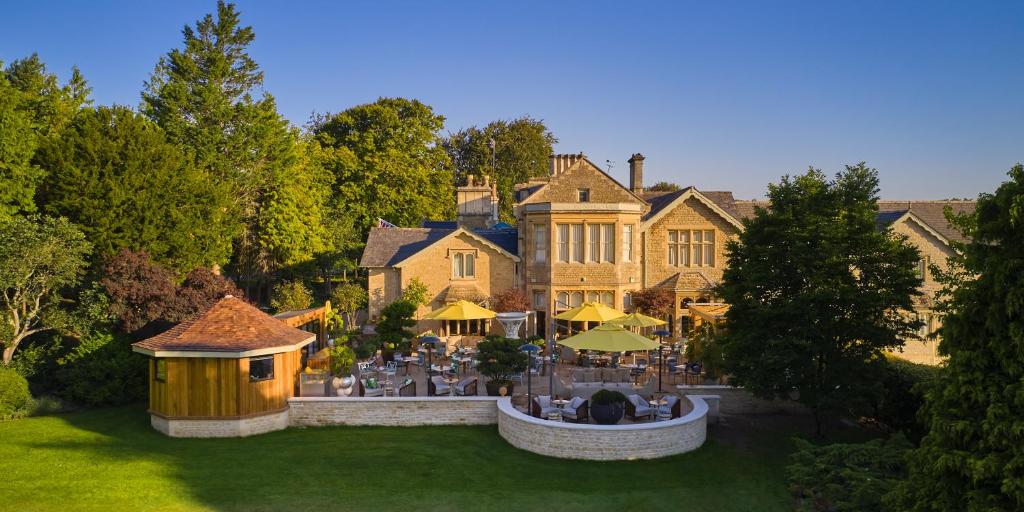 Homewood Hotel & Spa is a stunning Georgian country retreat located near Bath. Nestled amidst parkland and beautiful gardens, this hotel offers a tranquil escape with top-notch amenities. The house exudes charm and character, blending antique paintings, exposed wood floors, and log fires with chic designs and modern fabrics. Guests can indulge in the award-winning cuisine at The Restaurant at Homewood, known for serving the finest modern English dishes in Bath. The highlight of the property is undoubtedly The Spa at Homewood, set within its own famous gardens surrounded by an original garden wall. Here, guests can relax in the hydrotherapy pool or unwind in the sauna and steam room. For those looking to soak up some sun while enjoying breathtaking views, there's a heated outside swimming pool available as well. Luxurious treatments are also offered to further enhance relaxation. Each bedroom at Homewood Hotel & Spa is luxurious and unique, with some boasting superb views across the gardens.
– Peaceful seclusion amidst parkland
– Award-winning cuisine at The Restaurant
– Luxurious spa facilities including a hydrotherapy pool
– Heated outside swimming pool with stunning views
– Luxurious and unique bedrooms with garden views
Cheap Hotels in England with Jacuzzi
If you're seeking an affordable getaway with a touch of luxury, consider staying at a cheap hotel in England with a jacuzzi. These accommodations provide couples and solo travelers the opportunity to relax and unwind in the comfort of their own room. Whether you're exploring bustling cities or picturesque countryside, these hotels offer a rejuvenating experience after a long day of adventure. Take advantage of the soothing jets and warm waters, allowing all your stress to melt away. With budget-friendly options available throughout England, you can indulge in this extra indulgence without breaking the bank.
Westfield House Farm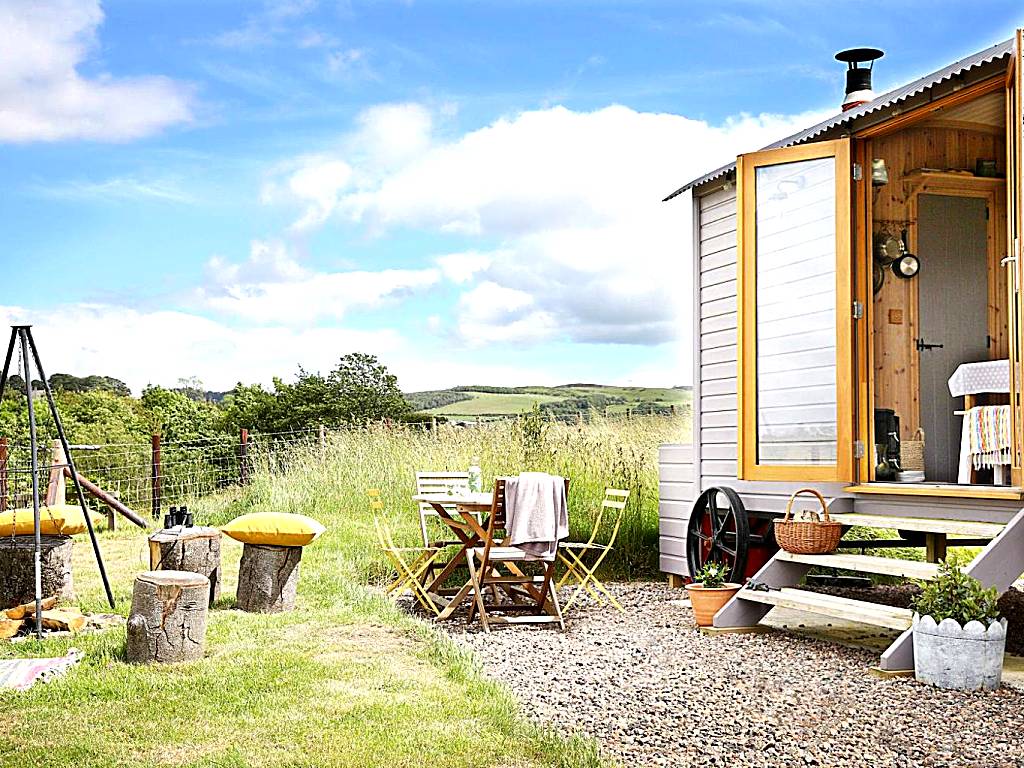 Westfield House Farm is a delightful bed and breakfast located in the heart of the Northumbrian countryside, just a few miles from Northumberland National Park. This charming property offers great value with free on-site parking available for guests. The continental-style breakfast served daily includes a variety of options such as croissants, bread, fruit juices, yoghurt, fruit, cereal and freshly brewed tea and coffee. The tranquil setting of Westfield House Farm makes it an ideal retreat for guests seeking peace and relaxation. Each room features central heating, offering comfort even during colder months. Guests can enjoy stunning views of the magnificent Simonside Hills from their rooms which also come with private bathrooms.
Pros:
– Delightful property nestled in the heart of the Northumbrian countryside
– Great value with free on-site parking
– Tranquil setting for ultimate relaxation
– Central heating in each room for year-round comfort
– Stunning views of Simonside Hills
Windermere Boutique Hotel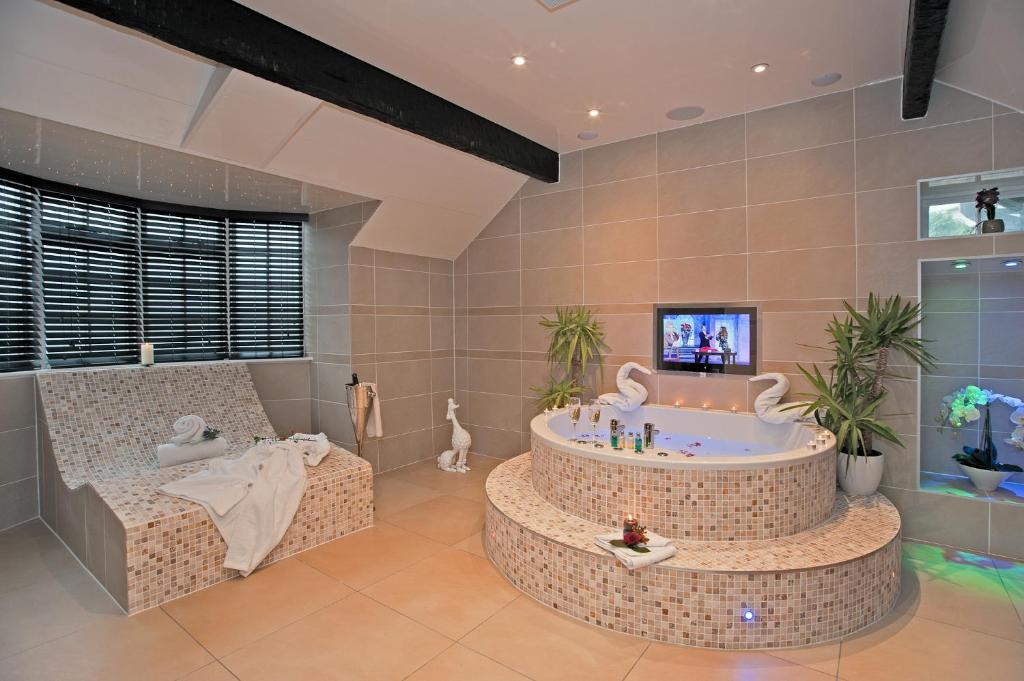 Located just a mile away from Lake Windermere in the heart of the picturesque Lake District, Windermere Boutique Hotel is a luxury boutique hotel that offers guests an unforgettable experience. The hotel boasts free Wi-Fi and delicious home-cooked food. It is conveniently situated only a 15-minute walk from Windermere Rail Station and provides free on-site parking.
The rooms at Windermere Boutique Hotel are designed to provide utmost comfort and luxury. Each room features a large widescreen TV with satellite channels, a DVD player, as well as a king-size bed and luxurious bathroom facilities. For those seeking an even more lavish experience, some of the luxury suites come equipped with outdoor hot tubs and seating areas.
Originally the second home of a wealthy Edwardian gentleman, Windermere Boutique Hotel still exudes its historical charm with open fires and beamed ceilings. Its location makes it easily accessible to popular attractions such as the World of Beatrix Potter Attraction in Bowness, which is just a short drive away. Additionally, guests can immerse themselves in the stunning natural surroundings by exploring the nearby National Parkland through various walking and cycling trails. Ambleside, another charming town in the Lake District, is located just 5 miles away.
Pros:
– Convenient location close to Lake Windermere
– Free Wi-Fi and on-site parking
– Luxurious rooms featuring modern amenities
– Some suites offer outdoor hot tubs for added relaxation
– Proximity to popular attractions like the World of Beatrix Potter Attraction
The Gainsborough Bath Spa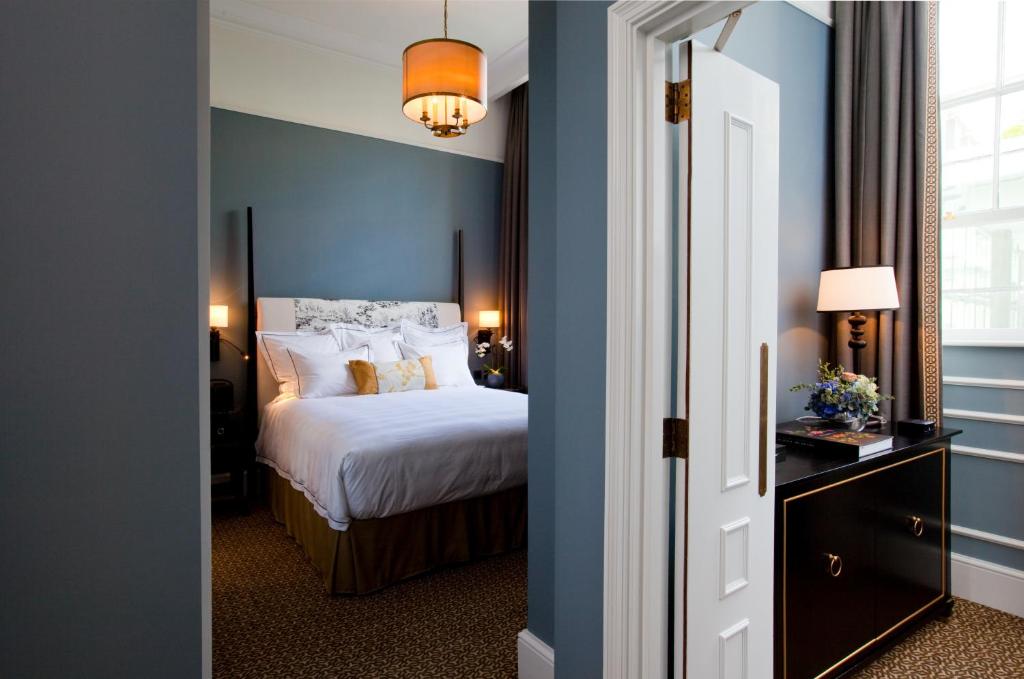 The Gainsborough Bath Spa – a YTL Hotel offers luxurious five-star accommodation in the beautiful city of Bath. What sets this hotel apart is its access to naturally heated thermal waters within its Spa Village, making it the only hotel in the UK with such a unique feature. Each room is tastefully decorated and equipped with modern amenities including a flat-screen TV with satellite channels, a coffee machine, and a private bathroom complete with bath robes and slippers. The property also boasts an on-site restaurant and bar where guests can enjoy delicious meals and refreshing drinks. Located just steps away from popular attractions like The Roman Baths and Bath Abbey, The Gainsborough Bath Spa provides convenience for sightseeing. With attentive concierge service available, guests can receive helpful advice and assistance for their stay. Overall, this hotel offers an exceptional experience for those seeking relaxation and luxury in the heart of Bath.
– Access to naturally heated thermal waters within Spa Village
– Luxurious rooms with modern amenities
– On-site restaurant serving delicious meals
– Close proximity to popular attractions
– Attentive concierge service available
Romantic Hotels in England with Hot Tub
England offers a plethora of romantic hotels with hot tubs, perfect for couples seeking a luxurious and intimate getaway. Nestled amidst the picturesque English countryside or tucked away in charming towns, these hotels provide a dreamy setting for relaxation and romance. Whether soaking in the warm bubbles under a starlit sky or sipping champagne by the crackling fireplace, guests can indulge in moments of pure bliss and create unforgettable memories together. With their inviting ambiance, stunning views, and soothing hot tubs, these romantic retreats offer an idyllic escape for couples looking to reconnect and rejuvenate in each other's company.
The Manor House Hotel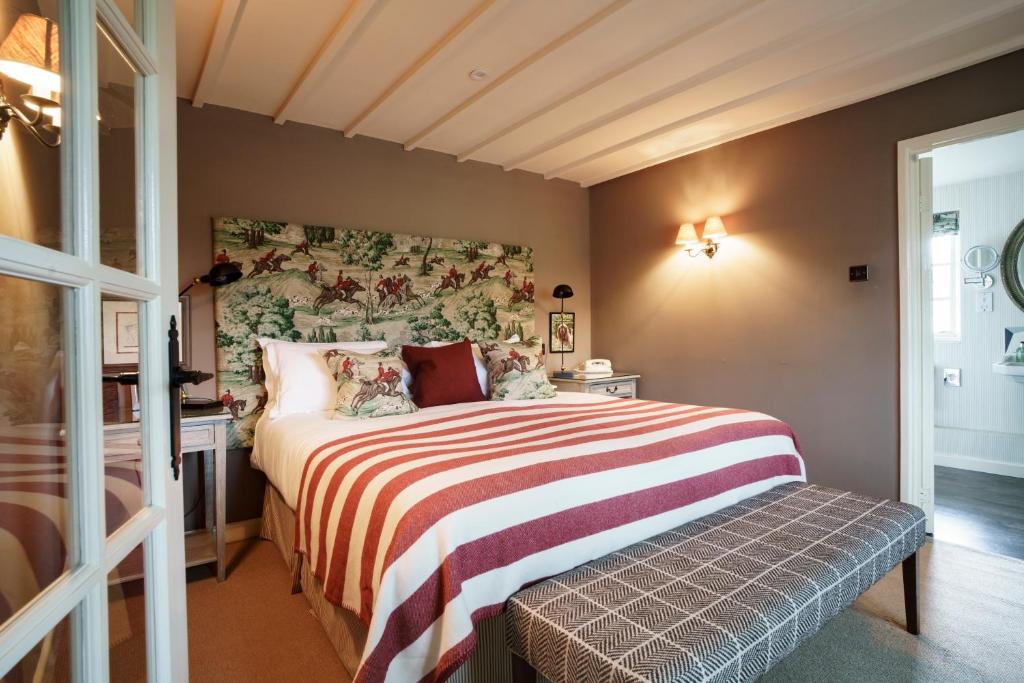 The Manor House Hotel is a luxurious 4-star hotel located in the centre of Moreton-in-Marsh. Housed in a charming 16th-century building, each room exudes its own unique charm and has been elegantly decorated with modern comforts such as a TV and an en suite bathroom stocked with Molton Brown toiletries. The Mulberry Restaurant, which has been awarded 2 AA Rosettes, showcases local and seasonal produce, while the Beagle Bar offers light meals and afternoon tea. Guests can enjoy picturesque views of either the historic high street or the hotel's beautiful gardens from most rooms. The hotel also boasts private walled gardens featuring a water feature and a stunning 300-year-old mulberry tree. With Moreton-in-Marsh Railway Station just a 5-minute walk away, guests have easy access to explore nearby attractions including Stratford-upon-Avon, Shakespeare's birthplace, which is only a short 20-minute drive away.
Pros:
– Luxurious accommodation in a charming historic building
– Award-winning restaurant serving local and seasonal produce
– Picturesque views of the historic high street or beautiful gardens
– Private walled gardens with a water feature and ancient mulberry tree
– Convenient location near Moreton-in-Marsh Railway Station for exploring nearby attractions
Wheatlands Lodge Guesthouse (Adults Only)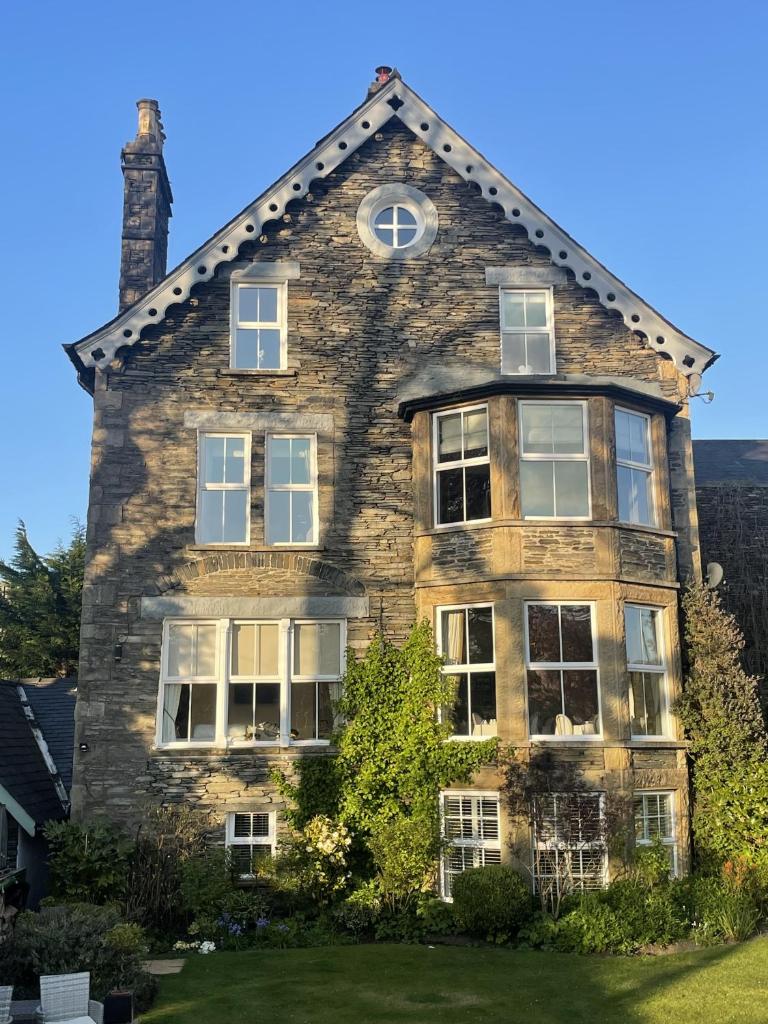 Wheatlands Lodge Guesthouse (Adults Only) is a charming guest house located in the peaceful town of Windermere. With its convenient location just a 5-minute walk from Windermere Rail Station, guests have easy access to explore the beautiful Lake District. The guesthouse offers 5-star accommodation with individually designed rooms featuring luxury en suite facilities and modern furnishings. The property has maintained its classic Victorian charm, dating back to 1860, and boasts period features throughout. Guests can enjoy al fresco dining in the garden and terrace area or indulge in a traditional Cumbrian breakfast made with locally sourced produce in the dining room. Free Wi-Fi and private parking are available for guests' convenience. Other nearby attractions include Windermere town center, Bowness-on-Windermere, and the World of Beatrix Potter.
– Convenient location near Windermere Rail Station
– Luxury en suite rooms with modern furnishings
– Classic Victorian charm with period features
– Garden and terrace for al fresco dining
– Traditional Cumbrian breakfast served using locally sourced produce
Gilpin Hotel & Lake House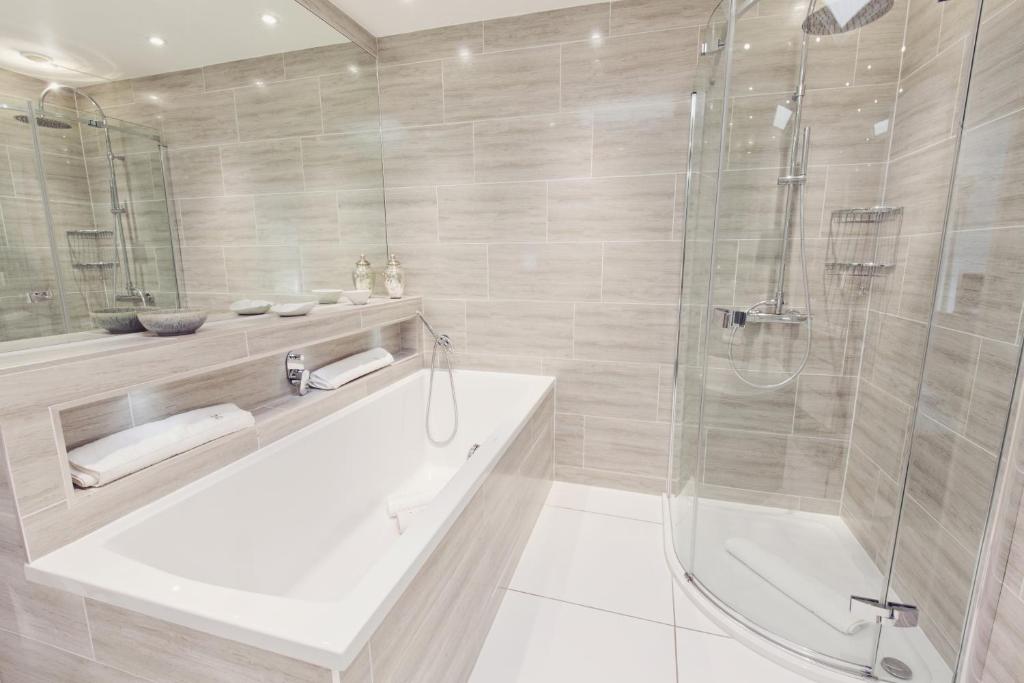 The Gilpin Hotel & Lake House is an elegant hotel located in the beautiful Lake District. It offers fine dining and luxurious suites with stunning interiors. The hotel is situated just over 2 miles away from the shores of Lake Windermere, providing guests with breathtaking views and a peaceful atmosphere. The suites at Gilpin Hotel feature their own hot tubs, allowing guests to relax and unwind in privacy. For those staying in the lodges, there are private spa facilities available, including rainfall showers and steam rooms. The hotel boasts two on-site restaurants, including Hrishi which has been awarded 1-Michelin star. Dishes at both restaurants showcase local Lake District produce with a delightful Asian twist. Guests can also enjoy direct access to the gardens from most rooms, immersing themselves in the natural beauty of the surroundings. Additionally, the Gilpin Lake House offers six suites with private access to gardens, a lake, and a spa.
– Fine dining experience
– Luxurious suites with hot tubs
– Private spa facilities available for lodge guests
– Direct access to gardens showcasing Lakeland views
– Two on-site restaurants offering a fusion of local produce and Asian flavors
Information about Hotels With Jacuzzi In Room in England
| | |
| --- | --- |
| 🏢 Number of Hotels With Jacuzzi In Room in England | 12 |
| 🥇 Average Review Score | 8.9/10 |
| 💰 High season average price | 1020 |
| 💸 Low season average price | 255 |
FAQ
Can I find hotels with jacuzzi in room in England?
Yes, there are several hotels with jacuzzi in room options available across England. Whether you are visiting London, Manchester, or any other city in the country, you can find a variety of accommodations that offer this luxurious amenity. From boutique hotels to upscale resorts, there are plenty of options to choose from for a relaxing stay with your own private jacuzzi in the room.
What are some popular cities in England that have hotels with jacuzzi in room?
Some popular cities in England where you can find hotels with jacuzzi in room include London, Manchester, Birmingham, Bristol, and Brighton. These cities offer a range of accommodations that cater to different travel preferences and budgets. So whether you're looking for a romantic getaway or simply want to indulge yourself during your trip, you're likely to find a hotel with jacuzzi facilities nearby.
Do all hotels with jacuzzi in room provide the same amenities?
While most hotels with jacuzzi in room offer similar amenities such as hot tubs or whirlpool baths within the privacy of your own accommodation, it's important to note that each hotel may have its own unique offerings. Some may provide additional features like steam rooms or saunas alongside the jacuzzis while others might have larger suites or special packages for couples seeking a romantic retreat. It is always recommended to check the specific amenities offered by each hotel before making your reservation.
Are there any budget-friendly options for hotels with jacuzzi in room?
Yes! If you're on a budget but still want to enjoy the luxury of having a private jacuzzi in your accommodation, there are affordable options available too. Many mid-range and budget-friendly hotels across England offer rooms equipped with hot tubs at reasonable prices. These establishments often provide comfortable stays without compromising on quality and can be found not only within city centers but also on the outskirts or near popular tourist attractions.
How can I find and book hotels with jacuzzi in room in England?
Finding and booking hotels with jacuzzi in room in England is quite easy. You can start by using online travel agencies or hotel booking platforms that allow you to filter your search results based on specific amenities, including jacuzzi or hot tub facilities. Additionally, you can directly visit the official websites of hotels you are interested in and check their room amenities or contact their customer service for more details. Once you've found the perfect accommodation, simply follow the booking instructions provided on the website or platform of your choice to secure your reservation.
Popular Hotels With Jacuzzi destinations