Welcome to Cumbria, a charming destination nestled in the heart of the United Kingdom. Known for its picturesque landscapes and serene ambiance, Cumbria is an ideal retreat for those seeking relaxation and tranquility. And what better way to unwind than in a hotel room equipped with a private hot tub?
Cumbria offers a range of accommodations that cater to every traveler's desire for some well-deserved pampering. Imagine sinking into the bubbling warmth of your own personal whirlpool, surrounded by luxurious amenities and breathtaking views. Whether you prefer a cozy inn or a lavish resort, there are numerous options available to suit your preferences.
Indulge yourself in the ultimate relaxation experience as you soak away your cares in the comfort of your room. After exploring the magnificent Lake District or enjoying a hike through Cumbria's stunning countryside, there's nothing quite like returning to your hotel room and immersing yourself in pure bliss. So why not make your stay memorable by booking one of Cumbria's delightful hotels with Jacuzzi facilities? Get ready to escape from everyday life and immerse yourself in luxury at its finest.
Best Cumbria Hotels With Hot Tub
The Howbeck & The Retreat incl FREE off-site Health Club and FREE parking: Luxury Room with Spa Bath (Windermere)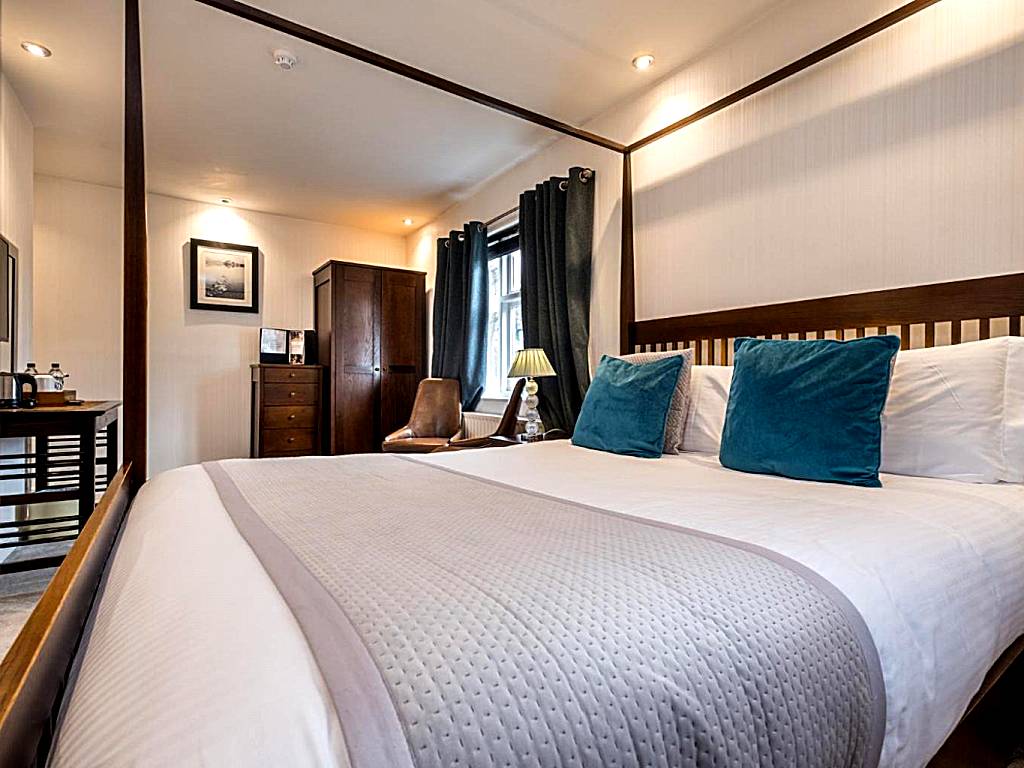 The Howbeck & The Retreat is a luxury bed and breakfast located in the picturesque Lake District, just a short walk from Windermere. The hotel offers beautifully appointed rooms with modern and original bathrooms, as well as free Wi-Fi for guests to enjoy. The main village of Windermere, with its abundance of shops and restaurants, is only a 2-minute walk away. Nearby attractions include the Windermere Steamboats and Museum, as well as the market towns of Kendal and Keswick. The hotel also has special arrangements with local restaurants for its guests, making it easy to dine out during your stay. One of the highlights of staying at The Howbeck is that guests are offered a free 2-hour pass to use the Choices Health Club's swimming pool, spa, sauna, steam room, cardio suite, weights center, group classes, and outdoor training area. This fantastic amenity is just a short drive or 30-minute walk away from the hotel.
– Luxury spa bath with shower over and mineral water
– Free Wi-Fi throughout the property
– Close proximity to shops and restaurants in Windermere
– Special arrangements with local restaurants for guest reservations
– Complimentary access to Choices Health Club's extensive facilities
Rothay Manor Hotel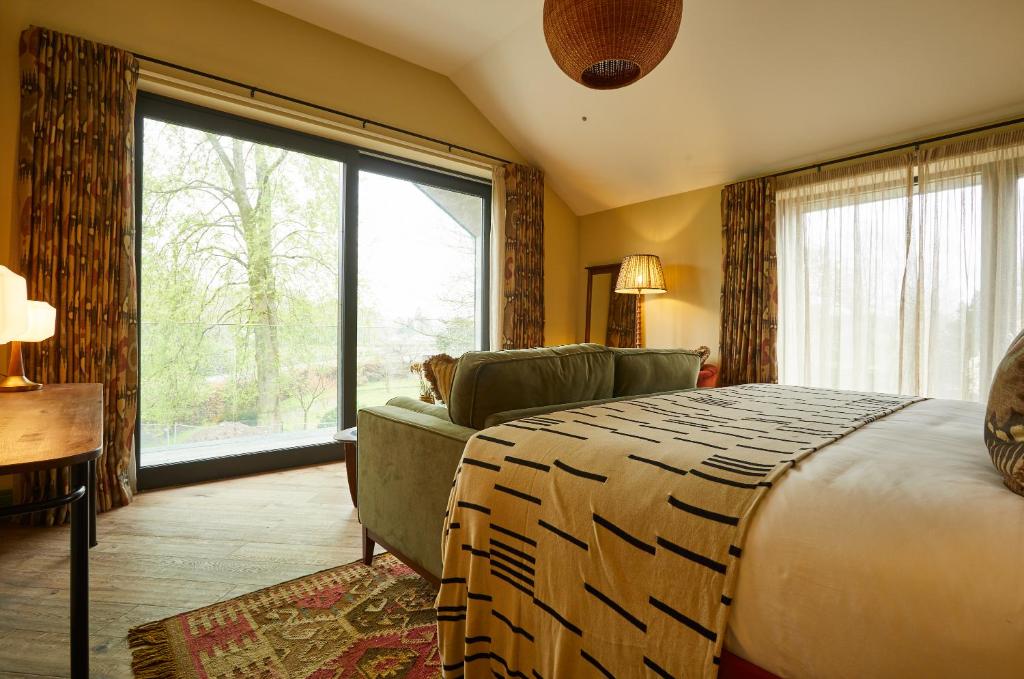 Located in the heart of the picturesque Lake District, Rothay Manor Hotel is a luxurious country house hotel that offers guests a truly indulgent experience. Boasting a 3 AA rosette restaurant, free Wi-Fi and award-winning breakfasts, this privately-owned hotel is the perfect choice for those seeking comfort and elegance. With individually designed rooms featuring satellite TV, radio and tea/coffee facilities, guests are guaranteed a comfortable stay. Built in 1825, this Grade II Listed house is surrounded by beautifully landscaped gardens and boasts charming period features. The hotel's ideal location places it just 400 meters away from Lake Windermere and a short 5-minute walk from Ambleside.
Pros:
– Spacious and individually designed rooms
– Beautifully landscaped gardens with period features
– Fine dining restaurant offering delicious fresh food
– Free Wi-Fi throughout the property
– Excellent location near Lake Windermere
Windermere Suites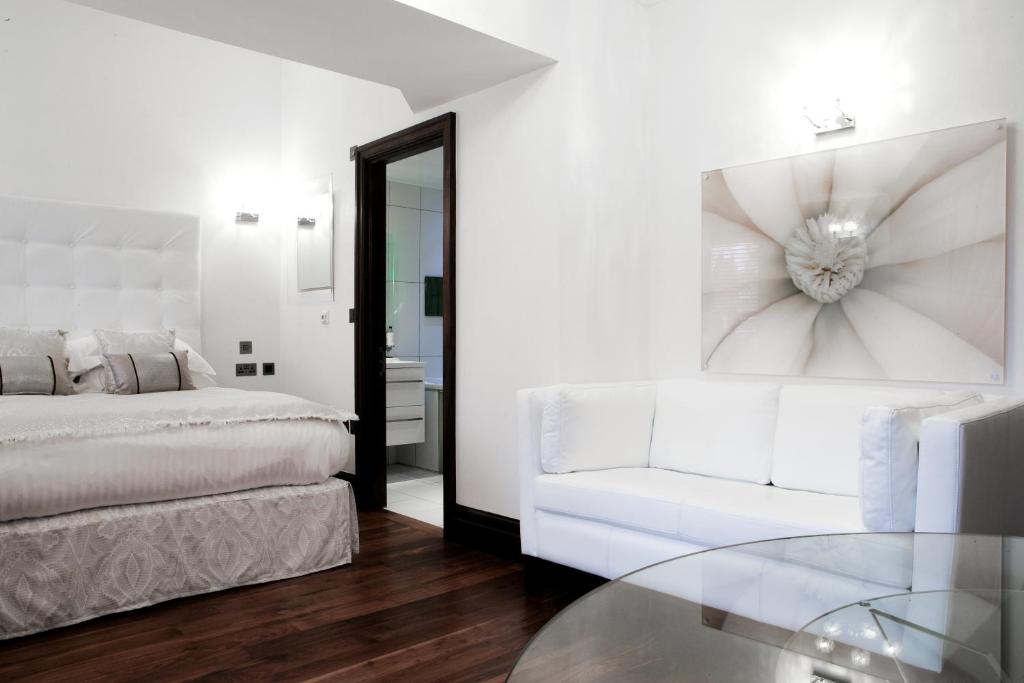 The Windermere Suites is a luxurious 5-star Guest Accommodation hotel that offers stunning suites with a range of amenities. Each suite features a seating area, soundproofing, and a dining area. The bathrooms are designed with luxury in mind and showcase modern furniture from renowned designers like Philippe Starck. The highlight of the suites is the handmade silver-leaf Frank Hudson super-king bed, guaranteeing ultimate comfort during your stay. Additional features include 42-inch LCD TVs, crystal lights, and free Wi-Fi. Start your day with either a hearty Cumbria platter or continental breakfast delivered right to your suite along with freshly ground coffee. For the ultimate relaxation experience, you can indulge in huge air baths for two complete with mood lights and a TV above. Furthermore, the hotel provides electric vehicle chargers in their car park for added convenience. With an ideal location just a short 2-minute walk from the town centre and Windermere Train Station, exploring Lake Windermere and Bowness-on-Windermere's attractions such as the 'World Of Beatrix Potter' becomes effortlessly convenient.
Pros:
– Luxury bathrooms featuring modern furniture
– Handmade silver-leaf Frank Hudson super-king beds
– In-room amenities like 42-inch LCD TVs and crystal lights
– Breakfast delivered to your suite every morning
– Close proximity to town centre, train station, and local attractions
Other places to stay in Cumbria
Luxury Hotels in Cumbria with Hot Tub
Luxury Hotels in Cumbria with Hot Tub offer a serene and indulgent experience for travelers seeking the ultimate relaxation. Nestled amidst the stunning landscapes of Cumbria, these hotels provide a tranquil sanctuary where guests can unwind and rejuvenate in the privacy of their own hot tub. With exquisite attention to detail, elegant decor, and impeccable service, these luxury accommodations create an atmosphere of pure opulence. Whether it's soaking in the warm waters while enjoying panoramic views or sipping champagne under a starlit sky, these hotels ensure that every moment is filled with blissful tranquility.
The Leathes Head Hotel: Deluxe King Room (Keswick)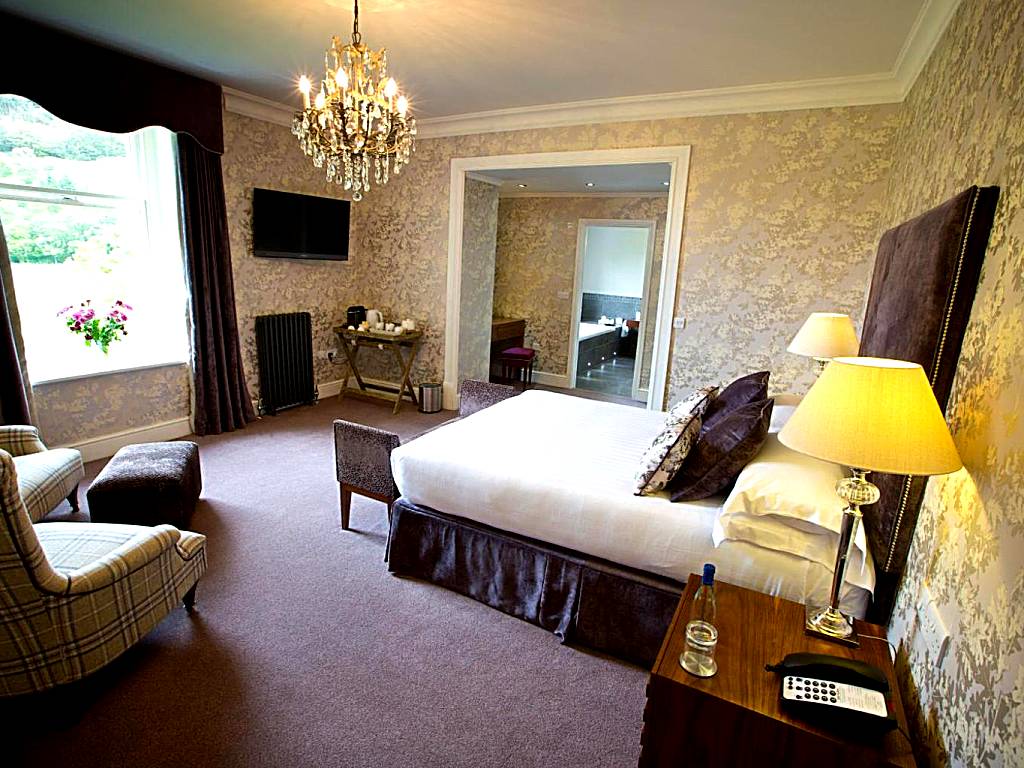 The Deluxe King Room at The Leathes Head Hotel in Keswick offers a spacious and luxurious stay. Located in the original half of the house, this room features a large bathroom with a double-ended whirlpool spa bath that is perfectly situated in front of a window overlooking Derwent Water. Additionally, the bathroom includes a large double walk-in shower and 'his and hers' sinks. Guests can enjoy modern amenities such as a 40-inch flat-screen TV with internet access, a Bose Bluetooth mini speaker, and an espresso machine. Toiletries from Gilchrist & Soames are provided, along with plush bathrobes and bottled water.
Pros:
– Stunning views of Derwent Water from the whirlpool spa bath
– Modern amenities including flat-screen TV and espresso machine
– Spacious bathroom with double walk-in shower
– Complimentary toiletries, bathrobes, and bottled water provided
– Free Wi-Fi throughout the hotel
Set on more than 2 acres of beautiful land in Borrowdale, The Leathes Head Hotel offers not only comfortable accommodation but also an on-site bar and restaurant for guests to enjoy. The hotel holds highly recommended status with the Michelin Guide, ensuring delectable dishes made from locally sourced ingredients by their talented chef. For those looking to explore Keswick, the town centre is less than 10 minutes' drive away. Parking is available for free at the hotel, including an electric car charging station for eco-conscious travelers.
Merewood Country House Hotel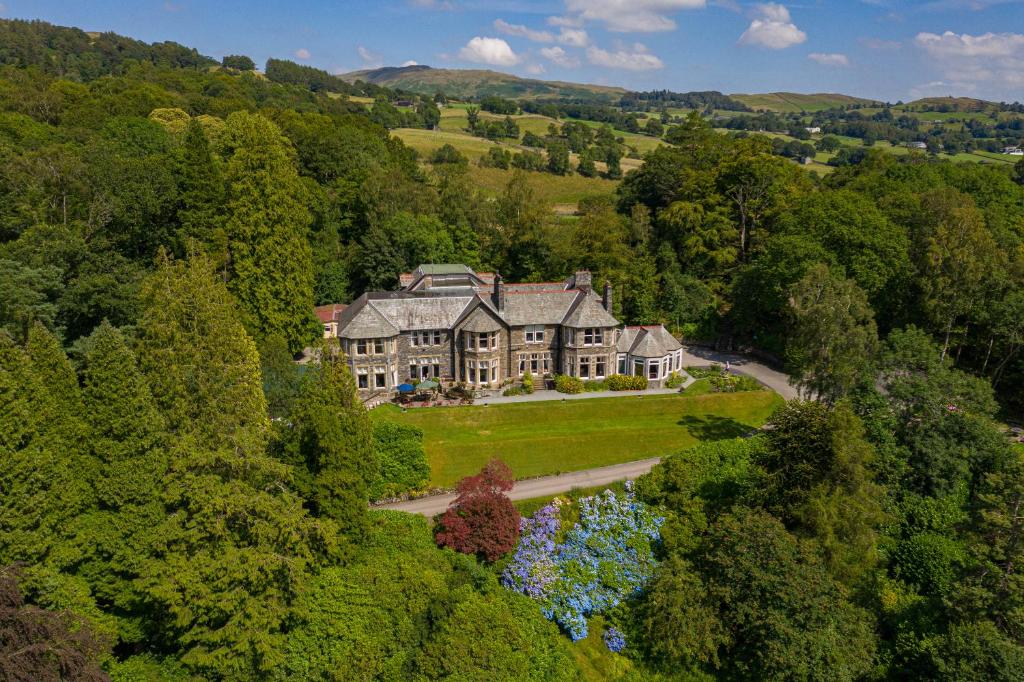 Located on the edge of Lake Windermere in the picturesque Lake District National Park, Merewood Country House Hotel is a charming establishment that dates back to 1812. With its beautifully landscaped gardens spread across 20 acres, this hotel offers guests a serene and tranquil setting. The hotel provides free on-site parking and Wi-Fi for guests' convenience. Indulge in a delightful culinary experience at the hotel's restaurant, which features an extensive menu showcasing regional produce such as Cumberland sausage, locally caught trout, and Cumbrian cheeses and chutneys. Each room at Merewood Country House Hotel is tastefully decorated and equipped with en-suite bathroom facilities including a bath and shower, as well as complimentary toiletries. Guests can also enjoy modern amenities such as a flat-screen TV, telephone, and tea/coffee making facilities in their rooms. For those seeking relaxation, the hotel serves afternoon tea to complete your stay. The hotel is just a short 6-minute drive from Windermere town center where you can explore attractions like the Lakes Aquarium at Newby Bridge, Windermere Steamboat Museum, and the World of Beatrix Potter.
– Beautiful location on the edge of Lake Windermere
– Charming country house ambiance
– Extensive restaurant menu featuring regional produce
– Complimentary toiletries provided
– Conveniently located near popular attractions
Wheatlands Lodge Guesthouse (Adults Only)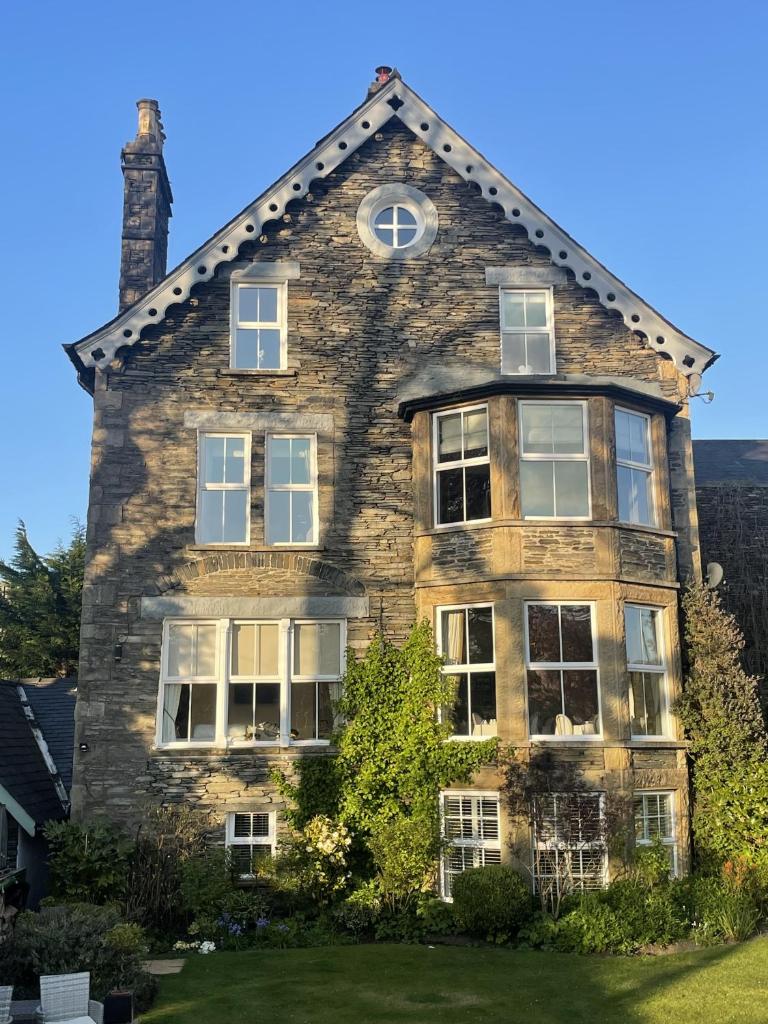 Wheatlands Lodge Guesthouse (Adults Only) is a charming guest house located in the peaceful town of Windermere. Situated just a 5-minute walk from Windermere Rail Station, this guest house offers convenience and comfort to its guests. The rooms are individually designed with modern furnishings and feature luxury en suite facilities. The property has been awarded 5 stars by the AA and also holds a Breakfast Award, ensuring that guests will have a delightful start to their day. With its central location, Wheatlands Lodge is perfect for exploring the beautiful Lake District, with Windermere town centre just a few minutes' walk away and Bowness-on-Windermere only 20 minutes away. Guests can enjoy tea and coffee making facilities as well as a flat-screen TV in their rooms. The classic Victorian property, dating back to 1860, still maintains its period features to add charm to the stay. For those who want some outdoor dining experience, there is a garden and terrace available at Wheatlands Lodge. Additionally, guests can savor a traditional Cumbrian breakfast served in the dining room using locally sourced produce. If you're interested in immersing yourself in the world of Beatrix Potter, you'll be pleased to know that it's only 1 mile away.
Pros:
– Convenient location near Windermere Rail Station
– Luxurious en suite facilities in every room
– Beautifully designed rooms with modern furnishings
– Lovely garden and terrace for al fresco dining
– Traditional Cumbrian breakfast made with local produce
Other places to stay in Cumbria
Cheap Hotels in Cumbria with Jacuzzi
Cumbria, a picturesque region in England, offers a range of cheap hotels with Jacuzzi facilities. Whether you are looking to relax after a day of exploring the stunning Lake District or unwind after a business trip, these affordable accommodations provide the perfect opportunity to indulge in some much-needed rejuvenation. With their comfortable rooms and private Jacuzzi tubs, these hotels offer an ideal setting for couples seeking a romantic getaway or travelers simply wanting to unwind and soak away their stress in luxurious comfort.
Absoluxe Suites: Suite with Hot Tub (Kirkby Lonsdale)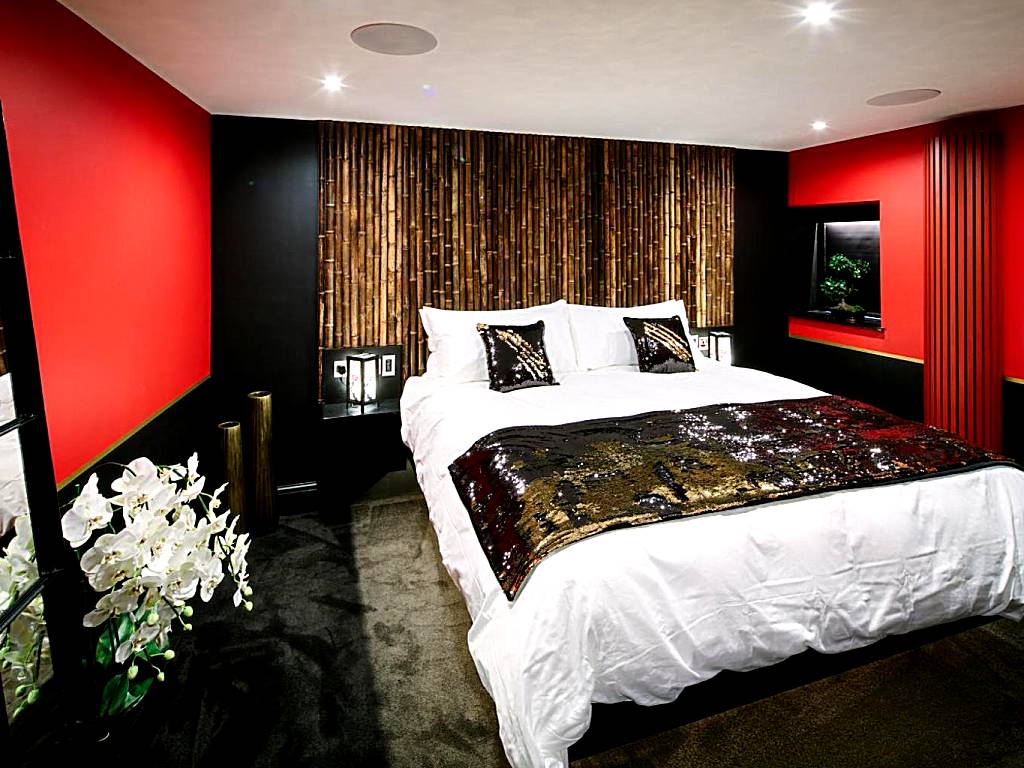 Located in Kirkby Lonsdale, Absoluxe Suites is a hotel that offers accommodation with free WiFi and breathtaking mountain views. One of their highlights is the Suite with Hot Tub which boasts a private entrance, 1 bedroom, a seating area, and 1 bathroom complete with a walk-in shower and a bath. Guests can enjoy amenities such as a tea and coffee maker, wardrobe, flat-screen TV with streaming services, and even complimentary chocolates. The suite also features comfortable bedding for a restful night's sleep. Additionally, Absoluxe Suites provides access to an inviting hot tub for relaxation after exploring the beautiful surroundings. For those who prefer to stay in-room, the suite allows guests to unwind in their own private outdoor jacuzzi. With its convenient location and luxurious amenities, Absoluxe Suites offers an indulgent experience for guests seeking ultimate comfort during their stay.
Pros:
– Private entrance
– Stunning mountain views
– Access to hot tub
– Tea/coffee making facilities available
– Complimentary chocolates
Embleton Spa Hotel & Apartments (Embleton)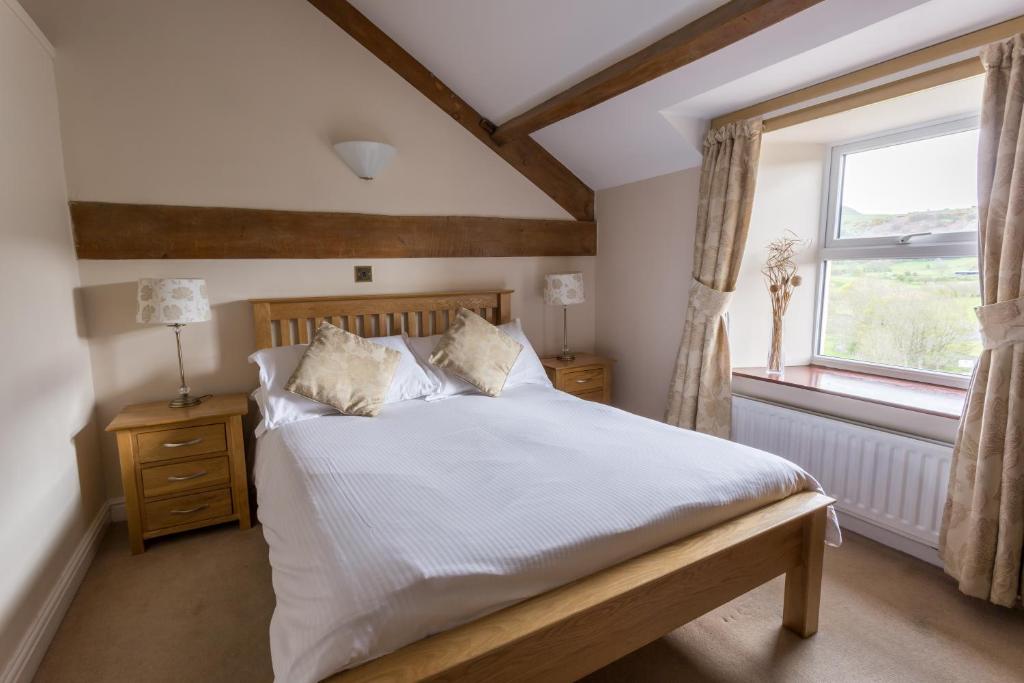 Embleton Spa Hotel & Apartments, located in Embleton, is a small hotel that was originally an 18th-century Lakeland farmhouse. This family-run hotel offers a range of accommodation options including apartments, suites, and en-suite rooms. The highlight of the hotel is its indoor swimming pool, steam room, and gym facilities which are included in the room rates. The contemporary rooms and apartments feature en suite bathrooms, free Wi-Fi, and most offer breathtaking views of the Derwent valley. Guests can indulge in traditional Cumbrian cuisine at the hotel's restaurant which sources ingredients from local farms. Whether enjoying a meal by the open fire or on the terrace overlooking the fells, guests are treated to a memorable dining experience. A full Cumbrian breakfast is also served each morning. The hotel's convenient location makes it an ideal base for exploring the picturesque Lake District with Bassenthwaite Lake just 3 miles away and Keswick and Cockermouth just a short drive away. Free parking is available for guests' convenience.
– Small hotel with indoor pool
– Range of accommodation options including apartments and suites
– Stunning countryside views from most rooms
– Restaurant serving traditional Cumbrian food sourced from local farms
– Convenient location for exploring Lake District attractions
Grange Boutique Hotel (Grange Over Sands)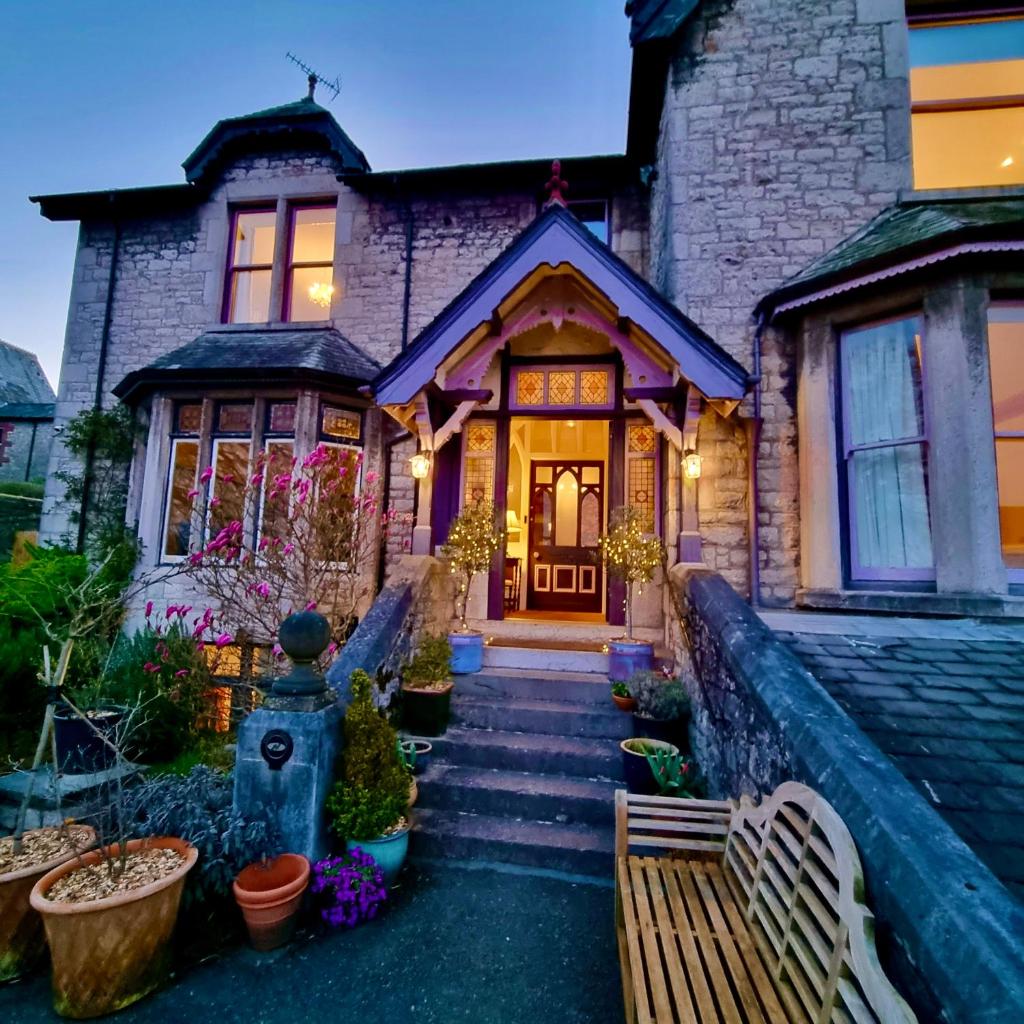 The Grange Boutique Hotel, located just half a mile from Grange-over-Sands Rail Station, is a charming inn/guest house that offers free parking and a convenient central location in the Lake District. Housed within a beautiful Victorian building, the hotel features spacious rooms with en suite facilities. Guests can relax in the comfortable guest lounge while enjoying a selection of beverages. The hotel also boasts a private terrace garden and a breakfast room where guests can indulge in a continental buffet or cooked options. With its elegant decor, tea and coffee making facilities, and free Wi-Fi in all rooms, The Grange Boutique Hotel provides an inviting and convenient stay for visitors to Grange-over-Sands.
– Free parking
– Central location in Grange-over-Sands
– Spacious rooms with en suite facilities
– Private terrace garden
– Continental buffet and cooked breakfast options available
Information about Hotels With Jacuzzi In Room in Cumbria
| | |
| --- | --- |
| 🏢 Number of Hotels With Jacuzzi In Room in Cumbria | 9 |
| 🥇 Average Review Score | 9.1/10 |
| 💰 High season average price | 1844 |
| 💸 Low season average price | 461 |
FAQ
Are there any hotels with jacuzzi in room in Cumbria, UK?
Yes, there are several hotels in Cumbria that offer rooms with jacuzzis. These hotels provide a luxurious and relaxing experience for guests who want to unwind after a day of exploring the beautiful city. Some popular options include The Daffodil Hotel and Spa, The Samling Hotel, and the Lodore Falls Hotel & Spa.
Can I find affordable hotels with jacuzzi in room in Cumbria?
Yes, you can find affordable hotels with jacuzzi in room in Cumbria. While some luxury accommodations may have higher rates, there are also budget-friendly options available that offer this amenity. Some examples include the Crown Inn at Pooley Bridge and the Royal Oak Appleby.
What other amenities do hotels with jacuzzi rooms offer?
Hotels with jacuzzi rooms often provide additional amenities to enhance their guests' stay. These can include complimentary Wi-Fi access, flat-screen TVs, mini-bars or kitchenettes for added convenience, spa facilities such as saunas or steam rooms, fitness centers or gyms for those looking to stay active during their stay.
Do all hotel rooms with jacuzzis have private hot tubs?
Yes, most hotel rooms with jacuzzis feature private hot tubs for guests to enjoy. This allows visitors to have a more intimate and personal experience without having to share the facility with other guests. However, it is always recommended to check directly with the hotel beforehand as amenities may vary.
How far in advance should I book a hotel room with a Jacuzzi in Cumbria?
It is advisable to book your hotel room with a Jacuzzi well in advance if you want to secure availability during peak seasons or holidays when demand is high. Generally speaking booking 1-2 months ahead should give you a better chance of reserving your preferred accommodation option.
Popular Hotels With Hot Tub destinations