Welcome to the enchanting region of Cotswolds, nestled in the heart of the United Kingdom. If you're seeking a truly indulgent and luxurious experience, look no further than the lavish hotels that offer private hot tubs in their rooms. From boutique hideaways to grand manor houses, Cotswolds boasts a range of accommodations where you can unwind and rejuvenate amidst breathtaking countryside views.
Imagine sinking into a bubbling jacuzzi while soaking up the charm and tranquility of the picturesque landscapes. Whether you're planning a romantic getaway or simply treating yourself to some well-deserved pampering, these hotels with in-room hot tubs will leave you feeling utterly spoiled. With their exquisite designs and attention to detail, these accommodations offer not just relaxation but also elegance and sophistication.
Experience unparalleled comfort as you luxuriate in your very own personal oasis, surrounded by plush furnishings and decor that exude timeless beauty. Soothe your muscles after a day of exploring quaint villages or visiting historic landmarks by immersing yourself in warm waters infused with fragrant bath salts. Let go of all stress as you indulge in this ultimate form of self-care, basking under starlit skies or gazing out at rolling hills from your private terrace.
Join us on a journey through Cotswolds' most remarkable hotels with jacuzzis in room, where luxury meets serenity for an unforgettable escape.
Best Cotswolds Hotels With Hot Tub
Cotswold House Hotel and Spa (Chipping Campden)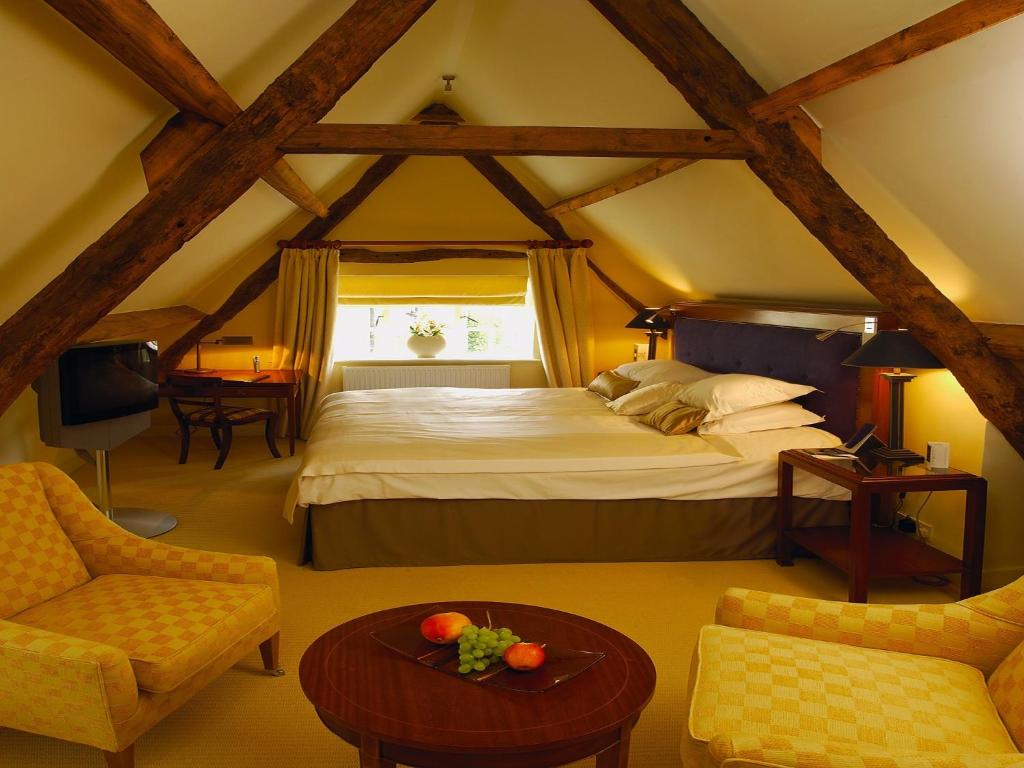 Cotswold House Hotel and Spa is a boutique hotel located in the heart of Chipping Campden. With two acres of landscaped townhouse gardens, this hotel has been overlooking the Square for over 200 years and has become one of the most prestigious hotels in the Cotswolds. The hotel features an indoor pool, hydrotherapy pool, hammam room, and six treatment rooms. Guests can choose from 28 comfortable and indulgent bedrooms that include garden cottages and suites with private gardens, hot tubs, limestone baths, and mood lighting. Each room is equipped with a flat-screen TV, excellent bathroom facilities, and tea/coffee making facilities. The on-site restaurant serves beautifully executed dishes made with fresh ingredients. In addition to dining options, guests can enjoy morning coffee, teas, light lunches on the terrace during summer or have traditional afternoon tea by the roaring log fire in winter. The property also offers spa services in its former coach house including massages, maintenance treatments, and full-day spas. It is advised to make bookings well in advance to avoid disappointment.
Pros:
– Boutique hotel with indoor pool
– Beautifully landscaped gardens
– Luxurious accommodations with private gardens and hot tubs available
– Excellent dining options including fine dining at Fig
– Relaxing spa services offered
The Manor House Hotel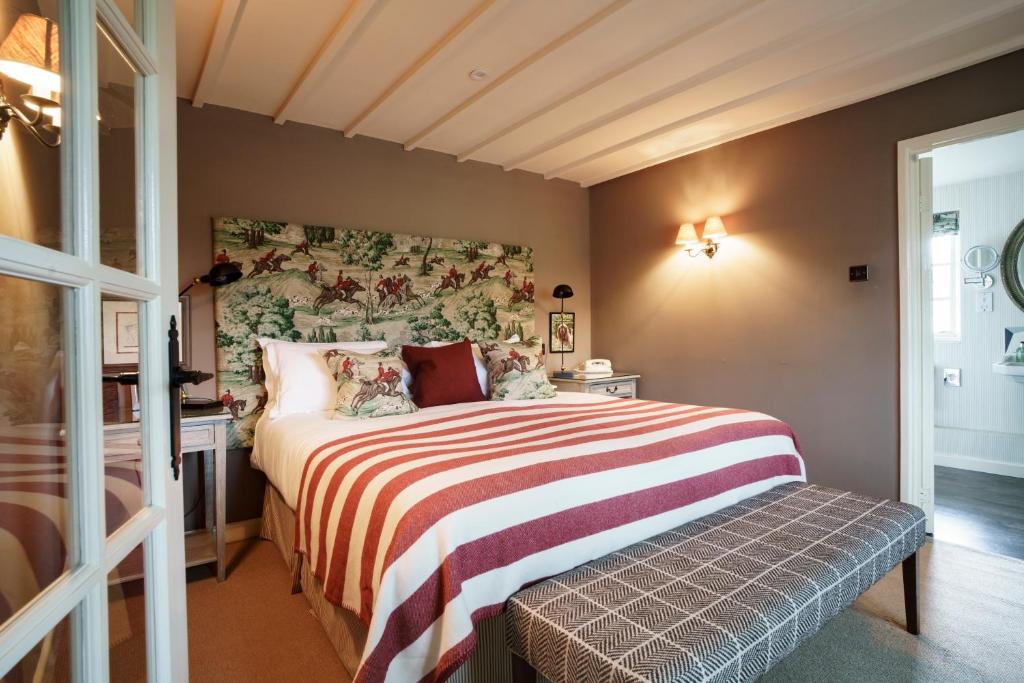 The Manor House Hotel in the heart of Moreton-in-Marsh is a luxurious 4-star accommodation option with an award-winning restaurant. Each room within this charming 16th-century building is uniquely decorated and features modern amenities such as a TV and an en suite bathroom with Molton Brown toiletries. Guests can enjoy picturesque views of the historic high street or the hotel's beautiful gardens from most rooms. The Mulberry Restaurant has been honored with 2 AA Rosettes and serves delicious dishes made from local and seasonal ingredients. For lighter meals and afternoon tea, guests can visit The Beagle Bar. A cooked breakfast is also available, offering options like kippers, vegetarian choices, and a full English breakfast. The hotel boasts private walled gardens that include a water feature and a magnificent 300-year-old mulberry tree, adding to its historical charm. Moreton-in-Marsh Railway Station is conveniently located just a 5-minute walk away, while Shakespeare's birthplace in Stratford-upon-Avon is only a 20-minute drive from the hotel.
Pros:
– Luxurious accommodation in a historic building
– Award-winning restaurant with locally sourced produce
– Picturesque views of either the high street or gardens
– Private walled gardens including unique features like a water feature and mulberry tree
– Convenient location near railway station and attractions like Stratford-upon-Avon
The Old Crown Coaching Inn: Double Room – Courtroom (Faringdon)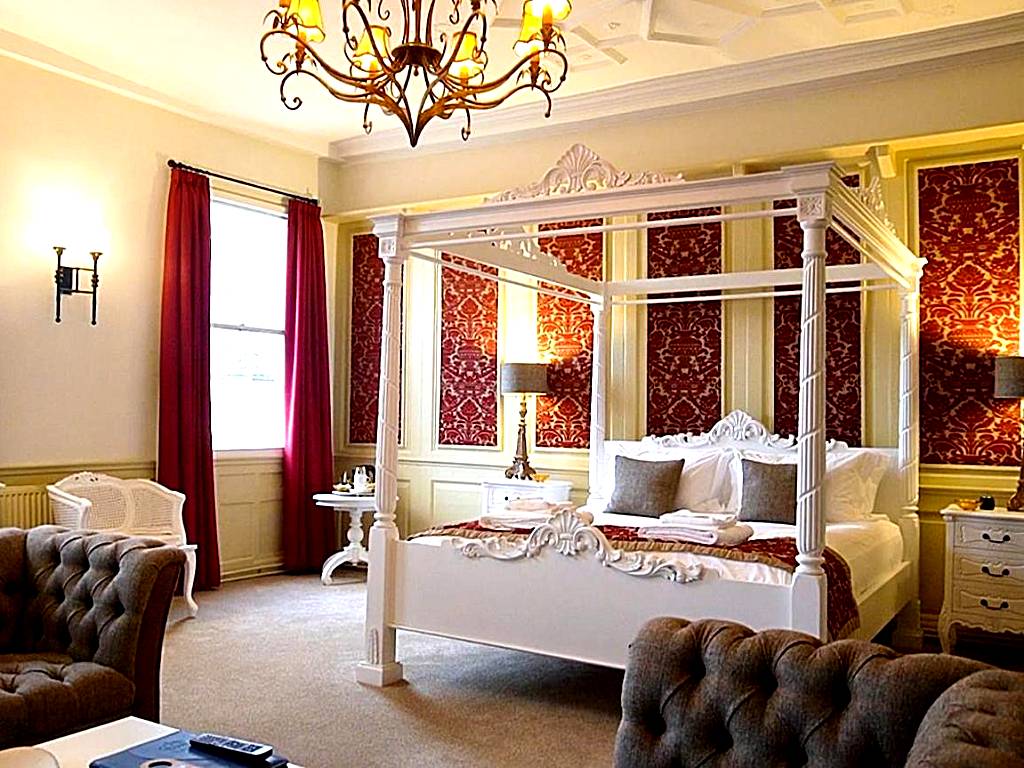 The Old Crown Coaching Inn in Faringdon offers a delightful Double Room – Courtroom. This spacious and ornate room boasts two king-size beds and stunning exposed 16th-century wooden beams. The room also features a flat-screen TV and an en suite bathroom with a shower and a large spa bath. Adding to its charm, the room is complemented by a three-piece suite in front of the feature fireplace.
This boutique-style hotel is located in the heart of Faringdon, within the original courtyard of a former 16th-century coaching inn. Guests can enjoy spacious rooms with flat-screen TVs, private bathrooms, and free on-site parking. The Court Room Junior Suite offers an additional spa for ultimate relaxation. Tea/coffee making facilities are available in all rooms, while hairdryers, irons, and ironing boards can be provided upon request.
The hotel is proud to maintain its original features such as flagstone tiled floors, open log fires, and exposed beams throughout the upper level and courtyard area where free Wi-Fi is accessible. The location is perfect for exploring Faringdon's picturesque streets as well as the beautiful Cotswolds countryside nearby.
Attractions like White Horse Hill, Tom Brown's School Museum, and Ashdown Woodland Walk are within easy reach from the town center where visitors can also enjoy the Farmers' Market held on the first Tuesday of each month just outside this charming hotel.
– Spacious double room with two king-size beds
– Exposed 16th-century wooden beams add character
– En suite bathroom with shower and large spa bath
– Original features include flagstone tiled floors and open log fires
– Convenient location for exploring Faringdon's attractions
Other places to stay in Cotswolds
Luxury Hotels in Cotswolds with Hot Tub
Luxury hotels in the Cotswolds offer an indulgent experience with the added touch of a hot tub. With their picturesque countryside surroundings, these hotels provide a tranquil escape for guests seeking relaxation and pampering. Whether it's nestled in a private garden or positioned on a balcony overlooking breathtaking views, the hot tubs in these luxury accommodations allow guests to unwind and rejuvenate after exploring the charming villages and stunning landscapes of the Cotswolds. Offering an intimate and luxurious setting, these hotels ensure that every stay is both memorable and unforgettable for those seeking to immerse themselves in pure bliss.
The Hare & Hounds Hotel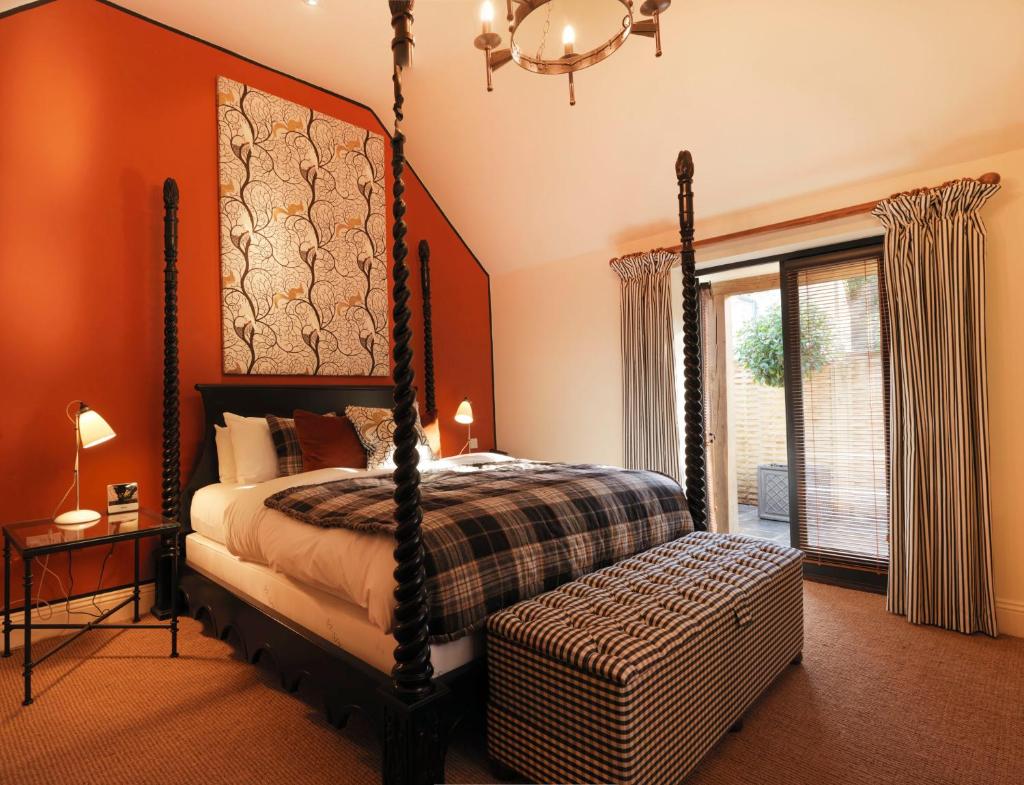 Nestled amidst gardens and woodland, The Hare & Hounds Hotel is a delightful English country house hotel that exudes charm and tradition. Situated just half a mile away from the renowned Westonbirt National Arboretum, this hotel offers a picturesque setting for guests to relax and unwind. The Beaufort Restaurant boasts original features like a beamed ceiling and large windows that provide stunning views of the garden. Accommodation options include bedrooms in the original house, as well as the Garden Cottage and Coach House, with many rooms offering picturesque views of the gardens or countryside. All accommodations are equipped with free Wi-Fi internet access. With its 2 AA rosette award-winning food, The Hare & Hounds promises an unforgettable dining experience at their restaurant. For those seeking a more relaxed atmosphere, Jack Hare's bar offers cozy surroundings with log fires, real ales, and delicious meals. Conveniently located just off the A433 road, this hotel provides easy access to both the M4 and M5 motorways. Additionally, it is only 20 miles away from Bath and 2 miles from Tetbury.
– Charming country house setting surrounded by gardens
– Well-appointed rooms with picturesque garden or countryside views
– Award-winning dining experience at The Beaufort Restaurant
– Cozy ambiance at Jack Hare's bar with log fires and tasty meals
– Convenient location with easy access to major motorways
Beaumont House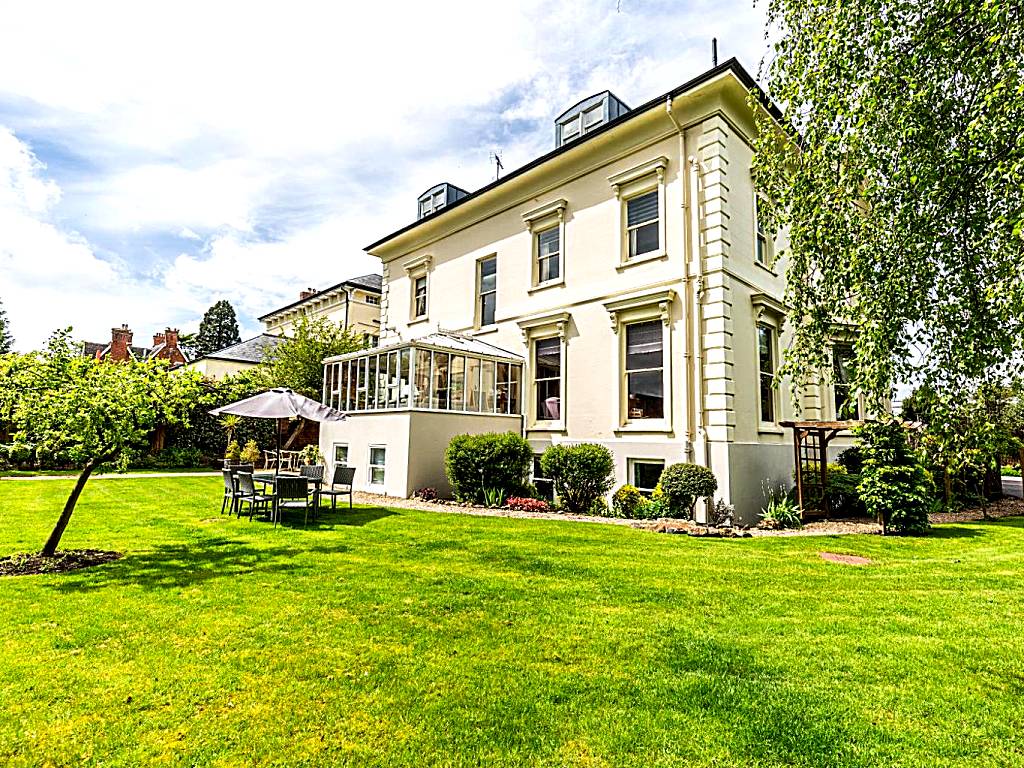 Beaumont House is a charming guest house that offers unique and cosy rooms for its guests. Built in 1850, this hotel boasts a spacious garden and elegant rooms. It also provides paid parking for convenience. Located just a short walk from Cheltenham town centre and the fashionable Montpellier district, guests can easily explore the area's attractions. The property offers free WiFi throughout and all rooms are beautifully designed with free internet access and a TV. Each unit comes with luxury mattresses and a private bathroom. Guests can enjoy complimentary cereal bars, tea, and coffee in the dining room each morning. Additionally, there is a self-serve trust bar available in the lounge offering a small selection of alcoholic and soft drinks.
– Unique guest house experience
– Cosy and well-designed rooms
– Convenient location near town centre
– Spacious garden to relax in
– Free WiFi throughout property
Information about Hotels With Jacuzzi In Room in Cotswolds
| | |
| --- | --- |
| 🏢 Number of Hotels With Jacuzzi In Room in Cotswolds | 5 |
| 🥇 Average Review Score | 8.4/10 |
| 💰 High season average price | 1682 |
| 💸 Low season average price | 420.5 |
FAQ
Q1
Are there hotels with jacuzzi in room in Cotswolds?
A1
Yes, there are several hotels in Cotswolds that offer rooms with jacuzzi facilities. These luxurious accommodations provide guests with the perfect opportunity to unwind and relax after a long day of exploring the beautiful Cotswold countryside. Whether you're visiting for a romantic getaway or simply want to indulge in some well-deserved pampering, these hotels offer a range of room options with private jacuzzis for an unforgettable stay.
Q2
What amenities can I expect from hotels with jacuzzi in room in Cotswolds?
A2
Hotels offering rooms with jacuzzis in Cotswolds go above and beyond to ensure a comfortable and indulgent stay for their guests. In addition to the private jacuzzi tubs, these rooms typically come equipped with plush beds, cozy seating areas, modern bathrooms, flat-screen TVs, complimentary Wi-Fi, minibars, and tea/coffee making facilities. Some establishments may also provide additional amenities such as spa services, fitness centers, on-site restaurants serving delicious cuisine and picturesque views.
Q3
Do hotels with jacuzzi in room cost more than regular hotels?
A3
Hotels that feature rooms with jacuzzis often fall into the higher end of the pricing spectrum compared to regular accommodations. The added luxury of having your own private hot tub does come at an extra cost due to maintenance expenses and specialized installations required. However, it's important to note that prices may vary depending on factors such as location within Cotswolds and specific hotel offerings. It is best to check individual hotel websites or contact them directly for accurate pricing details.
Q4
Are there any family-friendly hotels offering rooms with Jacuzzis in Cotswolds?
A4
While many hotels offering rooms with jacuzzis tend to cater more towards couples or adult-oriented experiences, some family-friendly options can be found in Cotswolds as well. These hotels ensure that both parents and children can enjoy a relaxing and fun-filled stay by providing larger rooms or suites with jacuzzi facilities, along with other family-oriented amenities such as on-site playgrounds, swimming pools, game rooms, and even babysitting services. It's always advisable to check with the hotel beforehand to confirm their family-friendly offerings.
Q5
How do I make a reservation for a room with a jacuzzi in Cotswolds?
A5
Making a reservation for a room with a jacuzzi in Cotswolds is relatively easy. Most hotels in the area have online booking systems on their official websites where you can directly select the desired dates of your stay and choose rooms that offer jacuzzi facilities. Simply browse through the available options, compare prices and room types, and follow the prompts to complete your reservation securely. Alternatively, you can also contact the hotel's front desk via phone or email to inquire about availability and make your reservation directly through them if preferred.
Popular Hotels With Jacuzzi destinations