Welcome to Cluj-Napoca, Romania, a charming city nestled in the heart of Transylvania. Known for its rich history and vibrant culture, this captivating destination offers an array of luxurious accommodations that will truly elevate your stay. Amongst the many options available, Hotels With Jacuzzi In Room stand out as the epitome of indulgence and relaxation.
Imagine stepping into your own private oasis within the comfort of your hotel room. The soothing warm waters of the jacuzzi beckon you to unwind and forget about all your worries. Whether you're seeking a romantic getaway or simply looking to treat yourself, these hotels provide an elevated experience like no other.
Indulge in a blissful soak after a day exploring Cluj-Napoca's historic landmarks such as St. Michael's Church or the picturesque Central Park. As you immerse yourself in the bubbling jacuzzi, let all tension melt away while admiring panoramic views from your room's window. These hotels understand that every guest deserves a little pampering, and they spare no expense in providing top-notch amenities and impeccable service.
So why not make your stay in Cluj-Napoca even more special by choosing one of these exquisite Hotels With Jacuzzi In Room? Prepare to be captivated by their opulence as you revel in moments of pure relaxation and rejuvenation during your visit to this enchanting Romanian city.
Best Cluj-Napoca Hotels With Hot Tub
Hotel Rao: Deluxe Double Room with Balcony – single occupancy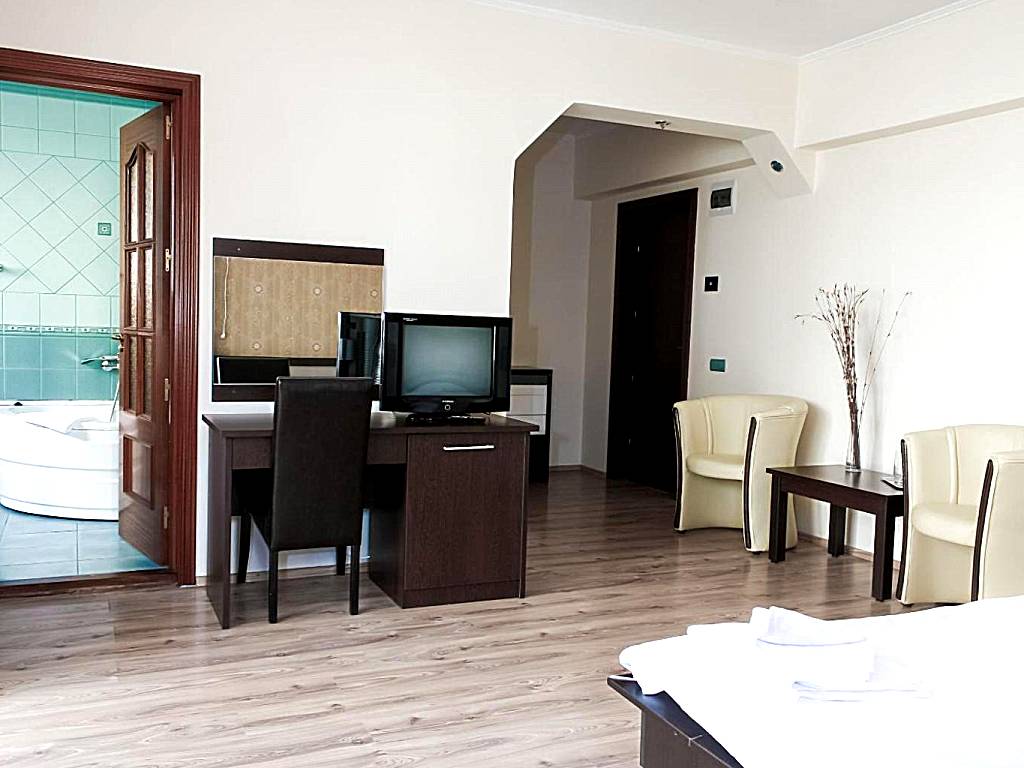 Hotel Rao is located on one of Cluj-Napoca's main streets, just 500 meters from the Iulius Mall shopping centre. This hotel offers a Deluxe Double Room with Balcony that is perfect for single occupancy. The room features a balcony where guests can enjoy views of the city, as well as a hot tub for relaxing after a long day of exploring. In addition, the room is equipped with cable TV for entertainment.
The hotel provides free Wi-Fi and free private parking for guests' convenience. The rooms are spacious and have wooden floors, seating areas, and work desks. The bathrooms are tiled and heated for added comfort.
Guests can start their day with a delicious breakfast at the hotel. However, please note that room service is not available. On weekends, there may be events taking place until 10 pm.
Hotel Rao is conveniently located near public transport connections which go to the city center, making it easy to explore all that Cluj-Napoca has to offer. Someseni Airport is also just 7 km away.
Pros:
– Balcony with views
– Hot tub in the room
– Free Wi-Fi and parking
– Spacious rooms with seating areas
– Convenient location near public transport connections
Hotel Premier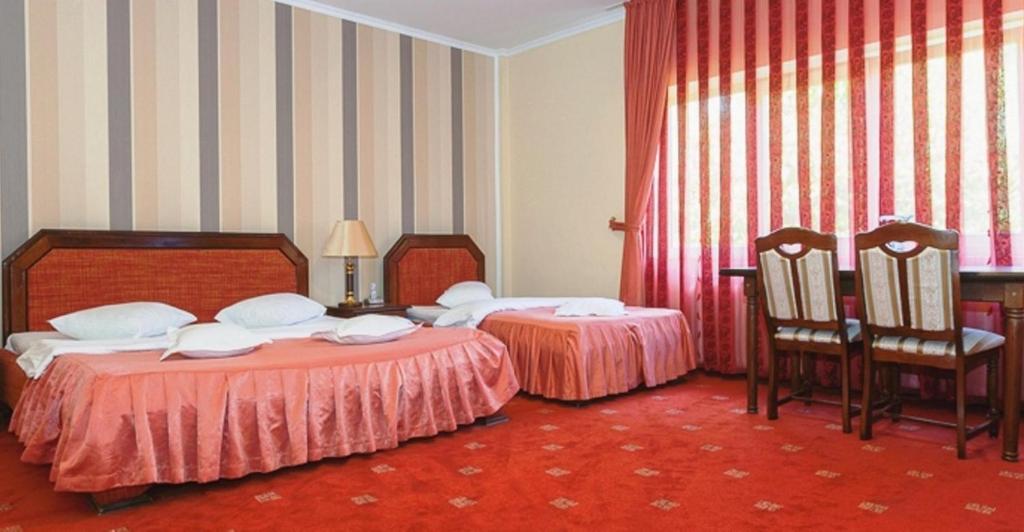 The 4-star Premier Hotel is a business class hotel located in the bustling city of Cluj Napoca, Transylvania. Offering free WiFi throughout the property, Hotel Premier provides a tasteful, refined, and comfortable environment for all guests traveling for business or visiting the city. For convenience, the hotel offers paid airport transfers for those arriving by plane. With three meeting rooms equipped with modern technology, it is an ideal choice for business meetings. Guests can indulge in a variety of dishes from Romanian, Italian, Turkish, and French cuisines at the on-site restaurant. And to recharge their energy levels, they can enjoy a refreshing drink at the Royal Cafe within the hotel premises. The Old Town of Cluj-Napoca is just 2.8 km away while Cluj Arena can be reached within 2 km. Furthermore, Avram Iancu International Airport Cluj is conveniently located only 11 km from Hotel Premier.
– Free WiFi available throughout property
– Paid airport transfer service
– On-site restaurant offering diverse cuisine options
– Royal Cafe serving refreshing beverages
– Proximity to popular attractions such as Old Town and Cluj Arena
Hotel Delaf: Triple Room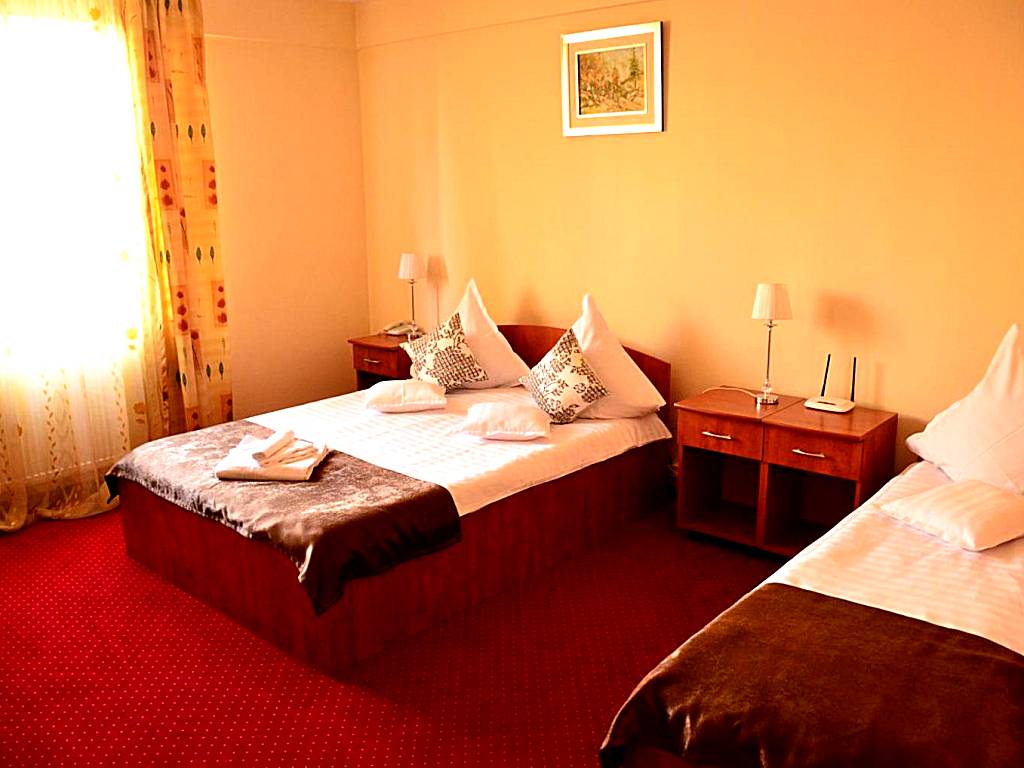 Located in the heart of Transylvania, Hotel Delaf is a charming hotel situated just a 7-minute walk from the historic town centre of Cluj-Napoca. With its individually designed rooms, guests can enjoy the comfort of a balcony, minibar, and a bathroom with either baths or showers. The hotel also offers free Wi-Fi access throughout the property. Start your day off right with breakfast served in the restaurant which serves both Romanian and international delicacies. In the evening, unwind at the on-site bar or take advantage of the 24-hour front desk services that include ticket sales for museums as well as plane or train reservations. Conveniently located just 50 meters away from the nearest bus station leading into the city centre and only 5 km away from the railway station, Hotel Delaf offers free guarded parking for its guests.
– Centrally located in Cluj-Napoca
– Individually designed rooms with balconies
– Free Wi-Fi access throughout
– Delicious Romanian and international cuisine at on-site restaurant
– Convenient transportation options nearby
Luxury Hotels in Cluj-Napoca with Hot Tub
Luxury hotels in Cluj-Napoca offer an indulgent escape for travelers seeking ultimate relaxation and comfort. With the added luxury of a private hot tub in each room, guests can unwind after a long day of exploring the city's vibrant culture and attractions. These hotels provide a serene haven, allowing guests to soak away their cares while enjoying the convenience and privacy of their own luxurious accommodation. Whether it's a romantic getaway or a well-deserved break, these hotels with hot tubs ensure an unforgettable experience in Cluj-Napoca.
Royal Class Hotel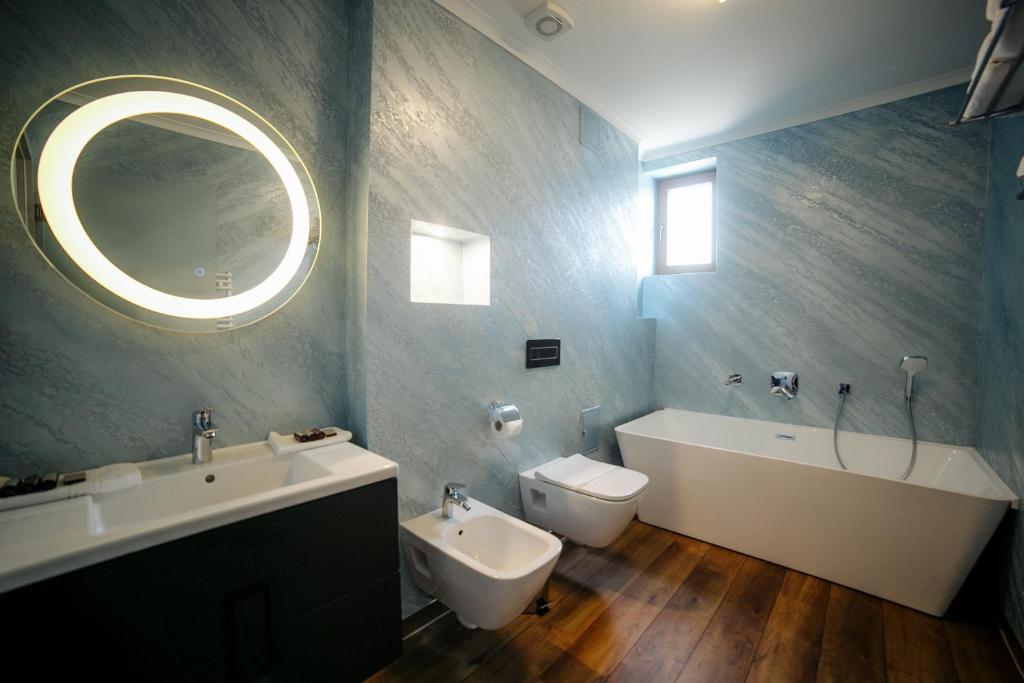 Royal Class Hotel is a modern accommodation located in the suburb of Gheorgheni, just a 10-minute drive from Cluj-Napoca's city center and airport. The hotel offers comfortable rooms and apartments equipped with cable TV and free Wi-Fi. All of the air-conditioned accommodations feature a minibar and work desk. On-site, guests can find private parking and a 24-hour front desk for added convenience. The hotel's restaurant serves both regional Romanian dishes and international cuisine in an elegant setting, while the cafeteria provides a more casual atmosphere for enjoying light meals and snacks.
Pros:
– Convenient location near Cluj-Napoca's center and airport
– Modern rooms with cable TV and free Wi-Fi
– On-site restaurant serving regional Romanian dishes
– Private parking available
– 24-hour front desk for assistance
Hotel Paradis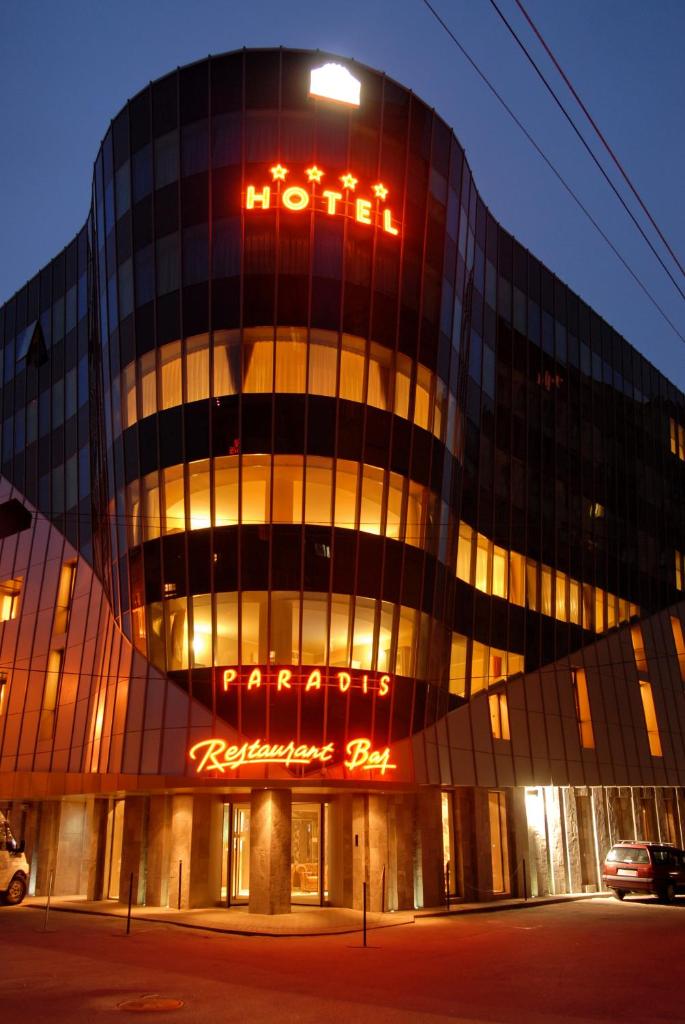 Hotel Paradis is located in a tranquil residential area, only a 5-minute drive from the bustling city center. This hotel boasts a luxurious spa area with a pool, dry sauna, and hot tub for guests to relax and unwind. The air-conditioned rooms are equipped with plasma flat-screen TVs and offer free WiFi access. While the access to the spa center comes at an additional cost of 10 euro per person per day, guests can enjoy the convenience of complimentary bathrobes, slippers, and toiletries in their bathrooms. The on-site restaurant at Hotel Paradis serves exquisite international cuisine along with an extensive selection of Argentinian wines. A scrumptious breakfast is also offered with options to prepare certain dishes upon request. If you have an early flight to catch, breakfast can be served extra early for your convenience. The hotel is conveniently situated near Expo Transilvania exhibition halls as well as exclusive shops in Iulius Mall, both just a 7-minute car ride away. Cluj-Napoca International Airport is easily accessible within a mere 6 km.
– Tranquil location in a residential area
– Luxurious spa area with pool, sauna, and hot tub
– Air-conditioned rooms with plasma flat-screen TVs
– Complimentary bathrobes, slippers, and toiletries
– Exquisite international cuisine and wide range of Argentinian wines available
Crama Haiducilor: Double Room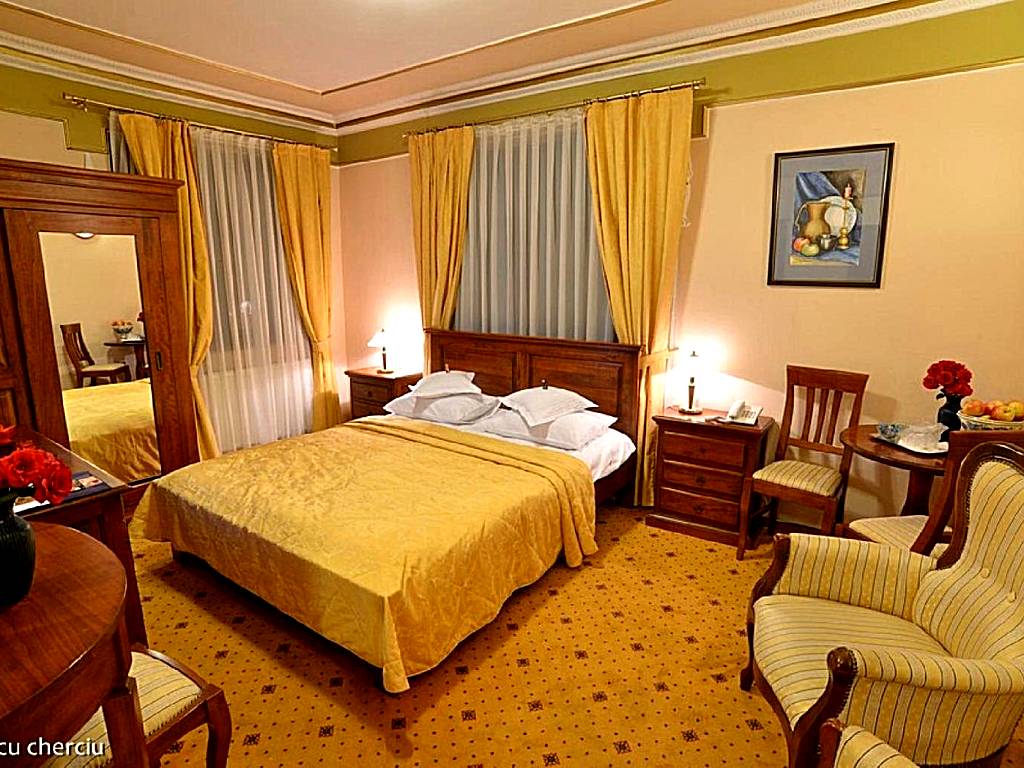 Crama Haiducilor is a charming hotel located in a residential area of Cluj, just a half-hour walk from the central Avram Iancu Square. The hotel offers cozy and comfortable double rooms, equipped with modern amenities such as a flat-screen TV with cable channels, a minibar, and a private bathroom. For those looking for extra comfort during their stay, air conditioning is available for an additional charge. Guests will also appreciate the convenience of having the next bus stop just 400 meters away, making it easy to explore the city. Nature enthusiasts can take advantage of the proximity to the Alexandru Bogza Botanical Garden, which is only 15 km away.
Pros:
– Cozy and comfortable double rooms
– Modern amenities including flat-screen TV and minibar
– Convenient location near bus stop for easy city exploration
– Proximity to Alexandru Bogza Botanical Garden for nature lovers
Cheap Hotels in Cluj-Napoca with Jacuzzi
In the vibrant city of Cluj-Napoca, travelers can find a range of affordable hotels that offer the luxury and relaxation of a Jacuzzi in-room experience. These cheap hotels provide guests with the perfect retreat after exploring the city's rich cultural heritage or indulging in its bustling nightlife. With their cozy and intimate atmosphere, these accommodations offer a tranquil haven where visitors can unwind and rejuvenate in style without breaking the bank. Whether it's for a romantic getaway or simply to pamper oneself, these budget-friendly options with Jacuzzis provide an added touch of comfort and bliss during any stay in Cluj-Napoca.
The Aviator Apartment – Jacuzzi & Panoramic View: Deluxe Apartment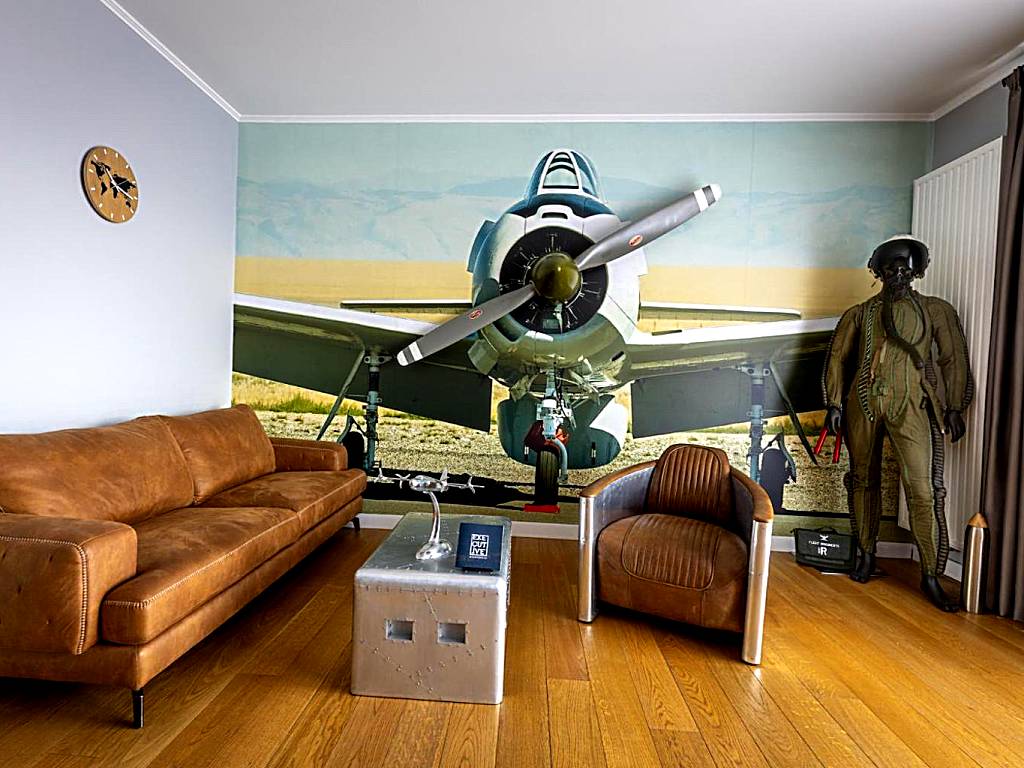 The Aviator Apartment – Jacuzzi & Panoramic View is a deluxe apartment located in Cluj-Napoca, Cluj. This luxurious accommodation offers guests free WiFi and free private parking, as well as access to a hot tub. The hotel also features impressive wellness facilities including a spa area and an open-air bath. With the Transylvanian Museum of Ethnography 42 km away and EXPO Transylvania 43 km away, there are plenty of attractions nearby to explore. The apartment itself boasts city views, a spacious seating area, satellite flat-screen TV, and a fully equipped kitchen with modern amenities like a dishwasher and oven. Guests can relax in the private bathroom complete with a hot tub and bathrobes or enjoy the barbecue facilities and garden if weather permits. Conveniently located just 7 km from Cluj Avram Iancu International Airport, this hotel provides comfort, convenience, and luxury for travelers.
– Free WiFi
– Free private parking
– Access to hot tub
– Wellness facilities including spa area
– Fully equipped kitchen
Hotel Sunny Hill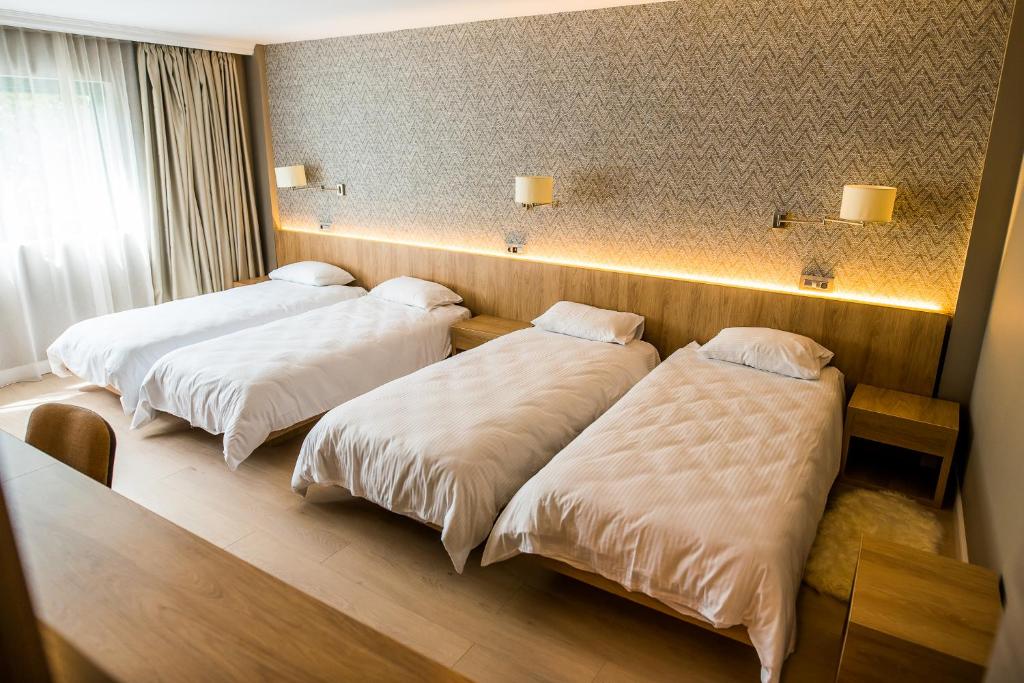 Located in the tranquil Faget area and surrounded by a beautiful forest, Hotel Sunny Hill offers a peaceful retreat just 7 km from Cluj-Napoca city centre. The hotel provides free WiFi throughout the property and also offers an airport shuttle service for an additional charge. All rooms at Hotel Sunny Hill feature satellite TV and private bathrooms. Many of the rooms also come with balconies or terraces that offer breathtaking views of the forest. Guests can start their day with a delicious breakfast buffet served either indoors or on the sunny terrace belonging to the Sunny Hill restaurant. Conveniently, Hotel Sunny Hill is situated within 8 km of both Polus Shopping Centre and Iulius Mall, making it an ideal choice for shopping enthusiasts. Furthermore, Cluj International Airport is only 12 km away from the hotel, offering easy access for travelers. Free parking is available on site.
– Tranquil location in Faget area near a forest
– Free WiFi throughout the property
– Balconies or terraces with stunning forest views
– Delicious breakfast buffet served indoors or on sunny terrace
– Close proximity to popular shopping centres and airport shuttle service
Information about Hotels With Jacuzzi In Room in Cluj-Napoca
| | |
| --- | --- |
| 🏢 Number of Hotels With Jacuzzi In Room in Cluj-Napoca | 8 |
| 🥇 Average Review Score | 8.6/10 |
| 💰 High season average price | 722 |
| 💸 Low season average price | 180.5 |
FAQ
Are there hotels in Cluj-Napoca with jacuzzi in room?
Yes, there are several hotels in Cluj-Napoca that offer rooms with jacuzzis. These hotels provide a luxurious and relaxing experience for their guests, allowing them to unwind and enjoy a soothing soak right in the comfort of their own room.
What are the benefits of staying in a hotel with jacuzzi in room?
Staying in a hotel with jacuzzi in room offers numerous benefits. Firstly, it provides an added level of privacy and convenience as you can enjoy the jacuzzi at any time without having to share it with other guests. Secondly, it allows you to relax and rejuvenate after a long day of exploring the city. Lastly, soaking in a jacuzzi can help alleviate muscle tension and promote better sleep.
Do these hotels provide other amenities apart from the jacuzzi?
Yes, most of these hotels offer additional amenities to enhance your stay. Some common facilities include fitness centers where you can stay active during your trip, spa services for ultimate relaxation, on-site restaurants serving delicious meals, and well-equipped business centers for those traveling for work purposes.
How can I find out which hotels have rooms with jacuzzis?
To find out which hotels have rooms with Jacuzzis in Cluj-Napoca, you can visit travel websites or hotel booking platforms that allow you to filter search results based on specific amenities. Additionally, you could contact the hotel directly or check their website for more information about room features and amenities.
Are these rooms more expensive than regular ones?
Rooms with Jacuzzis tend to be slightly more expensive than regular ones due to the added luxury and convenience they offer. However, prices may vary depending on factors such as hotel location, seasonality (peak vs off-peak), room size or type, and additional services provided by the hotel. It's recommended to compare prices across different hotels and booking platforms to find the best deal that suits your budget.
Popular Hotels With Jacuzzi In Room destinations