Welcome to the picturesque city of Canberra, Australia, where luxury meets relaxation in hotels with enchanting private hot tubs. Nestled amidst stunning landscapes and adorned with modern comforts, these accommodation options offer an unforgettable experience for couples seeking a romantic getaway or individuals craving some well-deserved pampering.
Imagine immersing yourself in the soothing warm waters of a bubbling spa bath while gazing at breathtaking views stretching as far as the eye can see. These idyllic hideaways provide the perfect refuge after a day of exploration in Canberra's cultural and historical sites. Indulge in the ultimate relaxation as you melt away your stress and rejuvenate your senses, all within the confines of your own room.
Whether you're planning a honeymoon escape or simply yearning for tranquility away from bustling city life, our hand-picked selection of hotels with jacuzzis boasts elegance and opulence to ensure an extraordinary stay. Soak up the charm of this vibrant destination as you immerse yourself in pure bliss – Canberra awaits to spoil you with its world-class amenities and unrivaled hospitality.
Best Canberra Hotels With Hot Tub
Adina Serviced Apartments Canberra Dickson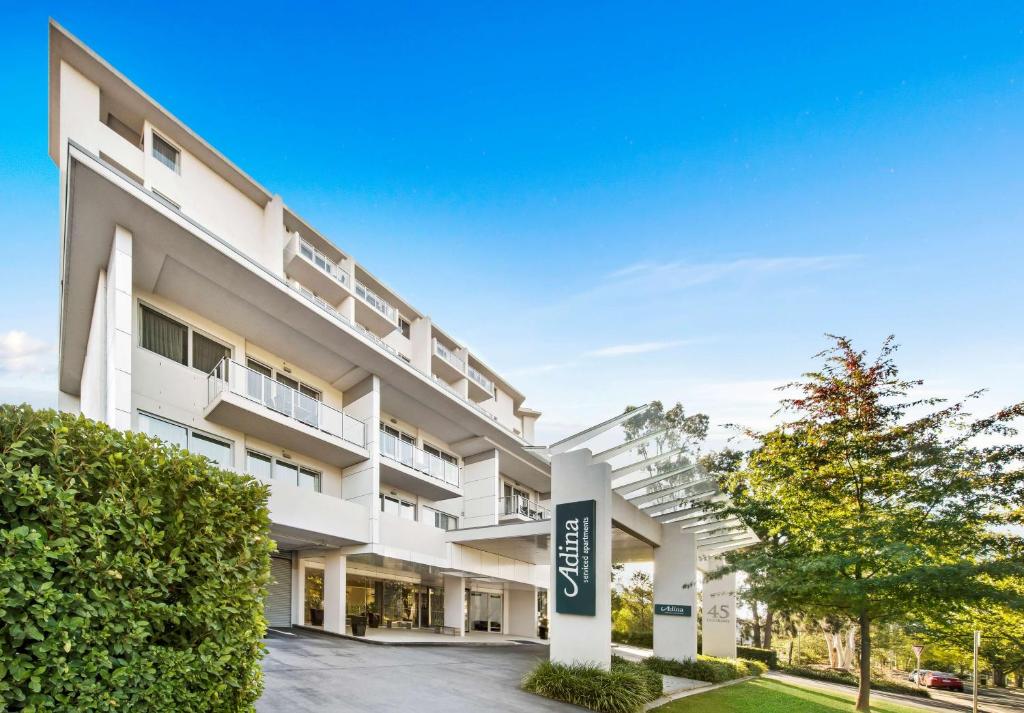 Adina Serviced Apartments Canberra Dickson is a spacious and conveniently located hotel situated in one of Canberra's premier retail and dining precincts. The property offers complimentary WiFi and on-site parking for guests. With its close proximity to the city centre, it is an ideal choice for both business and leisure travelers. The Australian War Memorial can be reached in just a 5-minute drive, while Parliament House and National Gallery of Australia are only 10 minutes away.
– Spacious rooms and apartments
– Complimentary WiFi
– On-site parking available
– Close proximity to Canberra city centre
– Convenient access to popular attractions such as the Australian War Memorial, Parliament House, and National Gallery of Australia.
Pavilion On Northbourne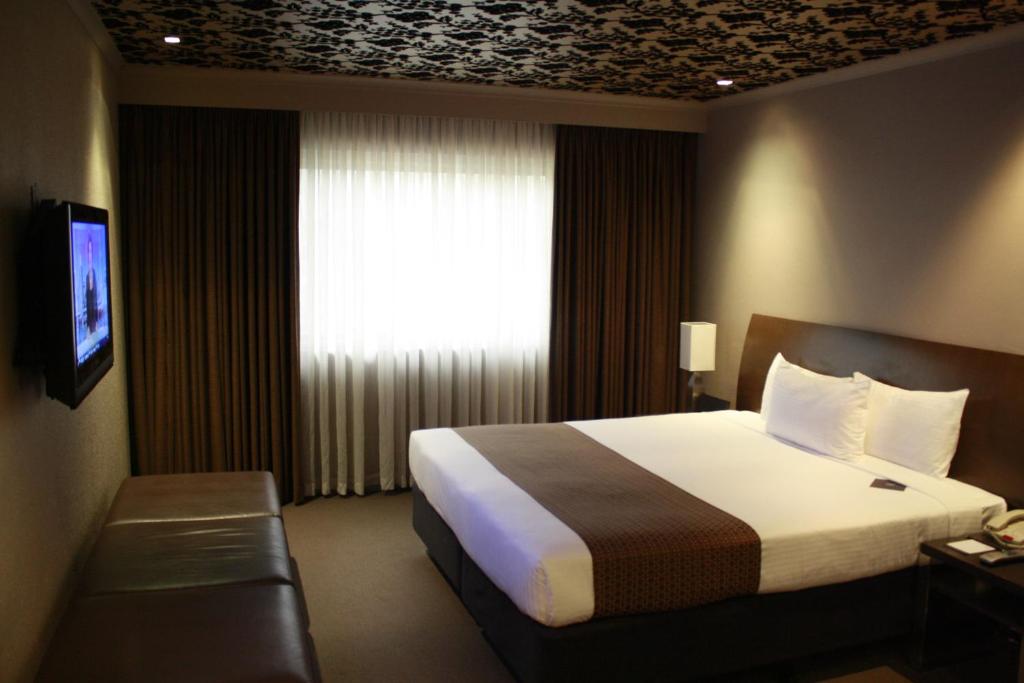 The Pavilion On Northbourne is a 4.5 star hotel in Canberra, featuring an impressive indoor tropical garden atrium – the largest in the city. Guests can also enjoy amenities such as an outdoor swimming pool, fitness centre, and onsite bar and restaurant. The hotel offers comfortable rooms with 32-inch flat-screen TVs, free WiFi, and cable channels. It is conveniently located just a 5-minute drive from the Australian War Memorial and within 10 minutes' drive of Parliament House. Canberra Airport is also easily accessible within a 15-minute drive. Additional perks include free secure parking, daily local newspapers, and room service available 24/7. The air-conditioned rooms are quiet and well-equipped with amenities such as refrigerators, tea/coffee makers, and work desks. Some rooms even come with kitchen facilities for added convenience. Guests can stay active at the fitness centre or unwind by enjoying a drink in the lounge area.
Pros:
– Impressive indoor tropical garden atrium
– Outdoor swimming pool
– Onsite bar and restaurant
– Convenient location near top attractions
– Comfortable and well-equipped rooms
Belconnen Way Hotel & Serviced Apartments: Economy Studio Room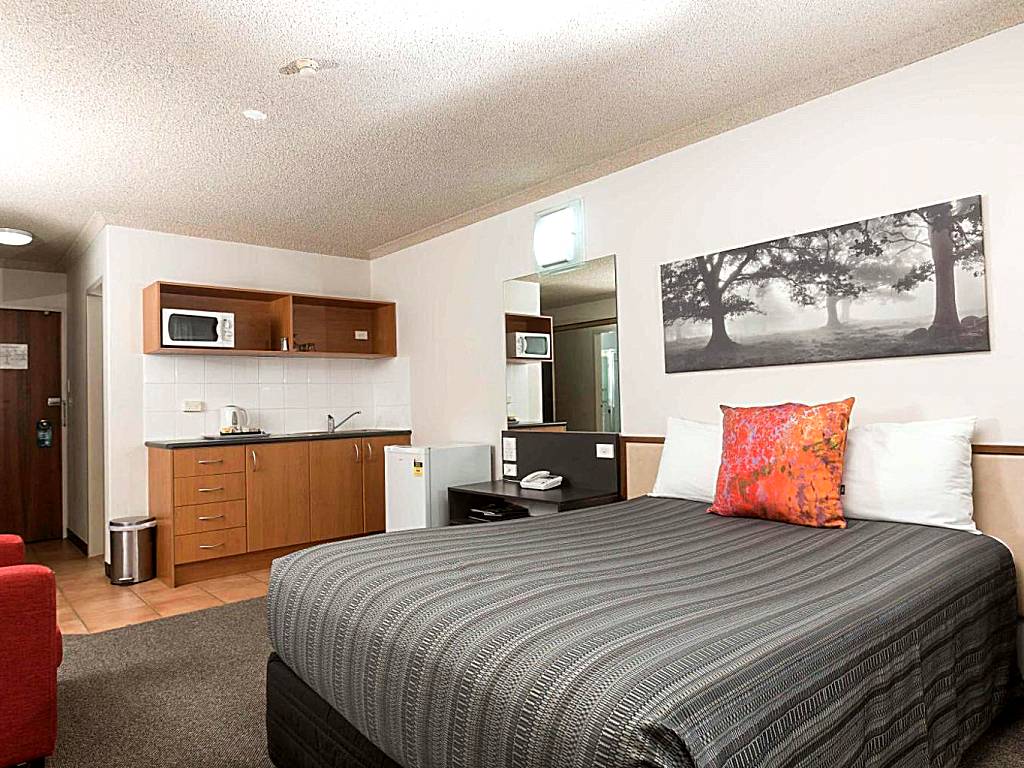 Located in Canberra, the Belconnen Way Hotel & Serviced Apartments is a convenient and cozy accommodation option. This hotel offers various amenities such as free cable TV, free WiFi, and complimentary car parking. Perfect for sports enthusiasts, it is just a 5-minute drive away from both Canberra Stadium and Westfield Shopping Centre. The hotel also provides a large guest lounge area where guests can unwind and relax after a long day of exploring the city. With modern furnishings and air conditioning, all rooms at the Belconnen Way Hotel & Serviced Apartments ensure utmost comfort for guests during their stay. Additionally, there are apartments available with kitchenette or full kitchen facilities for those who prefer to cook their own meals. The hotel's prime location within the Hawker Shopping Centre further adds to its convenience as it features a supermarket, restaurants, and even a liquor store right at its doorstep.
– Free cable TV
– Free WiFi
– Complimentary car parking
– Large guest lounge area
– Convenient location with easy access to shopping center amenities
Other places to stay in Canberra
Luxury Hotels in Canberra with Hot Tub
Luxury hotels in Canberra offer a lavish escape for travelers seeking relaxation and comfort during their stay. These accommodations boast the added indulgence of private hot tubs, allowing guests to unwind and rejuvenate themselves in the utmost privacy and luxury. Whether it's after a long day of exploring the city or simply for pure relaxation, these hotels with hot tubs provide the perfect retreat for guests to immerse themselves in ultimate tranquility and enjoy an unforgettable experience.
Ramada Diplomat Canberra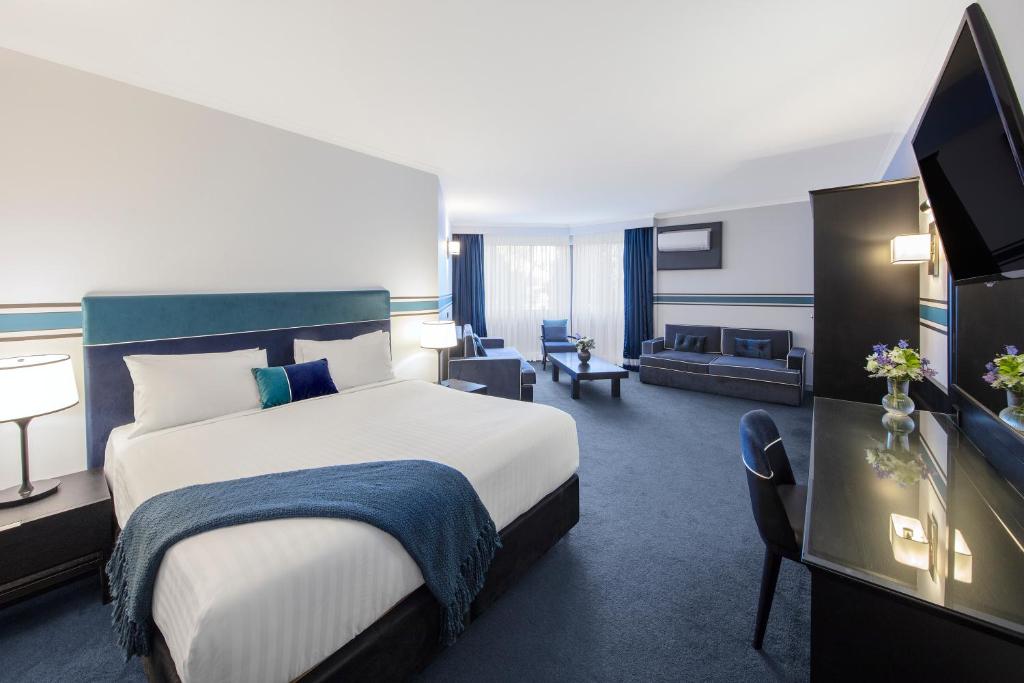 The newly refurbished Ramada Diplomat Canberra is a stylish 4.5 star hotel located in Griffith, just a 5-minute drive from Canberra's Parliamentary Triangle. The hotel offers rooms with free Wi-Fi, free parking, and 24/7 reception. Guests can enjoy the convenience of an on-site bar and restaurant while staying at the hotel. The well-appointed rooms feature an LCD smart TV, a minibar, and a modern bathroom with a hairdryer. Some rooms even offer a larger bathroom with a 2-person spa bath for ultimate relaxation. In addition to its great amenities, the Diplomat Canberra is conveniently situated within walking distance of bars and restaurants in Manuka and Kingston. Guests can also indulge in delicious meals at the à la carte restaurant which serves light snacks, breakfast, and dinner daily.
Pros:
– Newly refurbished hotel offering modern amenities
– Free Wi-Fi and parking for added convenience
– On-site bar and restaurant for easy dining options
– Rooms with LCD smart TVs and minibars
– Some rooms featuring spacious bathrooms with 2-person spa baths
East Hotel and Apartments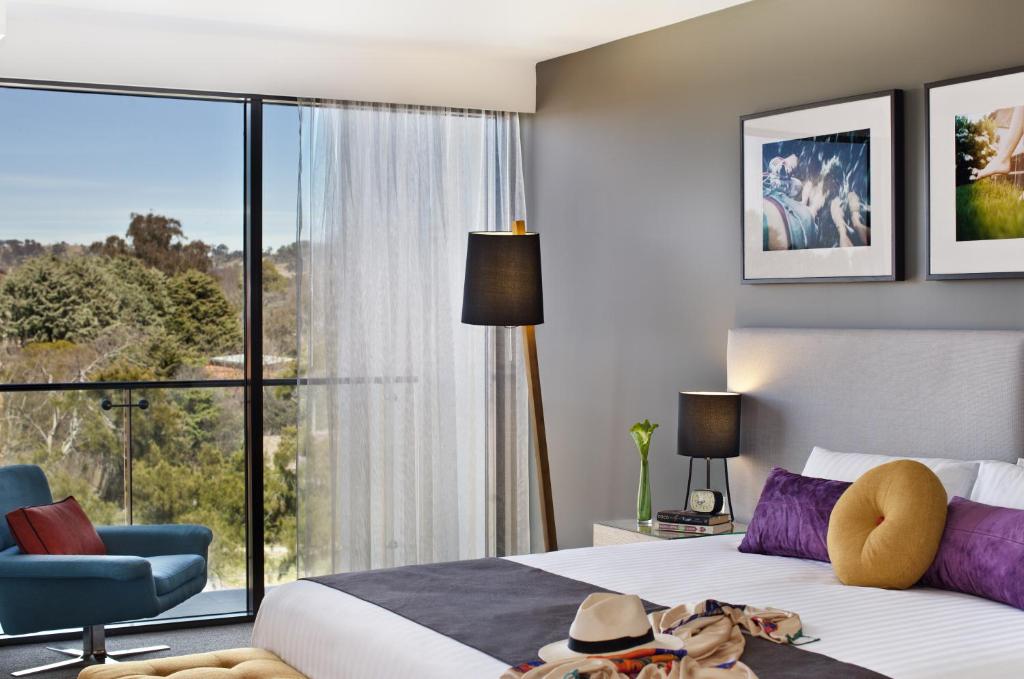 Located in the bustling Canberra suburbs of Kingston and Manuka, East Hotel and Apartments offers a range of amenities for guests to enjoy. The hotel boasts an on-site restaurant, Agostini's, where guests can dine in or have meals delivered straight to their room. The bar at East Hotel offers a wide selection of vintage wines, rare whiskeys, and fine spirits. Guests can start their day with a delicious a la carte breakfast from Muse, the hotel's breakfast restaurant. For those looking to stay active during their stay, there is a fitness centre available. Additionally, the 24/7 reception ensures that guests receive assistance whenever needed. Each studio and apartment at East Hotel features air TV and chromecasts in each room, along with unlimited complimentary WiFi. The accommodation also includes a gourmet kitchen with a Nespresso coffee machine and dining area. Some rooms even offer private balconies where guests can relax and take in the surrounding views. With its convenient location just 7 km from Canberra city centre, East Hotel provides easy access to popular attractions such as Parliament House and the National Gallery of Australia – both just minutes away by car. Other services provided by the hotel include same-day laundry and dry cleaning services as well as bicycle hire for those wanting to explore the city on two wheels.
– On-site restaurant serving delicious meals
– Wide selection of vintage wines, rare whiskeys, and fine spirits at the bar
– Fitness centre for staying active during your stay
– Unlimited complimentary WiFi throughout the hotel
– Convenient location near popular attractions
Information about Hotels With Jacuzzi In Room in Canberra
| | |
| --- | --- |
| 🏢 Number of Hotels With Jacuzzi In Room in Canberra | 5 |
| 🥇 Average Review Score | 8/10 |
| 💰 High season average price | 1280 |
| 💸 Low season average price | 320 |
FAQ
Can I find hotels with jacuzzi in room in Canberra?
Yes, there are several hotels in Canberra that offer jacuzzi facilities within the room. These hotels provide a luxurious experience for guests who wish to relax and unwind after a long day of exploring the city. The jacuzzis are usually spacious and well-maintained, providing the perfect setting for a soothing soak while enjoying breathtaking views of the cityscape.
What is the average cost per night for a hotel with jacuzzi in room in Canberra?
The cost per night for a hotel with a jacuzzi in room in Canberra can vary depending on factors such as location, amenities, and seasonality. On average, you can expect to spend around $200 to $400 per night. It is recommended to check different hotel options and compare prices to find the best deal that suits your budget and preferences.
Are there any family-friendly hotels with jacuzzi in room options available in Canberra?
Yes, there are family-friendly hotels in Canberra that offer rooms with jacuzzis. These hotels understand the needs of families and provide accommodations that cater to both adults and children. The jacuzzis are often large enough to accommodate multiple people, making it an enjoyable experience for everyone.
Do all hotels with jacuzzi in room offer additional amenities or services?
While most hotels with jacuzzi facilities provide basic amenities such as complimentary Wi-Fi, parking, fitness centers, and spa services (like massages), it's always advisable to check directly with each hotel about their specific offerings. Some establishments may have additional perks like onsite restaurants or bars where guests can enjoy delicious meals or drinks while using the Jacuzzi.
How do I book a hotel with jacuzzi in room in Canberra?
Booking a hotel with a Jacuzzi facility within the room is easy. You can visit popular travel websites or directly contact the hotel's reservation department via phone or email. It's recommended to book in advance, especially during peak tourist seasons, to ensure availability and secure the best rates. Additionally, if you have any specific preferences or requests regarding your room or amenities, make sure to communicate them at the time of booking for a personalized experience.
Popular Hotels With Hot Tub In Room destinations