Welcome to the mesmerizing town of Banff in Canada, where nature's beauty intertwines with luxurious relaxation. If you're seeking an indulgent getaway, look no further than the exquisite hotels that boast private in-room hot tubs. These accommodations offer a delightful haven where you can unwind and rejuvenate amidst the breathtaking landscapes that surround you.
Banff is renowned for its stunning mountain views and pristine wilderness, making it an idyllic destination for nature enthusiasts. And what better way to immerse yourself in this natural splendor than by retreating back to your own personal oasis? Imagine sinking into a bubbling jacuzzi after a day of exploring the majestic Banff National Park or skiing on powdery slopes. The soothing warm waters will envelop you as you soak away any tensions, all while gazing out at panoramic vistas that seem almost too beautiful to be real.
Whether you're embarking on a romantic escape or simply treating yourself to some well-deserved pampering, these hotels with jacuzzis in room offer an unparalleled experience. So, pack your bags and get ready for an unforgettable retreat where luxury merges effortlessly with the awe-inspiring wonders of Banff's natural playground.
Best Banff Hotels With Hot Tub
Beaujolais Boutique B&B at Thea's House: Superior King Room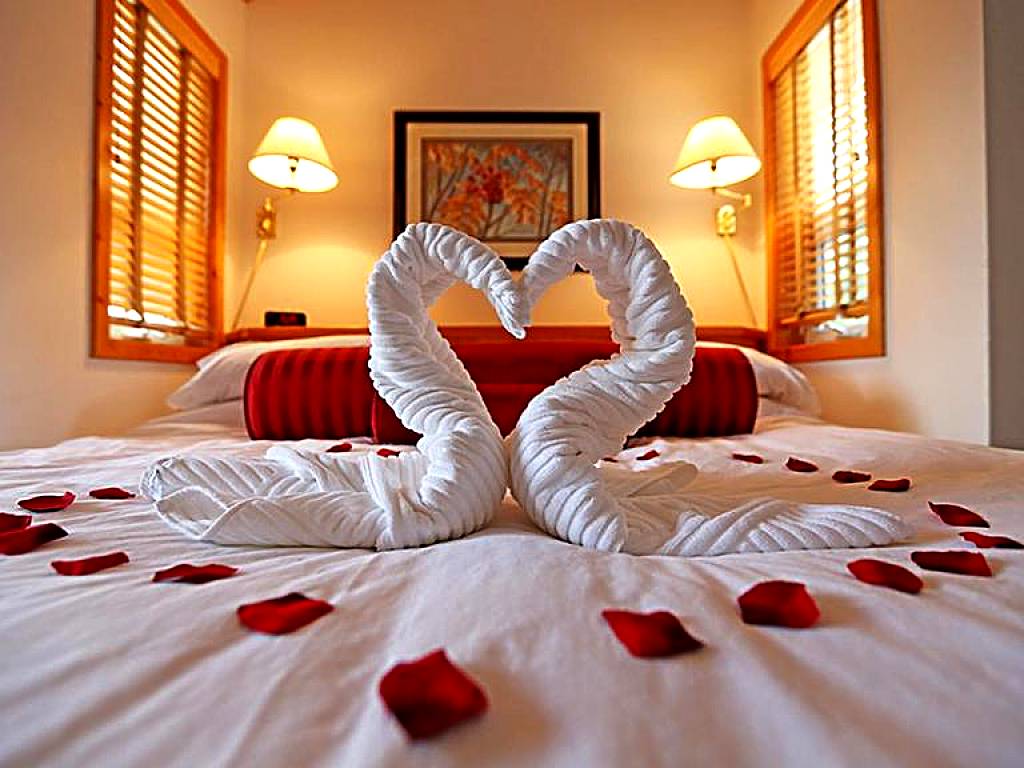 Beaujolais Boutique B&B at Thea's House in Banff offers a delightful stay in their Superior King Room. This charming adult-only property features pine vaulted ceilings, fir flooring, and antique furniture, creating a cozy and inviting atmosphere. The room itself is well-appointed and includes amenities such as a gas fireplace, flat-screen TV, complimentary WiFi, an en-suite bathroom with a spa bath for ultimate relaxation, and a small balcony with stunning mountain views. Guests can also enjoy the shared lounge area and take advantage of ski storage space and bike hire services offered by the hotel. With its convenient location close to popular attractions like Banff Park Museum and The Whyte Museum of the Canadian Rockies, Beaujolais Boutique B&B at Thea's House is the perfect choice for couples seeking a romantic getaway or those looking to explore all that Banff has to offer.
– Charming boutique B&B with unique pine vaulted ceilings
– Cozy gas fireplace in every room
– Complimentary WiFi for staying connected
– En-suite bathroom with relaxing spa bath
– Convenient location near popular museums and attractions
Sunshine Mountain Lodge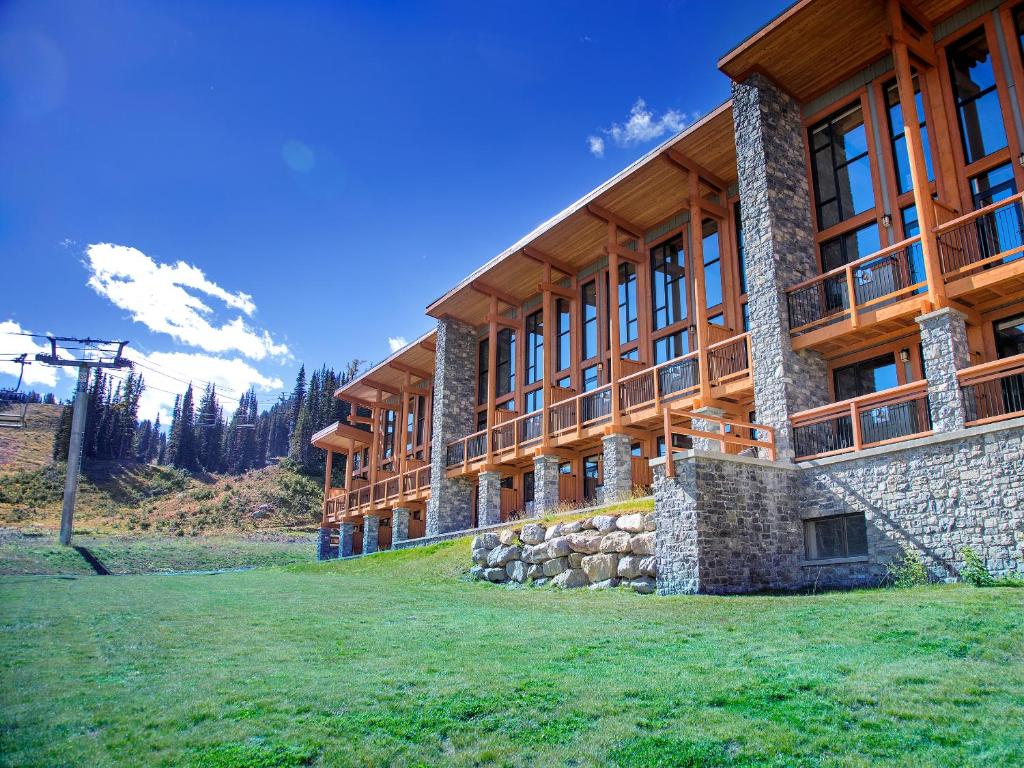 Located in the heart of Banff National Park, Sunshine Mountain Lodge is a ski-in, ski-out lodge situated at Sunshine Village Resort. Just 20 minutes west of Banff city center, this lodge offers convenience and breathtaking views. The lodge boasts multiple restaurants to satisfy your culinary desires, as well as an outdoor hot pool for ultimate relaxation after a day on the slopes. Additionally, guests can take advantage of ski storage and spa services to indulge in some well-deserved pampering. Each room at Sunshine Mountain Lodge features modern amenities such as a 42-inch flat-screen HDTV and elegant wood furniture. The bathrooms are equipped with slate floors, granite countertops, and hairdryers for added comfort. With windows that open to allow fresh mountain air inside, guests can truly immerse themselves in the natural beauty surrounding them. For those seeking entertainment or adventure off the slopes, the lodge offers an on-site gym and dry sauna for rejuvenation purposes. Furthermore, movie nights and organized tours including snowshoeing and tobogganing adventures are scheduled regularly to keep guests entertained throughout their stay. Lastly, don't miss out on visiting Banff Upper Hot Springs which are just a short 25-minute drive away from Sunshine Mountain Lodge.
Pros:
– Convenient ski-in/ski-out location
– Multiple restaurants offering diverse dining options
– Outdoor hot pool for relaxation with stunning mountain views
– Modern rooms with luxurious amenities
– On-site gym and dry sauna for wellness activities
The Poplar Inn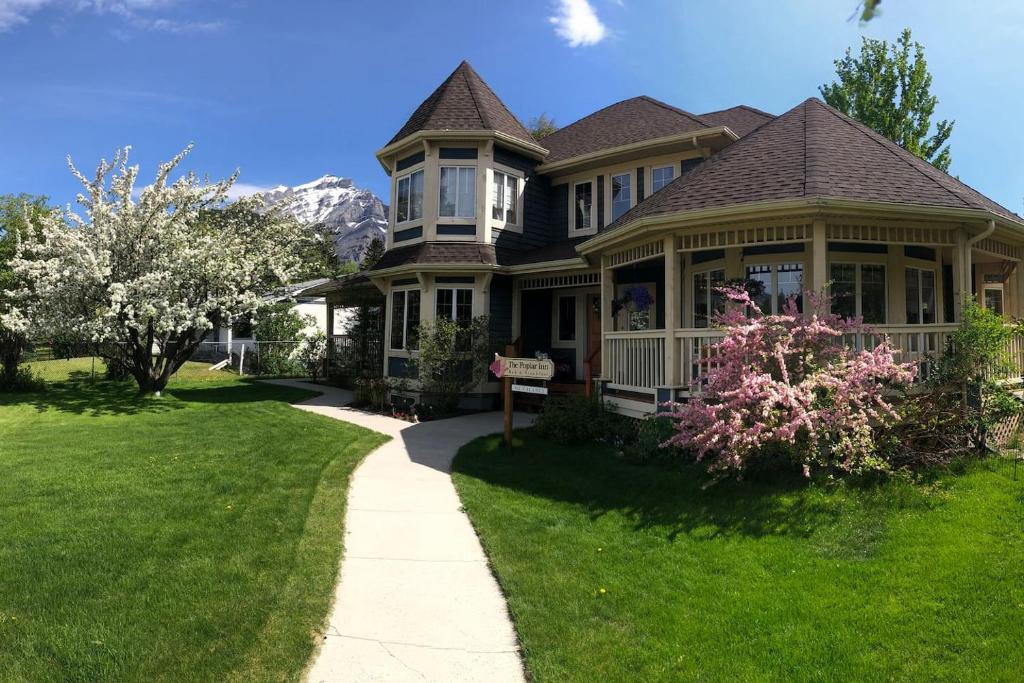 The Poplar Inn is a charming Bed and Breakfast located in Banff. It offers comfortable accommodation with free WiFi, a garden terrace, and access to a hot tub. Each unit is equipped with a kitchenette, dining table, flat-screen TV with satellite channels, and a private bathroom with shower and complimentary toiletries. Guests can start their day with a delicious continental, American or vegetarian breakfast. The inn also offers on-site tennis courts for guests to enjoy, as well as skiing or cycling in the surrounding area. Additionally, popular attractions such as The Whyte Museum of the Canadian Rockies and Banff Park Museum are just a short distance away.
– Free WiFi
– Access to hot tub
– Fully equipped kitchenette in each unit
– Delicious breakfast options available
– On-site tennis courts for guest use
Other places to stay in Banff
Luxury Hotels in Banff with Hot Tub
Located in the breathtaking natural beauty of Banff, luxury hotels with hot tubs offer a serene and indulgent retreat for travelers seeking relaxation. These accommodations provide the perfect haven for guests to unwind and soak their cares away in the privacy of their own room. With opulent interiors and exquisite attention to detail, these hotels seamlessly blend comfort and luxury. Whether nestled amidst towering mountains or overlooking picturesque lakes, these inviting hot tubs allow guests to savor the stunning surroundings while rejuvenating their mind and body. A stay at one of Banff's luxury hotels with a hot tub promises an unforgettable experience filled with tranquility and pampering.
Brewster Mountain Lodge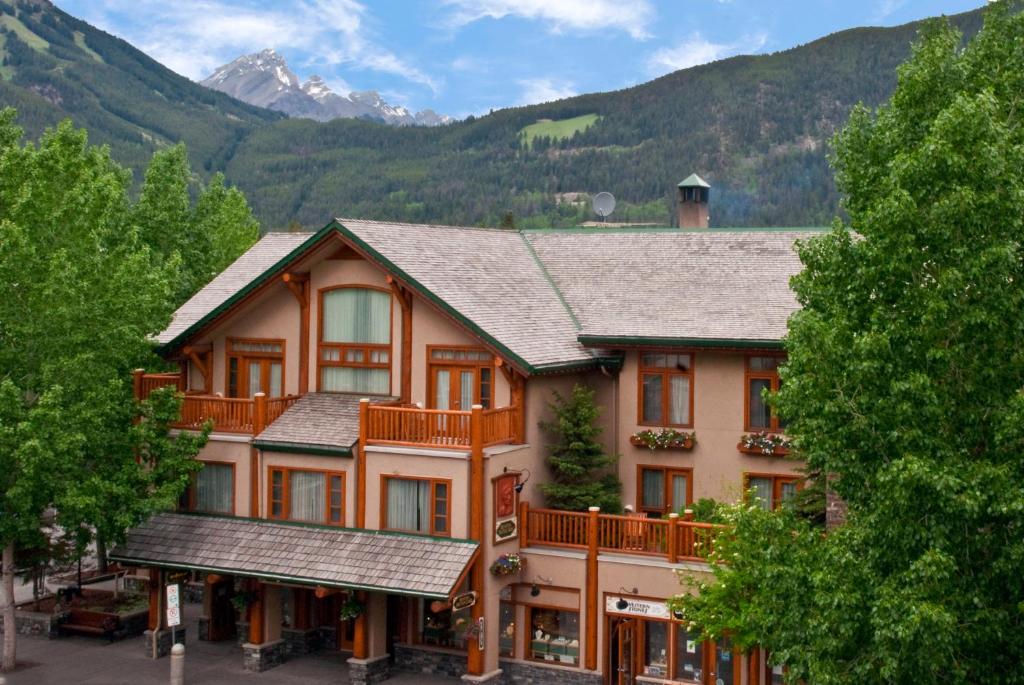 Brewster Mountain Lodge is a charming hotel located in the heart of downtown Banff. The interior of the lodge features log furnishings, western décor, and historic photos from the Brewster Family, giving it a cozy and rustic atmosphere. Guests can enjoy free WiFi and a daily continental breakfast during their stay. Each room is well-equipped with modern amenities such as a flat-screen cable TV, fan, ironing facilities, hair dryer, kettle, and coffee machine. The private bathroom includes a shower, bath, and complimentary toiletries. The hotel also offers convenient services like a 24-hour front desk, tour desk, ski storage facilities, and on-site shops. Its prime location allows guests to explore nearby attractions easily – it's just 200 meters from The Whyte Museum of the Canadian Rockies and Banff Park Museum, while The Banff Centre is only 1.2 km away.
– Central downtown location
– Cozy log furnishings and western décor
– Free WiFi
– Daily continental breakfast included
– Convenient on-site amenities such as tour desk and ski storage
High Country Inn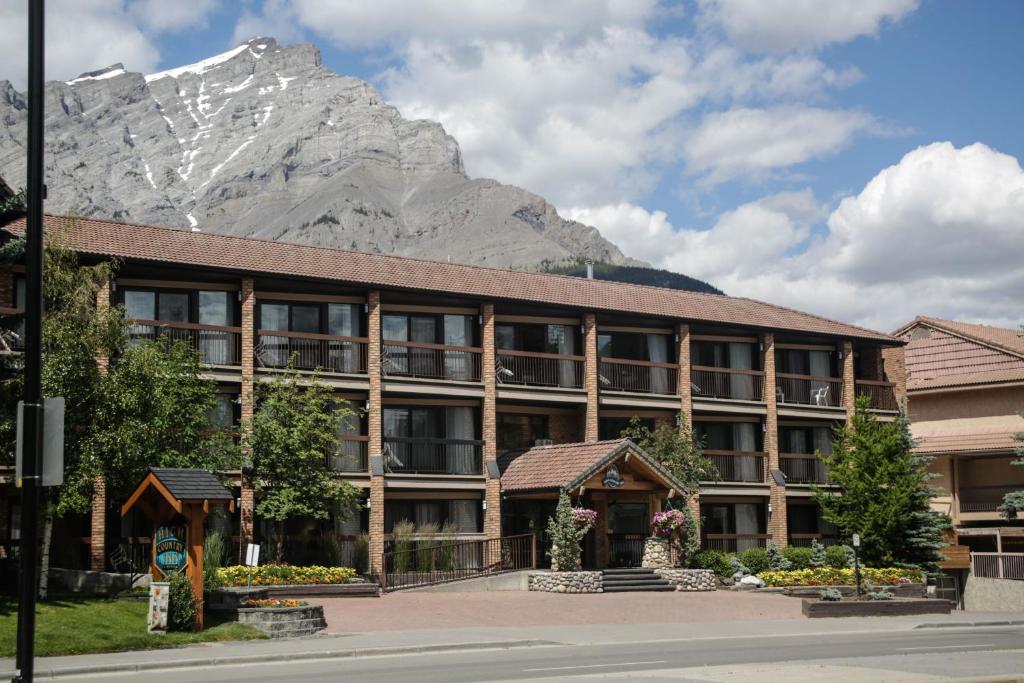 High Country Inn in Banff offers a range of amenities for a comfortable stay. Guests can enjoy an indoor pool, a dry cedar sauna, and a hot tub. All rooms provide free Wi-Fi and boast beautiful mountain views. Each air-conditioned room features a flat-screen cable TV, a seating area, and a patio (not available in all rooms). Additionally, the rooms are equipped with a fridge and tea/coffee-making facilities. The private bathrooms come with showers and hairdryers. The hotel also includes an on-site restaurant, meeting facilities, and luggage storage. Guests can partake in various activities such as skiing both on-site or in the surrounding area. Free parking is available but subject to availability. The Whyte Museum of the Canadian Rockies is conveniently located just 10 minutes' walk away.
Pros:
– Indoor pool, dry cedar sauna, and hot tub
– Free Wi-Fi
– Mountain views from all rooms
– On-site restaurant
– Convenient location near Whyte Museum of the Canadian Rockies
Information about Hotels With Jacuzzi In Room in Banff
| | |
| --- | --- |
| 🏢 Number of Hotels With Jacuzzi In Room in Banff | 5 |
| 🥇 Average Review Score | 8.8/10 |
| 💰 High season average price | 1358 |
| 💸 Low season average price | 339.5 |
FAQ
Where can I find hotels with Jacuzzi in room in Banff?
There are several hotels in Banff that offer rooms with Jacuzzis. Some popular options include Fairmont Banff Springs, Rimrock Resort Hotel, and Moose Hotel & Suites. These hotels have private Jacuzzis in select rooms, allowing guests to relax and unwind after a long day of exploring the beautiful city of Banff.
Are there any budget-friendly hotels with Jacuzzi in room in Banff?
Yes, there are budget-friendly options for hotels with Jacuzzis in Banff as well. One such option is the Rundlestone Lodge which offers comfortable rooms with private Jacuzzis at affordable prices. Another option is the Inns of Banff which also has Jacuzzi suites available for those on a tighter budget.
Can I book a hotel room with Jacuzzi online?
Yes, most hotels that offer rooms with Jacuzzis in Banff allow you to book them online through their websites or through third-party travel platforms. Simply visit their website or the platform of your choice, search for your desired dates and preferences (including the requirement for a room with a Jacuzzi), and complete your booking online.
Do all hotels provide complimentary access to their jacuzzis for guests staying at the hotel?
While some hotels may provide complimentary access to their Jacuzzis for all guests staying at the hotel, it is not always guaranteed. It is advisable to check directly with each hotel regarding their specific policies on access to the Jacuzzi facilities before making your reservation.
What other amenities can I expect at these hotels apart from a jacuzzi?
In addition to having a private jacuzzi in your room, many of these hotels also offer various other amenities to enhance your stay. These may include fitness centers, spa services, on-site restaurants and bars, swimming pools, free Wi-Fi access, concierge services, and stunning views of the surrounding Banff National Park. Make sure to check the amenities provided by each hotel before making your decision to ensure it meets all your requirements.
Popular Hotels With Jacuzzi destinations