Welcome to our guide on Hotels With Jacuzzi In Room in Ayrshire, the breathtaking region of Scotland. Situated in the southwestern part of the United Kingdom, Ayrshire is renowned for its stunning landscapes, rich history, and warm hospitality. If you're looking for the perfect getaway to relax and unwind, look no further than these luxurious accommodations featuring private hot tubs.
Indulge yourself in pure luxury as you soak away your cares in a private whirlpool bath within the confines of your own room. These hotels offer a serene retreat where you can pamper yourself while surrounded by the beautiful Scottish countryside. Whether you're seeking a romantic escape for two or simply want to treat yourself to some well-deserved relaxation, Ayrshire's Hotels With Jacuzzi In Room are sure to exceed your expectations.
Imagine sinking into warm bubbling waters after a day exploring majestic castles or strolling along pristine beaches. The hotels' elegantly designed rooms provide an intimate setting that enhances your overall experience. From contemporary boutique hotels to charming country lodges, there is an array of options suitable for every taste and budget. So pack your bags and let us guide you through Ayrshire's top-notch accommodations with their exclusive jacuzzi facilities – prepare yourself for an unforgettable stay immersed in tranquility and comfort!
Best Ayrshire Hotels With Hot Tub
Brisbane House Hotel: Executive Double Room (Largs)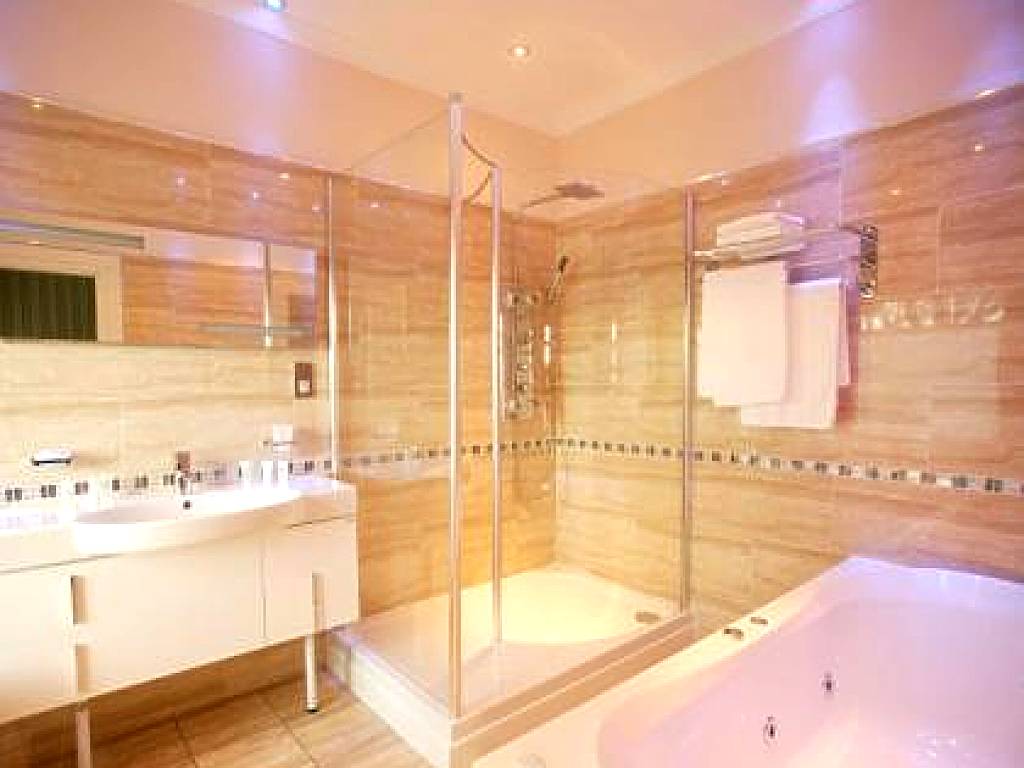 The Brisbane House Hotel in Largs, North Ayrshire, offers a contemporary and luxurious experience with its Executive Double Rooms. Each room boasts large en suite luxury bathrooms with sea views, perfect for unwinding after a day of exploring. Guests can also enjoy the LCD flat-screen TV provided in each room. With 24 stylish bedrooms located on the first and second floors, guests can take advantage of free Wi-Fi access, tea and coffee making facilities, and a direct-dial telephone. Many rooms offer stunning sea views that add to the overall charm of the hotel. The Brisbane Suite and Bar & Restaurant feature floor-to-ceiling glass windows offering breathtaking views of the Ayrshire Coast. The menus at this establishment include traditional Scottish dishes, and during warmer weather, guests have the option to dine outside on the terrace. For those looking to explore beyond the hotel grounds, Glasgow International Airport is just a 35-minute drive away while the city center's shops and attractions are only an additional 10 minutes further on. Golf enthusiasts will be pleased to find several top-class golf courses within a convenient 30-minute drive from this fantastic hotel.
Pros:
– Large en suite luxury bathrooms with sea views
– LCD flat-screen TVs in each room
– Free Wi-Fi access throughout the hotel
– Stunning sea views from many rooms
– Convenient location near Glasgow International Airport and city center attractions
The Waterside Hotel (Seamill)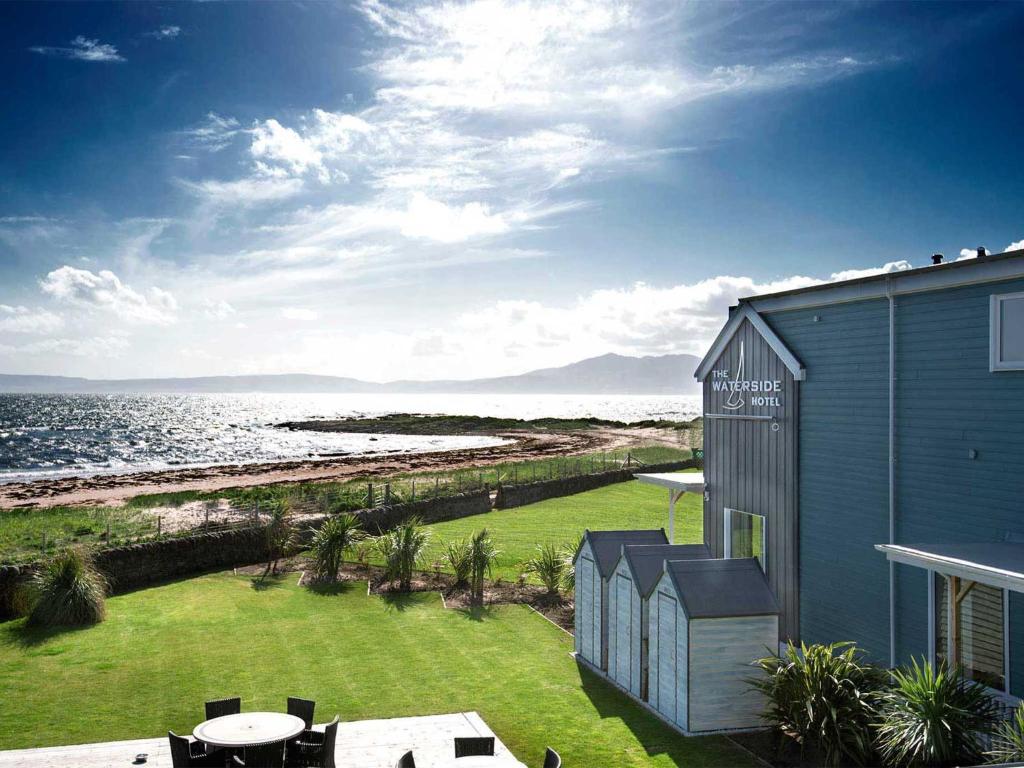 The Waterside Hotel is a stunning four-star property located along the water's edge in West Kilbride. With its New England/Cape Cod design theme, the hotel offers 23 rooms, suites, and a penthouse that provide guests with breathtaking panoramic views of the Isle of Arran. The hotel features free on-site car parking and amenities such as a restaurant, sun terrace, and bar where guests can unwind and enjoy their surroundings. Each room is equipped with modern comforts including complimentary toiletries, tea and coffee making facilities, a hairdryer, and flat-screen SMART TVs. Guests can also stay connected with complimentary WiFi available throughout the hotel. Conveniently located just 30 minutes from Glasgow and Ayr, The Waterside Hotel allows easy access to both Glasgow and Prestwick International Airports.
– Panoramic views of the Isle of Arran
– New England/Cape Cod design theme
– Complimentary toiletries & tea/coffee making facilities
– Flat-screen SMART TVs in all rooms
– Easy access to Glasgow and Prestwick International Airports
Auchrannie Resort (Brodick)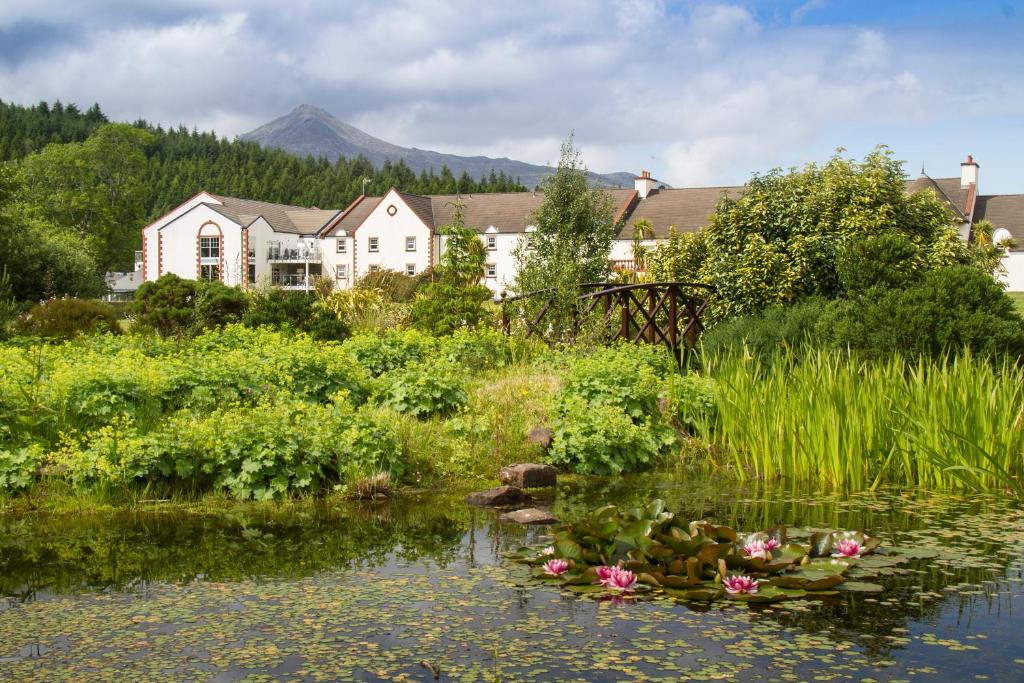 Auchrannie Resort in Brodick, on the beautiful Isle of Arran, is a luxurious hotel with a range of amenities to ensure a comfortable and enjoyable stay. The resort features three award-winning restaurants, a luxury spa, beauty salon, and gym. Guests can also take advantage of the indoor swimming pools, sauna, steam room facilities, and turbo spa. The stylish rooms offer modern amenities such as flat-screen TVs, free Wi-Fi, and bathrooms stocked with Arran Aromatics toiletries. Additionally, the Playbarn provides entertainment for children with soft play areas and a teen area offering drinks and snacks. With its impressive grounds and convenient location just a 20-minute walk from Brodick Ferry Terminal and half a mile from Brodick Golf Club, Auchrannie Resort is an ideal choice for travelers seeking relaxation and convenience.
– Indoor pool
– Luxury spa
– Award-winning restaurants
– Beauty salon
– Gym
Luxury Hotels in Ayrshire with Hot Tub
Ayrshire, a stunning region in Scotland, offers an array of luxury hotels with hot tubs. These establishments provide a haven of relaxation and indulgence for discerning travelers. Whether nestled amidst breathtaking countryside or perched along the picturesque coastline, these hotels boast elegant suites featuring private hot tubs. Guests can unwind after a day of exploration and immerse themselves in the warm bubbling waters while enjoying panoramic views or starry skies. The combination of luxurious accommodations and soothing hot tubs creates an unforgettable experience that epitomizes tranquility and opulence in Ayrshire.
Old Loans Inn (Troon)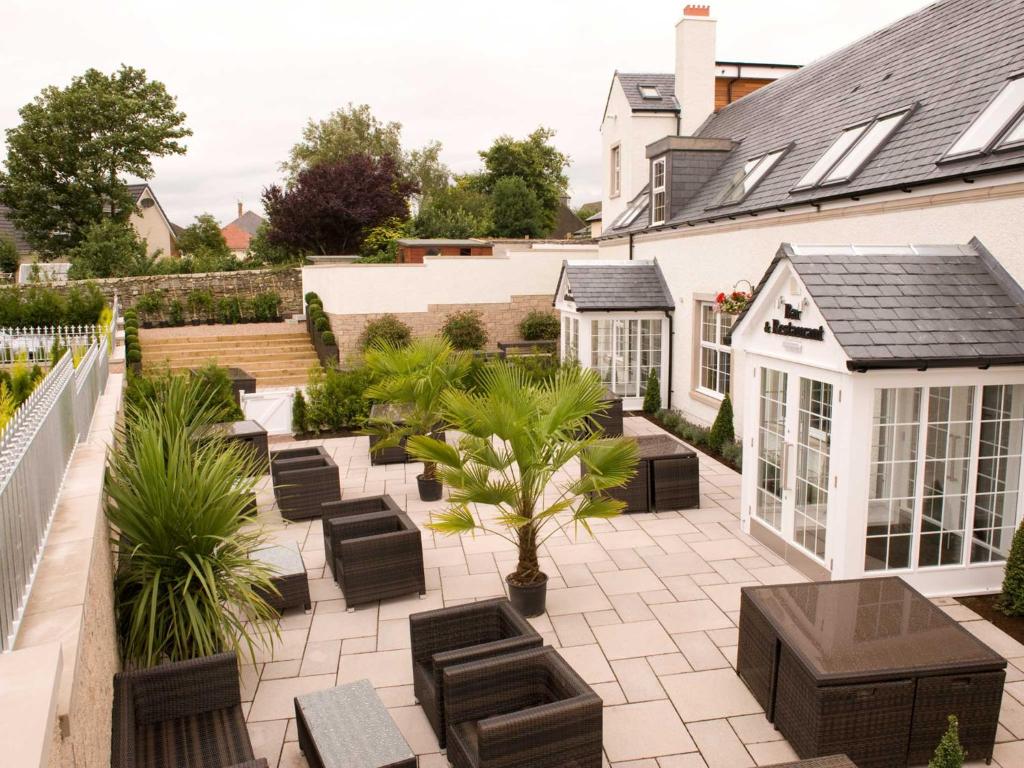 The Old Loans Inn, located in the village of Loans on the outskirts of Troon, is an award-winning 18th-century former coaching inn that has undergone a £1.8 million renovation. This charming hotel seamlessly combines original character with modern luxuries, offering guests a truly memorable stay. Each room features a king-size bed, media centre, powerful rain shower, and free Wi-Fi access. The inn's prime location in the heart of Ayrshire makes it easily accessible to the region's renowned golf courses. With its beautifully renovated interiors boasting original stone walls and roaring fireplaces, the Old Loans Inn exudes old Scottish charm while providing contemporary style and comfort. The spacious rooms are individually designed with state-of-the-art amenities including large flat-screen TVs with media centres that allow for easy connectivity to various devices such as MP3 players, laptops, digital cameras or DVD/Blu-Ray players. For added convenience and entertainment value, there are even MP3 connectors and dedicated speakers in the en suite bathrooms. Guests can enjoy locally sourced food at the bar and restaurant or relax on the impressive outdoor terrace. With close proximity to major transportation routes like the A78, this hotel also offers easy access to nearby areas such as Troon, Ayr and Glasgow Prestwick Airport.
Pros:
– Recently renovated with modern luxuries
– Convenient location for accessing golf courses
– Beautifully designed rooms with state-of-the-art comforts
– Media centres in rooms for easy connectivity
– Locally sourced food at bar/restaurant
The Kylestrome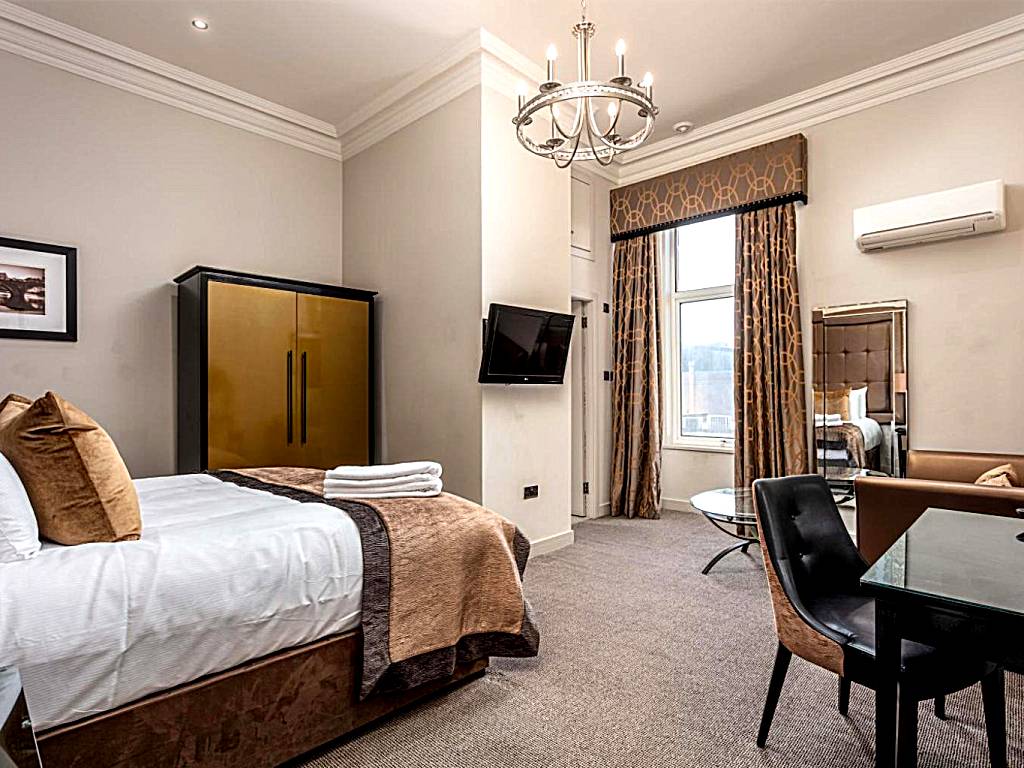 The Kylestrome is a centrally located guest house in Ayr, just a 5-minute walk from the seafront and town centre. With its bright and modern feel, the hotel offers refurbished bedrooms and a contemporary dining room that serves delicious dishes made with local produce, seafood, and steaks. Guests can enjoy free on-site parking and Wi-Fi access during their stay. The bedrooms are equipped with en suite power showers as well as tea and coffee facilities. The Kylestrome is conveniently situated for visiting Ayr Racecourse and the renowned golf courses of Old Prestwick, Royal Troon, and Turnberry. Prestwick Airport is also within easy reach at approximately 4.5 miles away.
Pros:
– Very central location
– Friendly staff
– Refurbished bedrooms
– Free on-site parking
– Free Wi-Fi access
Retreat at The Knowe Auchincruive Estate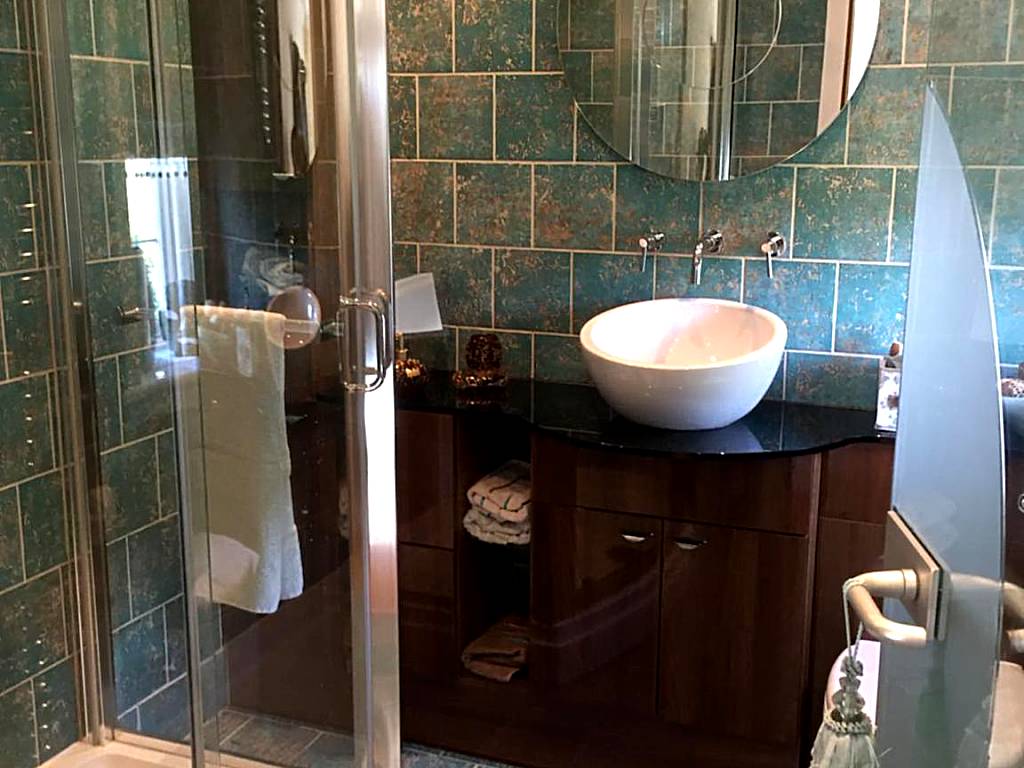 Retreat at The Knowe Auchincruive Estate in Ayr is a delightful bed and breakfast that offers a wonderful stay amidst gorgeous surroundings. Guests can enjoy stunning mountain views while staying at this property, which also features a garden, shared lounge, and terrace. Both WiFi and private parking are accessible free of charge. In the morning, guests can indulge in delicious breakfast options including à la carte and Full English/Irish choices. For those looking to explore the area, Ayr Racecourse is just 4.7 km away. Additionally, Glasgow Prestwick Airport is conveniently located 6 km from the accommodation, with a paid airport shuttle service available.
– Stunning mountain views
– Free WiFi and private parking
– Delicious breakfast options
– Convenient location near Ayr Racecourse and Glasgow Prestwick Airport
Cheap Hotels in Ayrshire with Jacuzzi
Ayrshire, located on Scotland's western coast, offers an array of affordable hotels with jacuzzis that are perfect for travelers seeking a relaxing and rejuvenating stay. These budget-friendly accommodations provide guests with the opportunity to unwind in the comfort of their own private jacuzzi tubs without breaking the bank. Whether exploring Ayrshire's picturesque countryside or visiting its charming coastal towns, visitors can retreat to these cheap hotels and indulge in a soothing soak after a long day of exploration.
Peacocks Guest House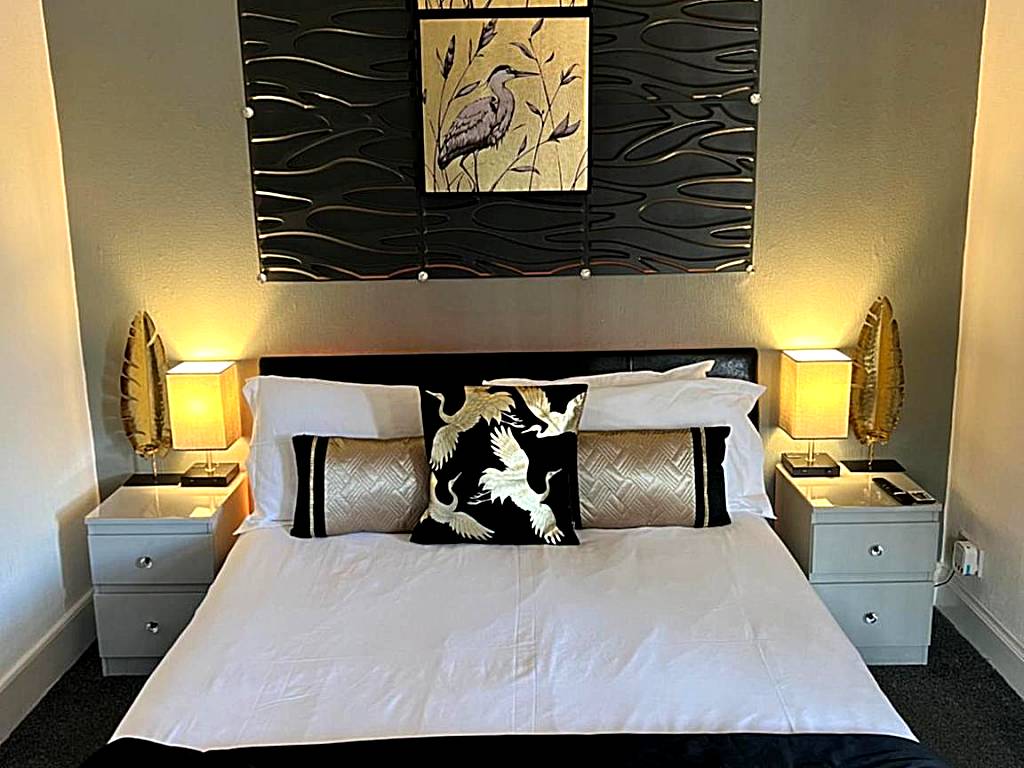 Peacocks Guest House is a charming hotel located in Largs, offering a very cosy atmosphere and superb breakfast. Situated just 700 metres from Castle Bay Beach, this guest house provides accommodation with free WiFi and free private parking. Guests can enjoy a Full English/Irish, vegetarian or vegan breakfast every morning. The rooms at Peacocks Guest House are comfortable and equipped with amenities such as a wardrobe, flat-screen TV, kettle, and private bathroom with shower and free toiletries. Some rooms even have a kitchen fitted with an oven. The hotel also offers room service and luggage storage for guests' convenience. Nearby attractions include Ibrox Stadium and House for an Art Lover, both within 46 km from the property. For those interested in exploring Glasgow's cultural scene, the Glasgow Science Centre is 47 km away and the Riverside Museum of Transport and Technology is 48 km away. Glasgow Airport is the closest airport to Peacocks Guest House, located 36 km away.
– Cosy atmosphere
– Superb breakfast
– Free WiFi
– Free private parking
– Convenient location near attractions
Information about Hotels With Jacuzzi In Room in Ayrshire
| | |
| --- | --- |
| 🏢 Number of Hotels With Jacuzzi In Room in Ayrshire | 7 |
| 🥇 Average Review Score | 8.9/10 |
| 💰 High season average price | 1240 |
| 💸 Low season average price | 310 |
FAQ
1
Are there hotels with jacuzzi in room in Ayrshire?
Yes, there are several hotels in Ayrshire that offer rooms with jacuzzis. These luxurious accommodations provide the perfect opportunity to relax and unwind after a long day of exploring the beautiful sights of Ayrshire. From small boutique hotels to larger resorts, you can find a range of options to suit your preferences and budget.
2
What amenities can I expect in hotels with jacuzzi in room?
Hotels with jacuzzis in room typically offer a range of amenities to enhance your stay. In addition to the private jacuzzi tub, you can expect comfortable bedding, spacious bathrooms, flat-screen TVs, minibars, and complimentary toiletries. Some hotels may also provide additional perks such as bathrobes and slippers for added comfort during your stay.
3
Do all hotels with jacuzzi in room have an additional cost?
While most hotels that offer rooms with jacuzzis may charge an additional fee for this amenity, it is not always the case. It is advisable to check with each individual hotel regarding their pricing policy for rooms with a private jacuzzi. Some establishments may include it as part of their standard room rate while others may have specific packages or upgrades available for an extra cost.
4
Can I book a hotel with jacuzzi in room online?
Yes, booking a hotel with a jacuzzi in the room is quite simple these days thanks to online booking platforms. Most travel websites and hotel booking sites allow you to filter your search results based on specific amenities such as "jacuzzi" or "hot tub." This makes it easy to find and reserve suitable accommodations directly from the comfort of your own home.
5
Which areas within Ayrshire have hotels offering rooms with jacuzzis?
Several areas within Ayrshire boast hotels that offer rooms fitted with luxurious Jacuzzis. Some popular locations include Ayr, Troon, and Prestwick. These areas are known for their scenic beauty, coastal charm, and proximity to attractions like golf courses and historic sites. Whether you prefer a seaside retreat or a countryside escape, there are plenty of options available in various parts of Ayrshire.
Popular Hotels With Hot Tub In Room destinations