Welcome to the magnificent state of Arizona, where luxury and relaxation go hand in hand. If you are seeking a truly indulgent escape, look no further than these opulent accommodations boasting private hot tubs within the room itself. Whether you are embarking on a romantic getaway or simply craving some well-deserved pampering, these hotels with whirlpool tubs in Arizona offer the perfect sanctuary to unwind and rejuvenate.
Imagine sinking into a bubbling Jacuzzi, enveloped by the tranquility of your own personal oasis. These luxurious retreats provide an unparalleled experience of comfort and serenity. From sleek city hotels nestled among dynamic landscapes to secluded resorts tucked away in picturesque deserts, Arizona offers an array of options for those seeking an unforgettable escape.
Indulge yourself in one of these delightful establishments as you immerse yourself in warm waters that soothe your body and calm your mind. Impeccably designed with intimate ambiance, each room offers an enticing blend of elegance and relaxation. So whether it's escaping the hustle and bustle amidst stunning desert scenery or enjoying urban sophistication with a touch of luxury, these Hotels With Jacuzzi In Room across Arizona will leave you feeling blissfully contented
Best Arizona Hotels With Hot Tub
Arroyo Pinion Hotel: King Room with Roll in shower and Whirlpool Bath- Accessible/Non-Smoking (Sedona)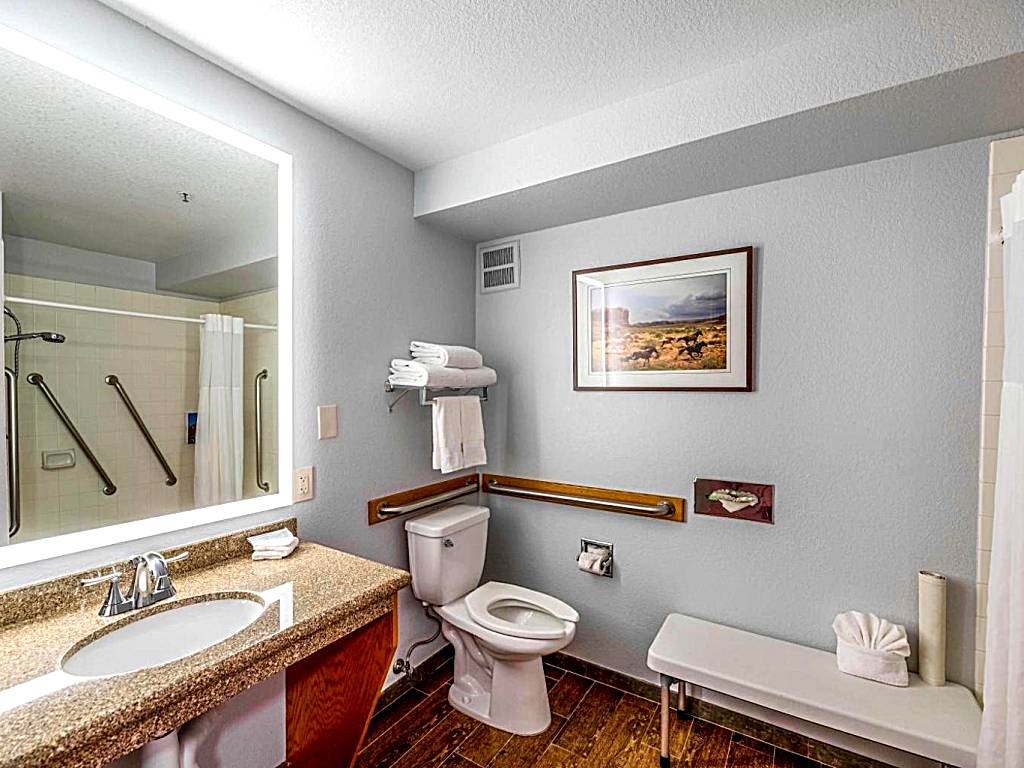 The Arroyo Pinion Hotel in Sedona offers a King Room with Roll-In Shower and Whirlpool Bath, perfect for guests looking for accessible accommodations. This room includes a private outdoor patio where guests can relax and take in the beautiful surroundings. Inside, there is a flat-screen cable TV and a private bathroom equipped with an accessible shower and shower chair. The highlight of the bathroom is the spa bath, which provides the ultimate relaxation experience. Guests will also find convenient amenities such as a microwave, small refrigerator, and coffee-making facilities.
The hotel itself is situated in the heart of the Red Rock country in the West Sedona district, offering easy access to all that this beautiful area has to offer. The accommodations at Arroyo Pinion Hotel are spacious and comfortable, featuring contemporary facilities to ensure a pleasant stay. For those seeking extra luxury, suites with fireplaces, jacuzzis, and private patios are available.
After a long day of exploring Sedona's stunning landscape or visiting nearby parks and canyons, guests can unwind in down bedding accompanied by luxurious pillows before watching their favorite shows on the 50-inch plasma TV provided in each room. During warmer months, guests can take advantage of the seasonal outdoor pool for some refreshing relaxation.
For additional assistance or information on local attractions and tours around Sedona's natural wonders, guests can rely on Arroyo Pinion's helpful concierge service. Whether it's hiking through majestic red rock formations or experiencing breathtaking canyon views, this hotel provides everything needed for an unforgettable stay.
– Private outdoor patio
– Accessible shower with shower chair
– Spa bath for ultimate relaxation
– Convenient amenities including microwave and refrigerator
– Located in West Sedona district with easy access to nearby parks and attractions
La Posada Hotel and Gardens (Winslow)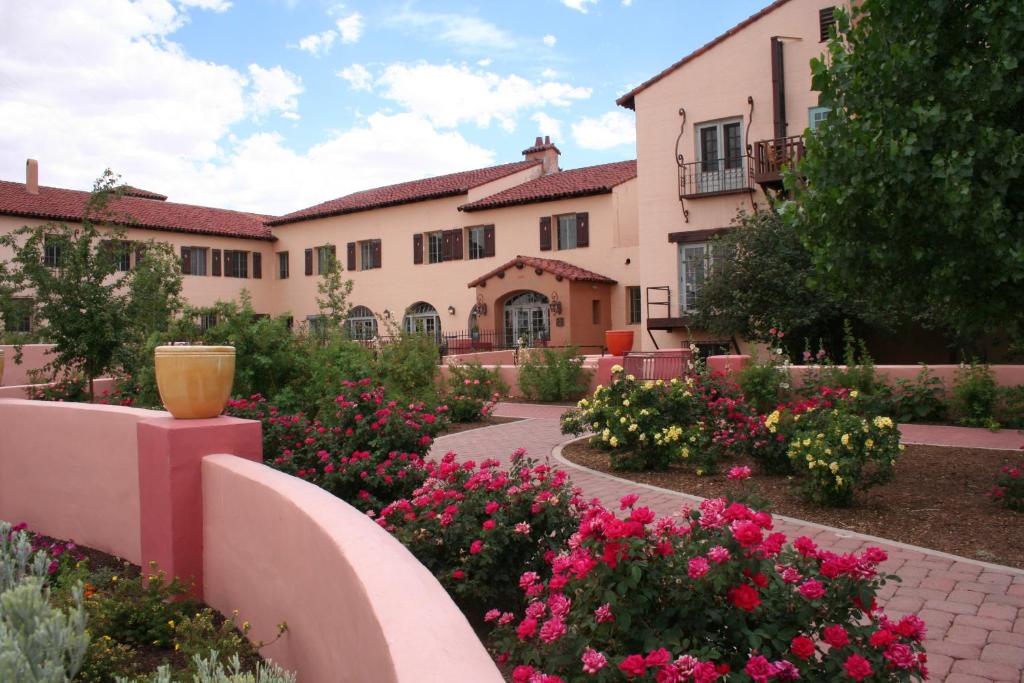 Located in Winslow, La Posada Hotel and Gardens is a 4-star hotel that offers guests a luxurious stay with its terrace, restaurant, and bar. The hotel features air-conditioned rooms with free WiFi and private bathrooms. Guests can enjoy evening entertainment and room service during their stay. Each room comes equipped with a wardrobe, desk, and flat-screen TV. Some units even have balconies for guests to enjoy the scenic views. The hotel is conveniently situated near popular hiking and fishing spots, with car hire available on-site. A business center and vending machines are also available for guests' convenience. The friendly reception staff at La Posada Hotel and Gardens are always ready to provide information about the area to help guests explore further. For those flying in, Flagstaff Pulliam Airport is the nearest airport located 98 km from the hotel.
Pros:
– Terrace
– Restaurant
– Bar
– Air-conditioned rooms
– Free WiFi
Hilton Sedona Resort at Bell Rock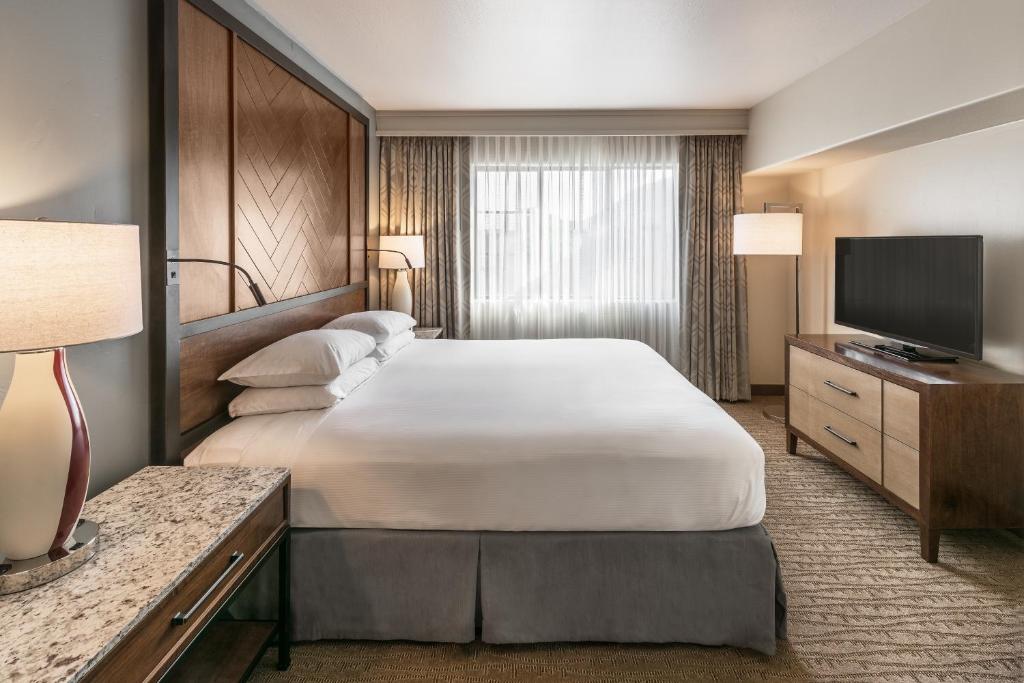 Nestled among stunning red rock formations, Hilton Sedona Resort at Bell Rock offers a luxurious and unforgettable stay. With an on-site golf course and full-service spa, guests can indulge in relaxation and recreation. The spacious rooms are equipped with exceptional amenities including gas fireplaces, private balconies or patios, and flat-screen TVs. Soft goose-down duvets ensure a restful night's sleep. Guests can enjoy playing on the highly-rated 18-hole golf course or participate in fitness classes and tennis matches at the spa. The hotel also offers different dining options, including The Grille which serves delicious Southwestern cuisine. For those seeking adventure, hiking, horseback riding, and biking are available activities in the surrounding area. With Flagstaff Pulliam Airport just 41 km away, Hilton Sedona Resort at Bell Rock is easily accessible for travelers.
– Stunning surroundings of red rock formations
– Top-rated 18-hole golf course on-site
– Full-service spa offering various treatments
– Spacious rooms with gas fireplaces and private balconies/patios
– Wide range of recreational activities available nearby
Other places to stay in Arizona
Luxury Hotels in Arizona with Hot Tub
Luxury hotels in Arizona offer an elevated experience for travelers seeking ultimate relaxation and indulgence. These accommodations provide the perfect escape, featuring hot tubs in-room that allow guests to unwind and rejuvenate in a private sanctuary. With opulent surroundings, impeccable service, and breathtaking views, these hotels cater to those who appreciate the finer things in life. Whether it's soaking under the starry desert sky or enjoying a soothing soak after a day of exploring Arizona's natural wonders, luxury hotels with hot tubs in-room effortlessly combine comfort and luxury for a truly memorable stay.
Boulders Resort & Spa Scottsdale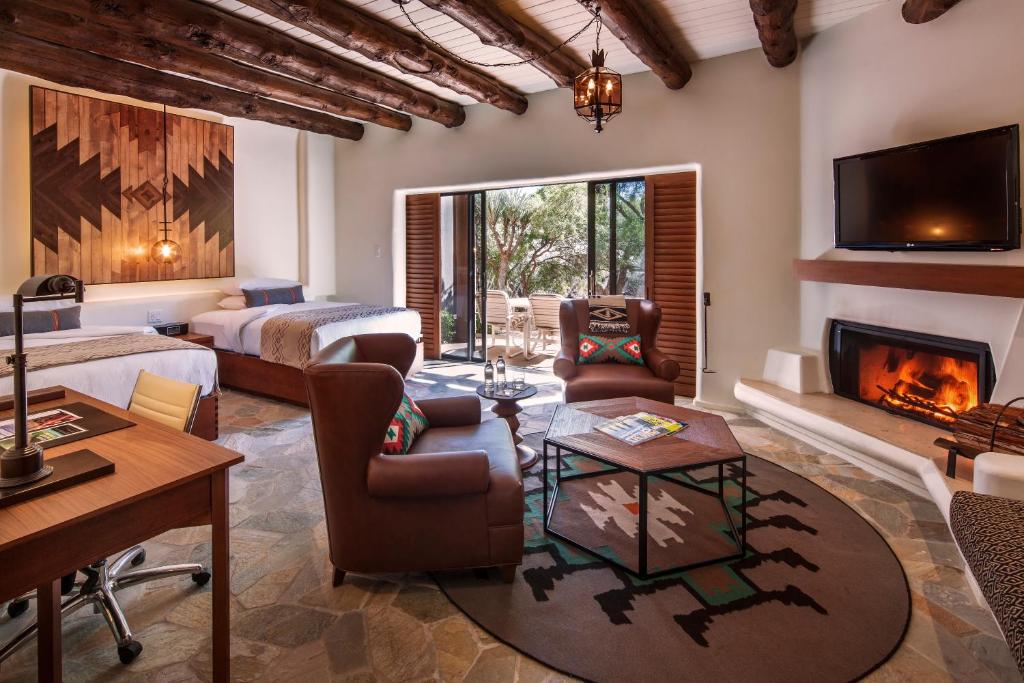 Boulders Resort & Spa Scottsdale is a stunning resort nestled in the foothills of the Sonoran Desert in Scottsdale, Arizona. With two championship golf courses, a full-service spa, seven restaurants, and spacious accommodations, this resort offers an unforgettable holiday experience. The rooms are equipped with flat-screen TVs and include a seating area to relax after a busy day of exploring. Certain rooms also feature a balcony or patio for guests to enjoy the breathtaking views. The resort boasts four swimming pools and a state-of-the-art fitness center with whirlpool tubs and saunas for ultimate relaxation. Additional amenities include free WiFi, yoga and pilates classes, as well as various dining options ranging from casual to gourmet cuisine. The resort's location near Blackrock Mountain Trail provides 24 km of hiking trails for outdoor enthusiasts to explore. Whether indulging in spa treatments or experiencing outdoor adventures, Boulders Resort & Spa Scottsdale offers everything needed for an exceptional getaway.
– Outdoor pool
– Championship golf courses
– Full-service spa
– Seven restaurants offering diverse dining options
– Convenient location near hiking trails
Cactus Cove Bed and Breakfast Inn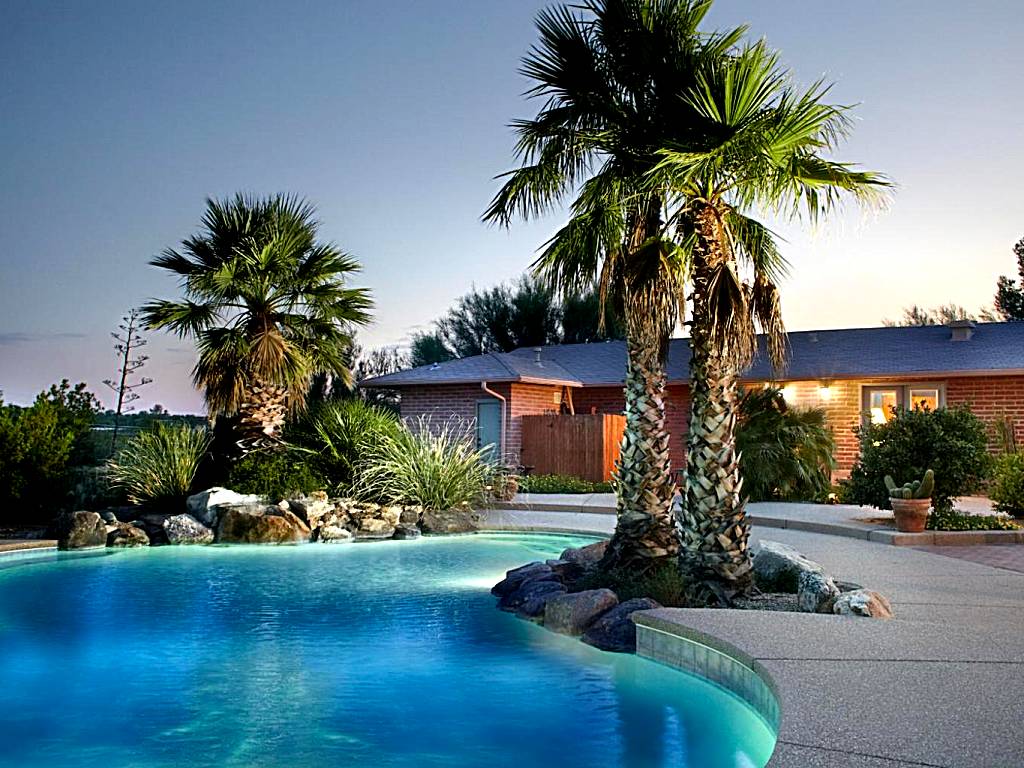 Cactus Cove Bed and Breakfast Inn is a delightful property located in Tucson. This cosy bed and breakfast offers comfortable rooms with amenities such as a patio, TV, and air conditioning. Guests can enjoy the outdoor pool and hot tub during their stay. Free WiFi is available throughout the property. The Inn also features a garden, perfect for relaxing and enjoying the beautiful surroundings. For those looking to explore, Saguaro National Park is just a 15-minute drive away. Golf enthusiasts will find plenty of opportunities nearby as well. With free parking and convenient access to Tucson Convention Centre and Tucson International Airport, Cactus Cove Bed and Breakfast Inn is an ideal choice for both leisure and business travelers.
Pros:
– Outdoor pool and hot tub
– Free WiFi
– Convenient location near Saguaro National Park
– Cozy rooms with amenities
– Free parking
Sheraton Desert Oasis Villas: 1 Bedroom Villa, 1 King, Sofa bed, Fireplace, Balcony (Scottsdale)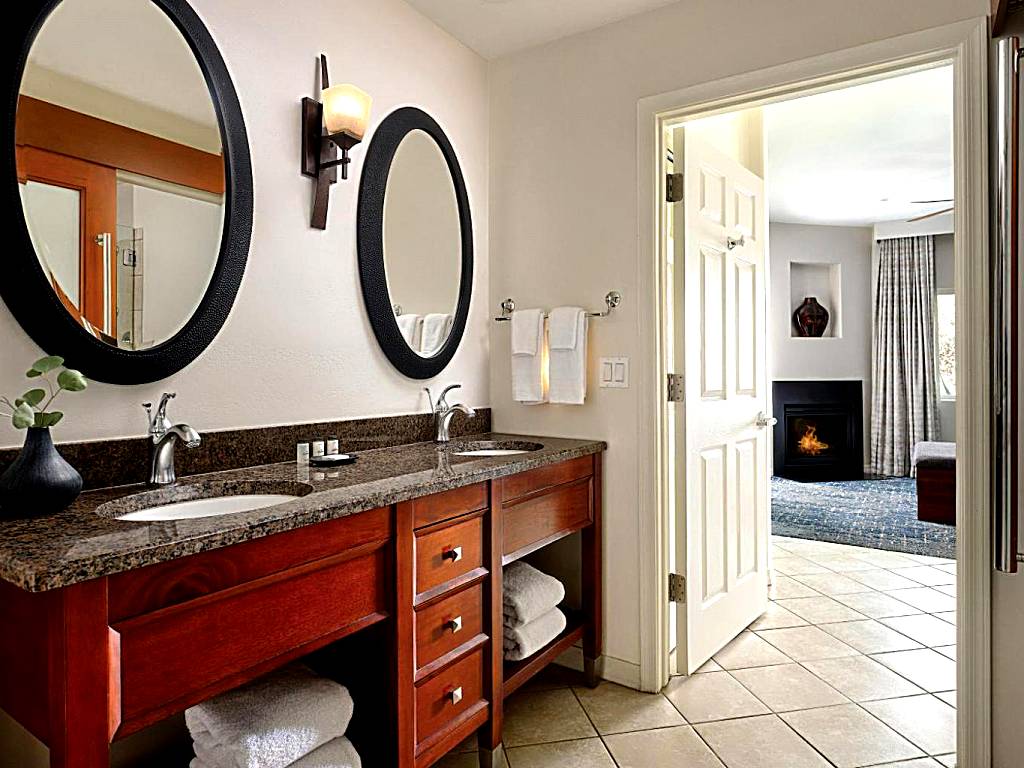 Sheraton Desert Oasis Villas, Scottsdale is a luxurious hotel located amidst the stunning Sonoran Desert in Arizona. The hotel offers spacious and well-appointed accommodations with a range of amenities. Each room features a fully equipped kitchenette, free WiFi, a cable TV with a DVD player, and a private bathroom with complimentary toiletries and a hairdryer. Guests can enjoy the relaxing pool area with waterfalls and a secluded hot tub. Children can have fun at the Spray Pool or on the playground, while adults can stay active at the 24-hour fitness center. The hotel also boasts an on-site restaurant, Oasis Bar & Grille, which serves appetizers, sandwiches, salads, refreshing beverages like smoothies and wine. With its convenient location near attractions such as Desert Botanical Gardens and WestWorld of Scottsdale, Sheraton Desert Oasis Villas provides an ideal base for exploring the area.
Pros:
– Beautiful pool area with waterfalls
– Fully equipped kitchenette in every room
– On-site restaurant serving delicious food and drinks
– Family-friendly amenities including Spray Pool and playground
– Convenient location near popular attractions
Cheap Hotels in Arizona with Jacuzzi
Arizona offers a wide range of cheap hotels with jacuzzi facilities, providing travelers with the perfect opportunity to relax and unwind. Whether you're exploring the vibrant cities or enjoying the natural beauty of Arizona's landscapes, these affordable accommodations offer guests a chance to soak in a private jacuzzi tub within the comfort of their own room. With Arizona's stunning views and warm climate, experiencing a soothing soak after a long day of adventure has never been more accessible or budget-friendly.
Sedona Cathedral Hideaway B&B & Spa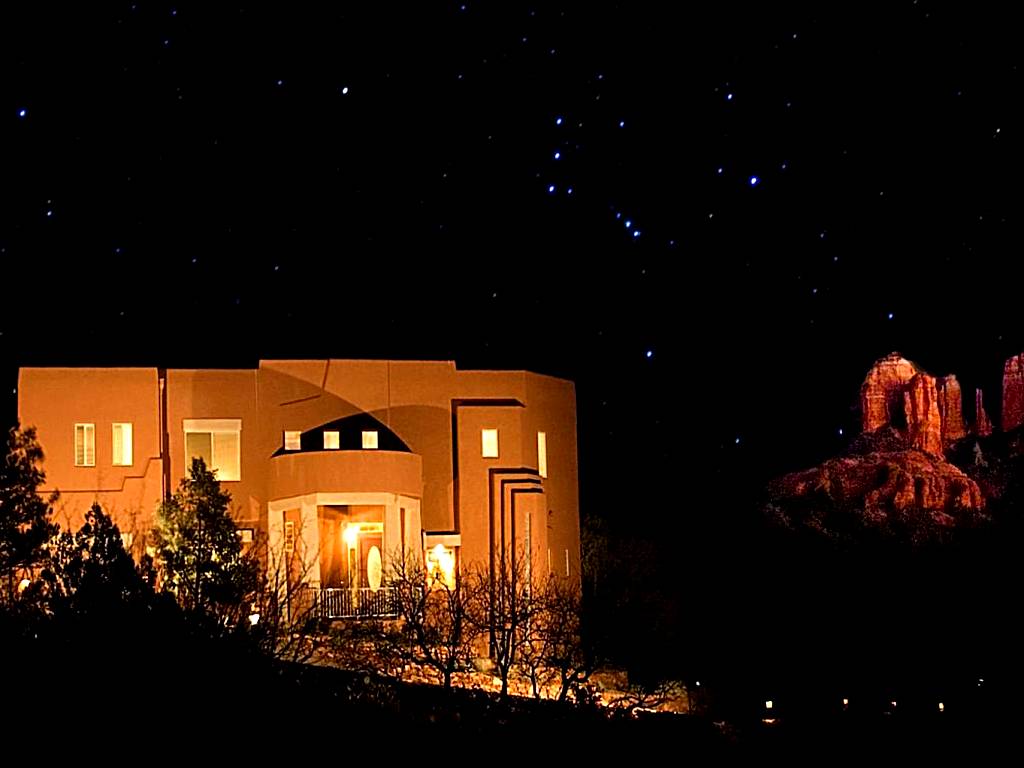 The Sedona Cathedral Hideaway B&B & Spa is a charming and intimate bed and breakfast that offers a cozy atmosphere and breathtaking views. Located right in front of the majestic Cathedral Rock, this luxurious retreat is within walking distance to Oak Creek, Red Rock Crossing, and Pyramid Peak. The premier Sedona B&B serves a delicious gourmet breakfast each morning. Each well-appointed room at this upscale bed and breakfast features a private bathroom with a spa bath, as well as plush bathrobes and slippers for added comfort. Guests can indulge in the on-site meditation labyrinth or book rejuvenating massage treatments. Each guest room also includes a snack and coffee tray, as well as a balcony or patio overlooking the beautiful surroundings. With its welcoming ambiance and convenient location just 37 km from Flagstaff Pulliam Airport, Sedona Cathedral Hideaway B&B & Spa is the perfect choice for travelers seeking relaxation and natural beauty.
– Cozy Bed and Breakfast experience
– Stunning views of Cathedral Rock
– Proximity to Oak Creek, Red Rock Crossing, and Pyramid Peak
– Daily gourmet breakfast included
– Private spa baths in each room
Days Inn & Suites by Wyndham Tucson/Marana: King Studio Suite – Non-Smoking (Tucson)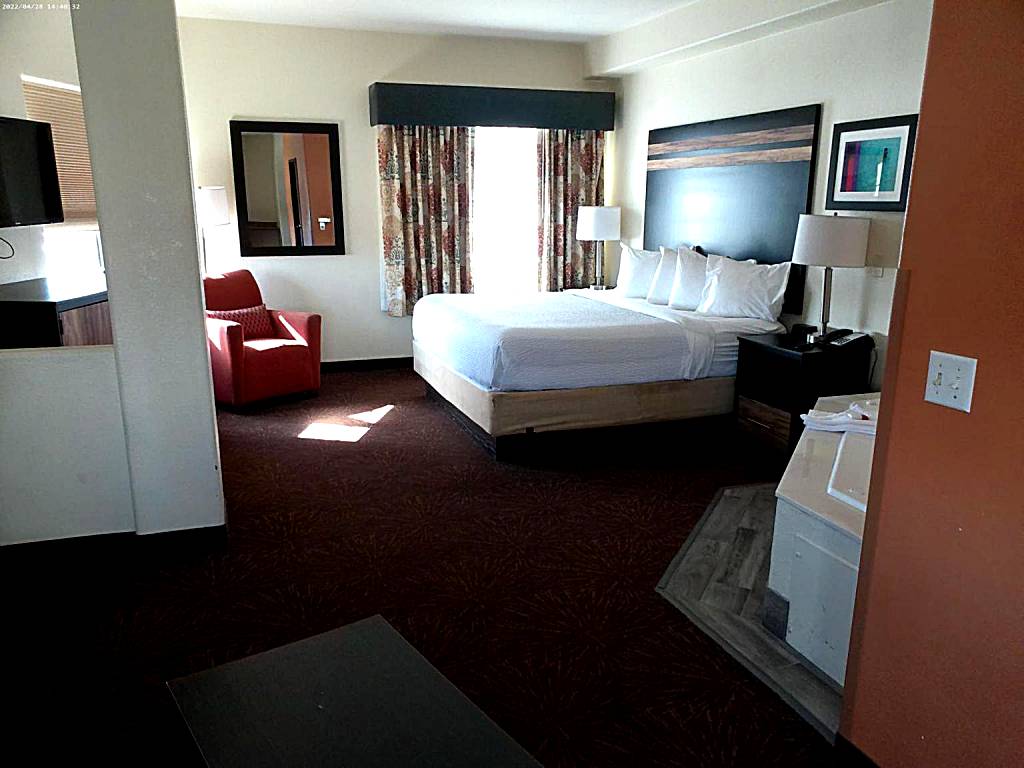 Days Inn & Suites by Wyndham Tucson/Marana: King Studio Suite – Non-Smoking (Tucson) is a pet-friendly hotel conveniently located off Interstate 10. Guests can enjoy the outdoor pool and hot tub during their stay. Each air-conditioned room offers free Wi-Fi, a cable TV, microwave, refrigerator, and coffee maker. The hotel also features a 24-hour reception and a business center with fax and photocopying services. Nearby attractions include Crooked Tree Golf Course, Old Tucson Studios, and the historic Mission Patronato San Xavier.
Pros:
– Convenient location off Interstate 10
– Pet-friendly accommodations
– Outdoor pool and hot tub for relaxation
– Spacious guest rooms with essential amenities
– Close proximity to popular attractions like Crooked Tree Golf Course and Old Tucson Studios
PVC at The Roundhouse Resort (Pinetop-Lakeside)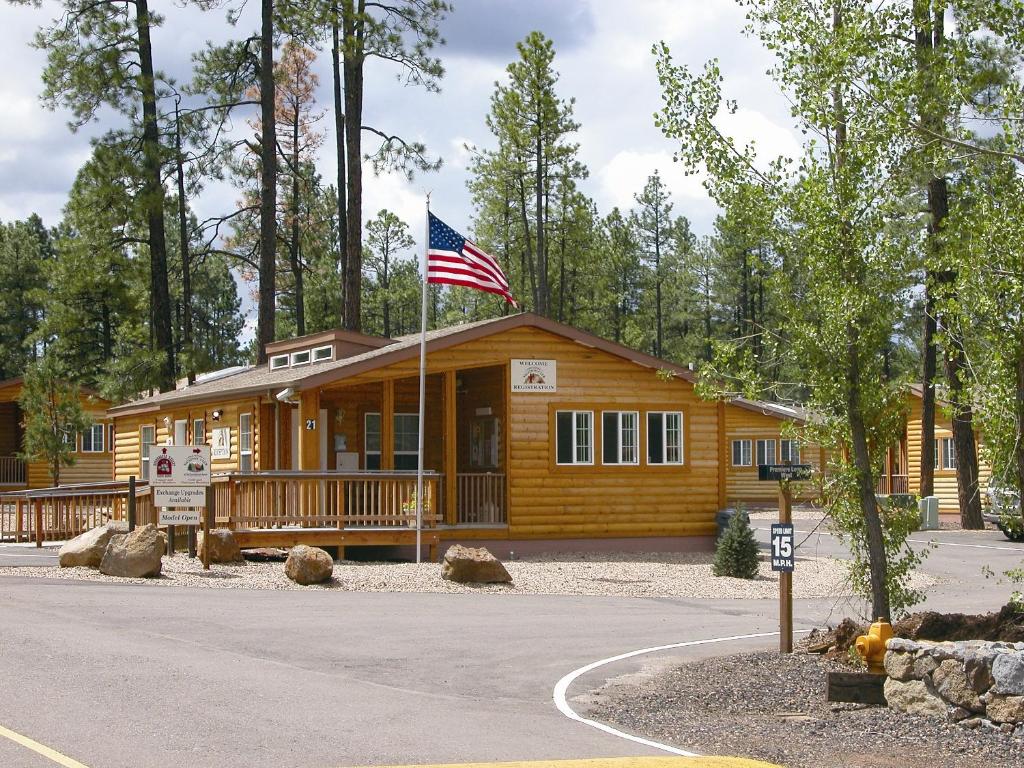 Located on the White Mountain Trail System and just 3 miles from Pinetop, PVC at The Roundhouse Resort offers a fantastic getaway for nature lovers. The resort boasts a range of amenities including a miniature golf course and suites with fully equipped kitchens. Each suite features a comfortable living room, as well as a dishwasher and microwave in the kitchen for convenience. Additionally, guests will find a washing machine and dryer in their suites. For those looking to hit the slopes, PVC at The Roundhouse Resort provides access to nearby ski hills. After an exhilarating day of skiing, guests can unwind in the hot tub or take a refreshing swim in the indoor pool. Families will also appreciate the children's playground on site. For those feeling lucky, Hon-Dah Casino is just 4 miles away from the resort. Guests can also explore various recreation trails including Ice Cave for added adventure.
– Convenient location near Pinetop and White Mountain Trail System
– Fully equipped kitchens with dishwasher and microwave
– Access to ski hills for winter sports enthusiasts
– Relaxing hot tub and indoor pool available
– Children's playground for family-friendly fun
Romantic Hotels in Arizona with Hot Tub
Arizona, with its breathtaking landscapes and idyllic weather, offers a plethora of romantic hotels that feature the ultimate indulgence for couples – hot tubs in their rooms. These intimate retreats provide a private oasis where couples can unwind and reconnect amidst luxurious surroundings. Whether nestled in the heart of the desert or surrounded by stunning mountain views, these romantic hotels in Arizona offer an ideal setting for couples to relax, rejuvenate, and create lasting memories together.
Adobe Grand Villas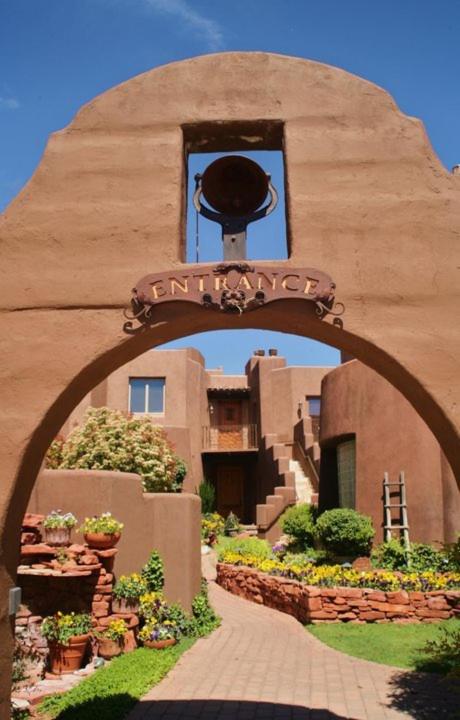 Located in Sedona, Arizona, Adobe Grand Villas is a charming hotel that showcases elegant adobe-inspired rooms. The hotel offers a 3-course breakfast in its restaurant on a daily basis and welcomes guests with freshly baked bread in their rooms upon arrival. The property is just a 20-minute drive away from Slide Rock State Park, allowing guests to easily explore the surrounding natural beauty. Each room at Adobe Grand Villas features a private patio or balcony, along with amenities such as a kitchenette, free WiFi, and an en suite bathroom. Guests can also enjoy complimentary in-room snacks during their stay. For those looking for an exceptional dining experience, the hotel's Adobe Grand Restaurant offers private dinners prepared by an in-house chef who specializes in gourmet dishes and daily fresh bread baking. Additionally, the hotel provides couples with access to its spa facilities for ultimate relaxation. Meeting spaces are available for guests traveling for business purposes. Thunder Mountain is within walking distance of Adobe Grand Villas and Flagstaff Pulliam Airport is the closest airport at 33 km away.
– Seasonal pool for refreshing dips
– Complimentary 3-course breakfast served daily
– Private dinners arranged at the on-site restaurant
– Couples spa facility for relaxation
– Meeting spaces available
Information about Hotels With Jacuzzi In Room in Arizona
| | |
| --- | --- |
| 🏢 Number of Hotels With Jacuzzi In Room in Arizona | 10 |
| 🥇 Average Review Score | 8.8/10 |
| 💰 High season average price | 806 |
| 💸 Low season average price | 201.5 |
FAQ
Can I find hotels with jacuzzi in room in Arizona?
Yes, there are several hotels in Arizona that offer rooms with jacuzzis. These luxurious accommodations provide a perfect option for couples or individuals looking to unwind and relax after a long day of exploring the beautiful city. Whether you're visiting Phoenix, Sedona, or Tucson, you'll be able to find hotels that have private jacuzzis right in your room.
What amenities can I expect in hotels with jacuzzi in room?
Hotels with jacuzzis in room usually offer a range of amenities to enhance your stay. In addition to the private jacuzzi, these rooms often include features like plush beds, spacious bathrooms, flat-screen TVs, mini-fridges, and sometimes even fireplaces. You can enjoy the ultimate comfort and convenience during your stay at these luxurious accommodations.
Are there any affordable options for hotels with jacuzzi in room?
Yes! While some hotels with jacuzzis may come at a higher price point due to their added luxury features, there are also budget-friendly options available. Many mid-range and even some budget-friendly hotels offer rooms with Jacuzzis as part of their amenities. So whether you're looking for upscale or more affordable options, there is something for every budget.
Can I book a hotel with a Jacuzzi directly from their website?
Absolutely! Most hotels nowadays have online booking systems on their websites where guests can make reservations directly. Simply visit the hotel's website and navigate to their reservation section. From there, select your desired dates and choose the room type that includes a Jacuzzi. Follow the prompts to complete your reservation securely and conveniently online.
Do all hotel rooms with Jacuzzis have additional charges?
It depends on the hotel policy. Some hotels may include access to the Jacuzzi as part of the regular room rate while others may charge an extra fee for it. It's always best to check with the hotel directly or review their website's policies to determine if there are any additional charges associated with booking a room with a Jacuzzi.
Popular Hotels With Hot Tub destinations